Ugh. So this week I had a few minor set backs for the Revolt Fitness Challenge. But all is not lost. I learned that I cannot take shortcuts (only because I am a total glutton in my nature) and need to listen to my body.
My Fitness Challenge Results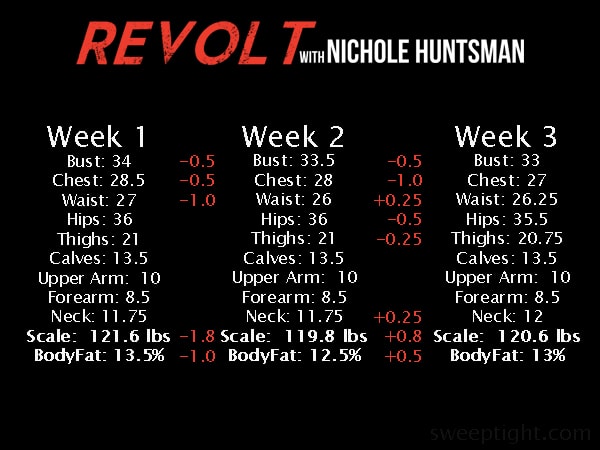 I learned…
In order to have success with transforming my body I learned a few things this week that should really be common sense; but when I look back at my week I am surprised that these are things I actually need to think about doing:
Drinking enough water is tough. Because by enough, we mean A GALLON a day. Yes, a gallon! You'll be peeing like every half hour until your body gets used to this amount of intake and then it sort of calms down. But it's remembering to drink that much that I'm struggling with. I don't eat a lot of salt (especially now, without any processed foods) so I don't feel thirsty. However, I am consuming a lot of protein and it is so important to drink water to flush that through the system. I remember learning about this last semester in school… proteins contain a nitrogen group, and the only way your body can get rid of that nitrogen is with water intake. So, save your kidneys some trouble and chug that H2O! Plus, drinking this much water will make you feel full and has like a billion other positive effects. I found a couple apps for my Android phone that might be worth sharing (I will let you know next week,) that remind you to keep drinking throughout the day.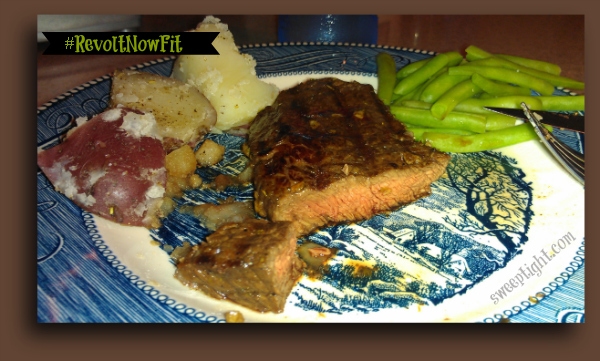 This week I was all over the place with my food. I was eating what I was supposed to according to the Revolt Fitness meal plan but I didn't take the time in the beginning of the week to pre-portion my meals. I will never do that again! I didn't measure any of my meats or fish and just 'eyed' in my portions. Well, I'm a greedy slob and was VERY generous with myself. 🙁 Hence, my slight gain… Granted, these are all really healthy foods, but what the body doesn't use, it stores as fat… so all that protein… went right back to my belly. Of course not my boobs. Because, you know, that would just be too easy. So, take the guesswork out of it and measure everything! It will save time and the disappointment and self-loathing. :/
I'm like a little kid when it comes to getting enough sleep. I fight it like I'm going to miss out on something really cool. Well, I'm an idiot. I'm tired all the time and then wonder why. Well, maybe it's because I felt like watching funny YouTube videos until midnight was time well spent. <SMH> (Oh, and SMH means Shaking My Head. LOL I learned that one a couple weeks ago and felt pretty proud.)
Can you really blame me for over-eating this week? I mean, jeez… YUM!