Okay so I realize combining two weeks of the fitness challenge like this is like horrible cheating but the end of week 4 and beginning of week 5 was just so awful I would like to pretend it never happened. 🙁
Week 4 Revolt Fitness Challenge
Well, my results were exactly the same as week 3. Absolutely nothing changed. I was sick all week with an annoying cold-ish type thing and tried not to over do anything. Aside from that I was feeling pretty good… until Thursday. The weather here was finally super nice so I decided to go for a run. I ended up doing a 5 mile jog and then about a mile of intervals.
I am so dumb.
As soon as I did my last interval, I felt like death. My lungs were on cold-fire and felt like they were collapsing. On Friday, an out-of-town cousin was in and I had arranged a cousins gathering at the bar where I used to work. So I took it very easy the rest of Thursday and all Friday. Saturday morning, I was feeling pretty lousy. Sunday was Easter and that's when everything hit me: crazy high fever (hit 103 before finally breaking at 1 am), body aches from another dimension and stomach pain that had me doubled over. This misery lasted for FOUR AND A HALF DAYS! I even required IV fluids!
Week 5 Revolt Fitness Challenge
When I finally felt moderately human again, I was pummeled with work. I had 2 exams on Wednesday and 3 major projects due this week for school. My throat was feeling constricted from all the stress. So, this left me zero time to get in my grocery shopping, food prep and exercise (and obviously my week 4 post. :()
While my results this week aren't really worth bragging about, I am so determined to make next week totally epic… legendary even.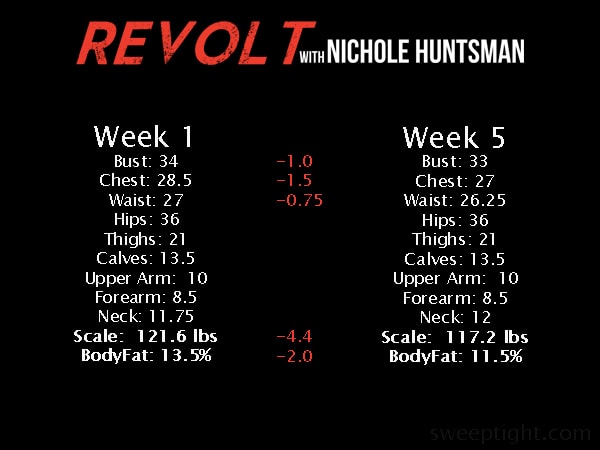 Other News
My bum is getting quite shapely despite these setbacks! Check it out! I mean look at that! 😀 😀 😀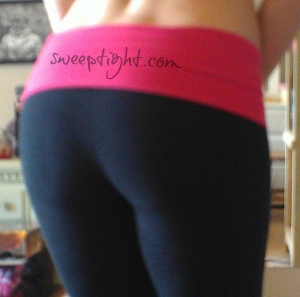 Week 3 I had mentioned that I was going to try a drinking app (for water!) to help me get down a gallon a day. The app I like best is simply called "drink reminder" and I'm using it on my Android phone. It is very simple but does the job. Although, I have been made fun of numerous times for requiring such an app. I set it to make slurping sounds and that did get quite a few confused looks. 😀 LOL
Oh, and I've discovered a new hideous pet peeve. Throughout this fitness challenge, we have consumed A LOT of hard boiled eggs. And, this was meme-worthy…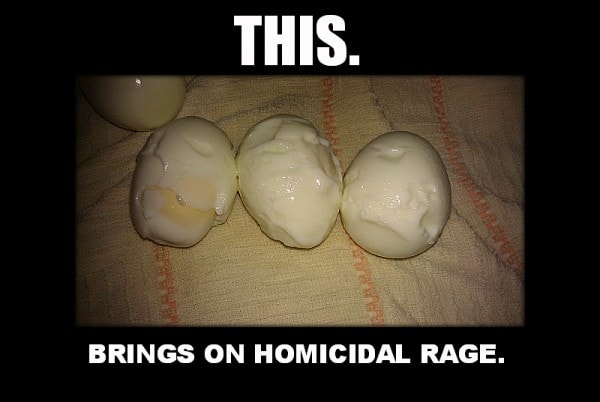 Seriously!? When you're only eating the whites, this is so freaking frustrating! I put quite a bit of effort into researching the cause of this too and have come up with really nothing. Some say eggs that are too fresh will do this… well, that's crap. I've hard boiled eggs under a day old (Gram has chickens) and their shells came off fine. I also have tried different boiling techniques, shocking them with cold water… Anyone else have any theories?
Join the Revolt
If you'd like to hop on this fabulous Revolt fitness band wagon, it's just $10/month! That's next to free if you compare it to a gym membership or home gym! Plus, you aren't going to find support like this anywhere else! Nichole Huntsman is a doll! 😀