My first uprising for the Revolt Fitness Challenge is done! 😀 This uprising lasted for six weeks and I will now continue for another six, however, I will probably follow this program for life! I love the support and structure. It isn't just something to do real quick and then yo-yo back to bad habits. This is actually making me change my lifestyle and I can't get over how much I love it. Thank you Nichole Huntsman!
Week 6 Fitness Challenge Results
Of course it is my luck that my after pictures have to be taken on the first day of my monthly cycle! I was so bloated and puffy! In fact, this morning I weighed a pound and a half less! Sheesh, that's quite a bit of water I was retaining. However, that will just make next week's pictures look that much better. 🙂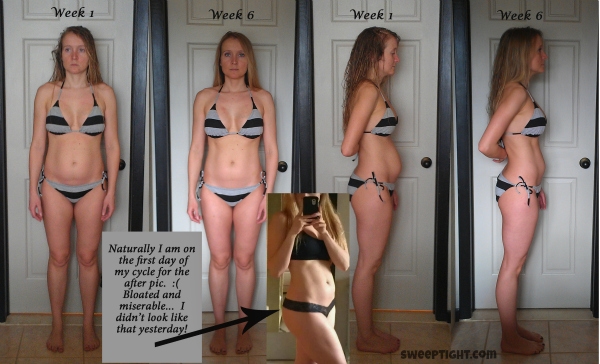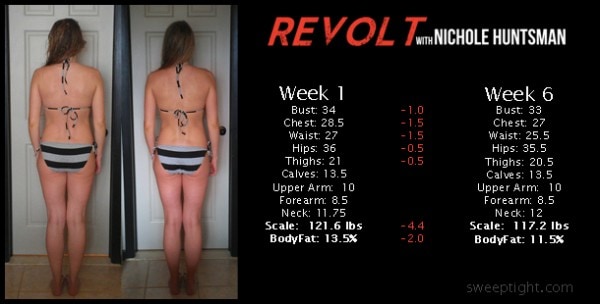 Speaking of water, drinking enough is still a challenge but I feel so much better when I get it all in. My skin is even improving! Having an app to remind you really does help. I am so obsessed with the MyFitnessPal app. I love that you can just scan the bar code of whatever you are eating–such a time saver! And, because we eat the same meals everyday each week with the Revolt Fitness Challenge, I just add my recipes in and the calorie counting is done.
I have officially achieved meat head status. My kitchen is stocked with giant tubs of protein powder and supplements. LOL All the boys that enter are impressed. Honestly though, I love the way I feel eating this way. My body is responding really well to these lean protein choices.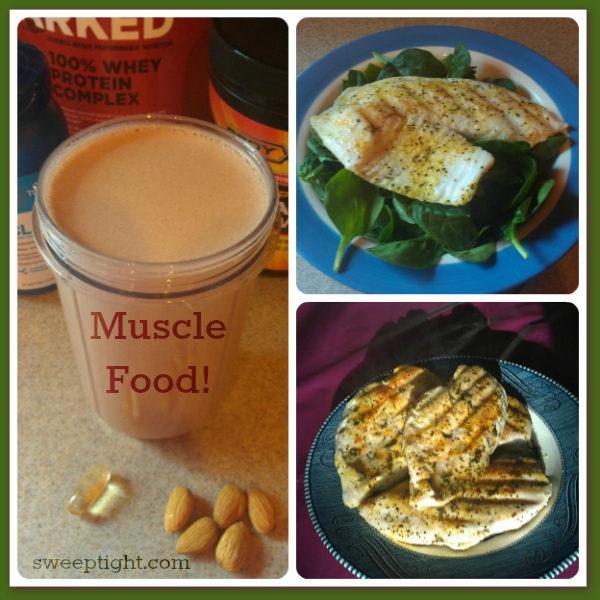 Big Things Are Happening
A little birdy just told me that in the coming months, the Basic Revolt Fitness Program will be free! I see great things in our future. I will definitely keep you all posted as these wonderful opportunities develop. I would love to put together our own group of fitness challengers! 😀