I cannot believe seven weeks have gone by already! Technically this is week one of the second round of the Revolt Fitness challenge, but I'm going to go ahead and call it week 7 because that is less confusing.
Revolt Fitness – Week 7 Results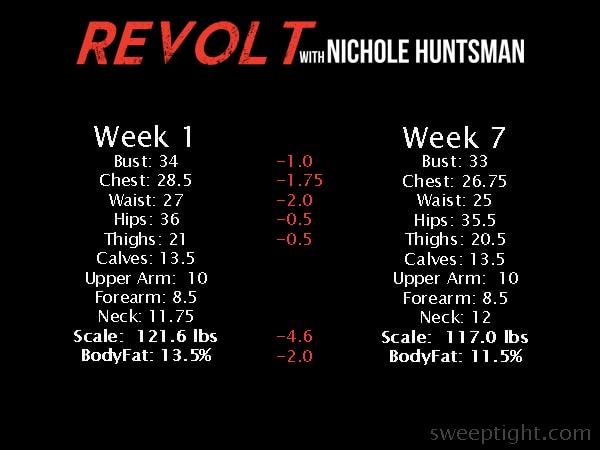 I am having slow and steady progress with little hiccups here and there. But overall I am very happy with these results! I love the structure of this program and for me, what sets this apart from all the other programs out there is the support. Nichole Huntsman is such an inspiration and a total sweetheart. She is working so hard for all of us and making Revolt Fitness into a life changing method for anyone whose goal is healthy living.
This week I was super diligent with my calorie counting… Check out my workouts! 😀 Using MyFitness Pal, I was obsessively recording all my meals and water intake. I had a really great week! Monday I did a 6.25 mile run on top of the Revolt Fitness workout so that really kick started my week in the right direction too.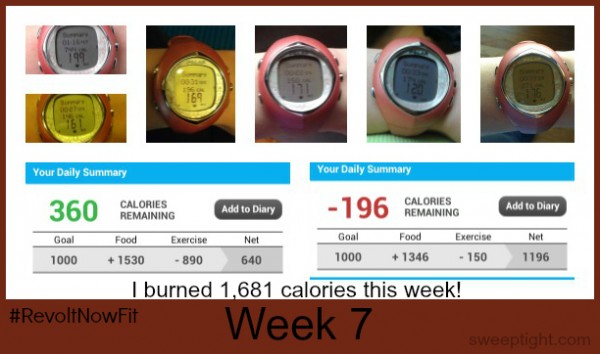 I really have to start squeezing in more runs into my week. I'm training for Tough Mudder which is less than a month away! Ahhh!!! So this coming week, I hope to have at least 3 more good runs. If only this goofy Chicago weather would cooperate! (I only run on trails… cannot do pavement–it kills my knees!)
If you would like to follow along on my Revolt Fitness journey, please feel free! It's quite nerve racking to post such scantily-clad photos of myself in some of these posts, but it really does help motivate and hold me accountable.
Oh, and as a side note: I LOVE this Just Do It Facebook page! They are also posting super inspirational photos of hot bodies! 🙂