Weight Loss Event – Week 3 Results
Week three for our weight loss event has already come and gone. Here are the results:
Ben's Third Week:
Ben lost 2 pounds on the scale this week and zero TBF. 🙁 He has been having a really hard time with his asthma. He is taking Prednisolone, which is a steroid. He cannot exercise because he is literally fighting just to breathe. He sees his doctor this Monday and they may give him some sort of breathing machine with oxygen. It's so scary. I never know what color he will be when I see him. Sometimes it's so bad he looks pale yellow.
Through it all, he is still determined to stick to his weight loss goals. It's impressive he lost any weight at all. Being on steroids usually causes weight gain and makes weight loss next to impossible. But, hopefully, his doctor will be able to get his asthma under control. Then he can focus on exercising to gain muscle while loosing fat.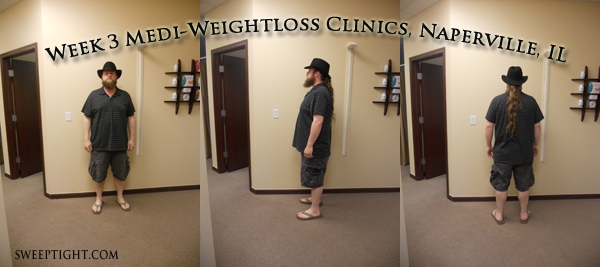 In a moment of feeling halfway decent, he proclaimed,
"O-M-G. I have cheekbones!" —Ben, Medi-Weightloss Clinics weight loss contestant
Jodi's Third Week
This week was great for Jodi. She lost 4 pounds on the scale and 3.5 pounds of TBF. So, in just three weeks, that's a total of 13.5 pounds off the scale and 11.5 pounds of TBF!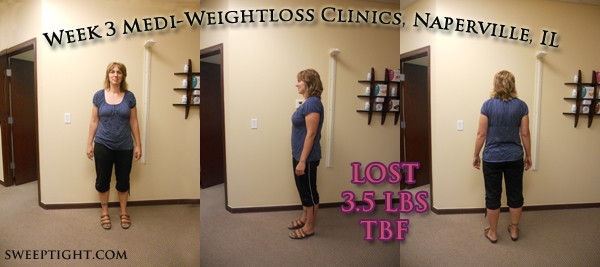 She's getting compliments all over the place. The last I saw her, her pants were practically falling off. She said she's gone down two whole sizes in jeans!
If you'd like more information about Medi-Weightloss Clinics, click here!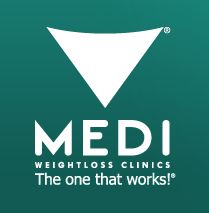 Don't forget to use Coupon Code: SWEEP TIGHT at a participating clinic near you for $25 off your initial consultation!
And, keep up with Jodi and Ben here on Sweep Tight's Medi-Weightloss Clinics Weight Loss Event!
Plus, enter to win some great Medi-Weightloss Clinics products!