Weight Loss Event – Week 6 Results
We are already halfway through the weight loss event and our contestants are more than fifty percent of the way to reaching their goals! We are all so impressed with their progress. The team at Medi-Weightloss Clinics in Naperville, IL has been exceptionally motivating, supportive and informative every step of the way. If you need help reaching your goals, do not hesitate to contact this wonderful facility!
Jodi's Sixth Week
Jodi lost 2.9 pounds off the scale this week and 3.6 pounds of Total Body Fat! She looks amazing! Pretty soon it's going to be time for a shopping spree! She's going to need, or deserve, rather a whole new wardrobe to flaunt her fabulous figure!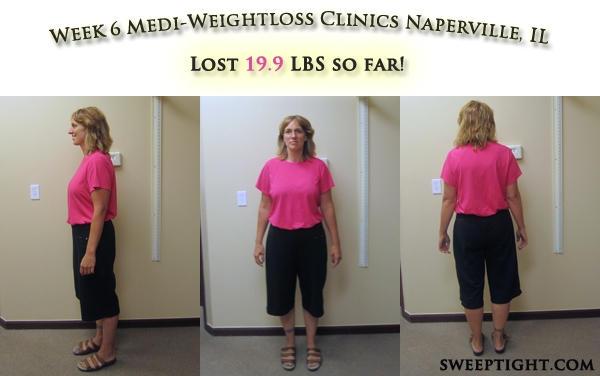 Ben's Sixth Week
Ben lost 2.5 pounds off the scale this week and 2 pounds of Total Body Fat! He's even starting to feel better with his asthma partly because of the weight loss! While he's the typical guy and not looking forward to the actual shopping for new clothes, he is excited for a wardrobe update. (I think it is so funny he wears the same outfit to every appointment! He wanted to keep the clothes constant in the photos so we could really see the transformation. But I happen to know he needs a fashion makeover!) 🙂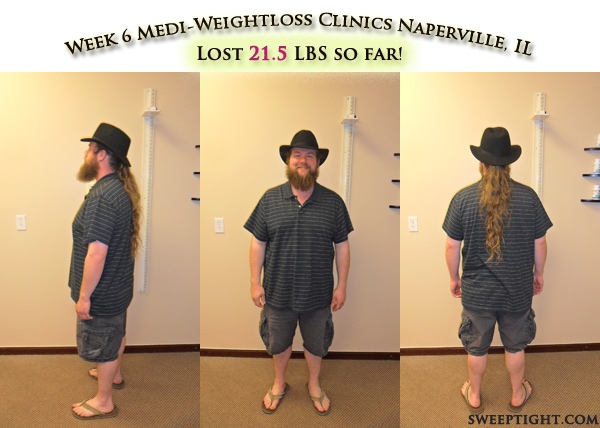 Check out this super fast, easy and delicious recipe for Roasted Red Pepper Soup! And, for more awesome recipe videos, check out the MediNaperville YouTube Channel!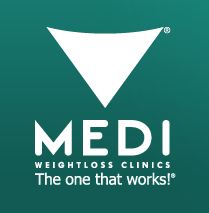 Don't forget to use Coupon Code: SWEEP TIGHT at a clinic near you for $25 off your initial consultation!
Follow Jodi and Ben on their journey here at Sweep Tight's Biggest Winner Weight Loss Event sponsored by Medi-Weightloss Clinics! Also, watch for great giveaways where you can enter to win some of your own Signature Medi-Weightloss Clinics products!