Men, women, and children everywhere can't help but fall in love with Thor–perhaps more or less for different reasons; but I think the opinion is unanimous: Thor is awesome.
He's funny, witty, drop-dead gorgeous, powerful, and a darn good hero. With Thor: Ragnarok coming out November 3rd, associated merchandise will make the best gifts this holiday season.
I'll be updating this post as the cool stuff rolls out, but for now, here's what to buy with 100 dollars or less for Thor fans of all ages.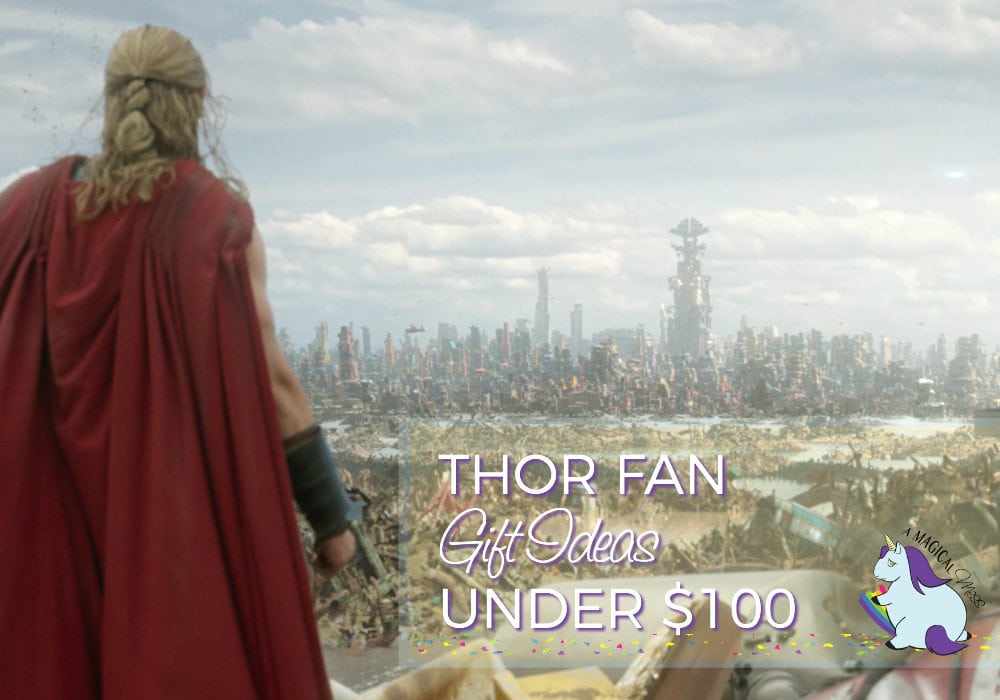 Thor Fans: What to Buy with 100 Dollars
The almighty Thor wouldn't want anyone breaking the bank so I think even he would approve of these purchases.
---
As much as we might be getting a little tired of fidget spinners, you have to admit this one is pretty wicked. As long as kids aren't disruptive with them in school, I think they're great for excess energy.
This one is made with solid construction. The hammers can be removed and rearranged for more variety and fun.
---
For school, the office, or just a personal journal, a Thor moleskin ruled notebook is something any Thor fan can appreciate and use. I have a plethora of notebooks and can never seem to have enough. I use them for my daily lists, notes, recipes, and doodling. The more, the merrier!
The one comes with stickers and has a pocket in the back. Plus, it lays flat when open–which is a deal maker for me. I hate it when notebooks don't lay flat. They're such a pain to write in and read!
---
Would anyone judge me if I wore this while running my daily errands? Probably. But do I care? Not as much as I should.
Maybe I like to get into costume before taking on all the boring daily drudgery of laundry, washing floors, and cooking. Anything to make it more interesting right?!
However, this make is recommended for ages 5 and up. I may have to just let the kids have their fun because even if I was 5, my noggin has always been on the larger side, so this might be quite snug.
---
Alright kids, now this is where the adults can have some fun. This steel shoulder armor is legit. Ideal for larping, Halloween, costume parties, or just getting your Thor on for fun.
---

---
Coolest nightlight ever award goes to this bad boy right here. This 3D LED wall light will impress all the visitors no matter their age.
Perfect for any bedroom, hallway, or themed space, and eligible for free shipping with Prime, how can you resist!
I'd love to put this in our bathroom!
---
Did you know you can pre-order all the Funko POP! Figures for Thor: Ragnarok?! Must. Have. Them. ALL.
The Ultimate Thor Gift Basket
An even greater gift idea is putting together a whole Thor themed gift basket. These are my all time favorite finds.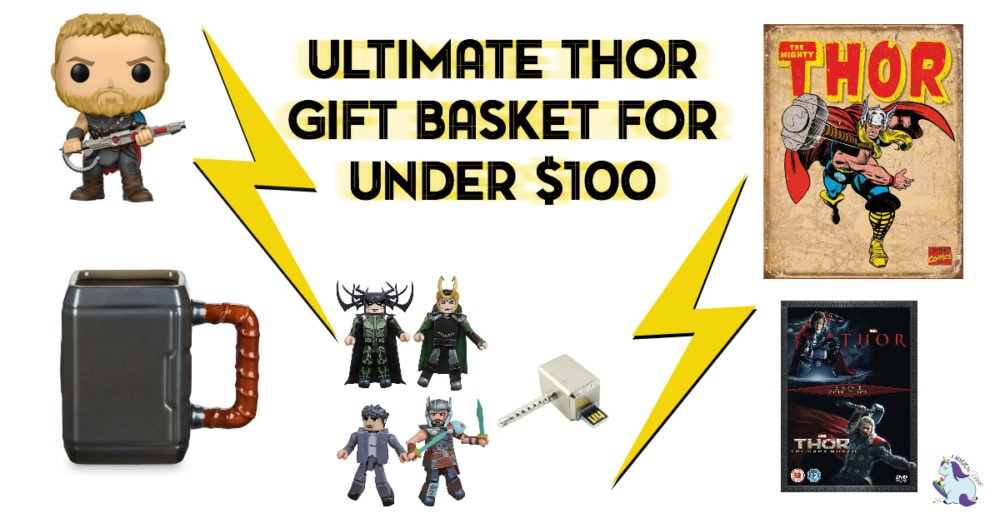 Retro Tin Metal Sign
16GB USB 2.0 Memory Stick
Thor's Hammer Mug
Pop! Thor Ragnarok Gladiator Suit
Thor Ragnarok Movie Minimates
Thor + Thor The Dark World
Thor: Ragnarok – In Theaters November 3rd
Thor is imprisoned on the other side of the universe without his mighty hammer and finds himself in a race against time to get back to Asgard to stop Ragnarok—the destruction of his homeworld and the end of Asgardian civilization—at the hands of an all-powerful new threat, the ruthless Hela.

But first, he must survive a deadly gladiatorial contest that pits him against his former ally and fellow Avenger—the Incredible Hulk! THOR: RAGNAROK is directed by Taika Waititi and returns Chris Hemsworth starring as Thor and Tom Hiddleston reprising his role as Loki.

They are joined by Cate Blanchett, Idris Elba, Jeff Goldblum, Tessa Thompson and Karl Urban, with Mark Ruffalo and Anthony Hopkins.

Don't forget to grab your tickets or snag a gift card to add to the basket at Fandango.com!