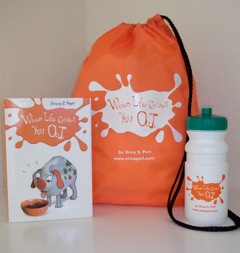 Daily reading in my house is a requirement all year round. My six-year-old daughter looks forward to this task while my nine-year-old son never stops whining and plotting ways to get out of it. It pains me to know that he has not found the joy that reading a good book can offer. Finding the right material for him has always been a challenge. Product was received for review purposes and this post may contain affiliate links.
He really enjoyed the Diary of A Wimpy Kid series but now can't find anything he can really get into. When this package arrived, I immediately knew he'd be excited. The adorable cover illustrations are intriguing and fun; plus orange is his favorite color! I read When Life Gives You O.J. first and knew it was perfect for him. The story is funny, witty, and relatable. It's perfect for the awkward kid-to-preteen transition he is struggling through.
Zelly is a ten-year-old Jewish girl who really, really wants a dog. Her quirky grandfather devises a plan to help her and she gets way more than she bargained for!
She gets O.J., a practice dog. He's an orange juice carton with a dog face painted on the side. As if she isn't miserable enough because she had to move from New York, where she felt she fit in, to Vermont, where her frizzy hair and crazy Jewish family make her feel like an outsider, she now has to drag around O.J.


The plan is simple enough… treat O.J. like a real dog. Feed him, walk him, clean up after him, teach him tricks… But when you're ten and under the scrutinizing glare of your peers this can be a true test of character and dedication.
Through this task she ends up learning more than just the responsibility of owning a pet; but absorbs the true lessons of life… personal independence, pride for your heritage, value for family and how to fit in without loosing your identity.
Not only was my son totally entertained by When Life Gives You O.J., but he finished it in half the time I gave him! We will definitely be on the look out for more from Erica S. Perl. You can find her on Facebook too!
We can't wait for the sequel for OJ–Aces Wild– which is due out September 2012!