The following is writing I found in my Google Drive. Sometimes I write for therapy with no intention of publishing. This was written around November or December of last year. I decided to go ahead and share it since it's real, it's raw, it's me. It's not all magic over here as our name properly suggests. There's a lot of mess. It's also important for me to remember the really bad days. I'll update on where I am at now in a later post. For now, here's a mostly unedited glimpse into my diary. ==> It might be upsetting for some people to read and contains swear words. <== 
Why I Push People Away – A Page from my Journal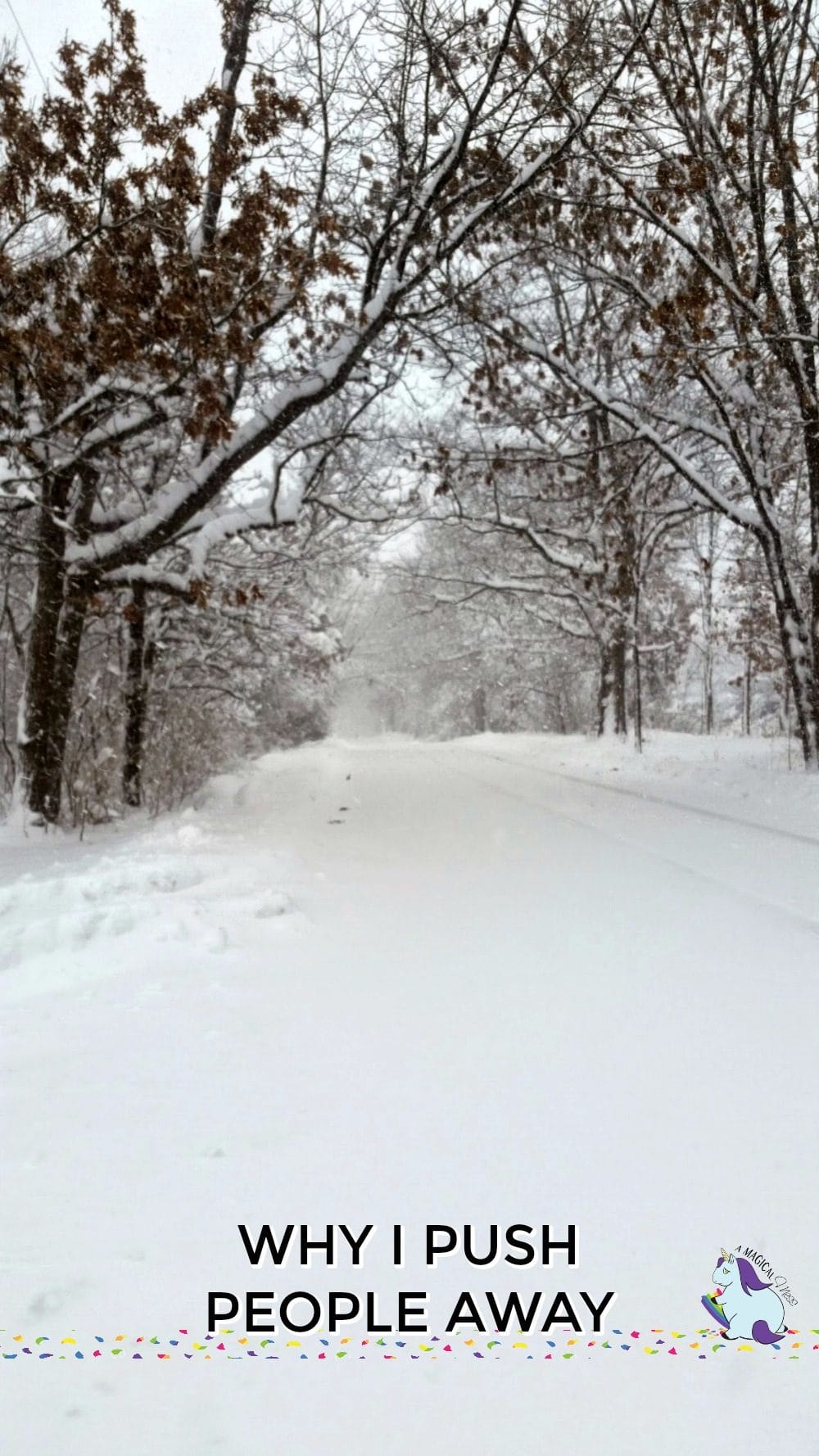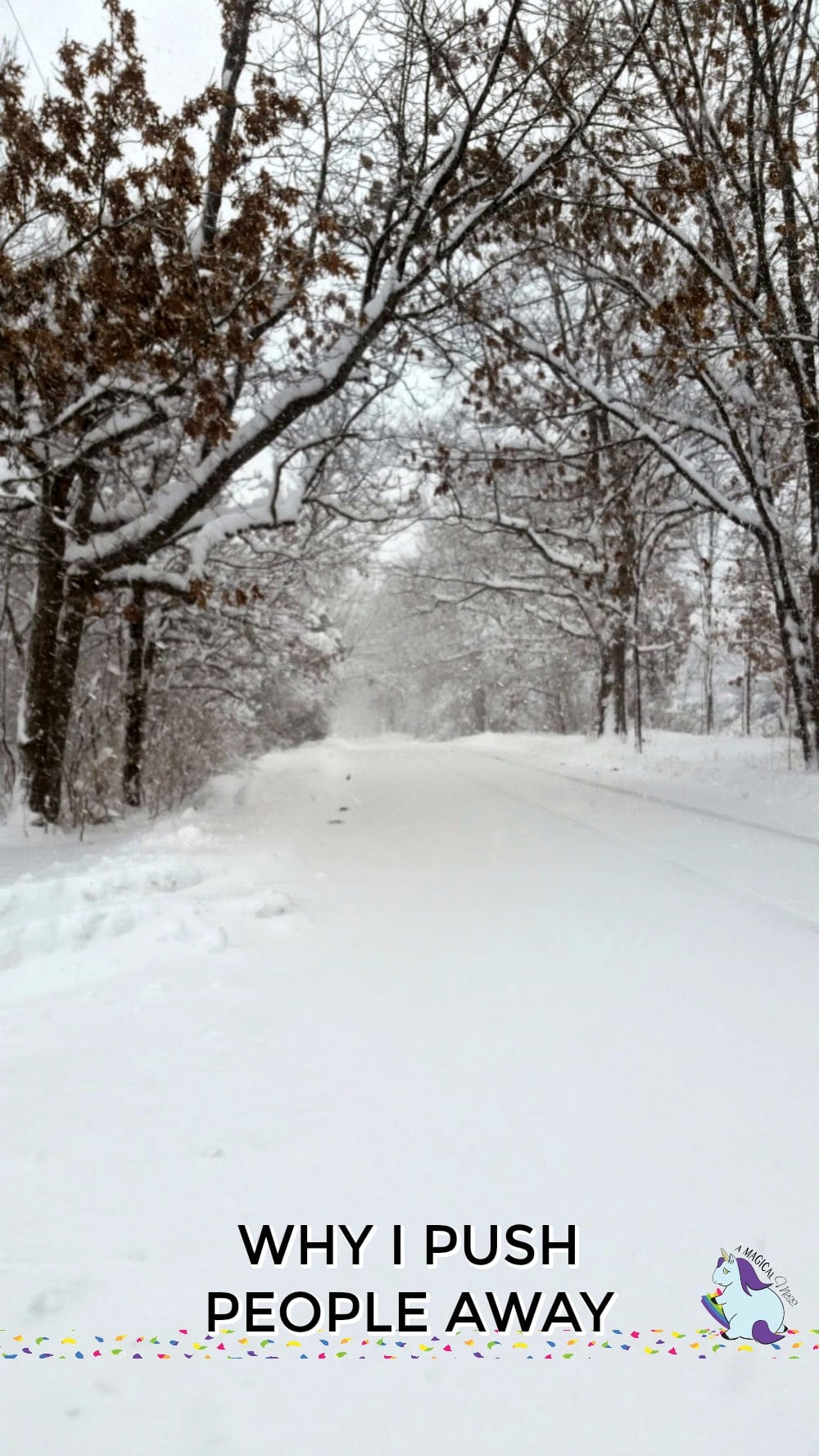 I don't talk to a lot of people about my anxiety. People want to help, which is amazing, but I've heard it all. After over 23 years of listening to suggestions, I feel tapped out. Conversations end with me feeling like I should have better control over my brain. The logical part of me knows that people just want to help, but the part that feels like a burden remains dominant. I'm weak, I'm a burden, and I should shut the fuck up cause things could be worse. I am grateful and thankful for all the things I have, so then I hate myself even more for not being able to embrace that.
There's not one brand of anxiety. Calling it anxiety isn't even accurate. The things I go through can't be explained. I don't mean that I am so unique that no one can possibly understand. I am not claiming to have some sort of unicorn mental illness. But, when I have to hear how "so and so" did XYZ and feels great now, it's not a fair comparison.
I cannot sleep. When I do, it's usually terrifying. I either wake up from what sounds like a gunshot or jolt awake in sheer panic. Sometimes I sleep but have nightmares that would make the sanest person want to die. A recent nightmare included a baby hippo being tortured. I had to listen to this poor animal scream in pain. Do hippos scream? In my brain they do, in the most blood-curdling way. Each whip sent the animal's flesh spraying into the air. I finally woke up hysterically crying and near vomiting. Being the fierce animal lover that I am, this nightmare set me up for suicidal thoughts all day. Not only am I not rested, but the images don't fade away. So when people suggest that I "think positive," I might not respond so well.
That's only one example of a nightmare, but I question how my imagination even comes up with some of this stuff. A recurring nightmare since childhood includes what feels like someone yanking on my belly button from the inside (real physical pain) and sounds of a woman laughing in the background. Other visual components to that dream are nothing I can explain with words.
Go to therapy. Finding a good therapist is quite the challenge. First of all, leaving the house makes me physically ill, so going to a therapist is my first hurdle. Then, finding a person to trust, vibe with, and who I don't find to be fucking clueless is another. I've never had luck in this area, as you can probably tell. So, it's another task I add to the list of things to do.
Let's talk about my to-do list, shall we? I keep myself extremely busy by design. Not only do I need to work from home because my income is needed, but most of the time my mind is better when it knows there are tasks to complete. It gives me purpose. However, on my good days, I start a ridiculous amount of projects. I am full of hope, ambition, and it's full steam ahead to conquer the world. When I crash down from that, it's like actual drowning. The weight of responsibility my episode inflicted makes my anxiety a million times worse.
Stop taking on so much, right? Okay, tell that to me when I think I am all good. I'm better. I'm healed. I feel amazing. Apparently, I need supervision?
Go to the doctor. Please find me one. General doctors only refer you to psychiatrists. The last doctor I went to left me in the room hysterically crying. I legitimately broke down in his office, and he slowly backed out with the most awkward grin while stating that he was not the type of doctor I needed. Psychiatrists want to give you meds. Been there, done that so many times now. I cannot go through the whole "find the right pill cocktail that helps without making me a zombie" again. Get a brain scan. Where? Does the Minute Clinic offer that option? Cause every doctor I've asked about tests and scans looks at me like I watch too much TV.
I've pushed most people away. In my mind, it's a favor to them. Stop inviting me so I stop making up excuses why I can't come. So I stop RSVPing "yes" only to back out with "a migraine" at the last minute. Stop making me realize that I am incapable of being a good friend. I won't ask how you are doing because my mind is too focused on wondering if I will faint, or vomit, or pick another random thought that's all-consuming. It makes me selfish.
You caring about me makes me hate myself even more. I don't deserve it. I don't want to be this way, but it's only getting worse. Maybe because I'm getting weaker, but I've lost the fight.
Physical pain. Think this is all in my head? Maybe it is, but I have real pain in addition. There are days when all my joints receive stabbing pains like blinking Christmas lights. There's no pattern, so it's an extra surprise. My bladder feels like a hard boulder in my body. I would bet on everyone's life that I have a UTI, but tests show that's not the case. I feel like I will faint 80% of the time. My wrists are usually sore from tensing them up during the night of "sleep" the night before. Quite often I feel like my skin or nerves are on fire. When people give me advice, this is the part they don't realize. They aren't talking to a healthy person.
I've spent tens of thousands of dollars over the years on alternative medicine. I've tried amino acids, herbs, acupuncture, and more. I've been on pills and off pills more times than I'd like to count.
You seem so happy on social media. Well, yeah, I am not going to post this shit on Facebook. Everyone's surrounded by fires, shootings, hurricanes, and other terrible things. Not only worldwide, but people have major problems in their own lives. Who the hell wants to hear about my struggles? I can write a funny caption with a photo of my dog while contemplating my own death. Don't let my online presence (which also happens to be my job) be your determining factor on my mental state.
I want to be invisible, but then I'm isolated and lonely. But, I don't like to drag others down, and I cannot take any more condescending advice. There are no casseroles with mental illness. There are positive quotes, bad advice, and judgement. I don't want pity or advice even, just understanding.