A few weeks ago I told you about my husband and me celebrating our fifth wedding anniversary. Wood actually happens to be the traditional anniversary gift for the fifth anniversary. We found a great gift idea to fit this qualification, a wood watch. I was so excited to partner with Woodwatches.com, and received a wood watch for review.
Wood Watch from Jord
First of all, Jord is a Swedish wood that means earth, soil, land. Jord watches are 100% natural wood watches. All of their watches are hand crafted with sustainable materials from all over the world. I love the many shapes, sizes and colors of watches that Jord offers. The Delmar Series in red has a read face and a carbon fiber face. This would be a definite win for some of the guys I had to shop for over the holiday (or as birthdays come around again this year). The Sully Series actually features contrasting wood colors, one has cherry and maple while the other has black and maple, both of which look beautiful.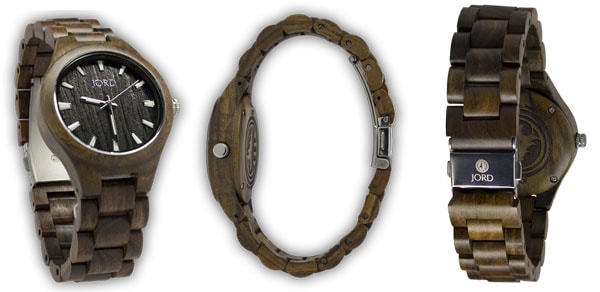 I chose the Fieldcrest watch in Black for myself. I like that the face was not overly large (why are watch faces so big lately?!), and the coloring was simple. The watch also has a back wood grain face. Jord watches are designed to be splash proof, but not water proof, so I have to remember to take it off whenever I might be doing dishes or showering. But with an easy to use single action clasp, it is easy to slip on and off without having to deal with having someone help me with matching up a toggle or a spring-ring clasp. Overall, I really like the watch and it is comfortable to wear.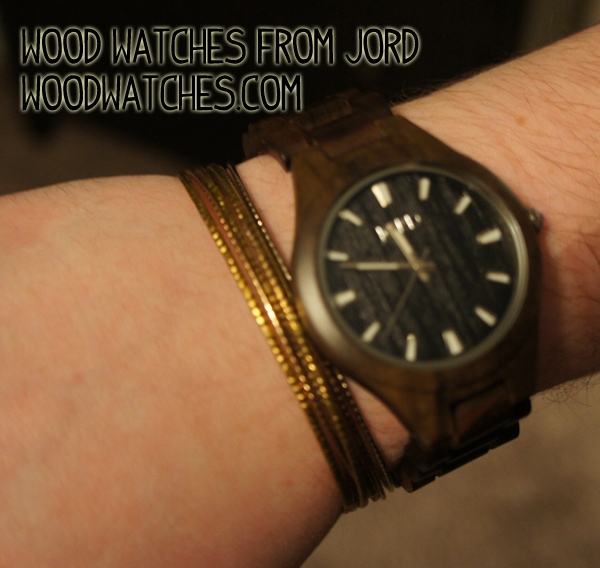 Make sure to check out the full line of watches from Jord at Woodwatches.com – their quality design leads to durable and stunning pieces. Catch up with Jord on Facebook, Twitter, and Instagram to find out more about their brand.