My husband and I just celebrated our fifth wedding anniversary. Did you know that the traditional gift for the fifth anniversary is wood? Yes, wood. Really, it is kind of weird if you ask me. However, I found these amazing wood watches from Mica, and I was really excited to work with them on a review of a watch for my husband.
Wood Watches from Mica
Watches are a rather traditional gift, however, these Mica watches come with a twist. They are made with wood. Each of the wood watches are treated with SolidCore, which provides improved durability, luster and resistance to the elements. Of course, they are not meant to go underwater, but they are meant to withstand the elements you expose it to on a daily basis.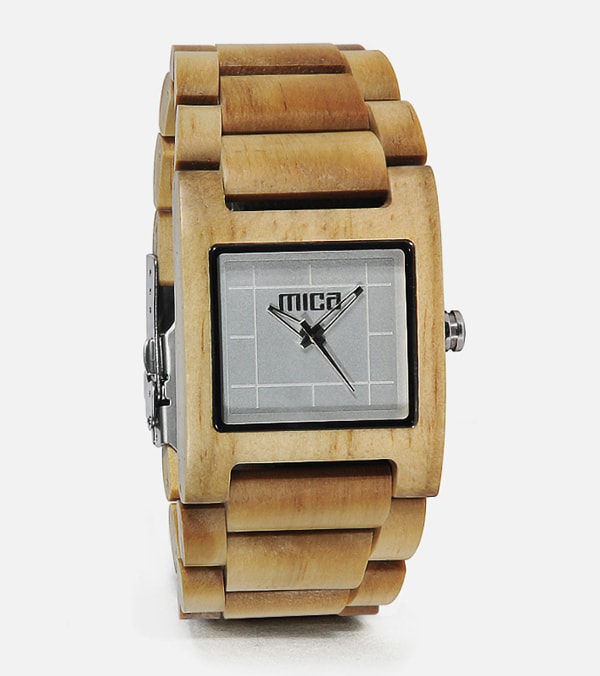 My husband received The Drift watch in Blonde. Right away, he was a big fan of the unique look of the watch. As he wore it throughout the day he noticed that even though it was wood, it was smooth to the touch and didn't cut into the skin like some of his metal watches have. It has lived up to his wear and tear the last couple weeks with no visible damage – hopefully it will last him for quite a while.
Mica has watches in Blonde and Sable colors (light and dark) and in a few different styles. All have square or rectangle faces, but the faces also come in a variety of color and style options. You can find Mica on Facebook, Vimeo, Instagram and Tumblr. Mica also has apparel, including t-shirts and hooded sweatshirts if you are looking for something to go along with the watch.
I usually struggle to find a good gift for the men on my Christmas shopping list. These Mica watches are so cool, I am thinking there might be more than one under the tree!