Do you have words that just make your skin crawl? Maybe I am a weirdo but I have quite a few that cause actual physical reactions from me.
Words That I Simply Cannot Handle
Pus – Blech! I can't even type it without causing chunks to slowly rise.
Mucus – Ewwwwww.
Pupil – I don't know what's up with this one, but I despise this word.
Moist – Stop it!!! Please do not say this word. Even if it's to describe the weather or cake. Just find another way please.
Panties – No. And if you combine it with the word above you seriously suck at life.
Poo poo – Okay, I know a lot of mommies say this and I understand why, but I cannot get over it. I don't find it cute and it makes me rageful.
Puke – Any explanation necessary? For some reason "vomit" is okay with me. I say it often.
Poopie Head – Shut up! I guess when any adult says the word "poo" in any form it makes me want to kick stuff.
Smegma – This one is actually my sister's trigger word. Once I found out the meaning of it I quickly added to my list. You're welcome.
Uber – Ill. Knock it off. What happened to Super? Since when is everything Uber?
Squirt – Rarely not gross. A lot of disgusting things squirt. Bwleaaa!
Tickle – This just makes me think of a creepy pervert with a molestache and a questionable van.
Kitty-cat – This is acceptable once in a while if you, in fact, have a baby kitten. But, if you constantly refer to your adult cat as a "kitty-cat" it's really obnoxious.
There are also quite a few words that are not family friendly that cause me some uncomfortable squirming. Ewww…squirming…there's a new one.
UGH! Even just writing this makes me feel dirty and violated.
Hey, I have never claimed to be normal! This is just one of my many quirks.
Do you have any words that make you nutty?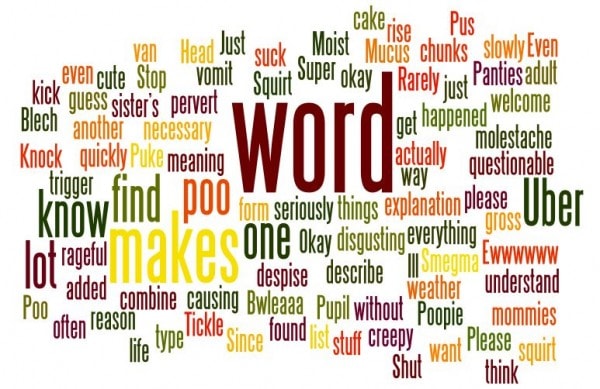 More posts where we try to be funny: