World's Best Cat Litter
As much as I love my BFF (Best Feline Friend) I have to admit, that her litter box is not my favorite thing to deal with. The clay litter I have always used, did it's job…but the dust was hard on me and "The Lady", plus it could get pretty costly because she would go through it so quickly. The worst part was having to wash out her box because the clay litter wouldn't keep the waste on top, the wetness would sink to the bottom, leaving a gross stuck on mess. Product was received for review purposes and this post may contain affiliate links.
I had always heard good things about World's Best Cat Litter, and although I had tried alternative litters before and was not happy with them, I was willing to give this one a try.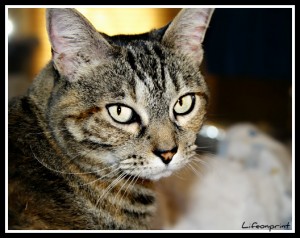 What makes World's Best Cat Litter unique is their biodegradable litter formulas use "the natural absorbency of
whole-kernel corn to eliminate both odor and the hassle of dealing with the
litter box."
This sounded awesome to me because "The Lady" has allergies and something all natural had to be better for her than what we were using. But she is a very picky one, so I wasn't sure what she would think of it or if she would use it at all!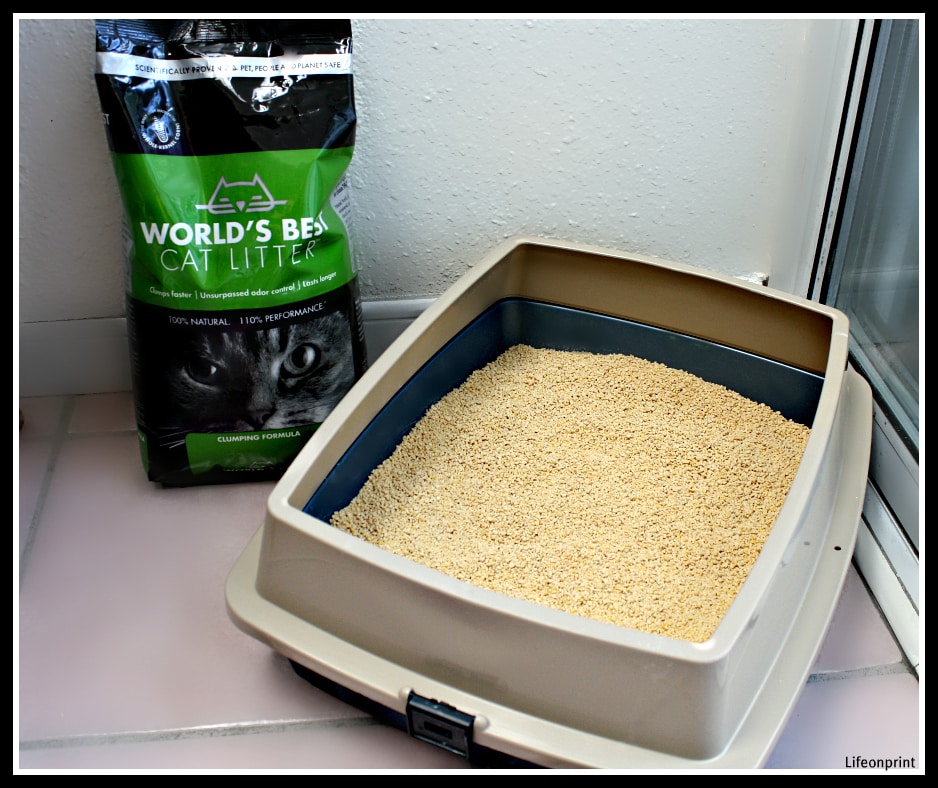 I washed out her box and filled it up with World's Best Cat Litter, hoping for the best.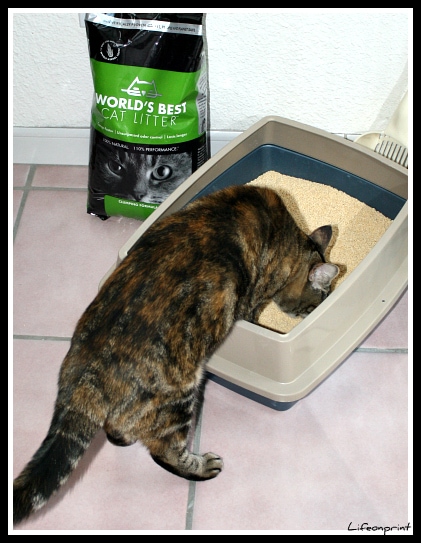 She spent a couple of minutes checking it out, then she began eating it! haha! Well, at least it's all natural!
 So I read that some cats may take to a litter change right away but that others may need to change gradually. So I sprinkled a bit of her old litter on top (so she would know it wasn't food!) and sure enough, she began to dig a little hole… This did the trick. After she "did her thing" I tried scooping it, the clumping action worked great! It stay right on top, didn't sink to the bottom! and as for the oder control? It was amazing!
I'm sold on this wonderful product and so is she!
Here are some awesome things you should know about World's Best Cat Litter:
100% Satisfaction Guaranteed.
World's Best Cat Litter is so certain both you and your cat will love their clumping cat litter formulas that they offer a money-back guarantee if you are not completely satisfied! How can you beat THAT!?
Their litter comes in 3 formulas: Clumping Formula, Multiple Cat Clumping Formula, &  Scented Multiple Cat Clumping Formula.
Which is the best clumping formula for you and your felines? Click here to find out!
World's Best Cat Litter is ideal for self-cleaning litter boxes!
Outstanding Odor Control!  Planet Friendly!
•    Clumps fast to quickly trap nasty pet owners.
•    Clumps tight to allow
for easy scooping and less mess
•    Disperses quickly in water thus making
it instantly flushable and septic safe
•    Contains no potentially harmful
silica dust
•    Is free of chemicals making it safe for pets, people and
the planet
So in our opinion, World's Best Cat Litter gets 2 Thumbs Paws Up!