Agave Nectar
If you haven't already heard of agave nectar as a sugar replacement, then come out from under the rock you must be hiding under and try this fabulous product! Product received for review purposes.
Why? Because it has a low Glycemic Index (GI), it contains fiber and calcium, and it tastes great.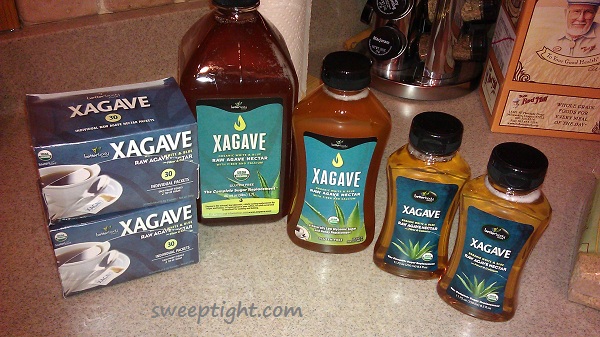 Xagave, from Better Body Foods, is a high quality blend of Agave Tequiliana (Blue Agave) and Agave Salmiana (White Agave) plants. Blending the two, allows us to get all the qualities from both varieties for the best results in cooking, flavor and nutritional value. Xagave is made using organically grown plants and they actually know the farmers that grow them.
If you're not familiar with the Glycemic Index, this just means that when something has a LOW score, it doesn't affect your blood glucose levels as much. This is great for all of us really, but diabetics especially. I have officially switched from regular sugar to Xagave and have noticed a huge difference in the way I feel throughout the day.
I used to crash before lunchtime because I was adding sugar to my morning coffee. I now add Xagave and don't have any crash. I use this wherever I would use sugar. I honestly don't taste any difference either. I would never know the difference between this and regular sugar. The added fiber and calcium are also a huge benefit.


BetterBody Foods also offers Xagave in single serve packets (much like a ketchup packet) for easy traveling. This is great for eating out, school and at work! I keep a bunch in my purse at all times.
I use Xagave in everything from Kid Approved Healthy Pudding to any and all smoothies. But most of all, I'm so happy to have it in my coffee every morning. It is just awesome to feel great everyday with no sugar crashes!