It's very interesting to do a yearly traffic report. Although I am guilty of obsessing over blog traffic on a daily basis, it can be helpful to compare an entire year at a time.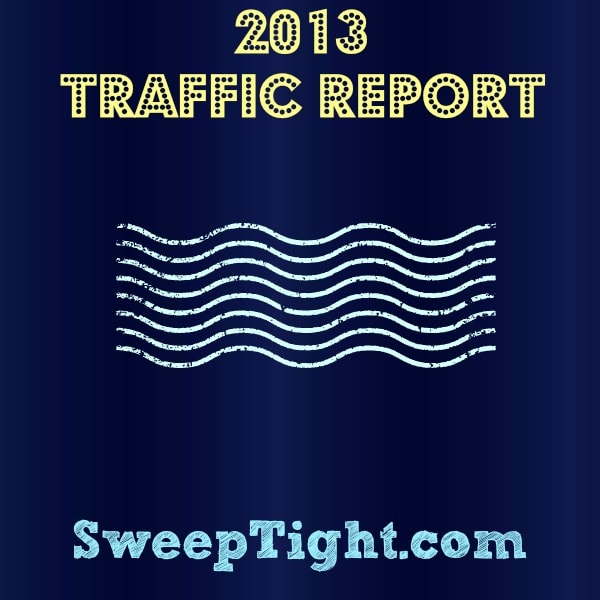 Traffic decreased quite a bit during 2013 compared to 2012. I blame this on a few things — It's nearly unheard of to have a big StumbleUpon blastoff like before (at least for me), I had less giveaways and participated in less events, I had a few personal issues that caused some blog pauses, and I tried to start too many other blogs and lost focus here on Sweep Tight.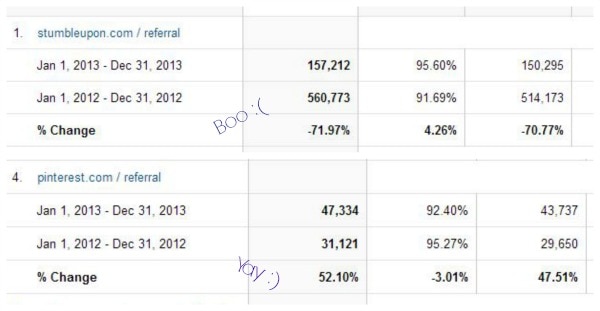 Overall, it was still a good year. Now that I have my new DSLR camera, I am noticing more traffic coming from Pinterest. I want to continue to learn more about photography to keep this trend going. Traffic is now coming from Yahoo and BING in addition to Google. Organic search results are down, though. I had changed the way that I do my SEO keyword research and apparently, that needs to be switched back.
Top 10 Traffic Sources
stumbleupon: 157,212
direct traffic: 82,281
google: 52,516
pinterest: 47,334
online-sweepstakes: 18,921
twitter: 11,734
feedburner email: 10,047
facebook: 8,236
email newsletter: 7,604
yahoo: 4,185
Top 10 Referring Blogs
normalrecipe.com: 10,794
anyluckyday.com: 2,698
justsweep.com: 1,563
contestchest.com: 1,523
amagicalmess.com: 1,247
mommyblogexpert.com: 1,089
simplystacie.net: 1,066
bloggiveawaydirectory.com: 1,044
goodstuffonly.com: 925
community.marianos.com: 555
Total pageviews according to Google Analytics were 1,193,331 and unique pageviews were 544,615 for the year.
Most Viewed Posts
Filthy Rich Dream Wishlist
Easy Pizza Roll-Ups
Homepage
Quotes for Couples and Loved Ones
Blog Giveaways
Beautiful Backyards
Enter Sweepstakes
Rafflecopter Only Giveaway Linky
Current Giveaways
Pinterest is Pure Torture
Cheers to a great year and hopefully growth in traffic! 🙂
If you created a yearly traffic report, link up at Blogging with Simply Stacie and Makobi Scribe.
Disclosure: This post contains affiliate links.
Rainbow Crumbs for You
Weekly newsletter with our latest posts and shenanigans.