YourBagTag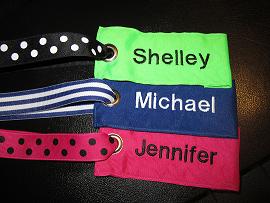 Who's lost their luggage before? Raise your hand! I know you can't see me, but I assure you – mine is raised. Yes, on a family trip to Aruba when I was about 16, my luggage decided to take a detour and wound up on a cruise ship. It was not returned to me until well into our vacation. Let me tell you at 16 years old, you do not want to be wearing your step-mom's clothes on vacation! It was pretty much a vacation-destroyer. All my teenaged hormonal rage was unleashed.
Ever since then I have always tried to make my luggage extra distinguishable so I can spot it immediately. I also make sure that all my contact information is easily accessible and legible! I snatch my bag off that revolving belt as quick as possible. I know that my luggage was not stolen…it was lost…but, I am scarred for life now! My luggage is even bright pink so that it will stick out in the sea of black bags that most people have.
I had the opportunity to pick out 3 luggage tags from YourBagTag™. Since I will soon be traveling with my fiance and my sister, I got one for each of us. I was shocked at how quickly they arrived. The company's location is not too far from me, but what surprised me was how fast they created my custom tags!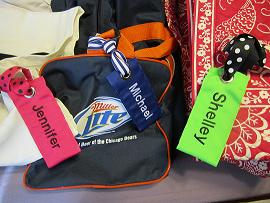 So, now the three of us have these bright, sturdy tags with our names on them. They really make our bags POP! We will have have no problem seeing these tags, I am quite sure of that. I tugged on them some and they are very strong. All the stitching is secure and in place. Everything is spelled correctly and my order was exactly what I had requested. I have nothing to complain about!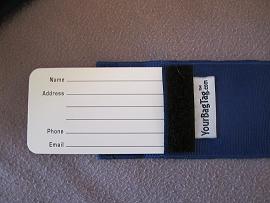 One feature that I really like is that all of our personal mailing info is inside the tag. There is a little Velcro flap securing it within. I realize that this information is valuable in case of a missing bag, but I see no reason for it to be flopping around out in the open at all times. I like that it is enclosed. Now…I just need a tiny GPS tracking device to stick in there, as well! 😉
Can't wait to take these babies on the road! My trip cannot come soon enough! Thanks to my fancy new luggage tags, I will feel safer with our belongings!
These tags are not just for jet-setting. There are many other uses for them and they also make great gifts! Get creative!