We all love Disney, and what's more Disney than adventure, shenanigans, and talking animals? Nothing. That's what. Take a big city, talking animals, and an adventurous laugh-fest, and you get Zootopia. Zootopia is Disney Animation's newest family feature, and it looks like it's going to be a good one!
Zootopia – Anthropomorphic Disney at Its Finest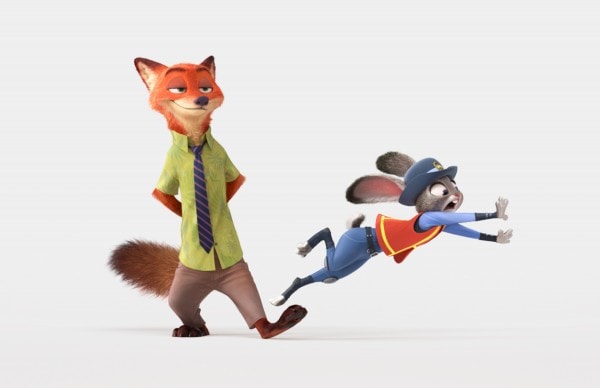 I mean look at that. That single frame tells you everything you need to know about Zootopia. It's walking, talking animals pestering each other. Which, of course, is what we all love about Disney movies so much isn't it? Think about the classics. The old school Disney movies. What were your favorites? Mine were The Jungle Book, Robin Hood, and Dumbo. Why? Because talking animals and mischief! Zootopia has that in spades. And when you consider that the main stars are Jason Bateman and Ginnifer Goodwin, it's a recipe for Disney magic complete with a pixie dust rainbow.
Zootopia follows the story of Officer Judy Hopps (voiced by Ginnifer Goodwin) as she tries to prove herself as the smallest member of Zootopia's police force. Along the way, she uncovers a case so huge it could earn her a place in the big leagues. Along the way, she must partner with Nicke Wilde (voiced by Jason Bateman), a fast-talking con-fox to solve the mystery.
Just take a look at this teaser trailer. The artwork is amazing, and they did the animals so well. Even the goat has a little cup o' grass.
Zootopia is a Comedy Adventure with Teeth
Literally. I'm excited about this flick. If there's one thing that Disney has taught me in my 35 years on planet Earth, it's that nothing is more entertaining that shenanigans and hijinks surrounding various bipedal animals. Zootopia will be arriving at theaters everywhere in all its furry glory March 4, 2016. So make sure you're there to enjoy all the animal adventure!