Here is a list of WordPress blogging tools that we use on our blog. If you see something you like on our site, chances are good that it's a plugin or other tool that I will list below. I will try to update this list as much as possible. If you are a blogger, you probably know that plugins are great until… they are not. So, sometimes a plugin that works well for a while, will eventually need a replacement. If you catch something on this list that's not up to date, please let me know!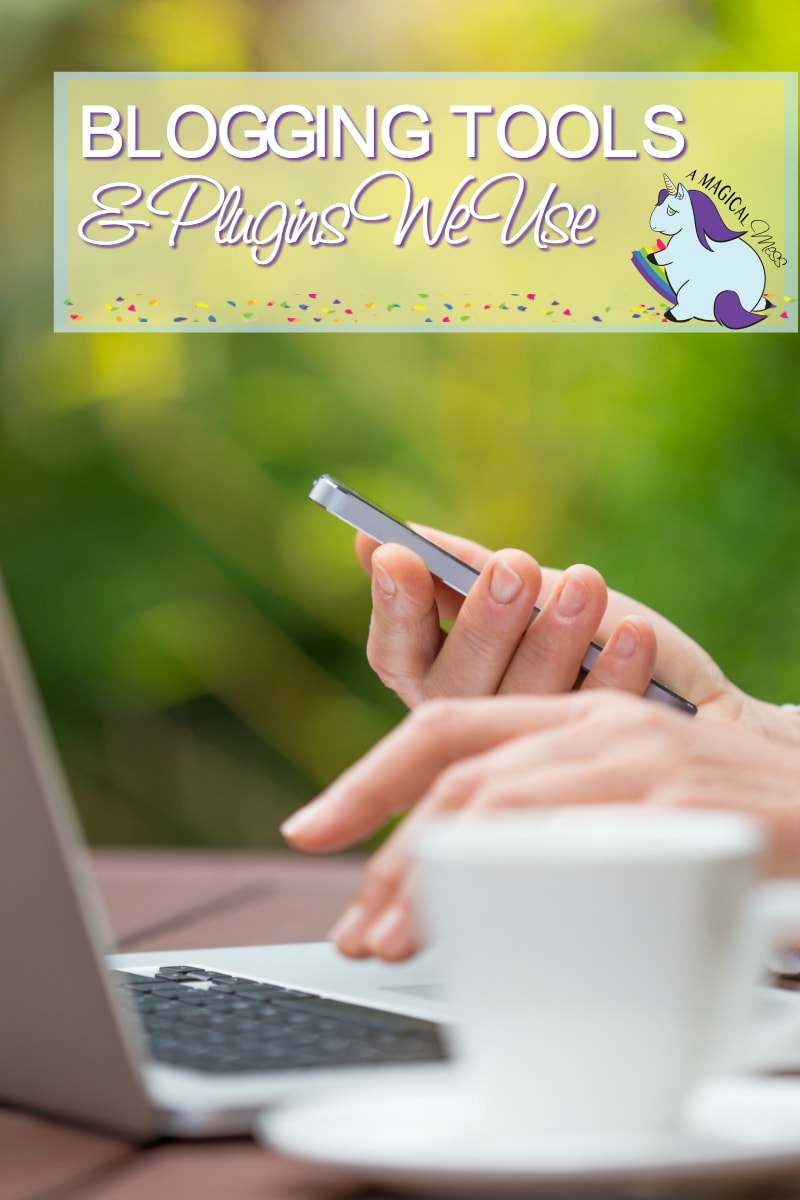 WordPress Blogging Tools – What we Use on A Magical Mess
Why am I telling all our secrets? Well, because to me, they are not secrets. If anyone messages me asking me what we use, I tell them. This just speeds things up. 😉
WordPress Theme and Hosting
We use Genesis themes from Studiopress. Our current child theme is Seasoned Pro.
Our blog is hosted by LiquidWeb (formerly WiredTree) on a dedicated server. As of May 2018, we are with BigScoots on a fully-managed WordPress package.
Writing Tools
Jaaxy for SEO keyword research. Tool we use to find competitive keywords for better chances at ranking in search engines.
Grammarly to check our blog posts. Sometimes proofreading just isn't enough!
Easy Product Displays for inserting products into blog posts in an organized way.
Photography Tools
Adobe Lightroom and Photoshop for editing. Take this course to learn how to use Photoshop and Lightroom.
PicMonkey for quick photo edits and/or to add text to images.
Social Media Tools
Tailwind to schedule pins, join tribes, and manage our Pinterest account.
CoSchedule to promote blog posts on twitter, Instagram, and my personal Facebook profile. I only use Facebook's scheduler for our Facebook page. I often use CoSchedule to post in Facebook groups where I am an admin, too.
Missinglettr to trickle out posts on twitter and Google + for a year.
Magisto for quick videos. Camtasia for detailed videos. We now use Animoto instead of Magisto for a more affordable 1080 HD video option.
Gleam to run giveaways.
WordPress Plugins we Use
The ones that aren't linked are free, and you can just type their names into the search bar in the add a new plugin section.
Advanced Custom Fields – Ever feel like you're forgetting a step in your blog post? This plugin allows you to create a checklist. Check each item off as you go to speed up your writing process.
Akismet Anti-Spam – Filters spam. Pretty sure everyone has this.
Content Views  – Display posts, pages, and even tags in layouts without coding. Create grids, scrollable lists, collapsible lists, and more. Here's an example.
Content Views Pro – The paid version of above for more features.
ConvertKit – We use ConvertKit for our newsletter. The ConvertiKit plugin allows you to embed your subscription box into posts, pages, and widgets. If you have multiple newsletters, you can change the form on each post.
CoSchedule – Editorial calendar, scheduler, and so much more. CoSchedule is pricey, but it's quickly become a must-have plugin for me. It's an all-in-one content marketing machine that deserves its own blog post to go into detail.
Frame Buster – Some traffic sources show your site in a frame. I don't fully understand it, but when they do this, they block your ads and add their own. There are several reasons you want to block frames. This plugin still shows your site; it just stops the referrer from displaying it in their frame.
Genesis Responsive Slider – Goes with our Genesis theme and allows the sliding images you see on the homepage.
Genesis Simple Hooks – Easiest way to insert code when you use a Genesis theme.
Google Analyticator – Adds the script needed to enable Google Analytics.
Gravity Forms – Create forms for just about anything. Connects to your paypal for an easy way to accept payments. Right now, I only use Gravity Forms on this blog for our Contact Me page.
Pretty Link Pro Developer Edition – Shorten, track, and share any URL. Create prettier and shorter links to share on social. You can add affiliate links and choose keywords. The plugin will add a link to those keywords throughout your blog. No need to go into every individual post to add links. Also, works for interlinking to your own blog posts. This is another nonnegotiable plugin for me — refuse to do without it.
Rel Nofollow Checkbox – Adds a simple checkbox next to link insertion to add nofollow. No need to mess with code.
Simple Social Icons – Displays our social icons with links.
Social Warfare – Social sharing plugin that does so much more than just that. Here's a whole post about this social sharing plugin that shows tweet count and why we're obsessed with it.
Social Warfare Pro – Paid version of above to get all the perks.
SocialFans Counter – Displays realtime follower count. See in our sidebar.
WP Missed Schedule – Without this plugin, our scheduled posts usually do not publish when they are supposed to.
Yoast SEO – Must have SEO plugin. Once we do our keyword research using Jaaxy, Yoast is the tool we use to make sure we use our keywords properly to help increase our chances of ranking in search engines.
There are the WordPress blogging tools we use to run our business. Feel free to ask questions!
Rainbow Crumbs for You
Weekly newsletter with our latest posts and shenanigans.