Do you ever feel like you just can't get it together? Whether you've got a case of the Mondays, you just can't get over that humpday, or you woke up thinking, thank goodness it's Friday–on Thursday we get it. Maybe you're waist deep in dirty laundry, haven't showered in a couple days, and crossed off 6 things from your to-do list, but just added 14 more. If that's the case, you're in the right spot. We're here to bring you the magic that's hiding in all of life's glorious messes…
Because if anyone knows messes, it's us. We deal with racing thoughts, anxiety, numerous pets, teenage humans, our desire to hoard all the things, and a whole bunch of ridiculous medical ailments everyday. Despite our internal and external disasters, we manage to laugh and find the joy lurking in every day.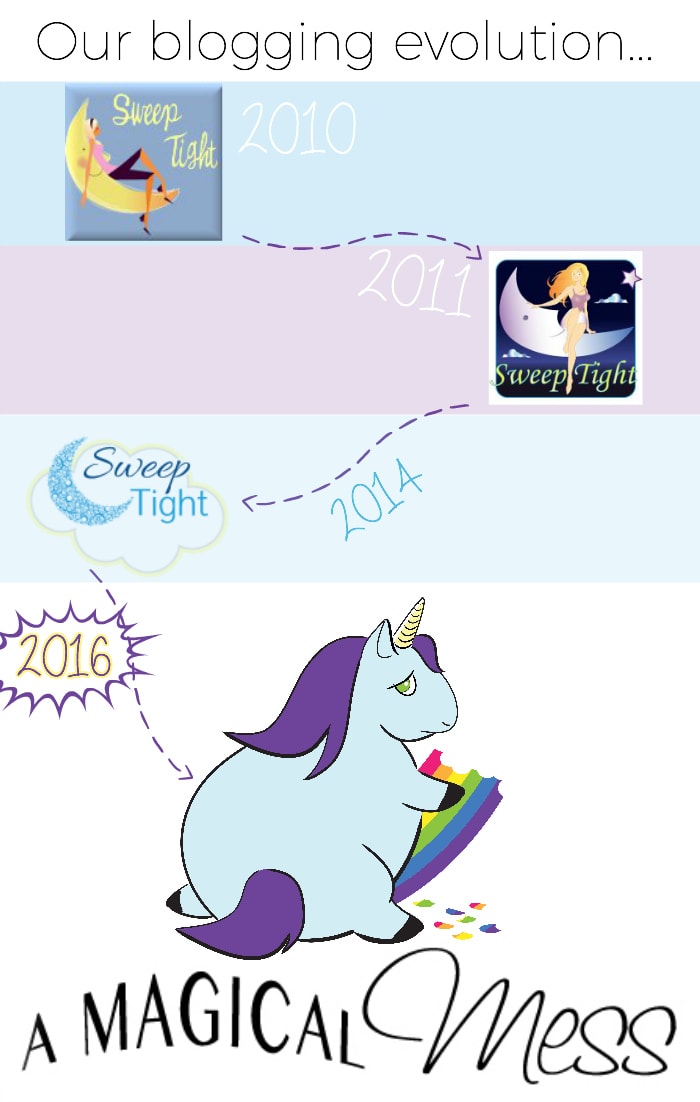 About A Magical Mess
A Magical Mess is the new, magnificent reincarnation of Sweep Tight. It is still being run by a team of awesome people you can get to know a little better below.
Owner and founder of Sweep Tight, now A Magical Mess. I am a thirty-something year old woman who lives in the Chicagoland area with my husband and three dogs. Mike and I were married on June 25, 2011 on the Pirate Ship at the Treasure Island casino in Las Vegas. When I am not working feverishly on my blog, you can find me reading, hiking, playing with our fur babies, or just hanging with friends and family.
Running this blog has been quite the experience for me. When I started, I knew nothing about blogging. This has been the most humbling and educational journey for me. I continue to eagerly and actively learn about all forms of social media.
What I am working with: iPhone 6s for photos/video, Canon Rebel T3i for food photography and hi-res images, Olympus Tough for underwater/boating pictures, Cowboystudio lighting kit, and Adobe Photoshop and Lightroom for editing.
Went from young and stupid to relatively young and wise. Getting pregnant at 16 saved my life. Along the way I learned all about just how messy life is capable of becoming. It's through the mess that you find the truest of friends. My kids–ages 16 and 13, and rescue cat all live about 10 minutes from Jen. We love watching movies, playing all sorts of games–from Fortnite, Minecraft, and Mario Kart 8, to Monopoly and Hedbanz. We've got our passports in hand and are ready to travel the globe.
What I am working with:
Samsung Galaxy Note 8
Canon Rebel T3i
DJI Mavic Pro Drone
Insta360 One 360 degree camera
PS4, Wii, Nintendo Switch, XBox360, and multiple gaming PCs
MacBook Air for daily work
I'm a Virtual Assistant, uber nerd, and animal lover. I have a Galaxy S5 which I use mainly for video game system emulation, three dogs, and an obsessive need to fill every nook and cranny of my phone's external SD card. In my spare time, I – who am I kidding? I have no spare time. =D
Some blogs posts include Royalty Free Images from Can Stock Photo.