Yes, we had a pirate ship wedding. After almost fully planning a big wedding here, we said screw it and headed to Vegas. We were married on the pirate ship at Treasure Island casino. It actually suited our personalities so much better. In fact, on our first trip to Vegas together we jokingly inquired if weddings were allowed on the pirate ship.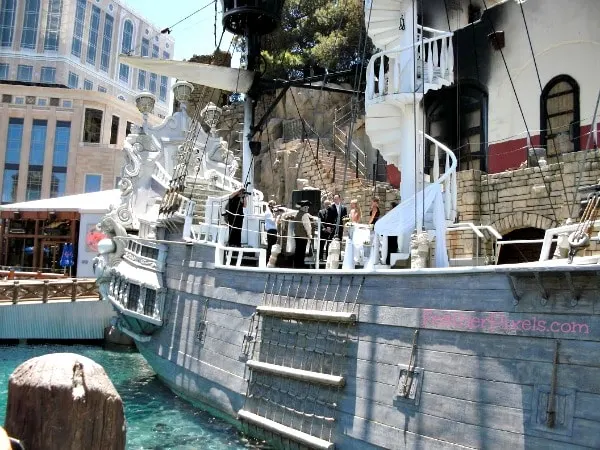 Let's back up a bit. I was never the little girl who dreamed of the day that she would wear the princess gown and have an enormous wedding. I actually hate planning events like that and find it stressful as hell. After our engagement I tried to get into wedding planning, but just was not feeling it. I was looking forward to the marriage, not the wedding. I mean, the wedding is a few hours compared to the lifetime that you are then going to spend in the partnership.
I am not trying to offend anyone who does have a big, elaborate wedding. I wish I could have gotten into it more. I mean, I didn't even get a dress until like 2 weeks before the wedding. And, I definitely wish Pinterest would have been in the picture then. That probably would have changed everything for me!
So, we didn't have the huge $50,000 banquet wedding here, but Las Vegas was still a big deal (and way less expensive). We had about 30 of our friends and family that were able to attend and it was a blast. I have no regrets on how we did things… well, that's not totally true. I wish my grandparents could have came. And… I drank too much because that's what I do in Vegas. My friends + the Vegas strip = party girl Jen. Plus, even planning this smaller event had me stressed enough to binge drink in relief once it was over.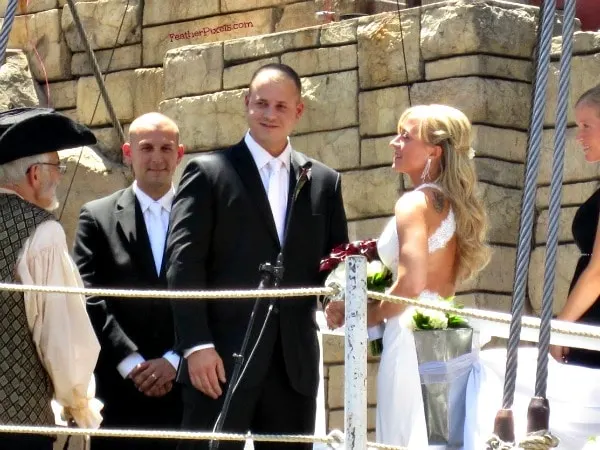 Our Pirate Ship Wedding
The pirate ship wedding took place at noon on the Pirate Ship at Treasure Island Casino. I probably do not need to mention that Las Vegas in June at noon is like standing on the sun. That's only a slight exaggeration because it was, in fact, 117 degrees. Sweat was dripping down my back (so sexy) and I felt extra horrible for the men in suits!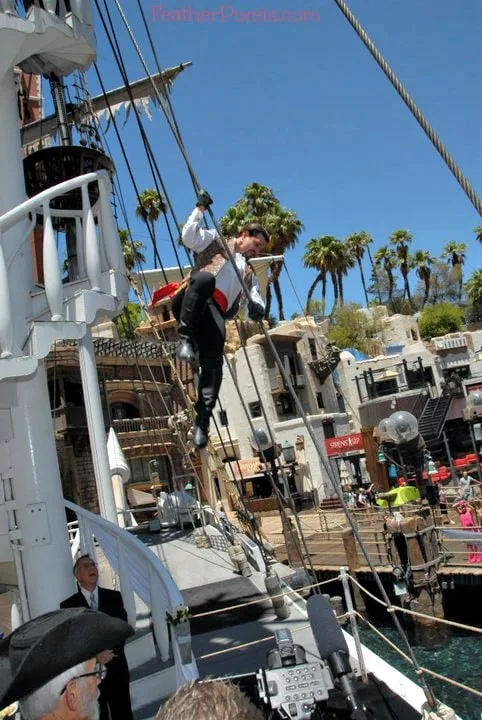 We were married by the pirate captain, naturally. He was, um, interesting, but had some nice things to say. Another pirate swooped down from an upper landing to deliver our rings. The whole ceremony was actually pretty cool. Each and every guest made a point to tell us that they had never been so entertained during a ceremony.
After that we had a small reception at Jimmy Buffet's Margaritaville. It was a couple hours of appetizers and drinks. Oh, and cake. Just look at how I am eying that cake. After a strict pre-wedding diet, I was all over that.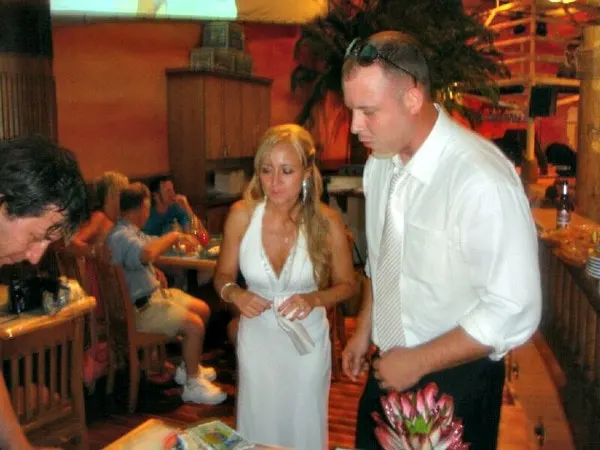 The shenanigans that took place after that shall stay in Vegas. Let's just say it was quite the party! There may have been some flippy cup and beer pong involved… and I am pretty sure we pulled an all-nighter.
We may have had a crazy wedding, but we have the tamest marriage imaginable. Now our big nights consist of watching two movies in a row. We are best buds and teammates. I love our partnership and marriage and our fun wedding memories.
Our pirate ship wedding led to our pirate ship backyard, too. At our wedding shower people got us lots of pirate-themed decorations, so might as well go with it!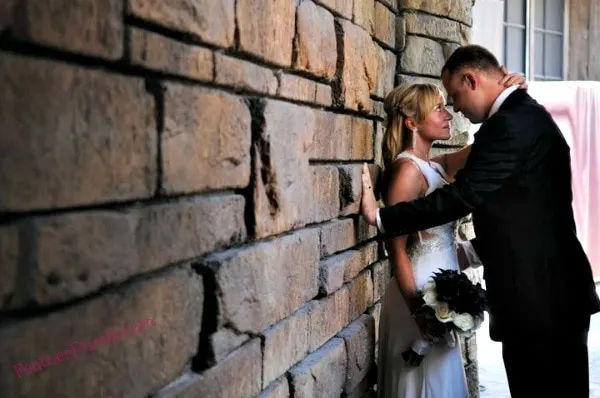 What kind of wedding did you have or do you want?