The love of my life proposed to me last weekend on July 31, 2010.
We planned a little weekend getaway to Grizzly Jack's Grand Bear Lodge located in Utica, Illinois near Starved Rock. I own a vacation villa there, so we thought we would spend the weekend in it for my birthday which is August 1. Little did I know, he was scouting out a romantic place to pop the question!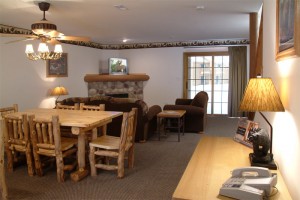 Friday night we headed on over to the Enchanted Forest for something to eat. The food was awesome! Mike forgot his swim trunks so we didn't go to the water park this time.
Saturday we spent the day hiking at Starved Rock. Mike was on a mission to find a waterfall. That didn't make me suspect anything because we both just like them. There hadn't been enough rain that week to get the waterfalls really flowing, but we did find a small one.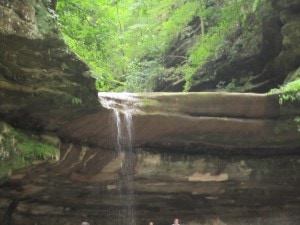 There were a lot of people there and some kids were running around looking at worms or something. They were all excited, so of course, I had to hurry over and see what the fuss was about.
Yep, there were tiny white worms all over. I don't know, maybe maggots? Whatever they were, they were soon all over my butt because I fell. Shocking right? Not if you know me!
Needless to say, Mike did not ask my maggot-covered self to marry him there. We carefully made our way to the next canyon.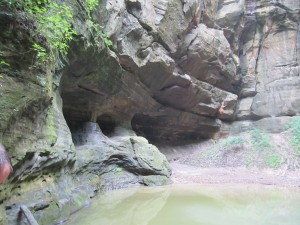 Some drama was going on in this canyon, too. A lady was being harassed by an enormous fly of some sorts. She was flailing around and screaming. I didn't blame her. I would have been doing the same thing.
I showed her my worm butt and she didn't feel as bad then. Here is where I started to know something was up with Mike. I could feel he was stalling, but I still had no clue why. He was waiting for all the people to leave the canyon. Once they did, he told me to take a picture of a pretty part of the canyon.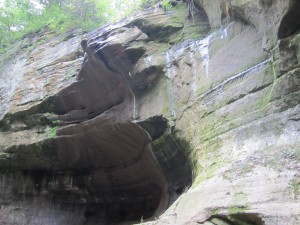 When I was done, he was behind me down on one knee. I didn't even let him finish asking the question. I just immediately started shaking and crying and saying "yes, of course, I love you!" I'm not even totally sure what I said, I was so happy and surprised.
I really wish someone would have had recorded it, because that is a moment I would definitely want to relive. Or at least take a picture of us or something. My head was in the clouds, oh well!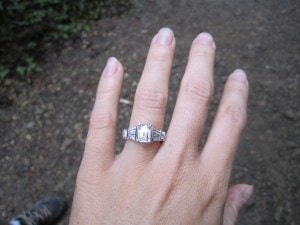 I have never been so happy in my entire life. I love this man so much and cannot wait to become his wife!
Now we just have to decide when and where we would like to get married. All tips and suggestions welcome!
If you want more pictures of pretty hiking spots in LaSalle county, visit this post where we visit Matthiessen State park.
Update: We got married on the pirate ship at Treasure Island in Las Vegas!