I have been doing yard work since I was a kid. Now that I'm older, I actually get excited about power tools.
When I saw RYOBI's line of outdoor products that all run on the same type of lithium battery, I immediately contacted them.
As a result, I was lucky enough to receive this RYOBI Lithium 40V Cordless String Trimmer in exchange for my honest feedback. All thoughts are my own.
RYOBI Lithium 40V MAX Power Weed Eater

First of all, I'd like to describe my super obnoxious yard. It is about an acre and a quarter of weeds, corral and uneven ground. In the front we have a large berm.
Around twenty years ago, the city wouldn't let us put up a fence, so we built up a large hill to block out the noise of the busy street. Well, we have our peace and privacy, but mowing it is a nightmare.
Oh, and we have enormous white oaks all over the property. They are majestic and gorgeous but their leaves prevent any actual grass from growing, so it's all just weeds.
The yard was extremely overgrown when I decided to finally give it some attention. I was a little worried the RYOBI Lithium 40V Trimmer would lose power before I could get through it. But, it made it!
And the best part of Lithium batteries is they last long and die abruptly–as opposed to slowly loosing juice and performing weakly before dying completely. These just go from on to off.
It only takes 90 minutes to charge completely and if you have 2 batteries, you can charge one while you work and swap.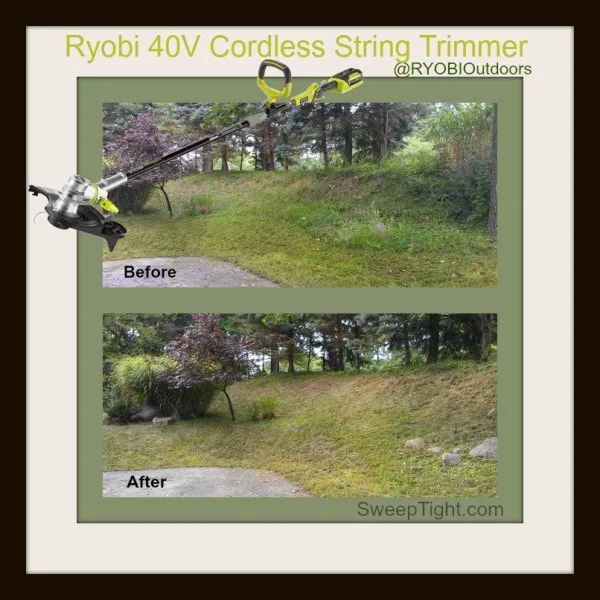 I love everything about this product, but I had to play with the adjustable handle to find the right comfort level.
It was a bit off balance at first, but when I angled the handle it made it much easier to use.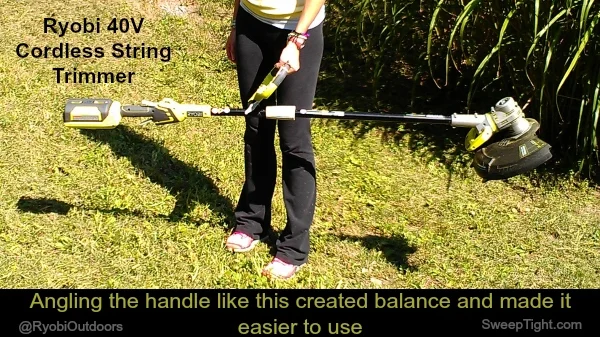 Favorite Features:
Green (color and eco-friendly)
NO BUMP required to feed line (this is AWESOME)
No more stinky/messy gasoline and oil
No more pull-to-start nonsense, just push down on two tabs
Money saving
Long lasting charge
Tons of accessories available
Less vibrations in your arms than gas powered weed eaters (Super important to avoid for migraine sufferers!)
Multi-function trimmer/edger one step switching
Battery charge sensors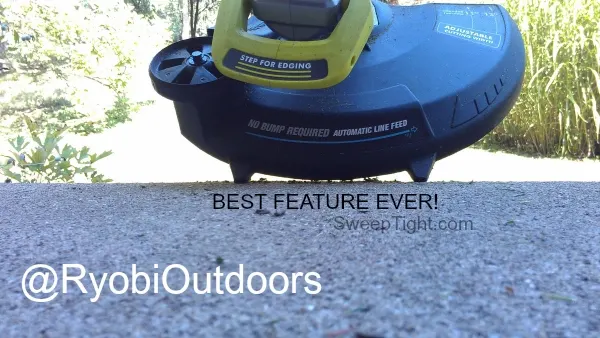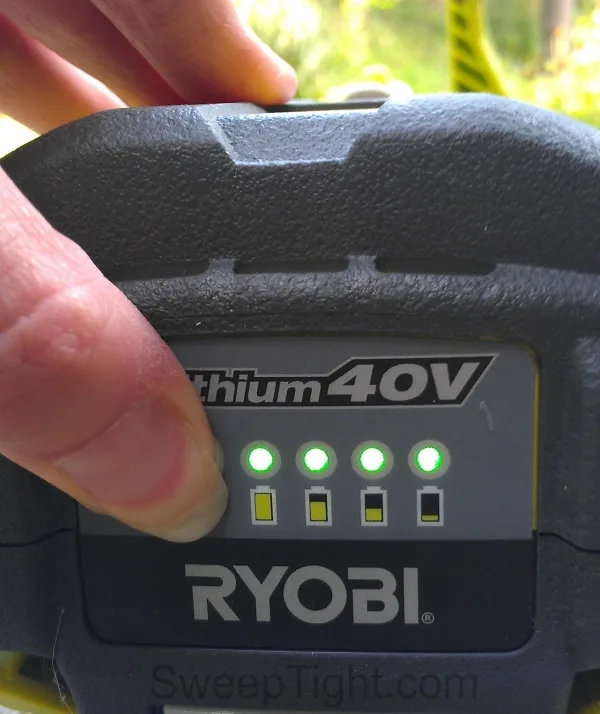 WORKOUTside! Reshape your yard and body!
I'm a mom of two, full-time student, blogger and work part time. Busy doesn't even begin to cover my day. Going to the gym is a fantasy (that's why I want to work in one) so getting exercise is a challenge.
I find that incorporating it into chores I am able to stay in shape. I burned almost 1400 calories working in the yard for just a couple hours! That's better than most workouts I would do at the gym.
Plus, I save money by doing this myself, get to absorb some vitamin D and feel good about a job well done.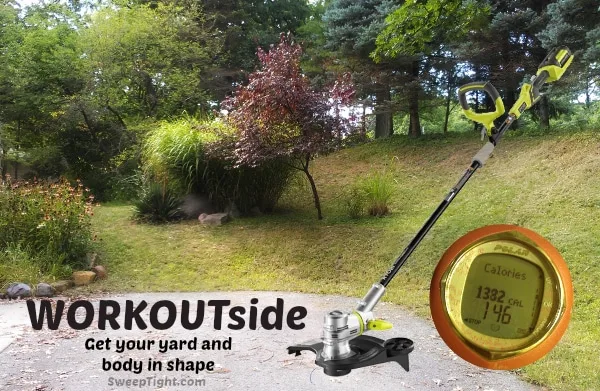 Of course, always use proper safety precautions when exercising or using power tools.
I hope to be the proud owner of this entire line of outdoor products. Make sure to check them all out and keep in touch with RYOBI.

Have you tried any RYOBI outdoor products yet?