I was crazy lucky to be invited to a screening of Danny Collins a couple weeks ago. After watching the movie we were even able to meet the writer/director, Dan Fogelman! Despite getting this awesome opportunity free of charge, I'm sharing my honest opinions with you.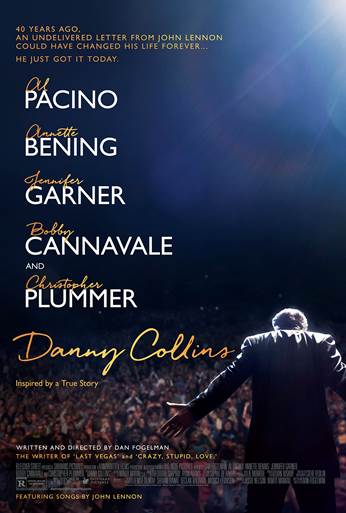 Danny Collins
Synopsis:
Inspired by a true story, Al Pacino stars as aging 1970's rocker Danny Collins, who can't give up his hard-living ways. But when his manager (Christopher Plummer) uncovers a 40 year-old undelivered letter written to him by John Lennon, he decides to change course and embarks on a heartfelt journey to rediscover his family, find true love and begin a second act.
No matter your gender, profession, or primal preference, there is something in this film for everyone. It embraces what it is to be alive in a generation of muddled up mayhem. As we all struggle to find our place among 7.3 billion people while learning from all of our combined messy pasts, we're finding a lot of us are full of compassion, empathy, and most of all, brutal honesty.
The storyline in Danny Collins is sweet, relatable and entertaining. But, what wowed me the most is the way Dan Fogelman writes. Also known for Crazy, Stupid, Love; Las Vegas, and Tangled, Fogelman has an incredible ability to keep it real. In fact, when I had the opportunity to meet him, that's exactly what I said. Although, it came out embarrassingly lame. I had patiently–and with a stellar calm–waited my turn to introduce myself. As I approached, that cool collected human transformed into a bumbling fool. With a cheshire style grin, I shook his hand with my cold clammy phalanges and said "Way to keep it real man," with a weird surfer-ish voice. (I kept it real as my spastic idiot self.) 😉
The times of our grandma's coy humility and hush-hush banter are over. Danny Collins grasps the way we frankly state our emotions for the good or ugly. The slightly offensive way we "keep it 100". It is for this reason I am proud to be part of this truth-spewing movement. The challenged child with ADHD isn't shamed, discouraged or kept in secret. She's snuggled with acceptance and taught to find creative coping skills. The estranged father is met with frank raw emotion. The cheating spouse is recognized and tolerated. No shame. I'm feeling what I'm feeling and saying what I'm thinking. Pure HUMAN.
Danny Collins comes out in theaters TONIGHT! (March 27th, 2015) See it! You won't be disappointed.