The sauce is key to making an easy stuffed shells recipe taste like you slaved in the kitchen for hours. Stuffed shells are one of my favorite comfort foods, and with the new RAGÚ® Spicy Italian Style Sauce, they just got better. RAGÚ® sponsored this post, but all opinions are my own.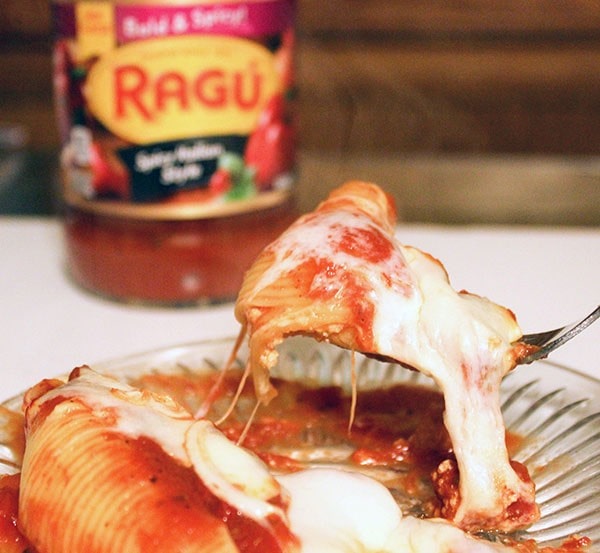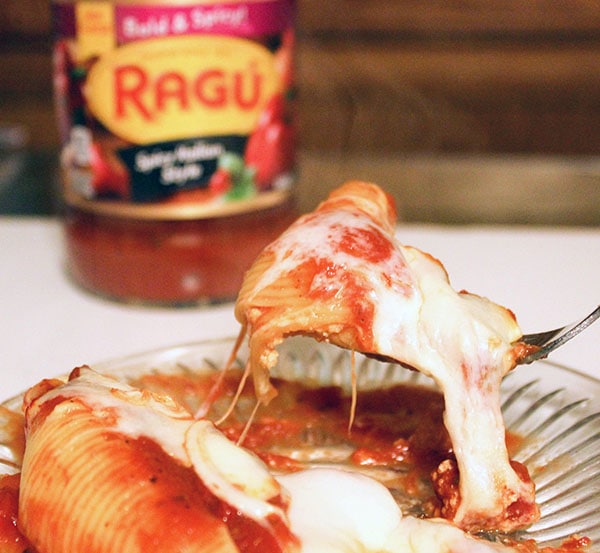 Every time I try to make a pasta dish without meat, Mike complains. He says there's no flavor without ground beef or sausage. I have a blander palate than him, so I am always on a quest to find a happy medium.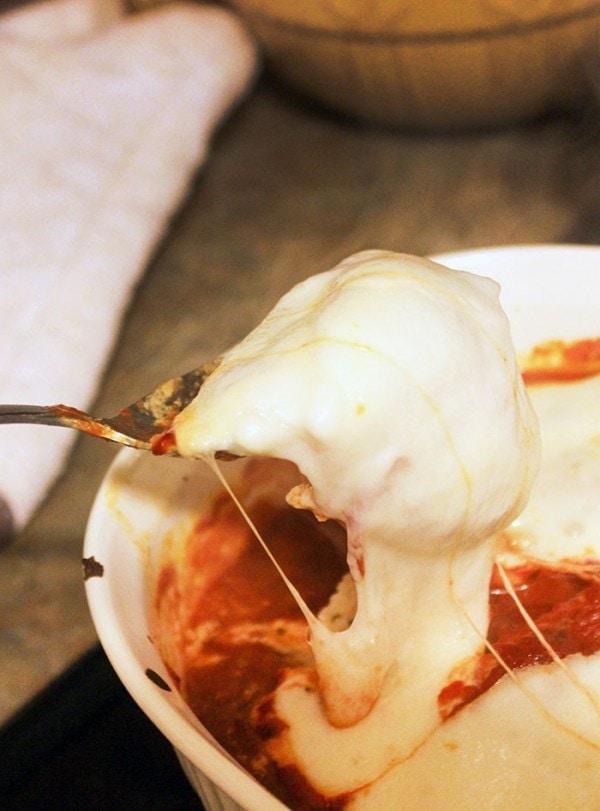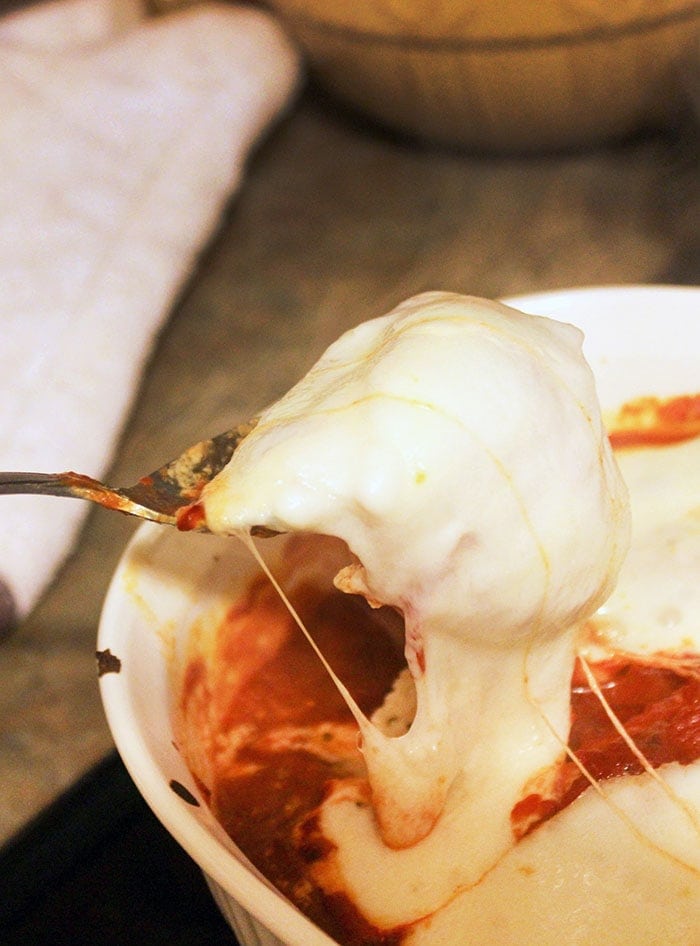 Turns out, the easy stuffed shells recipe that I make can go from boring (according to Mike) to "The best stuffed shells I've ever had" (his words) by just changing the sauce. RAGÚ® Spicy Italian Style Sauce is packed with flavor. It's spicy, and yet, not too overpowering for my wimpy taste buds.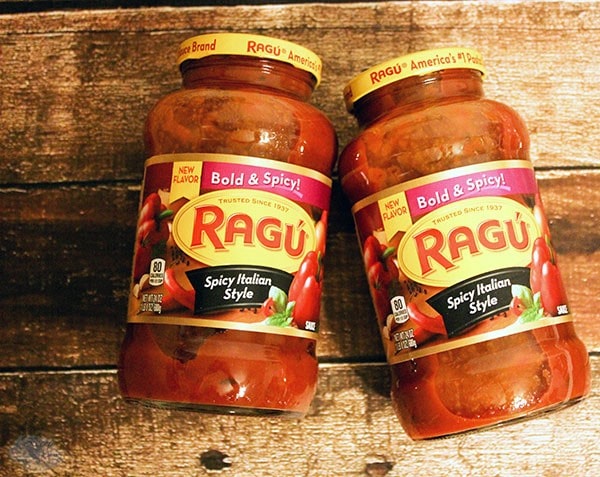 New RAGÚ® Spicy Italian Style Sauce
The new RAGU sauce is made with 100% California-grown tomatoes, fresh red bell peppers, and ground red pepper flakes. The blend adds just the right amount of kick to any pasta dish. The sauce contains no artificial ingredients, artificial colors, or preservatives. It's also low-calorie and low-fat. I, of course, make up for that with cheese. 😉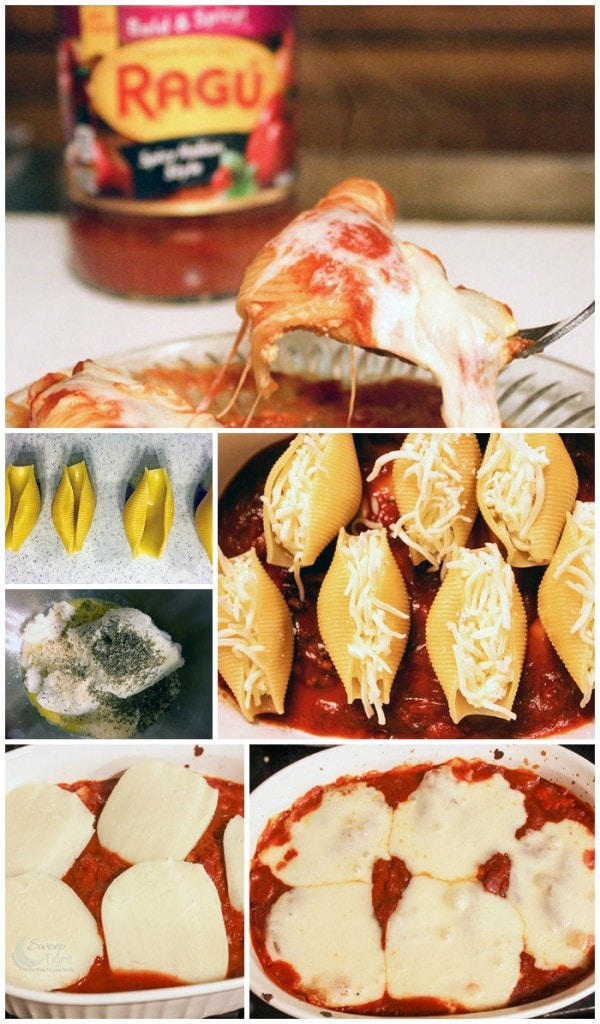 Easy Stuffed Shells Recipe with Spicy Sauce
Ingredients
2 Jars RAGÚ® Spicy Italian Style Sauce
Box of Jumbo Shells
2 Eggs
32 oz Ricotta Cheese
1 lb Mozzarella Cheese
8 oz Parmesan Cheese
1 Tablespoon Italian Seasoning
Directions
Preheat oven to 350 degrees.
Boil jumbo shells for 7 minutes. You want them to be al dente. They will finish cooking in the oven.
Add eggs to a mixing bowl and beat them before adding additional ingredients.
Mix the ricotta cheese, parmesan cheese, and Italian seasoning in with the eggs. You can also add one cup of shredded mozzarella cheese in with this mixture instead of stuffing it into the shells like I did. I basically just added an extra step for myself for no reason.
Drain jumbo shells and place them on a board for stuffing. Since they are al dente, they are easy to work with. I use a spreader to stuff the cheese mixture into the shells.
Spread a layer of RAGÚ® Spicy Italian Style Sauce in the bottom of a 9 x 13 pan.
Add stuffed shells on top of sauce.
Dump the rest of your RAGÚ® Spicy Italian Style Sauce on top of the shells.
Bake for 30 minutes.
Slice fresh mozzarella cheese. Top your dish after it has baked for 30 minutes. Bake for an additional 15 minutes, or until cheese is bubbling. You can also use shredded mozzarella cheese here, but I love the way the fresh cheese gets super melty.
Try this easy stuffed shells recipe or any of your favorite Italian dishes with the new RAGÚ® Spicy Italian Style Sauce and let me know what you think!
Rainbow Crumbs for You
Weekly newsletter with our latest posts and shenanigans.