Snacks are a huge part of our day. Before I had kids I used to eat one to two large meals a day. Albeit, that was a long time ago but old habits die hard. Now it seems my meals just got larger because I'm eating not just what I make for me, but anything the kids leave behind too. Well, I feel like crap. Product received for review. Post contains affiliate links.
Within the last few years I learned that eating small meals, or in my case, just "picking" all day is overall better for your metabolism. It keeps it going all day instead of just slamming it with one large dose of food. I've been practicing this all day, snacking if you will, for over a year now. As long as the snacks are somewhat healthy, I feel great. My weight isn't yo-yoing all over the place anymore. My blood sugar doesn't crash and spike as often. And I find it kind of fun to eat all day! 🙂
But because I am a mom, among a thousand other things, I don't always (okay, never) have the time to prepare healthy snacks to pick at all day. So, my mission for some time now has been to find convenient, nutritious and affordable snacks for me AND the kids.
Healthy Snacks for All
I'm so excited to have had the opportunity to review Fruition Bars from PROBAR. Each of them has a a full two servings of fruit and are certified organic snacks.
The variety pack I received had the following flavors: Cherry, Strawberry, Blueberry, Peach, Cran-Raspberry, Lemon and Chocolate-Orange.
I'll be honest… I thought Chocolate-Orange would be gross as I am not a huge fan of fruit/chocolate combos. But, it ended up being my favorite flavor! They were all delicious but that one really surprised me. The feel of these is a bit wet, but not sticky and I think that is super important for on-the-go snacks. I cannot stand snacks that crumble all over your lap while driving or sitting at your desk. And worse, is getting your fingers all sticky when you're not close to soap and water.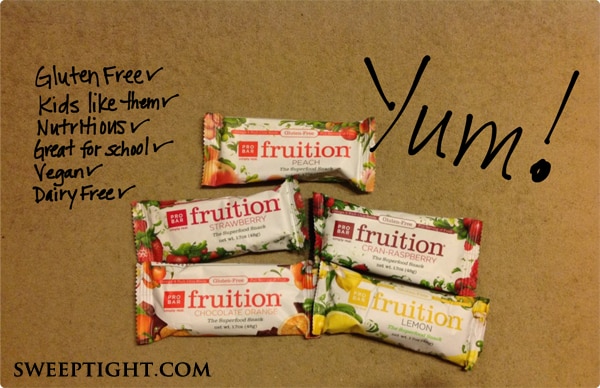 The best part… the kids like Fruition bars too! (And, they're gluten free!) They are perfect for school lunches or anytime snacks. I keep one in my purse at all times!