I'm calling it a goal car instead of a dream car because I legit want this vehicle in my life. The 2016 Kia Sorento is seriously awesome. I was able to use this car for a week to facilitate this review. All thoughts and opinions are my own.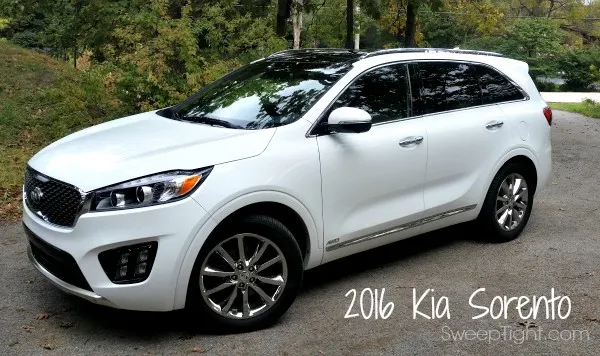 2016 Kia Sorento SXL V6
A week wasn't long enough. I was so sad to give this badass SUV back. There are so many things I love about it, it's difficult to find a place to start. So, I guess I'll start with my favorite time of day: nap time.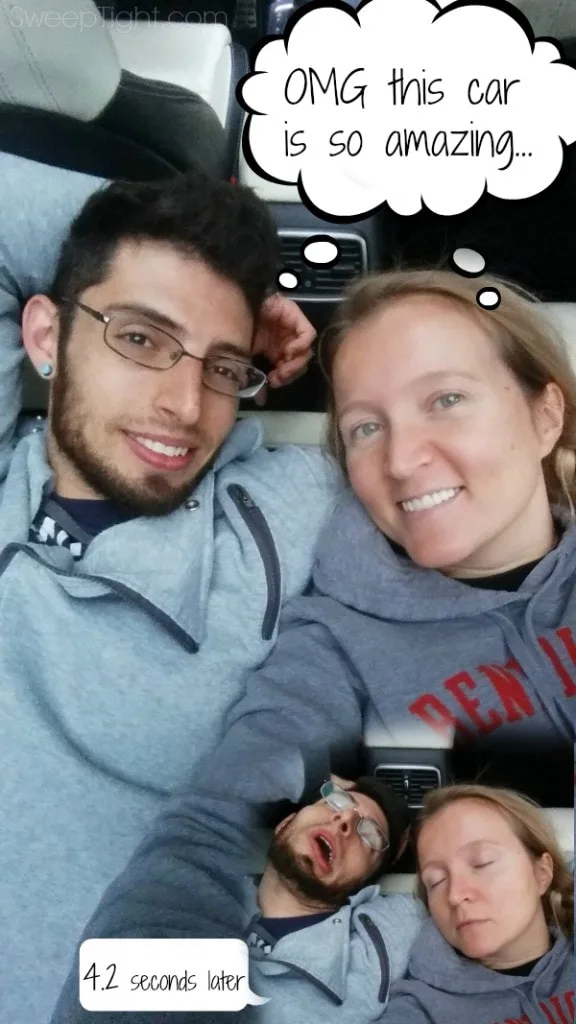 Creature Comfort
Why nap time? Because while I rarely am able to take a nap–despite needing one or two a day–you could actually take one in this vehicle. (Obviously not while driving!) It's that comfortable and spacious.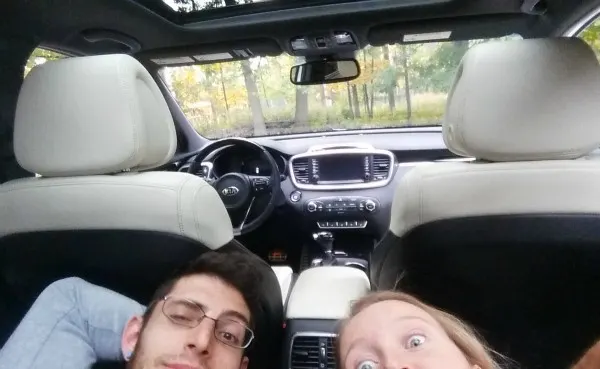 The back seats RECLINE.
The back (second row) and third row seats fold down completely with just a few easy pushes and pulls.
The front seats are heated and air conditioned.
The panoramic sun roof is… like a window into the heavens.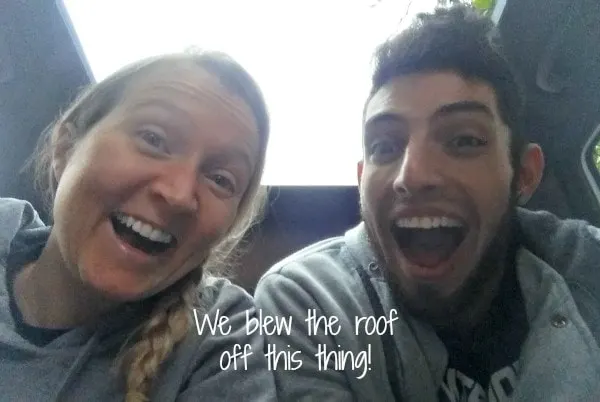 There are pull-up shades on the back windows.
You can control the air flow and temperature from the back of the vehicle.
The seats hold your butt as if you're sitting on a delicate flower made specifically for your butt.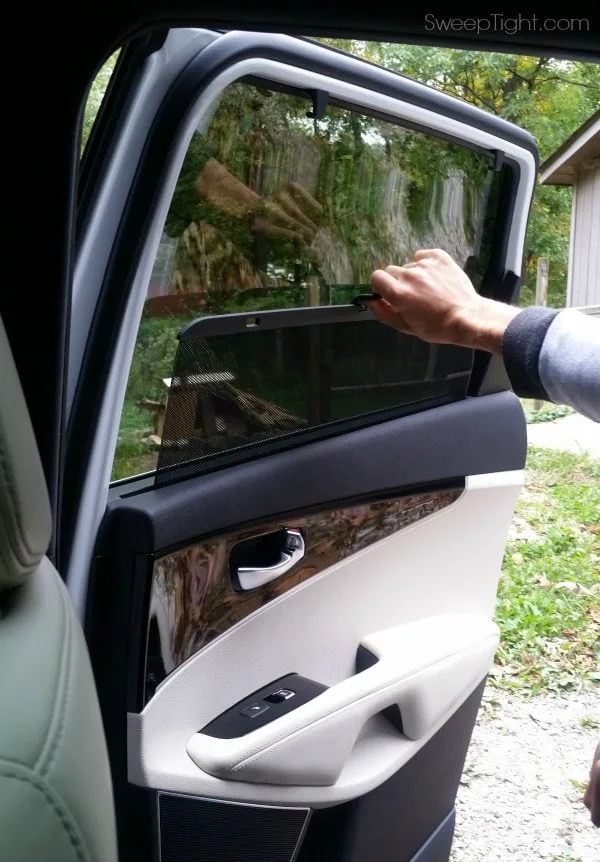 Safety Stuff
So, perhaps I should have discussed this first since it's arguably more important than comfort. But, man, I'm still trying to figure out how I can get that driver's seat to be an office chair…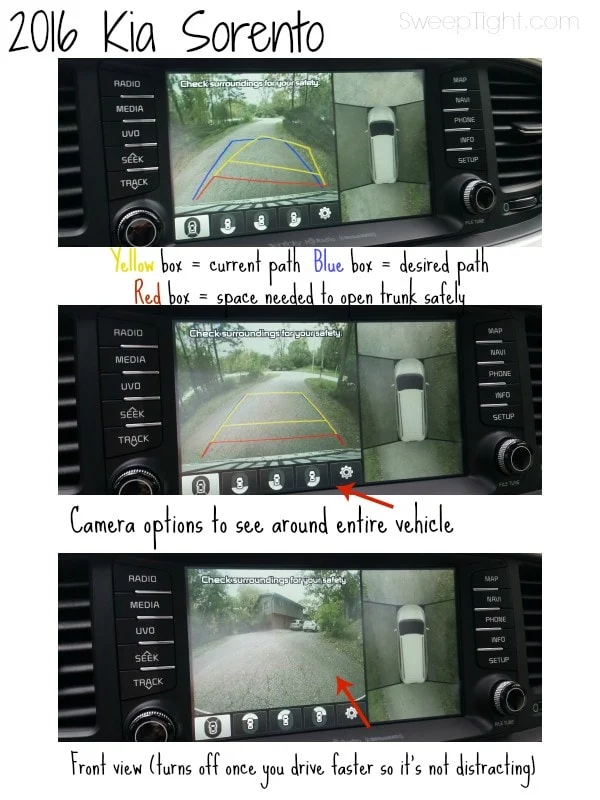 Anywho, the 2016 Kia Sorento is jam packed with safety features. The darn thing practically drives itself. No joke… it's a lot like being in a video game.
With cameras all over the place, the in-dash screen is able to show you the entire circumference of the vehicle. With a simple push of a button (parking assist) you will be able to park so perfectly in the lines you'd make your kindergarten teacher proud. Plus, this allows you to make sure the area around you is clear. You won't even hit a caterpillar unless you're evil and aiming for it.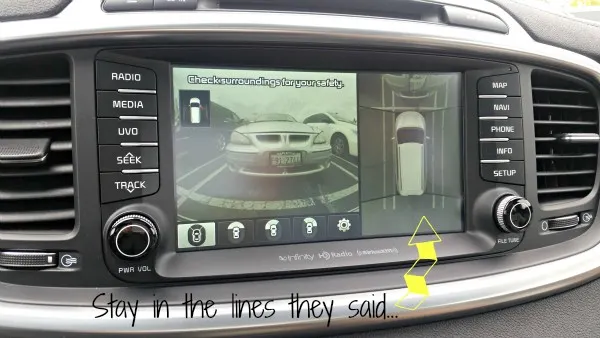 There are blind spot alerts built into the side mirrors that light up is someone is in your blind spot. The car will even beep at you if you cross the lines on the road–this can be disabled with the push of a button if desired, or by using your turning signal. But this is a great warning system if you're not the best driver.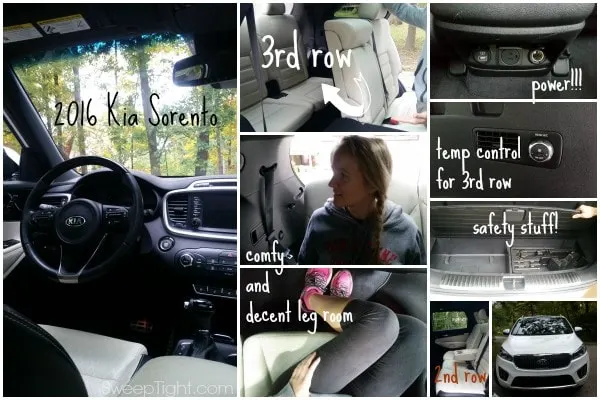 Like most new cars these days, you have the ability to be completely hands-free with your phone. Linking my smartphone via Bluetooth took all of 4 seconds and then every time I got in the vehicle from there it was an immediate link (as long as Bluetooth was enabled on my phone.)
Pretty Girl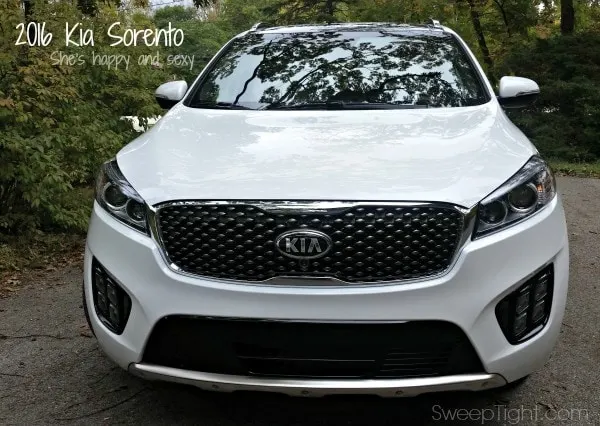 There's no denying it. She's sexy. The 2016 Kia Sorento is simultaneously sleek and sharp and tough. The new grill is an eye grabber in itself. What I like best is this vehicle has almost all the perks of a minivan, without being a minivan. (Minivans are great, I just vowed to never own one–which I did and loved the frumpy thing.)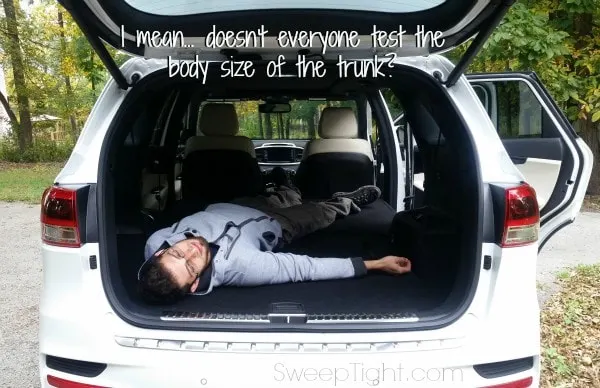 What is your favorite feature of the 2016 Kia Sorento?