This post covers hot springs in Montana located in the south central region of the state known as Yellowstone Country.
Some are easily swimmable hot springs while others are just for viewing. Whichever your preference, you're going to want to arrive prepared.
Download our printable checklist at the end of this post!
Thanks to Yellowstone Country Tourism I was able to see these wonderful sights as part of FAM trip.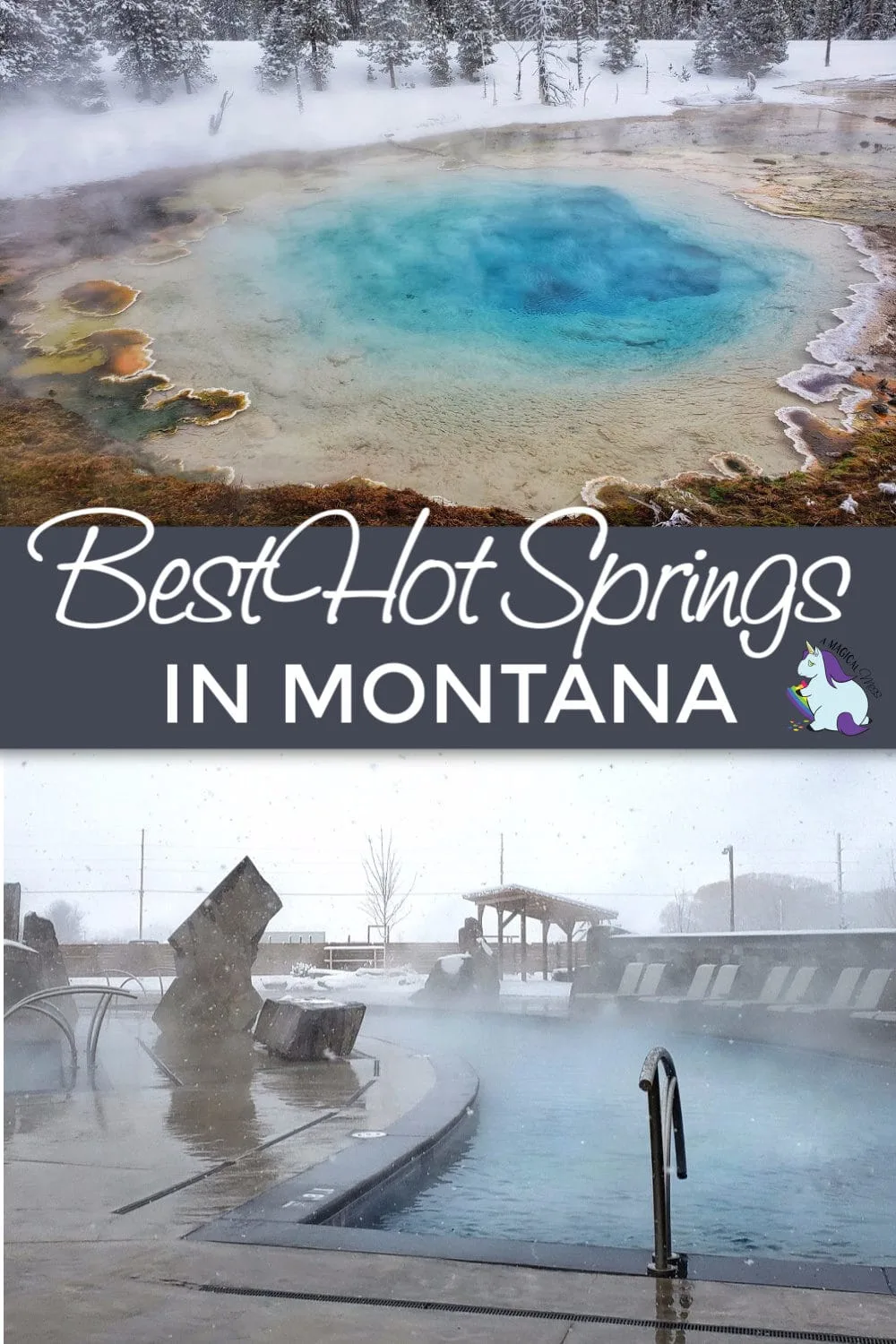 Hot Springs in Montana – Yellowstone Country Region
Swimmable Hot Springs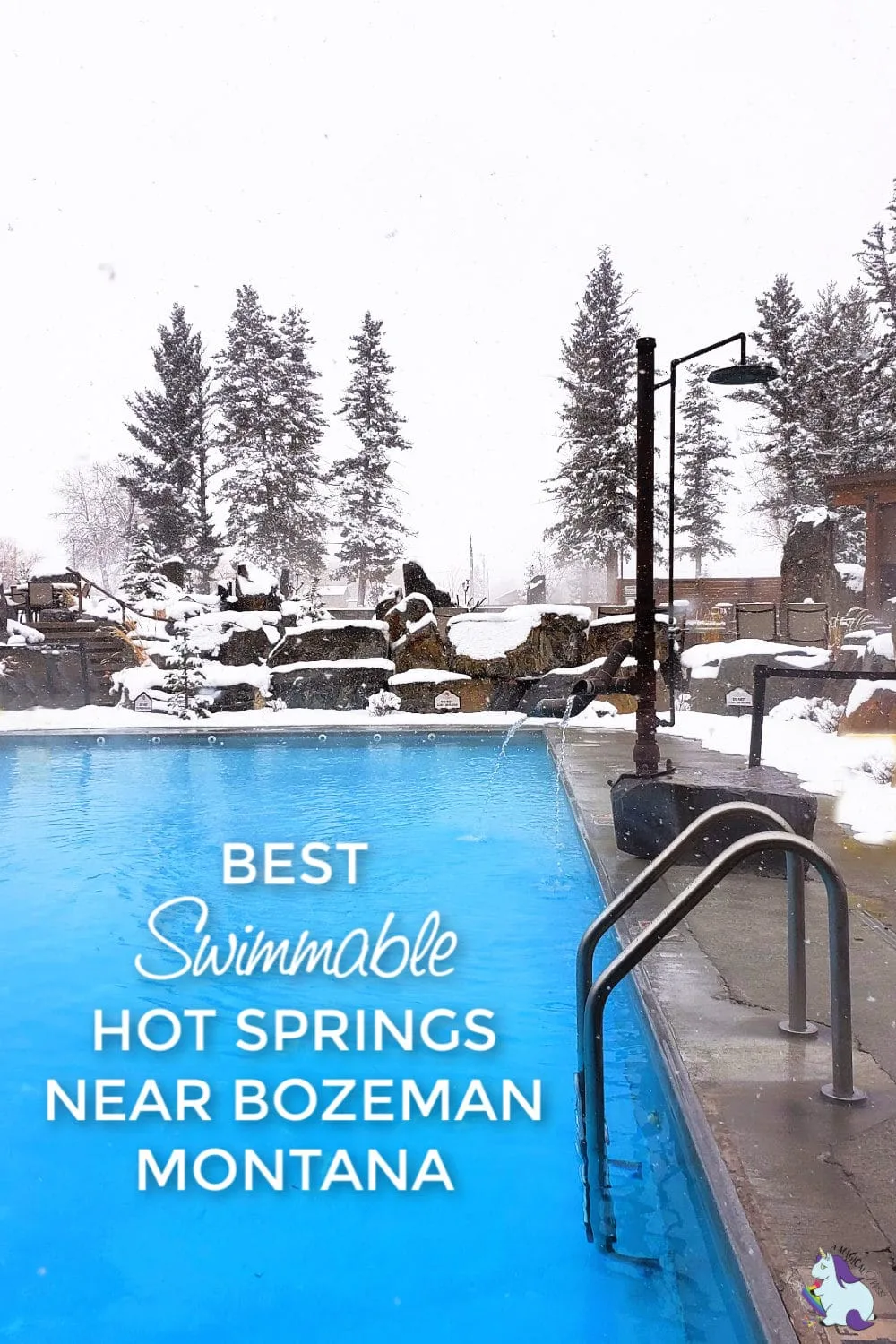 Bozeman Hot Springs
This location has been a literal hot spot for soaking for over 100 years!
The facility offers a full fitness center, hot and dry saunas, and 12 naturally spring-fed pools.
The hottest and coldest pools are indoors and right next to each other which makes going back and forth convenient.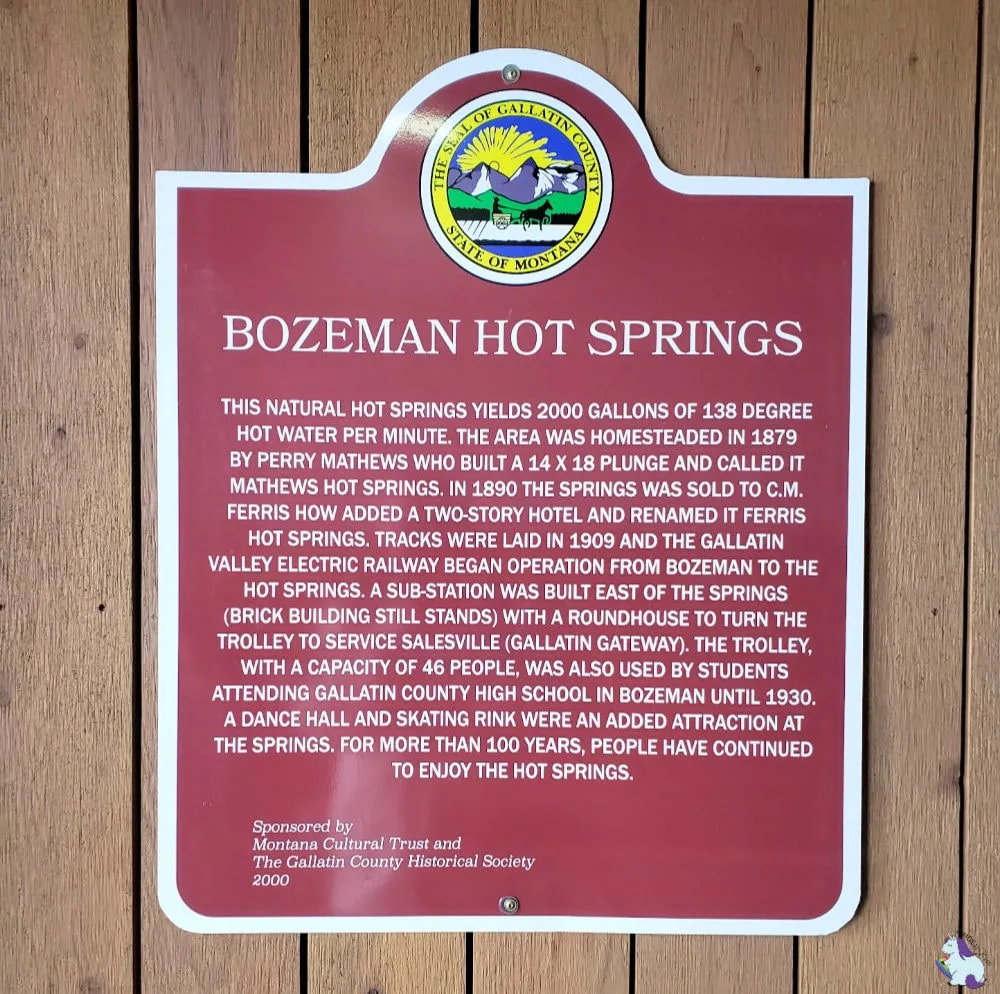 While the outdoor pools are chlorinated, the indoor pools are drained each night (right back into the earth) and refilled so they remain chemical-free.
To see a list of the minerals in the spring water, visit them online.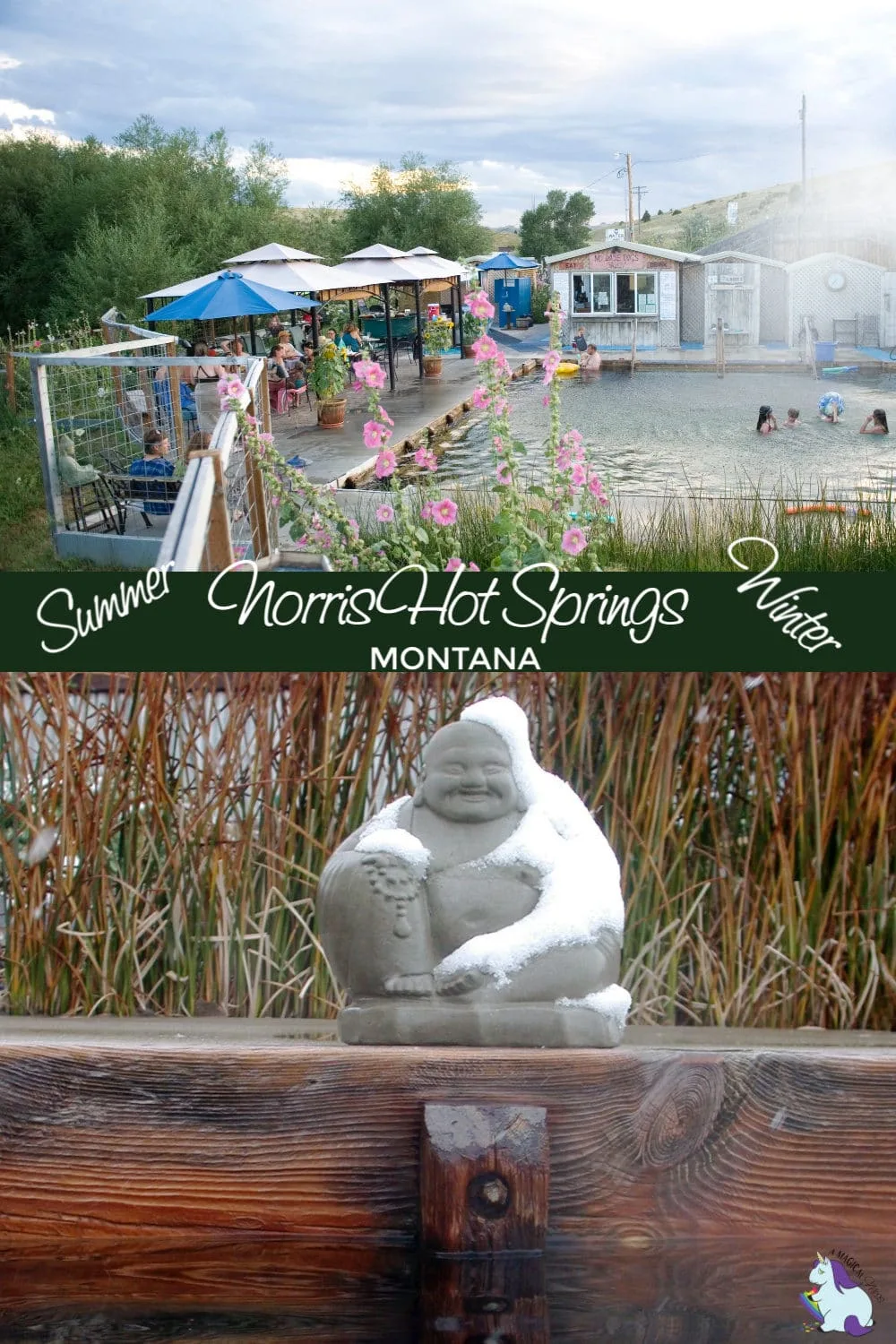 Norris Hot Springs
Norris Hot Springs is home to The 50 Mile Grill. The menu offers predominantly locally sourced dishes; alcoholic beverages are also available.
They even offer specials for Designated Drivers who bring 3-5 paying soakers in their vehicle!
The fees for soaking are super affordable–$8 and under. Their large pool is additive-free, drained every night, and pressure washed once a week.
The spring water is naturally low in sulfur so there is no odor. For more information about the mineral content, visit their website.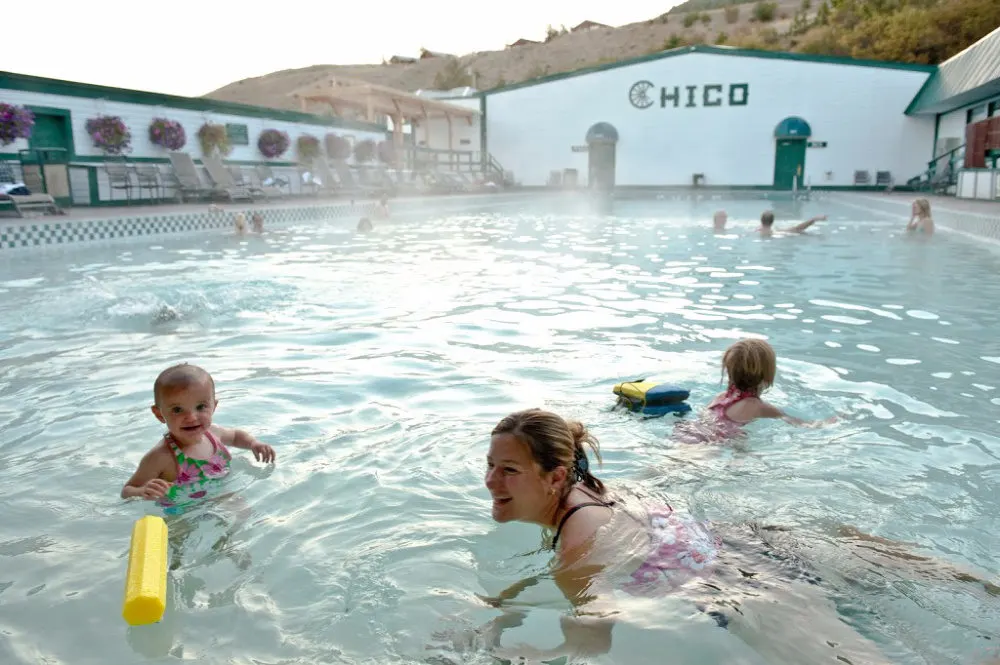 Chico Hot Springs
Chico Hot Springs offers the full resort experience with a day spa and elegant accommodations.
Guests staying on site enjoy longer soaking hours, and the admission cost is included in your stay.
Outsiders are welcome but pay to soak, ($8.50 for adults, $3.50 for kids and seniors, kids 2 and under* are free,) and should bring a towel or pay a small fee to rent one.
Located in Paradise Valley between Yellowstone National Park and the charming town of Livingston, the views are breathtaking in every direction.
There are two additive-free, odorless pools located outdoors. The smaller pool is hotter, with an average temperature of 103° F. The larger pool runs around 96° F.
*Warning: Soaking in hot water is not recommended for children under two years of age.
Water above 100 degrees may be harmful to infants. Consult your physician.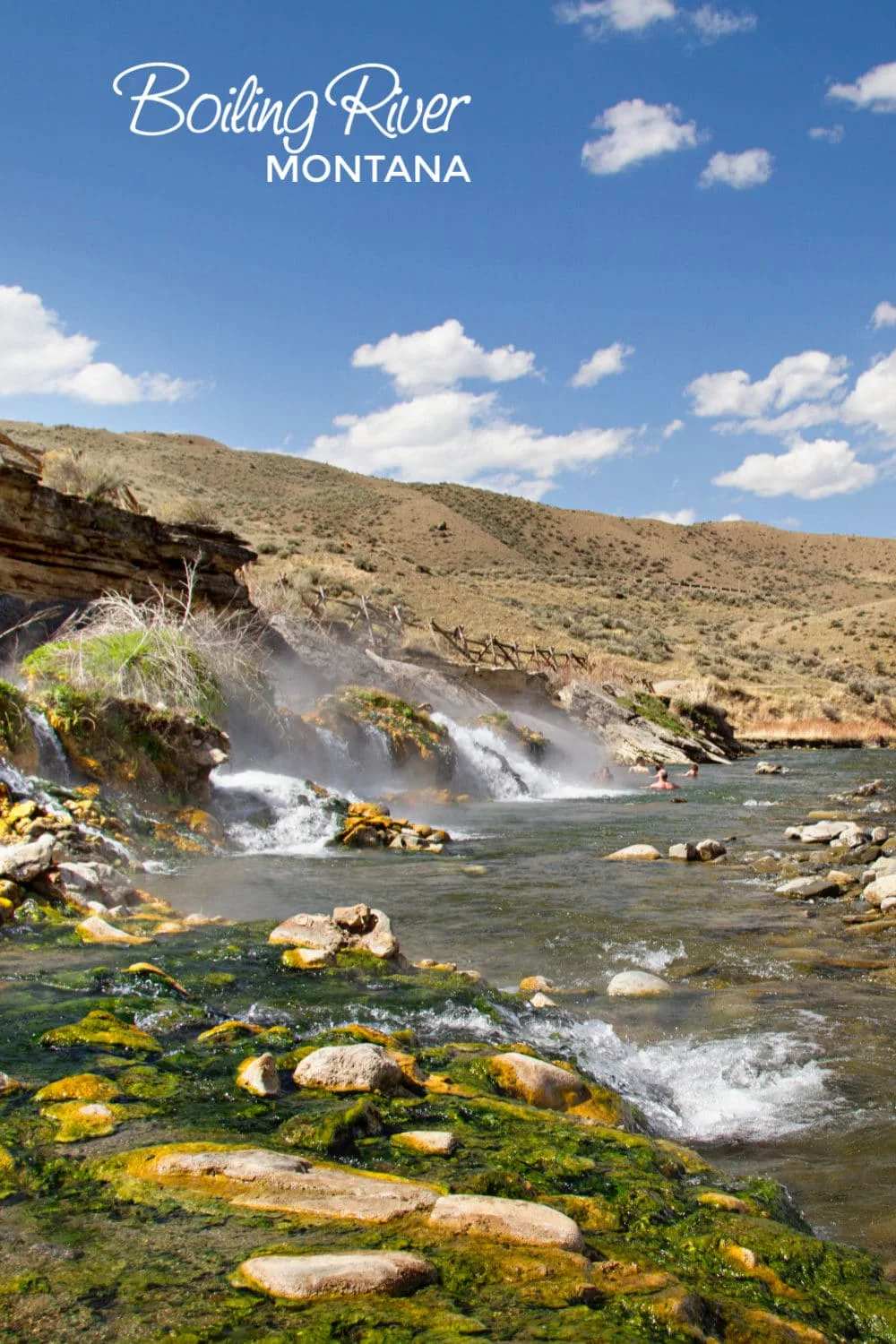 Boiling River
To get the full idea of just how magical this place is, please watch my friend Jason's video. He captured the experience perfectly!
Take note, however, that Boiling River is closed in the Spring due to the depth of the water and swimming/soaking anytime is done at your own risk. There are no lifeguards on duty.
There are serious risks to consider when soaking "in the wild." There are no temperature regulators.
The cold water of the river can cause hypothermia and hot spring water can reach near the boiling point.
Please read more about the hazards involved before planning your visit.
Printable Checklist for What to Bring to Hot Springs Located Below
Benefits of Soaking in Natural Hot Springs
Let's discuss the many possible benefits of soaking in this mineral-rich water. *Always consult your physician before taking the plunge, especially if you're pregnant, elderly, have any cardiovascular issues, or other serious illnesses or skin conditions.
Improved Circulation – The warm temperature encourages increased blood flow, and when your skin absorbs minerals from the water it increases your hydrostatic pressure. As your blood is pumping, it's becoming more oxygenated, much like when you exercise.
Stress Reducer – There's something in the water! In any other context, that statement would freak most of us out. In this case, it's the minerals that are aiding in a positive psychological boost.
Pain Relief – Mineral baths have been used for centuries to relieve muscle tension and soreness. Additionally, the increased buoyancy reduces even more pressure on your joints than a typical hot bath.
Better Sleep – When your body temp rises and then rapidly cools your muscles relax which can help you sink into a deeper sleep.
Softer skin – The high silica content in hot springs can be great for dry, rough skin and sulfur can help with eczema and psoriasis symptoms.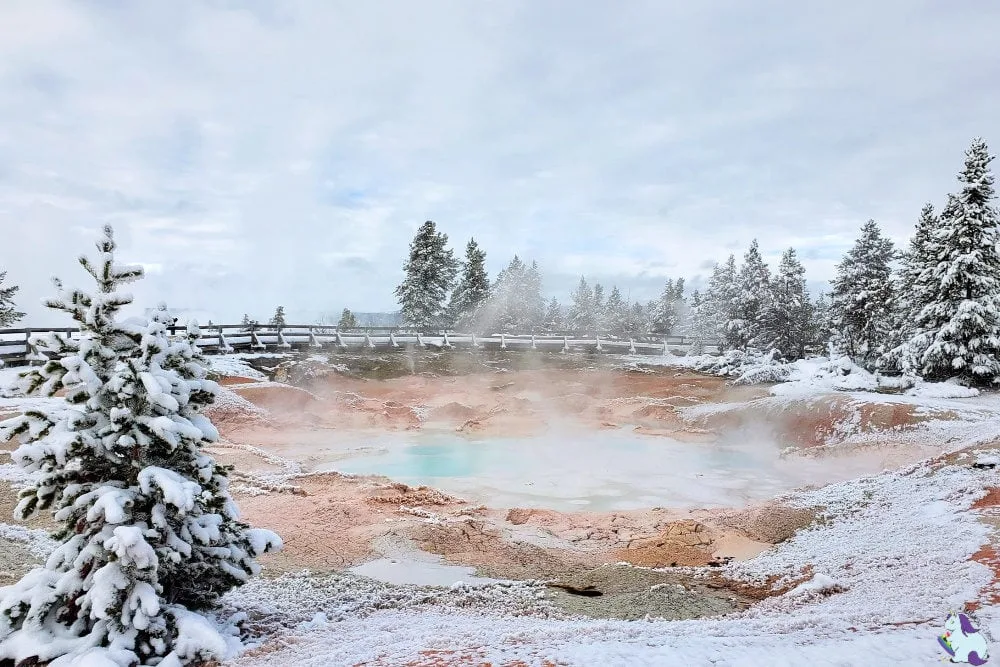 Non-Swimmable Hot Springs
The most iconic view-only hot springs are in Yellowstone National Park.
Boasting vibrant colors, bubbling liquids, and hosting what looks like alien lifeforms, these hot springs are best for photography only. Soaking is prohibited.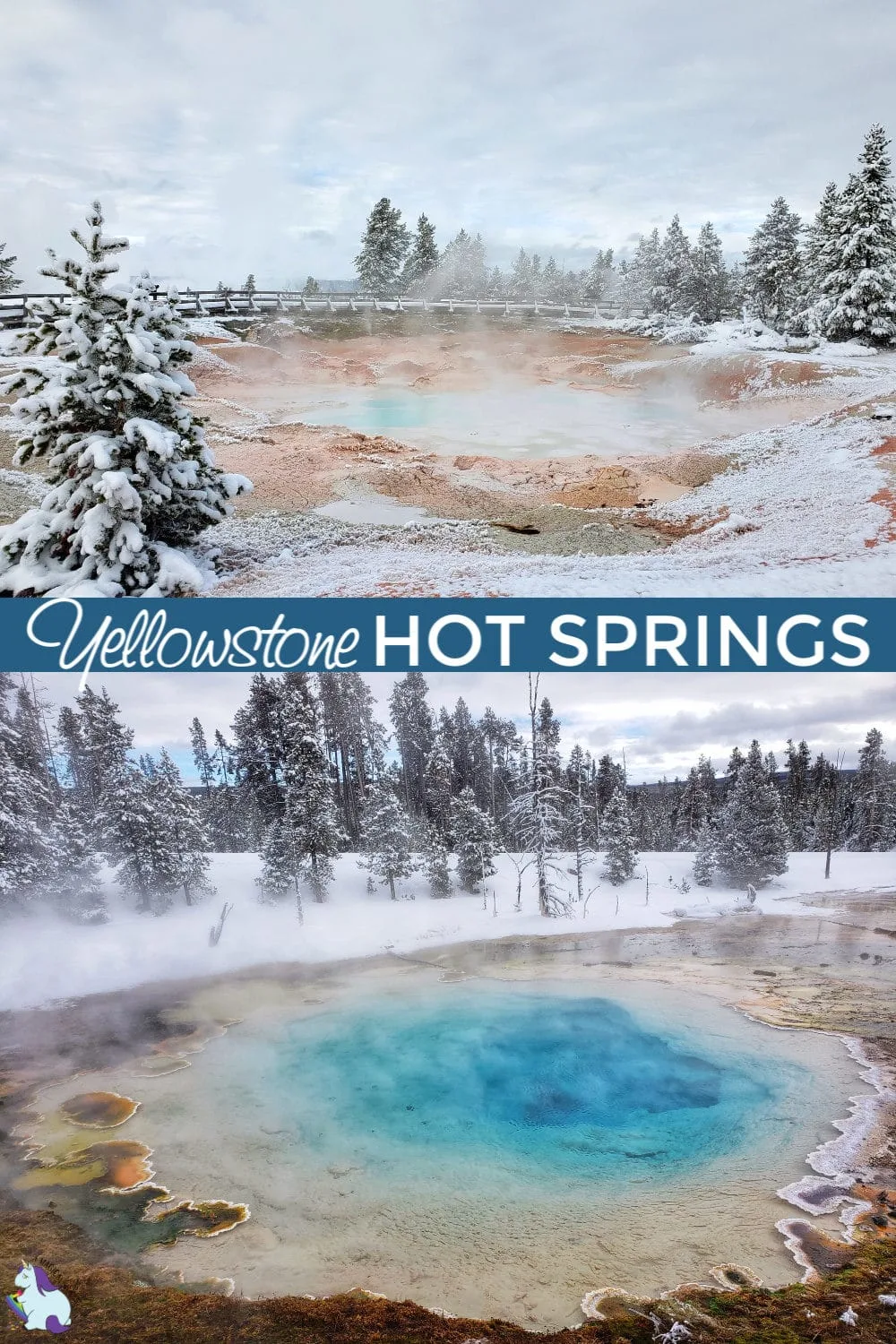 The colors are from thermophilic organisms that thrive in very specific, hot environments. Watch this video to learn about these beautiful microbes!
Being there during the winter months really makes the colors pop. The snowy white backdrop provides an exquisite canvas for all these magical creatures to show their stuff.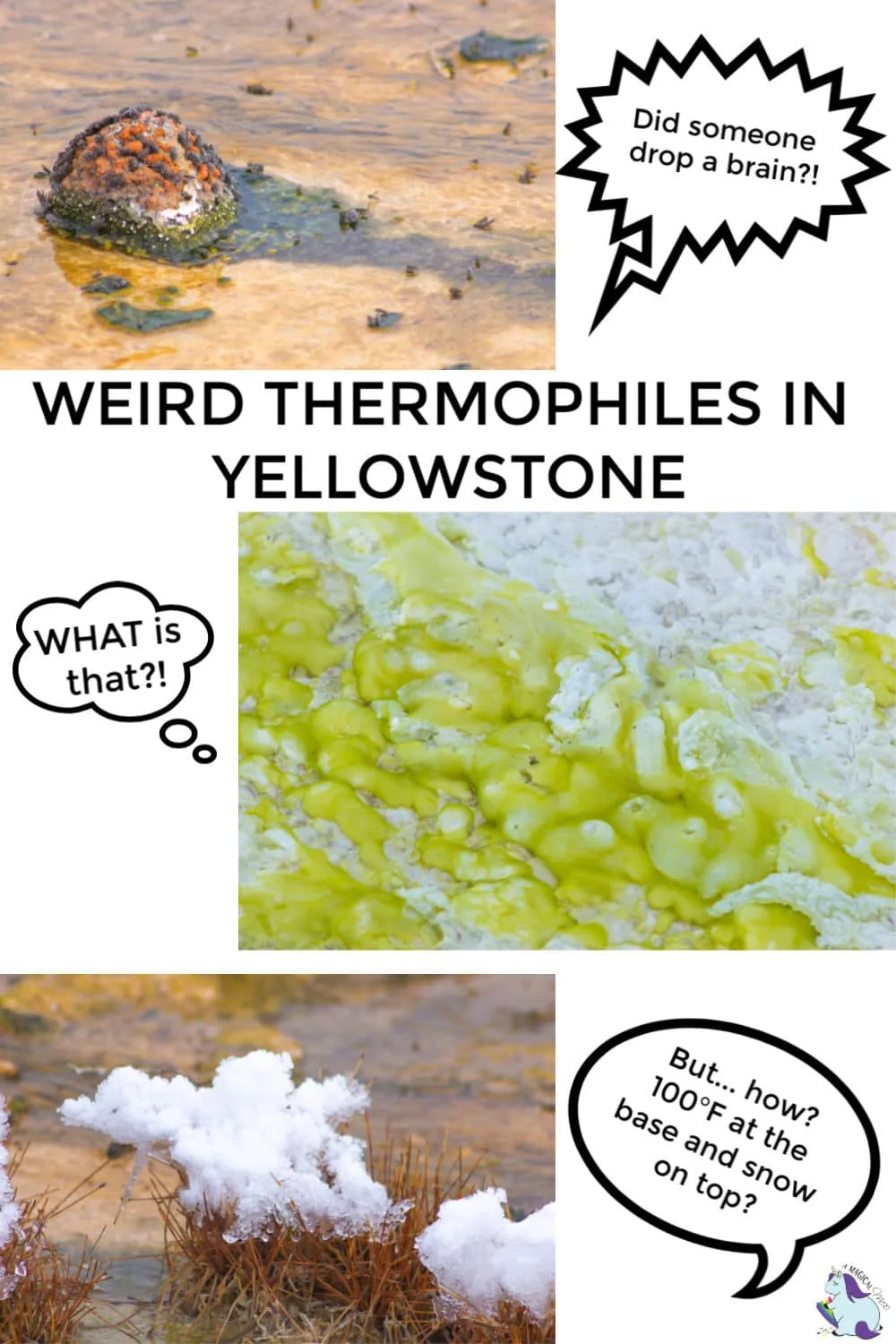 I have so many questions. If anyone knows what these crazy organisms are, please let us know in the comments below! I need to find a biologist!
Printable Checklist
Have you ever been in a hot spring?
Have you ever visited Yellowstone National Park in the winter?