Something big happened in the winter of 2018-19. At 34 years old, I finally decided to drop my attitude and pick up some warm layers of optimism and Smartwool–seriously, folks, you need Smartwool (not an ad).
Like many, 'Yellowstone vacation' had taken residency on my bucket list for travel, but I never thought to plan a trip in the winter.
I'm from Chicago, so my winter dreams entirely consisted of beaches and sunshine.
So, Montana in January? You must be crazy. Isn't it like -56 degrees in the sun?
Thanks to the lovely people at Yellowstone Country Montana, I was given a chance to experience the region in all of its winter glory.
While this was a sponsored trip, all thoughts and opinions shared here are my own.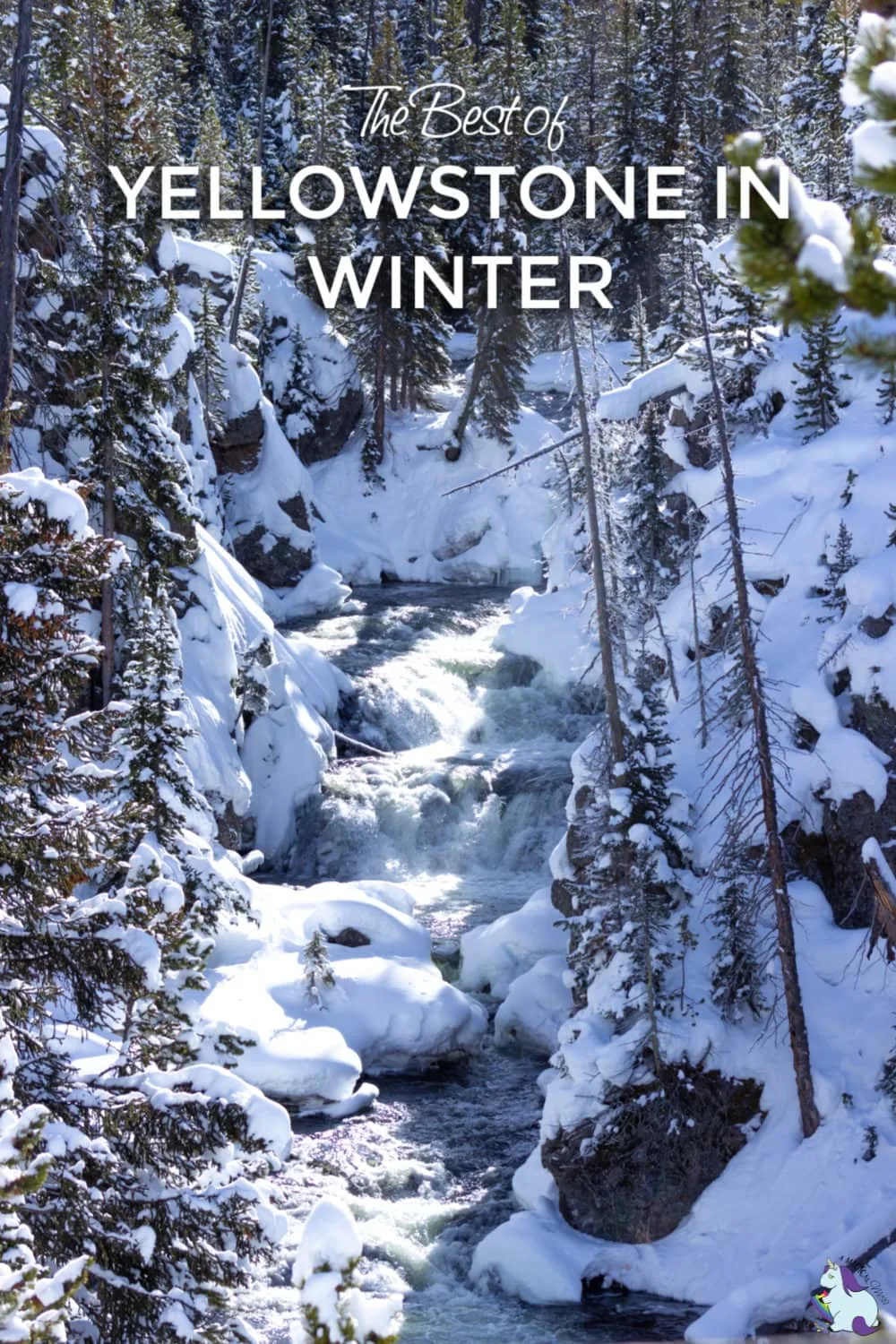 The Ultimate Yellowstone Vacation in Winter
Here are some itinerary ideas for the ultimate Yellowstone vacation, including our favorite places to stay, coffee stops, activities and more.
Note: This list is comprised of businesses located in Yellowstone Country, which covers parts of Yellowstone National Park and five south-central and southwest Montana counties–Gallatin, Park, Sweet Grass, Stillwater, and Carbon.
Places to Stay:
The Lark
Located in downtown Bozeman, The Lark is the perfect basecamp for all of your activities.
Each room is loaded with unique details and thoughtful touches.
The property is designed to inspire your outdoor adventure with a map room in the main lobby and knowledgeable staff members to recommend local gems.
You MUST check out the artistic, interactive map on the lobby wall, which gives you live updates of the conditions in the area–from water depth to current snowfall, you can twist knobs and watch the metal box illuminate in selected areas.
The layout of the hotel is designed to encourage a sense of community and drive guests to local businesses.
The owners are local architects, and they incorporated art and materials from the area to create a modern space that melds expertly with the charming, historic downtown.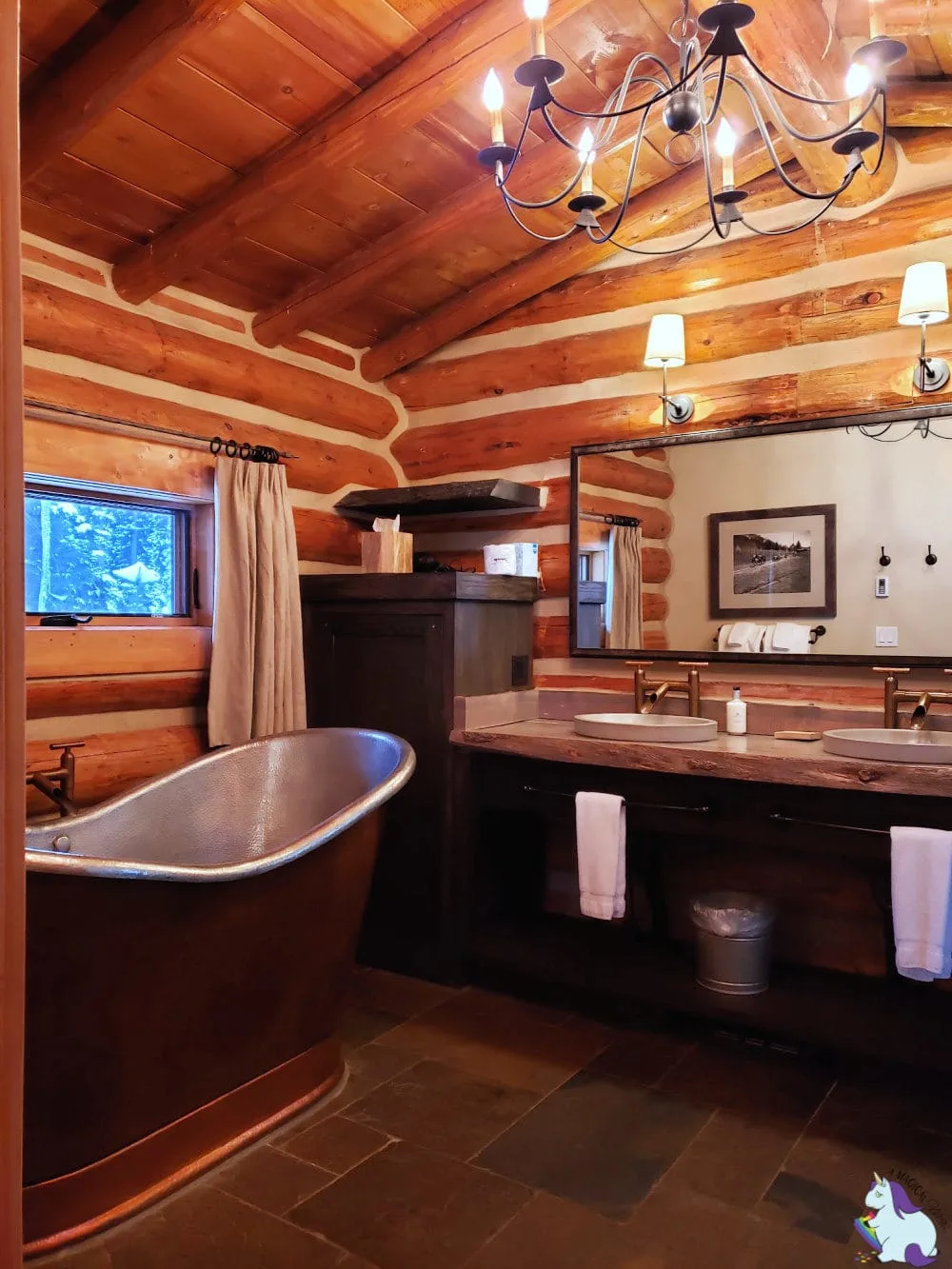 Lone Mountain Ranch
For a more secluded, mountain experience, stay at Lone Mountain Ranch in Big Sky, which is a beautiful 1-hour drive from Bozeman–be prepared to stop for lots of jaw-dropping photo opportunities.
Once you arrive, your senses are treated immediately by this glorious property, which epitomizes the often used Montana moniker, "The Last Best Place."
The ranch has been active for over 100 years, and its roots and traditions remain largely unscathed.
Staying in one of their cabins feels like a moment of luxurious time travel, combining modern amenities alongside rugged touches such as wood-burning stoves, which keep you cozy all night.
Lone Mountain Ranch's popular Sleigh Ride Dinner is an unforgettable experience.
Departing from under a heavy wool blanket, you'll sit on a sleigh built for ten.
Big, beautiful draft horses pull you up the mountain, along a smooth 20-minute trail, to a rustic cabin under the stars.
Inside, with lanterns and candles the only source of light, you'll find tables set for a feast.
As the family-style prime rib dinner is served, conversations with fellow guests flow, and entertainment is provided by local musician-storyteller, Rick, and his guitar.
He sings stories in true cowboy fashion and brings the whole group together like family.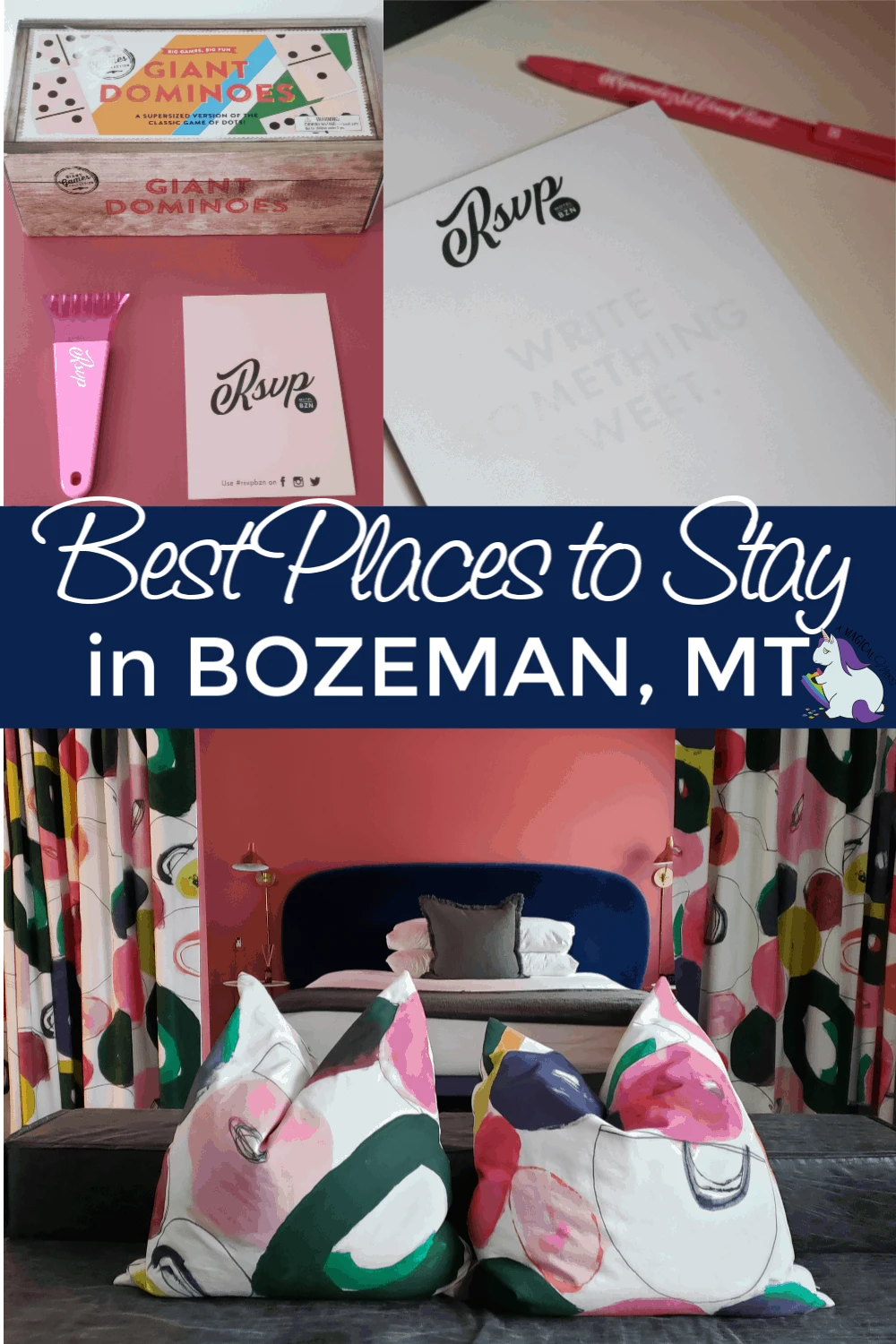 RSVP Motel
Bozeman is just full of surprises, and this place is totes adorbs!
The classic old-school motel design has been revamped into the most Instagram-worthy digs that you'd never expect to find in the wild west.
The charm of the RSVP Motel is almost ridiculous. It's where the most rugged mountain man can put his boots up, while proudly wearing a floral silk kimono.
Splashes of color provide a bit of whimsical fun, while the room's open floor plan offers a calm, minimal environment.
Mere footsteps from your door, you'll find a charming farm-to-table cafe, serving fresh, locally sourced ingredients.
With coffee, beer, and kombucha on tap, and smoothies and meals for dine-in or take-out, you can fuel up for a day of activities or snuggle up with a book next to one of their oversized pillows.
Follow The Farmer's Daughters on Instagram to see what I mean about the cute factor.
Where to Eat:
MacKenzie River Pizza
This downtown hot spot is responsible for our consumption of pizza three out of our four days in Bozeman.
We ordered the identical split-recipe pizza and house salad each time.
At MacKenzie River Pizza, you can get pretty creative with your orders, but we became enamored with a half Humble Pie, half MacKenzie River on thin crust.
We now affectionately refer to this masterpiece as the Humble River pizza.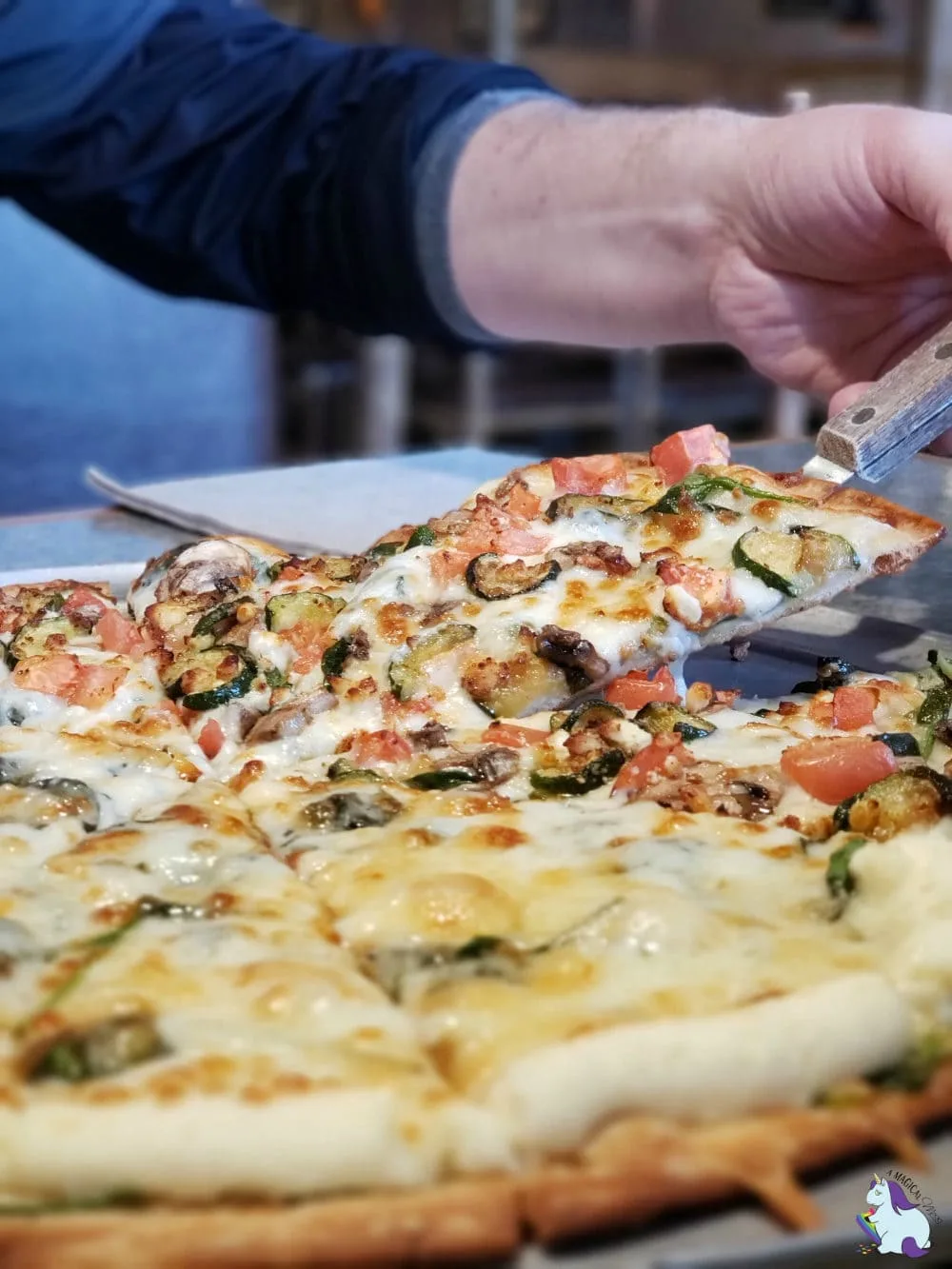 I grew up eating pizza in Chicago and experienced New York's famed pies, but I can confidently say this chain in Montana has crushed the competition.
And the house salad? My word, it's everything I've ever wanted a salad to be.
The only downfall? They haven't taken over the nation. Yet. With 28 locations listed on their website, I'm rooting for national and eventual global domination.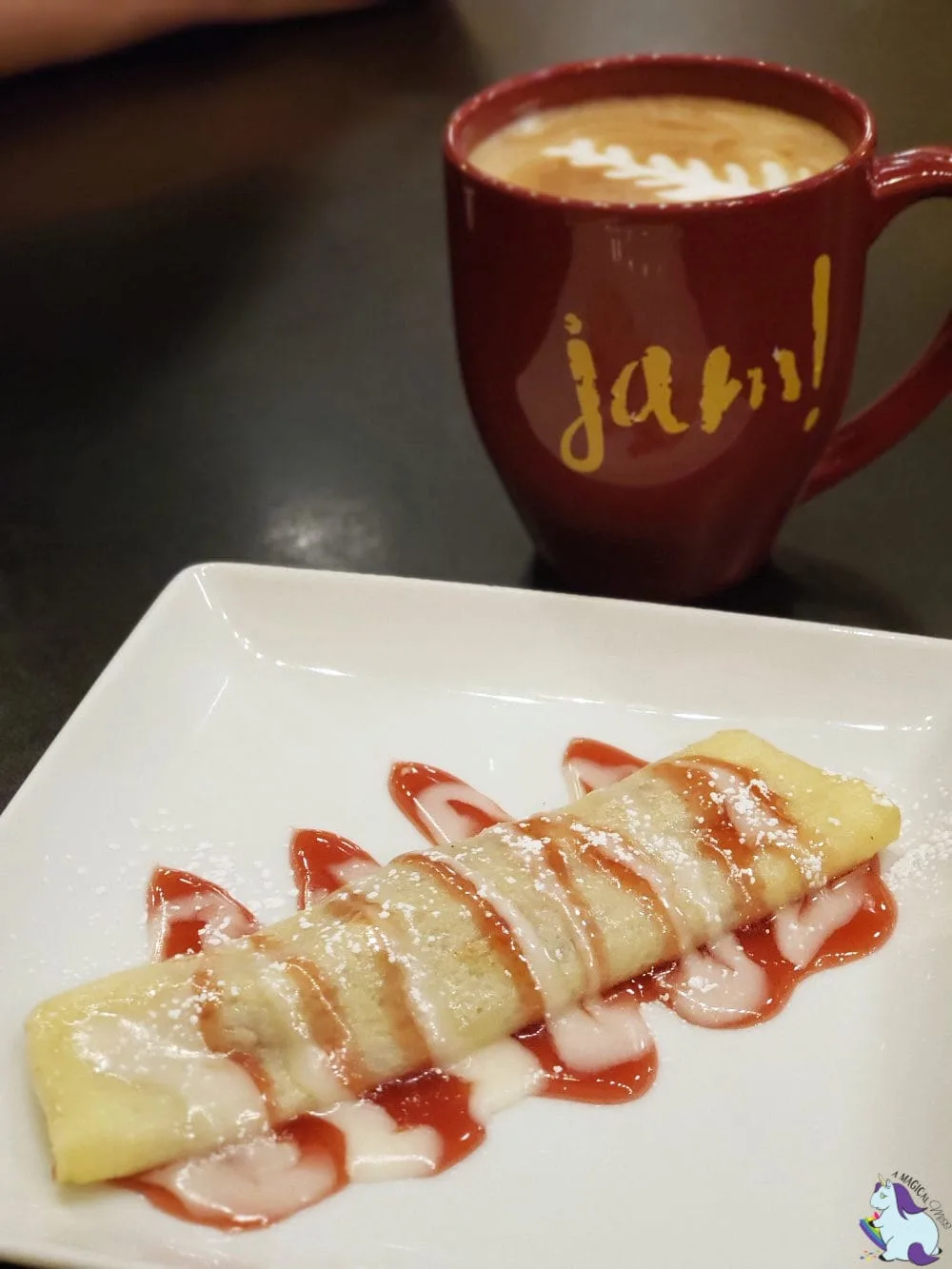 Jam!
This Bozeman cafe serves creative breakfast dishes all day.
The coffee is delish, and trust me when I say the tiny tin ramekin of fresh huckleberry preserves is well worth the two extra bucks.
I even put it on my hash browns–super yum!
Starkey's
This contemporary eatery in downtown Bozeman offers scrumptious American-style cuisine options.
I'm still dreaming of the warm herbed goat cheese dip and the sweet potato fries.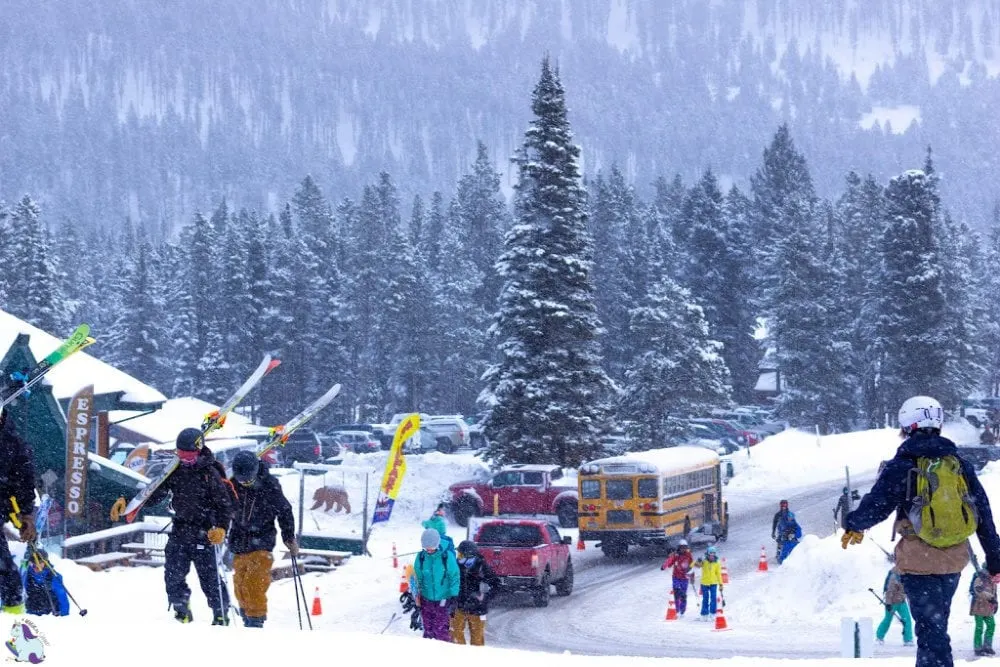 Jimmy B's Bar & Grill
Inside the west deck of the Jim Bridger Lodge at Bridger Bowl, Jimmy B's Bar & Grill is a great place to warm your hands and bellies after hitting the slopes.
With panoramic views of the mountain and a large, wood-burning fireplace, it's also where I'll be happily parked with a good book and a view fit for a professional people watcher.
Lone Mountain Ranch
As mentioned above, the Sleigh Ride Dinner is an exceptional meal, and you don't have to be staying on site to enjoy it.
You can make a reservation online, but make sure to book in advance as spaces sell out quickly.
A Big Sky favorite, the Horn and Cantle restaurant on the ranch offers locally sourced, farm-to-table options created by renowned Executive Chef Eric Gruber.
The space is beautifully cozy, warm, and inviting with large wood-burning fireplaces and friendly staff.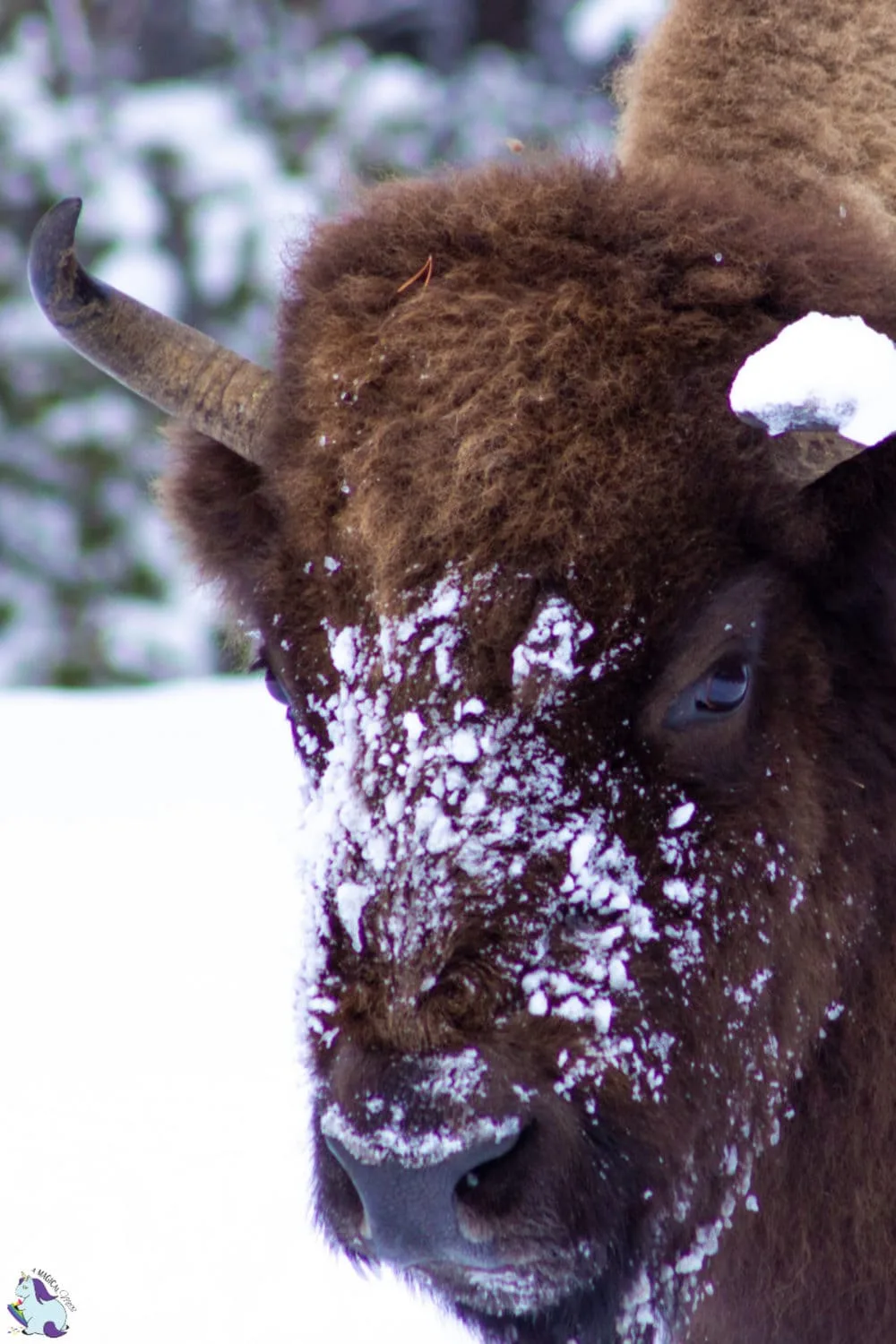 Where to get Coffee:
You've got plenty of options to get your caffeine fix, but when you're in Bozeman, one particular coffee house deserves a visit.
Wild Joe*s Coffee Spot
Every visit to Wild Joe*s Coffee Spot is uniquely wonderful.
Each month a local artist has the honor of exhibiting their work on the walls of this cozy cafe with room for 98 bodies.
Couches, armchairs, tables, and benches are arranged like a welcoming community living room.
The coffee, food, and ice cream are exceptionally yummy, and the environment never fails to uplift your spirit.
Keep a close eye on their calendar for a list of talents scheduled to perform each weekend.
And, definitely try the Green Tea Chai Latte–it's so good.
Get Chocolate:
Chocolate Moose
After you eat your 'Humble River' pizza, take a short walk to the Chocolate Moose Candy and Soda Shop for a sweet treat.
I highly recommend the dark chocolate peanut butter crispy thing. Just request exactly that at the chocolate counter and they'll know what you're talking about.
It's wise to buy several because you won't fully recover from the delicious experience until you've had one a day for… well, never mind.
You'll never really recover. I still crave that smooth bite of chocolatey greatness daily.
Things to Do:
Now that you're well-rested from staying in plush accommodations, and stuffed to the brim with yummy foods, let's discuss all of the awesome things to do in Bozeman and surrounding areas.
Ski at Bridger Bowl
Sixteen miles from Bozeman, you'll find an amazing ski lodge with shuttles running every half hour from downtown to the Bowl.
Home to Jimmy B's (mentioned above,) Bridger Bowl also offers lessons, gear rental, and 2,000 acres of skiable terrain.
If whipping down a snowy mountain isn't your thing, but the rest of the family insists upon hitting that powder, you'll find plenty of seating near the sprawling windows with panoramic views of the ski area.
People watching is more my speed, and I can confirm–the conditions here are top quality.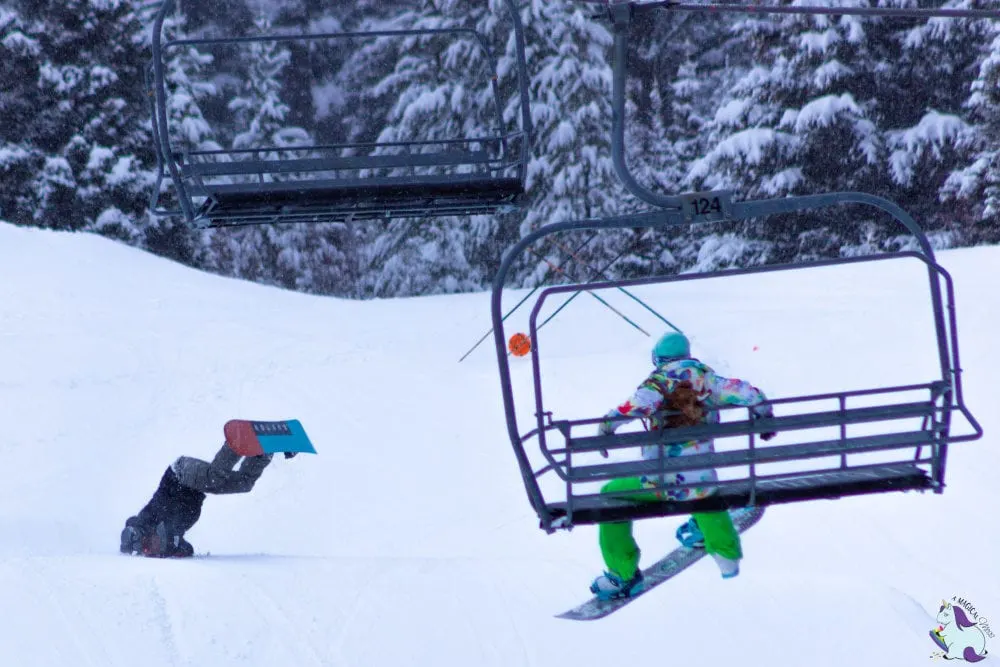 With a great view of a few jumps, the lifts, and the base area, you'll see everyone from top athletes to the noobs expertly carving or epically failing their way down the mountain.
I still can't decide which is more entertaining to watch. (I never wish an injury on anyone, but I do have that wicked people-falling-humor. Insert all forms of inappropriate laughter here.)
Nordic Skiing – AKA Cross Country Skiing
Classified as any skiing with a free heel, this endurance activity is calling my name. I have yet to try it but have a feeling I'll be a huge fan.
If you're a guest at the Lone Mountain Ranch, Nordic ski gear and snowshoe equipment rental is included in your stay.
Plus, you'll have full access to the #1 cross country trail system in North America–from your cabin.
That's right; you can ski in and out of your very own cabin on the mountain.
I am dying to go back and do THAT–followed by a hot bath in that gigantic copper tub.
All of the unplowed roads and trails in Yellowstone National Park are also open for cross-country skiing in the winter.
Need to rent skis? A simple Google Search for "Nordic Ski rentals near me" will bring up the most convenient options–there are plenty to choose from in Yellowstone Country.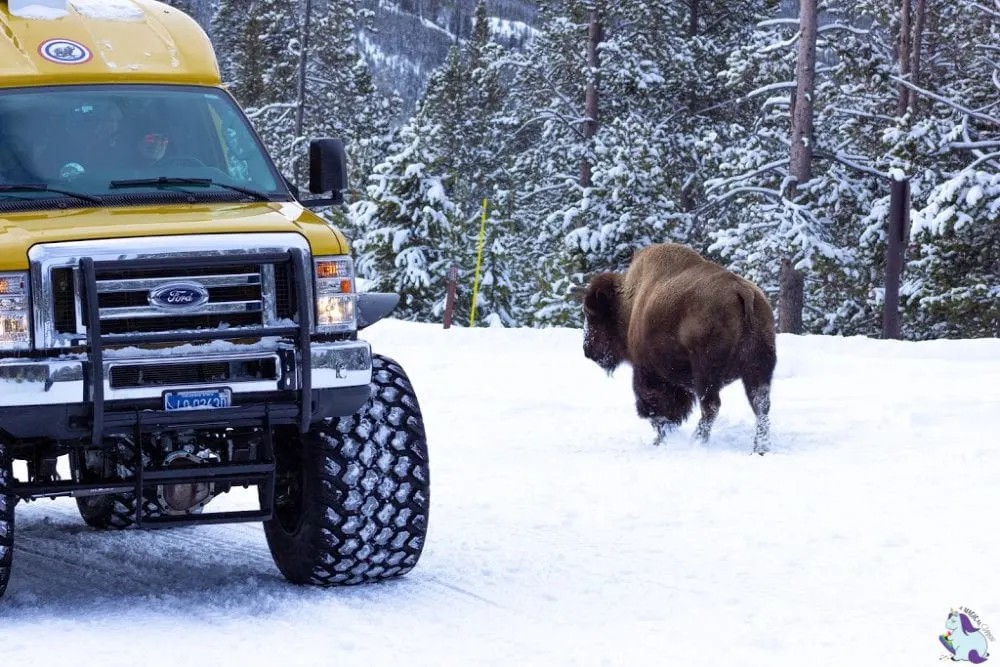 Yellowstone National Park Tour via Snowmobile or Snow Coach
I cannot recommend Two Top Snowmobile and our guide, Lindsey Murphy, with high enough praise.
She is incredibly knowledgeable, passionate, and determined to make every minute of your Yellowstone adventure completely magical.
While our snowmobile experience was incredible, it was -9 degrees when we first entered the park at sunrise, paired with a windchill of around -40 degrees while cruising on a Skidoo.
Heated seats and handlebars aside, it was painfully cold; hand, feet, and body warmers are a must.
At some point I had them all over my body with three shoved into each glove.
I would do it again without hesitation. However, if you're traveling with kids, a covered snow coach is probably a better option.
Either way, visiting the park in winter is unlike anything you'll ever witness.
No crowds, sparkling skies, and the only sounds you'll hear are the crunching of the snow beneath your boots, the grunts of wild bison, and mother earth bubbling nearby.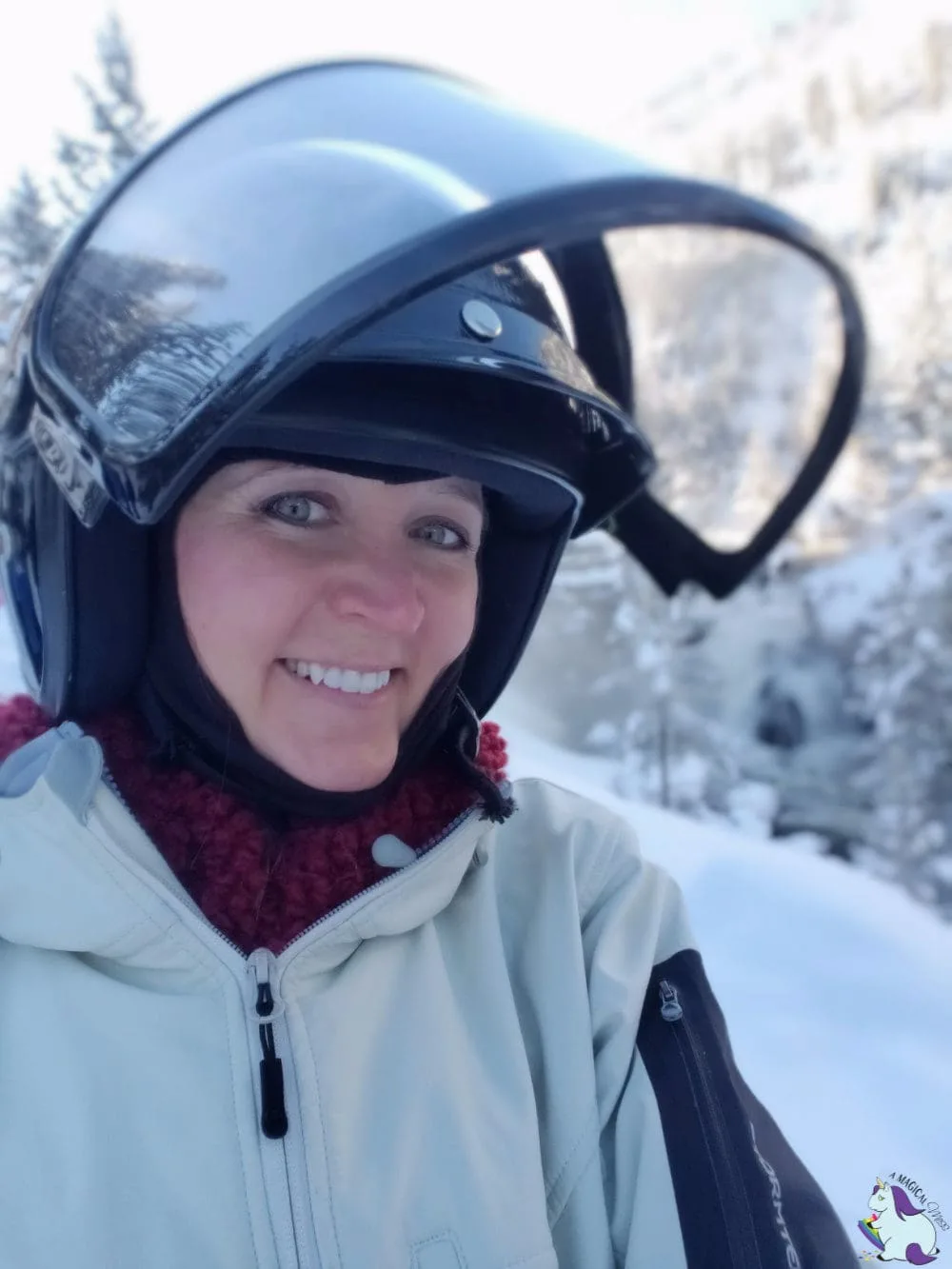 On our trip, we saw trumpeter swans, bison, and coyotes. It's impossible to describe the feeling of locking eyes with a wild bison or coyote.
There was a brief moment when the coyote was running with our snowmobiles.
At one point, she was right next to me–one of the pack, wild and free. We shared a glance, and just like that, my spirit changed forever, that moment seared into my being.
Plan your tour and allow Yellowstone to become a part of you.
Dog sledding in Big Sky
It's hard to outrank snowmobiling through Yellowstone National Park, but dog sledding in Big Sky could be an equal match.
If you can only do two things on your Yellowstone vacation, then visit the park and spend half a day with Spirit of the North sled dogs.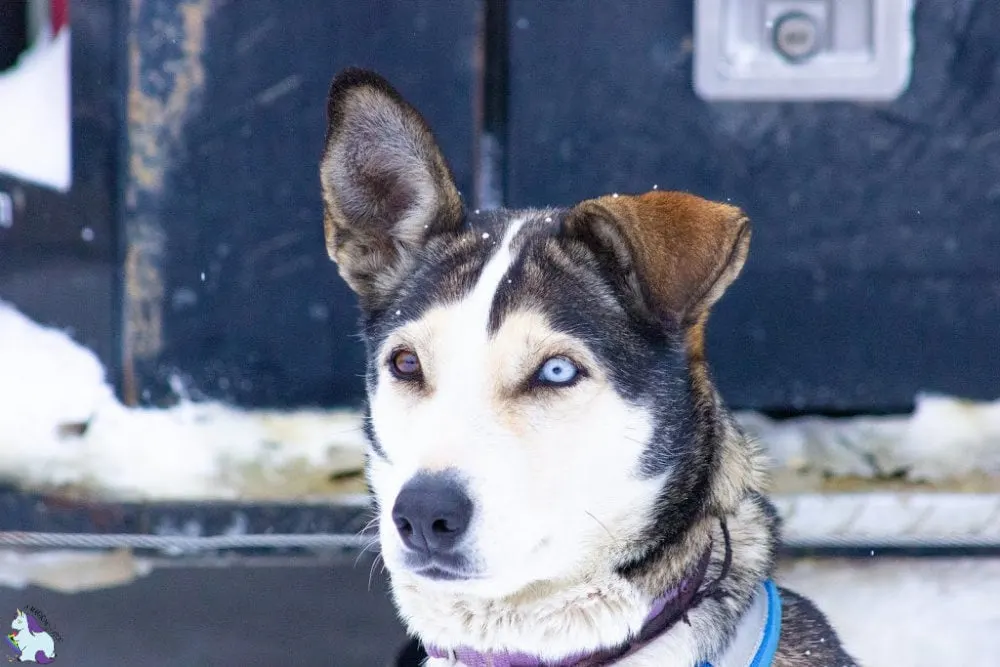 Fifty Alaskan Huskies greet you on a mountainside in Big Sky.
You'll help get them tethered, learn how to drive the sled, and experience the loudest and quietest moments with this large pack.
To ensure you have the maximum level of joy on this outstanding adventure, be sure to dress in many layers, and bring warmers for your hands and feet.
Snowfall is typical so protect your phones and cameras with waterproof cases.
Soak in hot springs
Natural hot springs are one of Yellowstone's most appealing sights and some, outside of the park are designed for soaking.
Always do your research and prepare accordingly, including having a chat with your doctor if you have any medical issues.
After a day of playing outside in the snow, soaking in a hot spring can do wonders for your muscles, joints, and skin.
To learn more about hot springs in Montana and the benefits of soaking in a natural hot spring, read my post.
Fly Fishing
Whether you're an experienced fly fisherman or looking to pick up a new hobby, Montana offers the highest density of blue ribbon wild trout waters.
Every time I think of fly fishing, scenes from A River Runs Through It pop into my head.
The movie was filmed in the Yellowstone Country region, and you'll recognize many scenes in Livingston and Bozeman.
A local in a pub told us that if you want to learn how to fly fish, "Just turn around and ask someone–everyone in this room is a guide for something."
With rich territory and guides eager to get you out there, you'll be looking like Brad Pitt on the river in no time. Well, maybe.
See a show at the Rialto
Don't let the old fashioned sign out front fool you.
The interior of the Rialto in Bozeman has been completely renovated to provide the ultimate sound quality and visual experience.
Check the performance line-up and get your tickets online.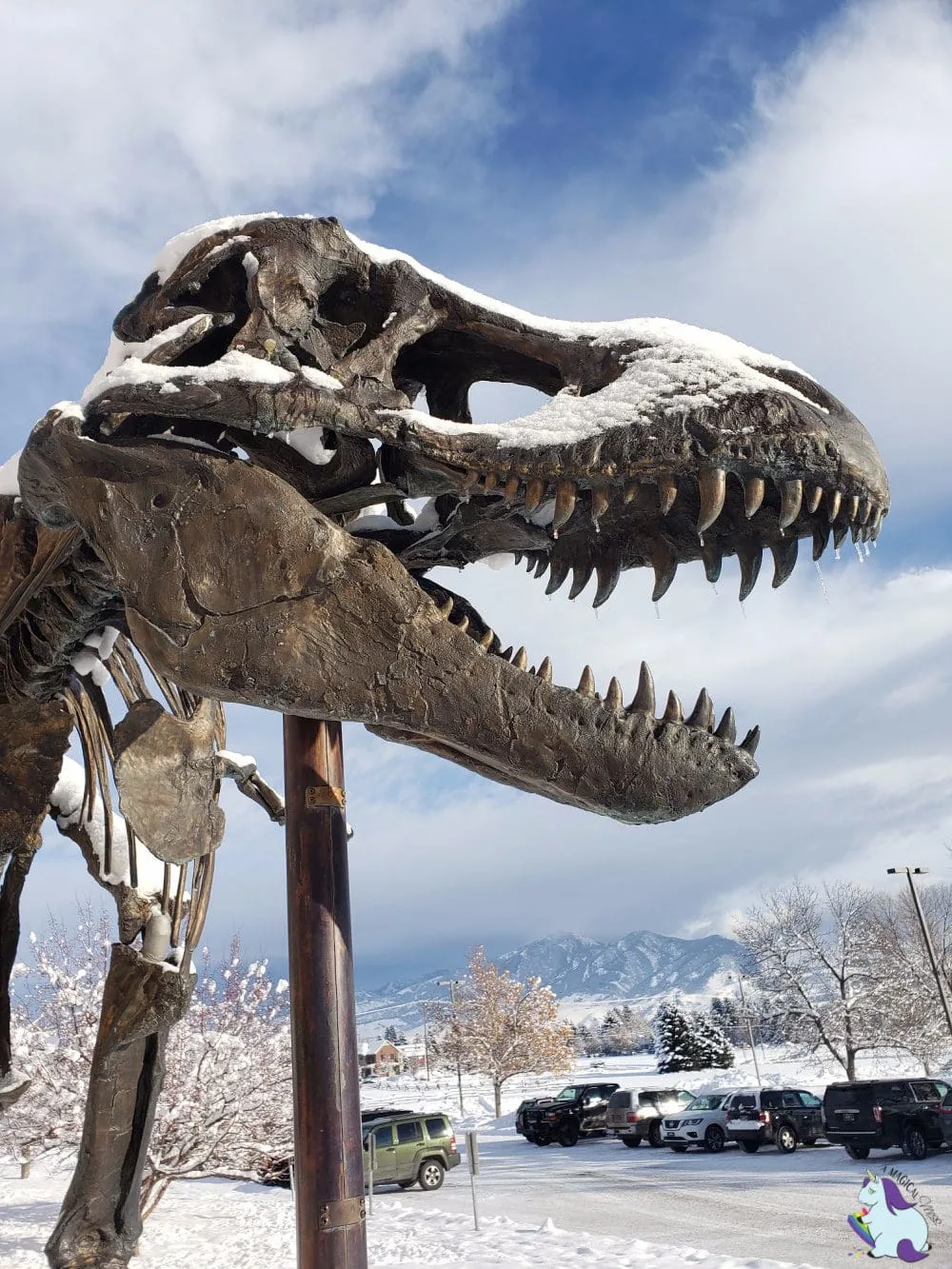 Visit the Museum of the Rockies
With one of the largest collections of dinosaur fossils in the world, the Museum of the Rockies (MOR) provides quite the lesson in perspective.
There is something captivating for every age group, and I've never met more passionate and generous staff members and volunteers.
My travel buddy for this trip, Jeff Bogle, wrote an excellent piece highlighting our time spent with a college student while he was cleaning his prized geological find, a humerus bone from a duck-billed dinosaur. It's worth the read.
MOR delights members and visitors with changing exhibits from around the world, a beautiful planetarium, and permanent indoor and outdoor regional history exhibits. Plan to spend at least half a day here.
Photograph EVERYTHING
Choose your weapon–fancy smartphone, big DSLR with multiple lenses, GoPro, boxy 4×5, or a basic disposable.
I was packing several on that list, but whatever your preference, just make sure to keep your eyes peeled.
There are photo ops in every direction, and more often than not, you're going to shoot on the fly.
We hit the brakes abruptly on a rather busy road when we noticed a stunning bald eagle tearing meat from a deer carcass.
It's a Nat Geo dream out there, and there's an unprecedented thrill in capturing the inhabitants of Yellowstone on camera.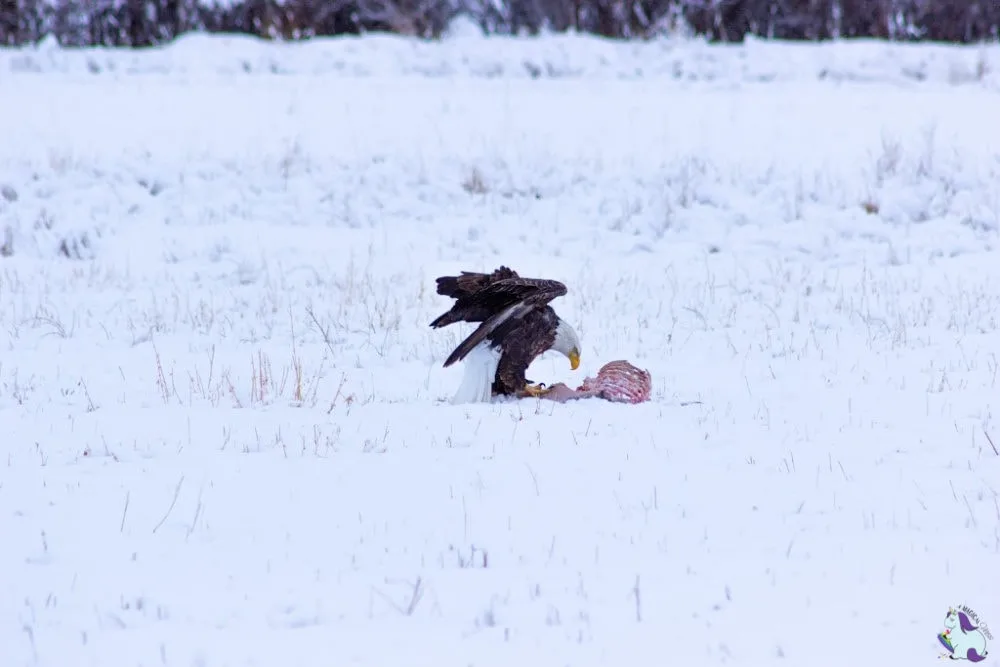 We travel for moments–to reach out and grasp a tiny piece of time to store in our memory.
A Yellowstone vacation will overwhelm you with magical beats–every heartbeat, clock tick, and blink is capable of casting its own spell.
Seriously, photograph everything.