As if donut holes aren't utterly magical on their own, we just came up with a way to catapult them to another realm of wonderfulness. Allow me to introduce you to unicorn donut holes.
Donut Holes – Flawlessly Proportioned
I've always preferred donut holes over their ring-shaped counterparts. There is something about the ratio of surface area per bite that makes the bite-sized orbs yummier than the full donut.
It's the same concept with bite-sized Reeses Peanut Butter Cups. The chocolate to peanut butter ratio is superb and enlarging the cup distorts that perfection.
So, donut holes are able to deliver more icing, powdered sugar, cinnamon, or frosting per bite based on their exposed surface area.
Did I just get that serious about tiny round pastries? Yeah, I'm not sorry. This is important stuff.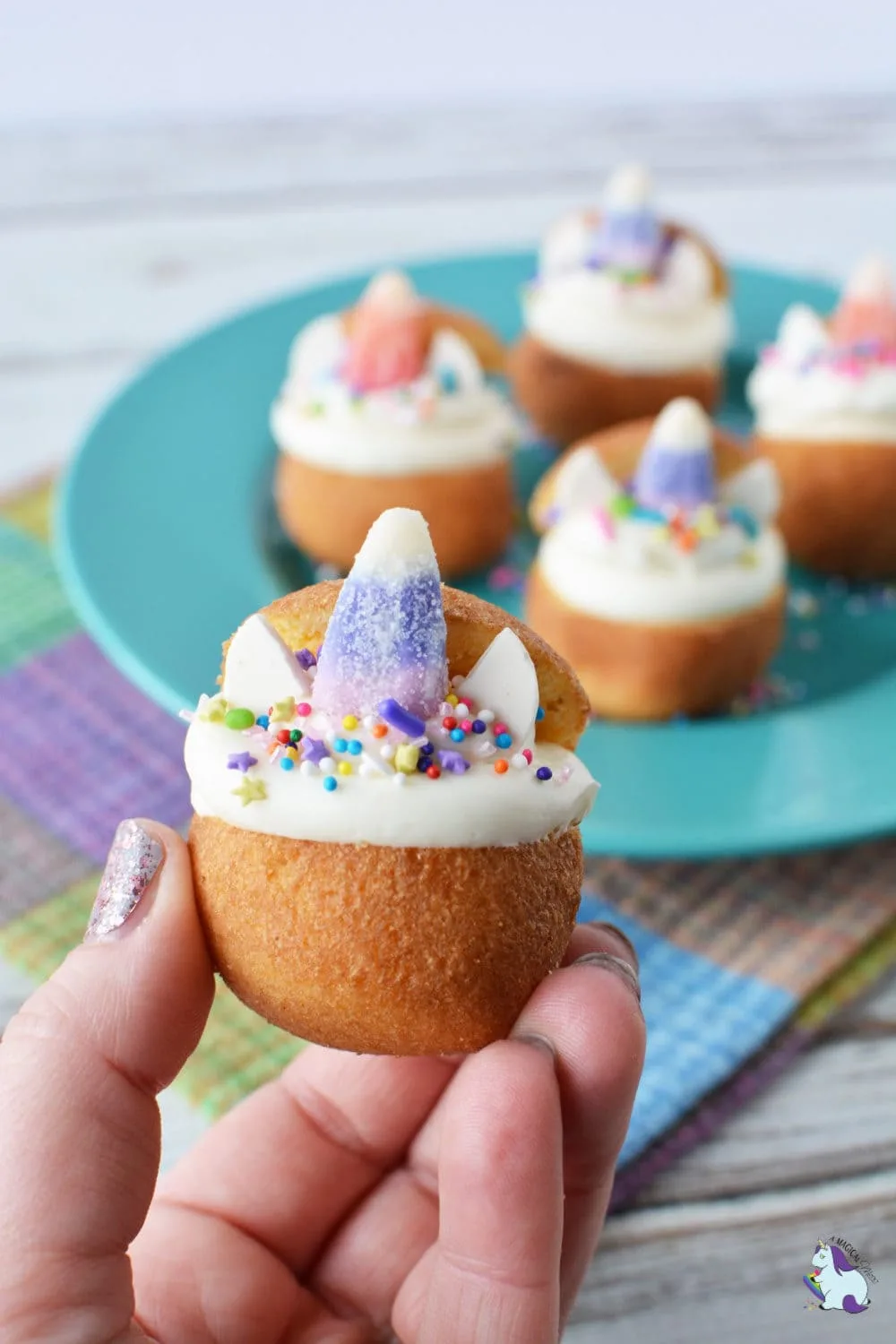 Where did the hole come from?
I'm not the only one who thinks donuts are no joke. The folks in Maine will tell you that one of their own is credited with putting the hole in doughnuts in 1847.
Captain Hanson Crockett Gregory explained that he was frustrated with the uneven cooking of his mother's fried pastries. No matter the shape they'd cut, the edges would cook to perfection, but the middle would remain raw dough.
While at sea, he had the epiphany to cut a hole in the center, also explaining that rolling dough and joining the edges to form a circle, caused the overlapped dough to soak up too much oil and cause stomach upset.
As a result of the hole the dough cooked evenly. And there you have it; Captain Hanson Gregory is credited for putting the hole in the doughnut. There's even a plaque at his birthplace commemorating his achievement.
As for my preferences, perhaps all my logic about ratios is moot and it's just a numbers game to my stomach, and we prefer devouring five donut holes over one donut. It's likely both. In any case, this recipe delivers all sorts of yumminess in each round, adorable bite.
How to Make Unicorn Donut Holes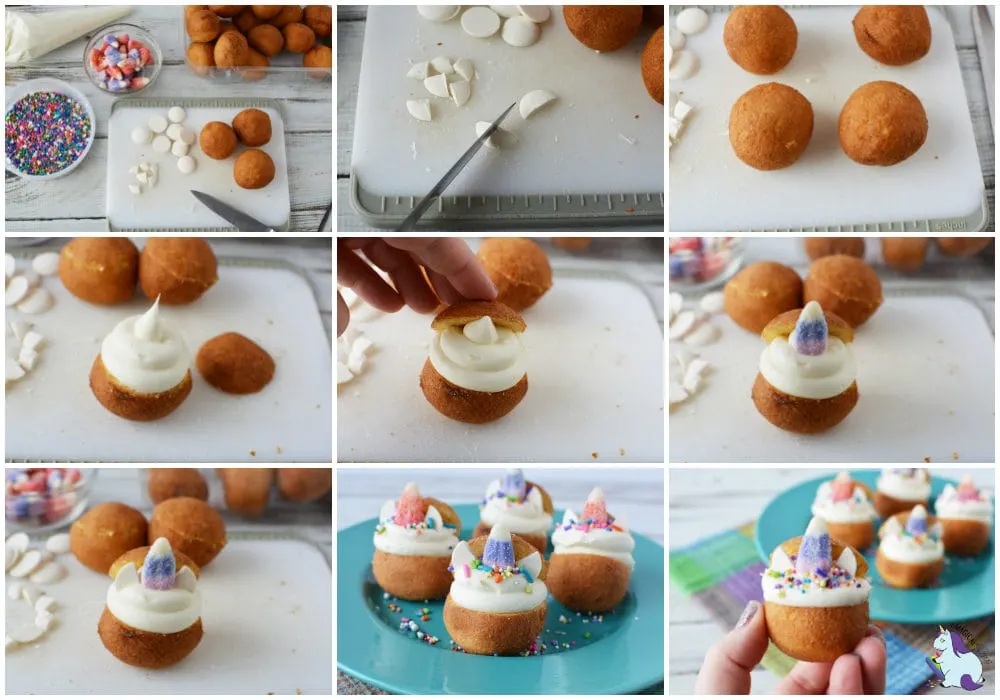 Yield: 36 donuts
Unicorn Donut Holes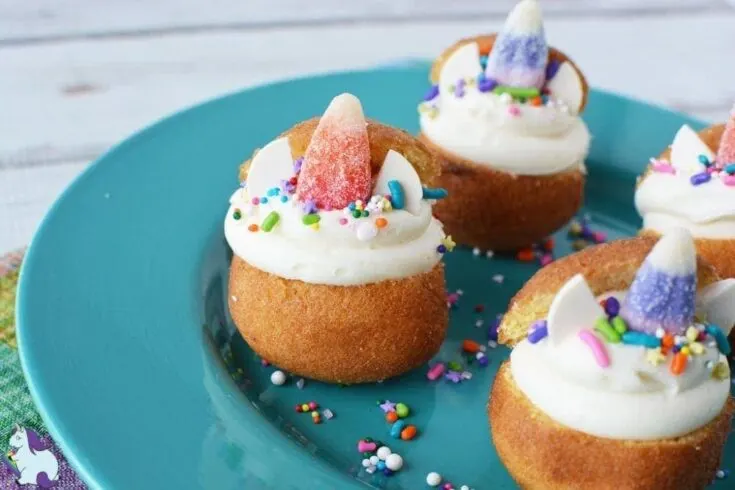 These magical treats are perfect for themed parties or just for fun!
Ingredients
36 donut holes
16 oz white frosting
unicorn sprinkles
36 pieces Sour Patch Kids Candy Corn
18 White Candy Melts
Instructions
Place icing into a piping bag and cut the tip, so there's about a 1/2" opening. Set aside.
Use a sharp knife and a cutting board to cut the candy melts in quarters.
Set donut holes onto a flat surface. Trim the bottom of the donut hole so it sits flat if needed. A bread knife works best.
Once you have found the flat side of your donut holes, cut about 1/3 off the top of each one.
Pipe two round dollops of frosting onto each donut hole and place the top on the frosting.
Add a candy corn horn and candy melt ears.
Add unicorn sprinkles with a spoon. Repeat until you have 36 unicorns.
Notes
Please note that these nutrition facts are an estimate based on similar ingredients. To calculate this approximation, pound cake was used in place of donut holes.
Recommended Products
As an Amazon Associate and member of other affiliate programs, I earn from qualifying purchases.
Nutrition Information:
Yield:
36
Serving Size:
1 donut
Amount Per Serving:
Calories:

137
Total Fat:

5g
Saturated Fat:

2g
Trans Fat:

0g
Unsaturated Fat:

3g
Cholesterol:

4mg
Sodium:

67mg
Carbohydrates:

22g
Fiber:

0g
Sugar:

16g
Protein:

1g
Nutrition facts are an estimate only.
If you want to surprise the kiddos when your house is dubbed the next sleepover hub, whip these out as special treats.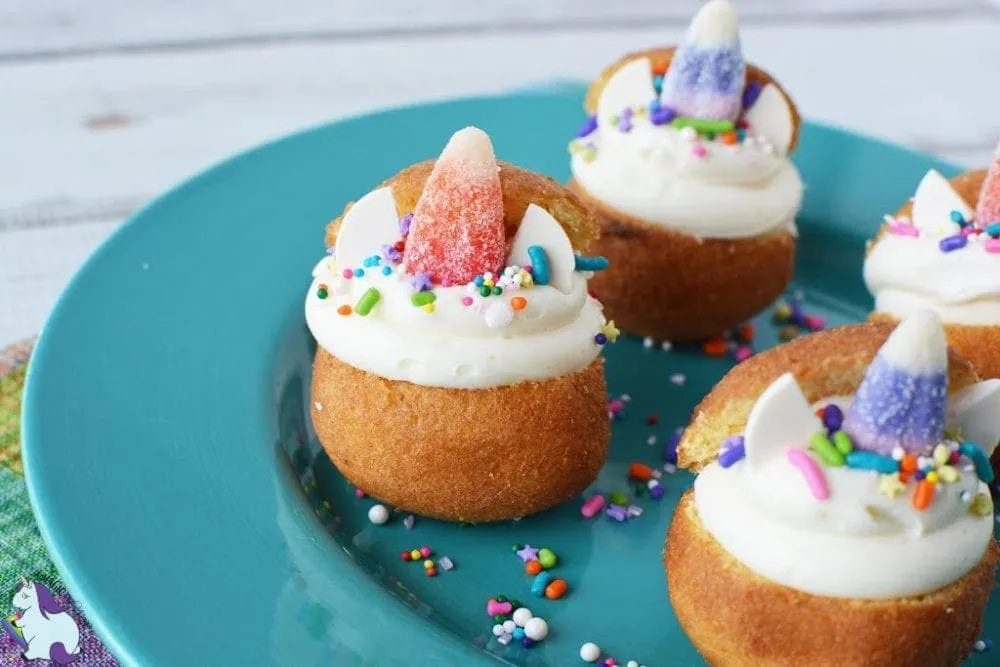 Or, plan a full-blown unicorn party and add these to the treat table along with all of our other irresistible unicorn inspired recipes.
Want a healthier version of this treat? Check out our unicorn stuffed mushrooms!
More Unicorn Desserts
Pin this image to save and share with other fantastical friends.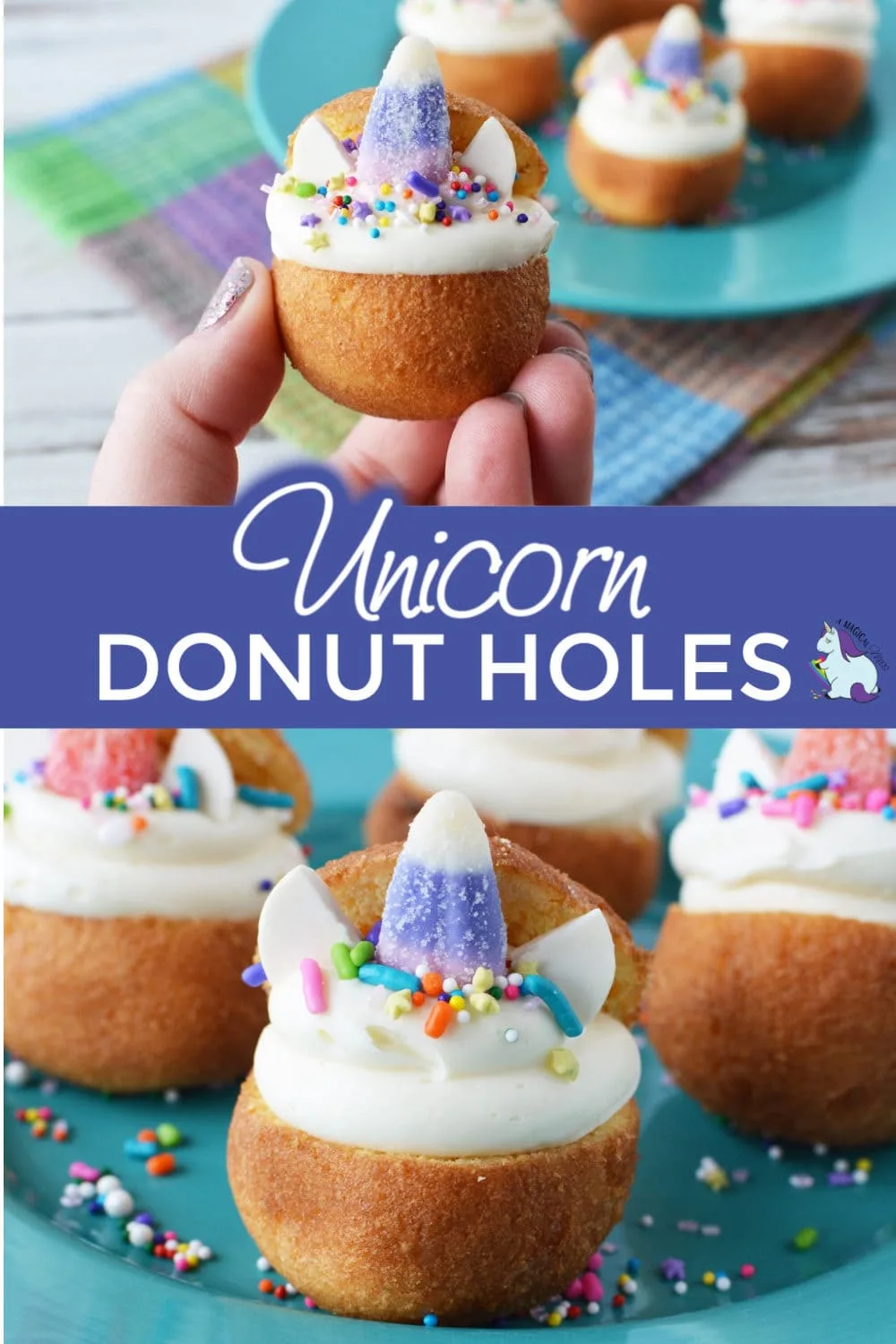 Be sure to subscribe to the blog so you can get access to free printable unicorn coloring sheets to color while you snack!
P.S. Do you spell it "donut" or "doughnut?"