Stuffed mushrooms that look like unicorns may just be our new favorite creation. Yes, we've been playing with our food again, but this time it's not dessert.
It's clear we love our sweets and will continue to make magical desserts. However, it's fun to experiment with mystical foods of all kinds.
These mushroom cuties resemble our unicorn donut holes, which you may want for dessert.
Unicorn stuffed mushrooms are fun to serve as an appetizer or side dish with dinner. Due to their cuteness, you may even get the picky eaters at the table to eat a few vegetables.
Perhaps serve them up as a movie snack while you enjoy one of the classics. Allow me to suggest (and age myself) my favorite unicorn movies from childhood.
Legend and The Last Unicorn are two movies that pretty much played on repeat during my childhood. So, if you can find either one of them, watch them while munching on these unicorn shrooms.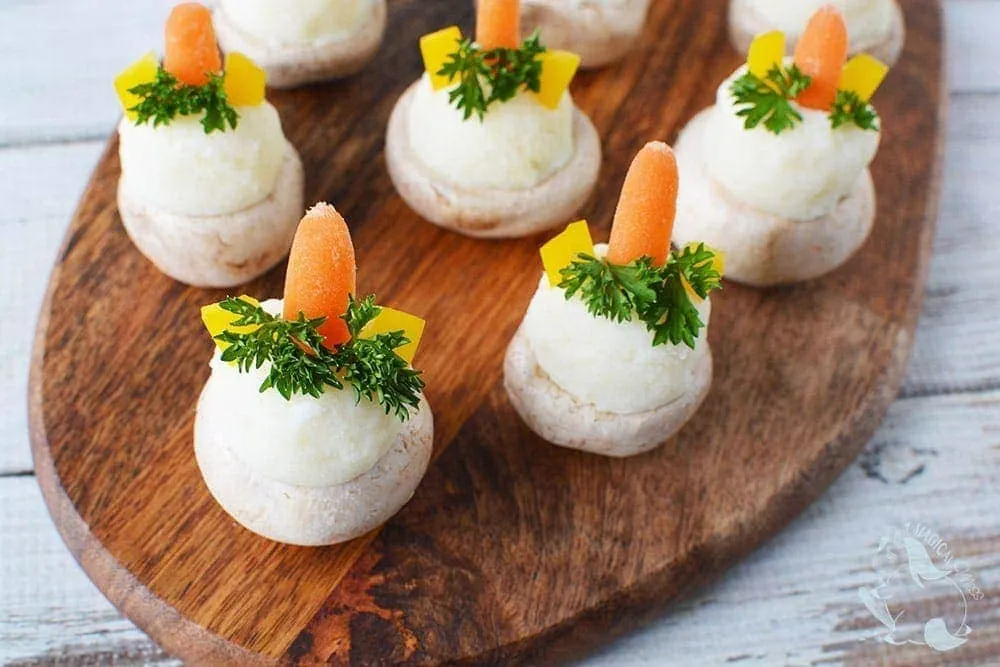 Stuffed Mushrooms that Look Like Unicorns
Unicorn stuffed mushrooms are extremely easy to make. All you need are the mushrooms and then the fillings cut and chopped to look like unicorn parts.
We used a 4 oz pouch of instant mashed potatoes which only requires 2 cups of water to make. It was more than enough with potatoes left to spare.
The mashed potatoes are easier to ball up when they are cool. If the idea of cold mashed potatoes sounds gross to you, don't worry, we had the same thoughts.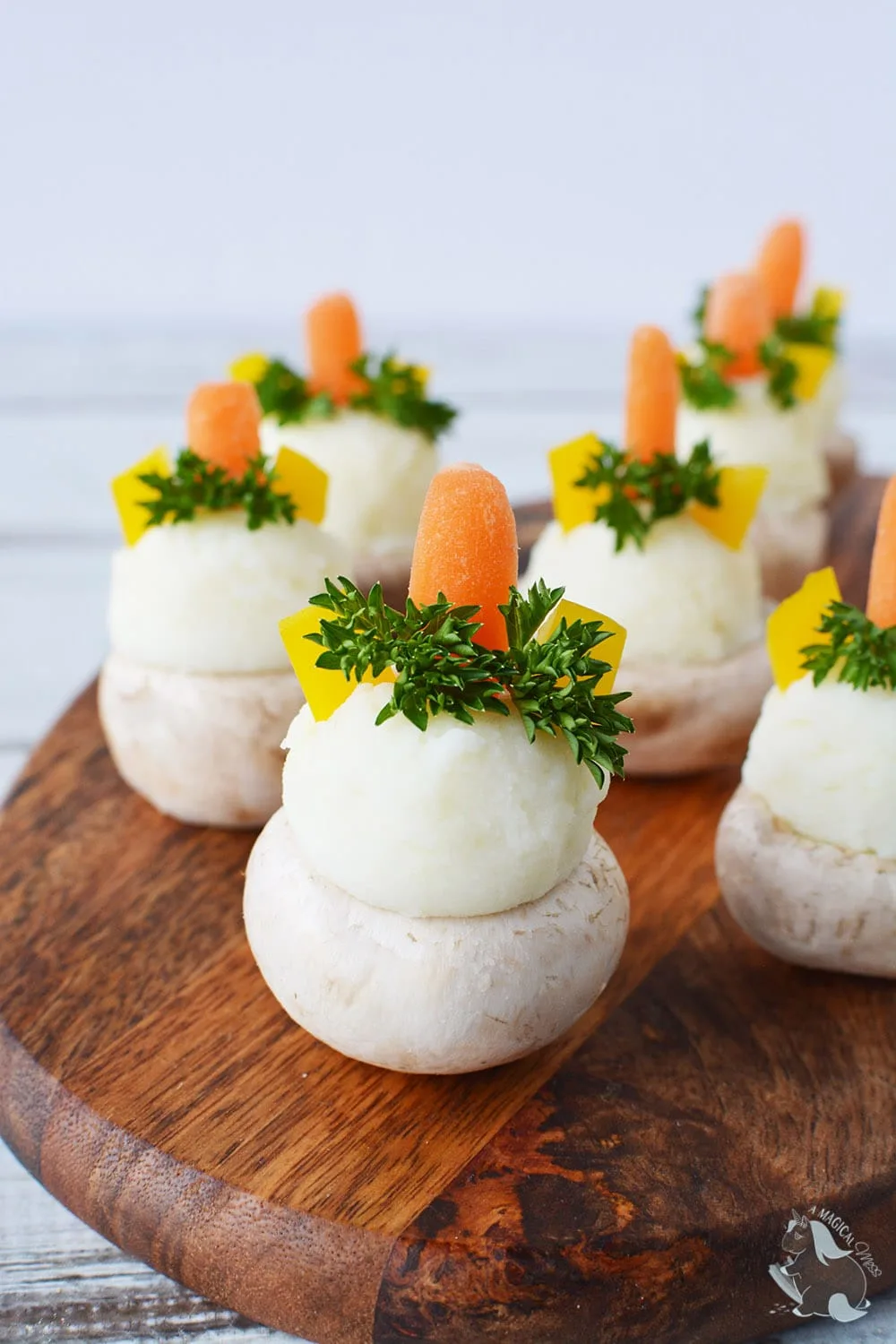 Surprisingly, the flavor combo is quite tasty when the potatoes are room temperature. Straight from the fridge is good too, but room temp is ideal.
Might it be cute to create little eyes for the unicorn using pieces of olive, perhaps? Let us know if you make them with faces.
Unicorn stuffed mushrooms are fun to serve at birthday parties, baby showers, dinner parties, or any time at all.
Unicorn Recipes to Make
As I said, most of our unicorn recipes thus far have been sweets. We have plans to add more variety using fruits and vegetables. For now, if you need unicorn party treats, check these out.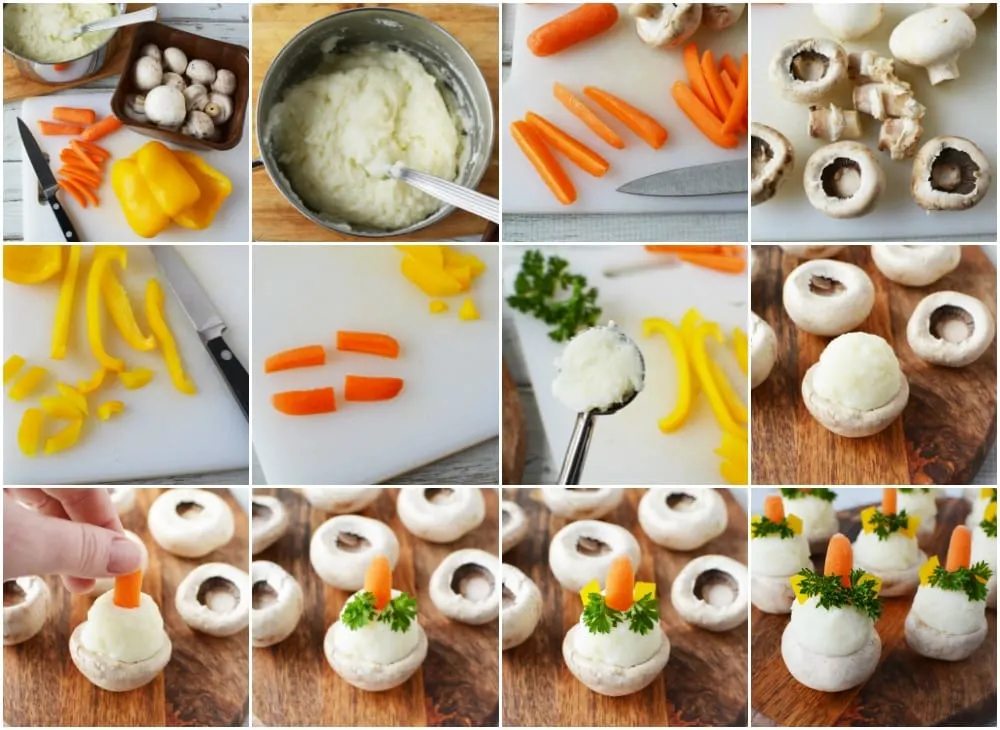 Yield: 16 mushrooms
Unicorn Stuffed Mushrooms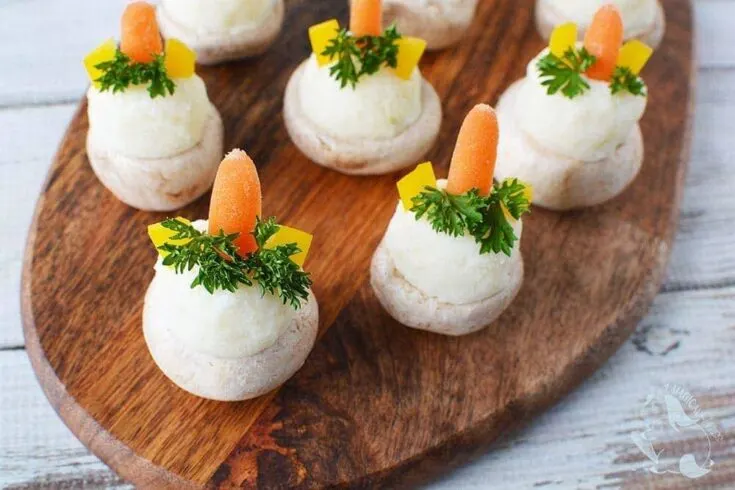 Adorable little stuffed mushrooms that look like unicorns.
Ingredients
16 oz mushrooms, 1 package whole fresh mushrooms
4 oz instant mashed potatoes, 1 package, prepared
16 Baby Carrots
1 Yellow Pepper
Fresh Parsley
Instructions
Clean mushrooms.
Remove the stems of the mushrooms by twisting them out of the center. Discard. Set the mushrooms upside down on a flat surface. If the mushrooms do not lay flat, slice a little off the top so it does set flat.
Cut baby carrots in quarters lengthwise. And then each quarter in half. Set aside.
Remove the top and seeds of a yellow pepper. Cut small, thin strips of peppers and then cut into smaller, 3/8" pieces. Set aside.
Use a tablespoon portion scoop to scoop 1 scoop of potatoes into each mushroom cap. Tuck a carrot unicorn horn in the center of the potatoes. Add small pieces of fresh parsley on both sides of the carrot. Add an ear on each side of the horn.
Repeat until you have all of your mushrooms filled. Serve immediately.
Nutrition Information:
Yield:
16
Serving Size:
1 mushroom
Amount Per Serving:
Calories:

23
Total Fat:

1g
Saturated Fat:

0g
Trans Fat:

0g
Unsaturated Fat:

0g
Cholesterol:

1mg
Sodium:

27mg
Carbohydrates:

4g
Fiber:

1g
Sugar:

1g
Protein:

1g
Nutrition facts are an estimate only.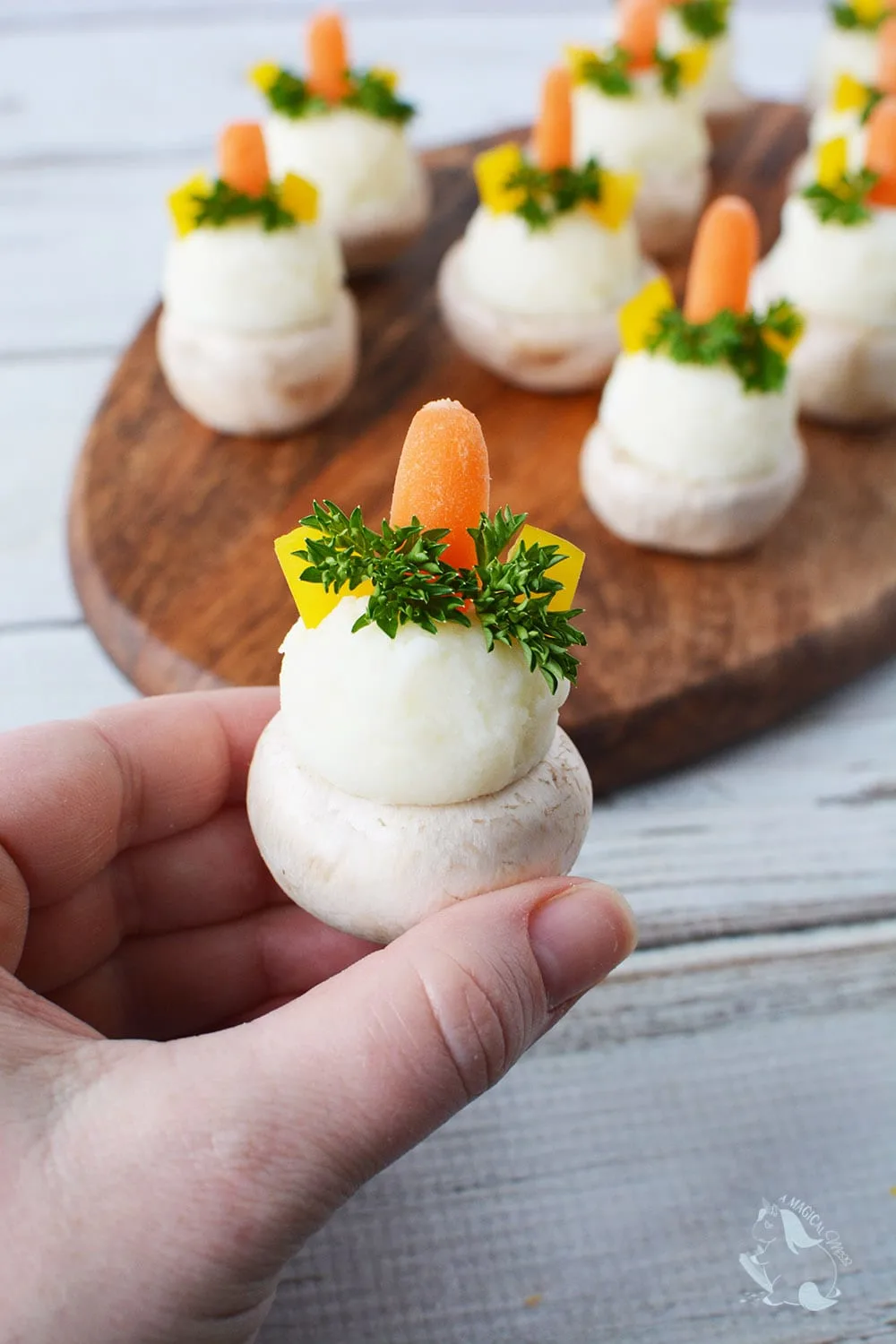 Pin to save for later!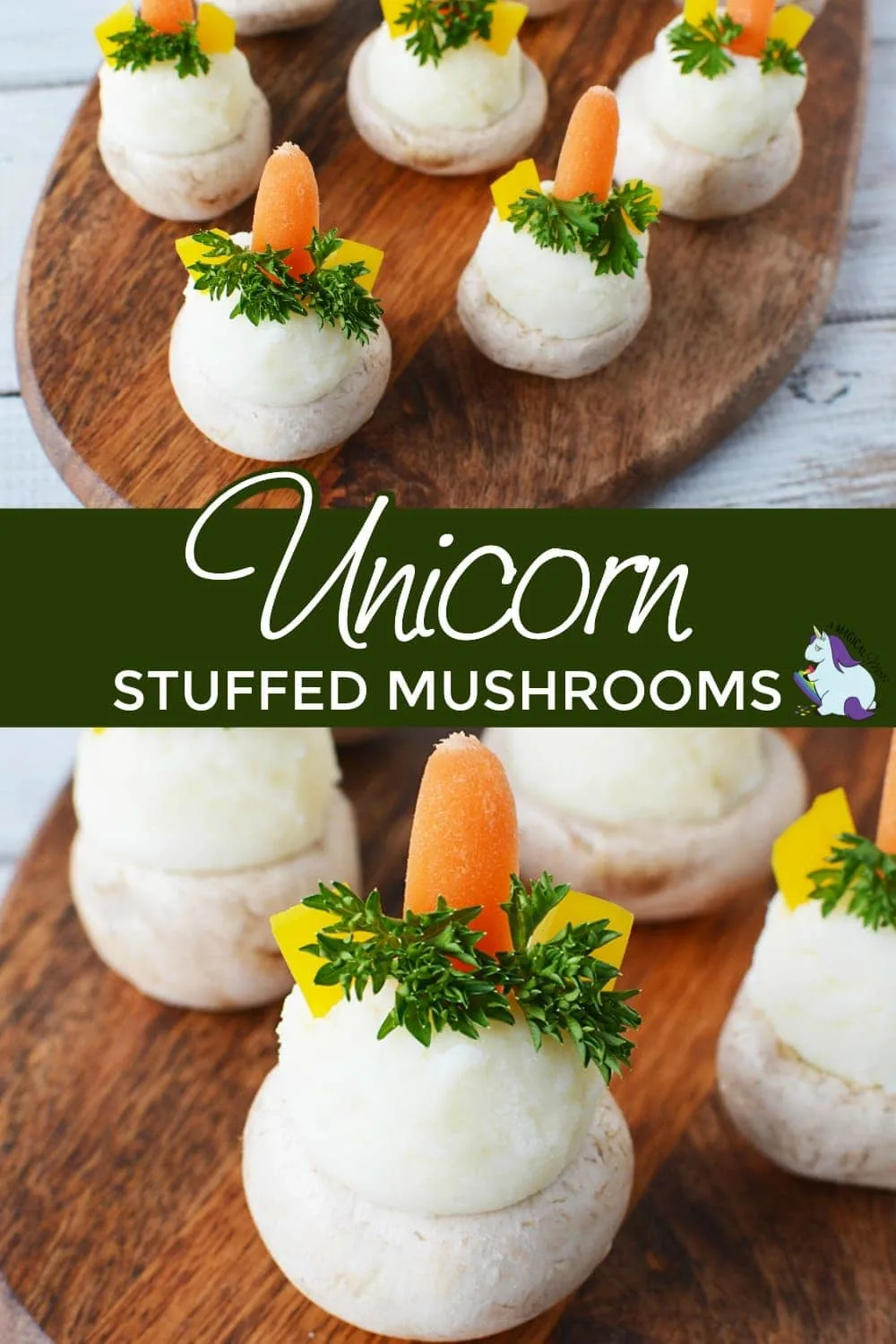 Don't forget that if you sign up for our newsletter you get to instantly print out unicorn coloring pages.
Please let us know if you make unicorn stuffed mushrooms. We'd love to see your creations!