Typically I think of cranberries as more of a fall and winter berry, but using them all year round adds so much new, fun flavor to summer dishes.
My daughter and I came up with this cranberry BBQ sauce recipe to go with grilled chicken. It's super delicious!
Sponsored post, all opinions are my own.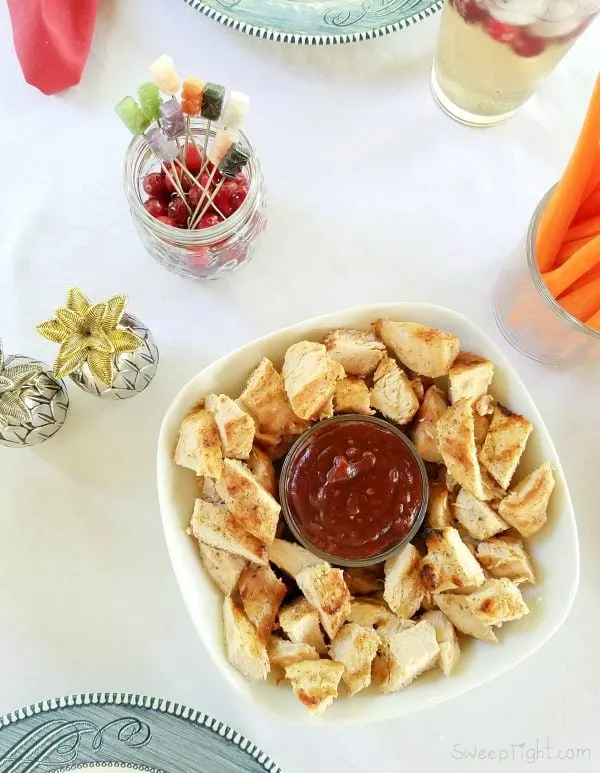 Cranberry BBQ Sauce Recipe
A new survey reveals cranberry eaters are healthy, active, and adventurous!
So be sure to add the tasty and versatile cranberry to your summer entertaining menu.
We used frozen cranberries and canned cranberry sauce for this recipe.
But there are tons of other recipe ideas using them dried and adding cranberry juice in ways I would have never thought about.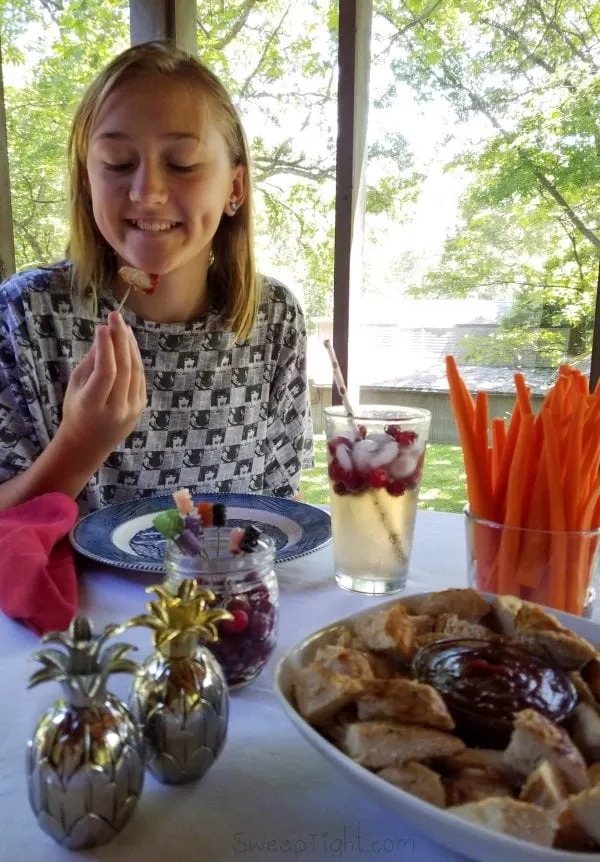 The nationwide survey found that in general, more cranberry eaters than non-cranberry eaters say they work out and are health-conscious, and are more likely to describe themselves as positive, and feel less stressed and more adventurous.
With a correlation like that, I am willing to add them to every recipe I can.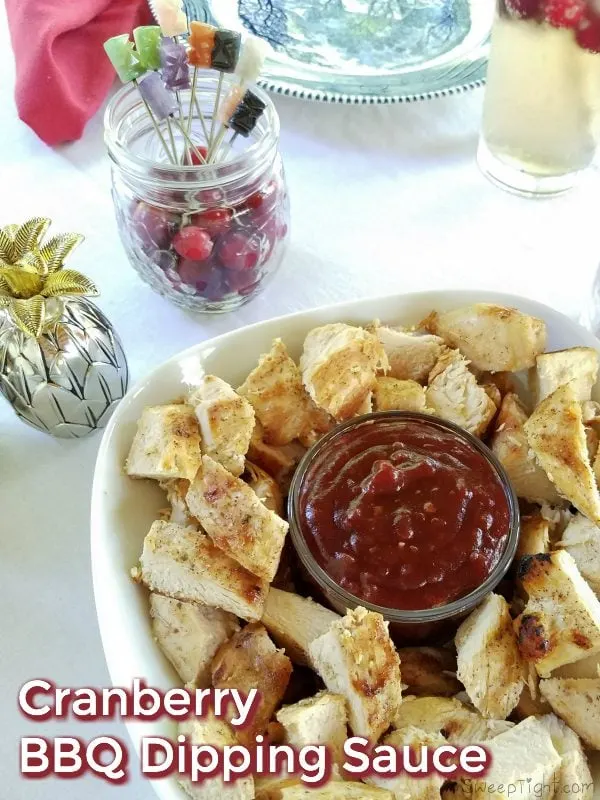 To start, here's our cranberry BBQ sauce recipe (original recipe used for inspiration):
Ingredients:
1 tbsp olive oil
1 cup minced Vidalia onion
1 tbsp minced garlic
1 tsp dry mustard
3/4 tsp chili powder
1/4 tsp cayenne pepper
pinch of cinnamon (optional)
1 1/2 tbsp tomato paste
1 1/2 cups cranberry sauce
1/4 cup cider vinegar
1 tbsp dark brown sugar
water as needed for thinning (if necessary)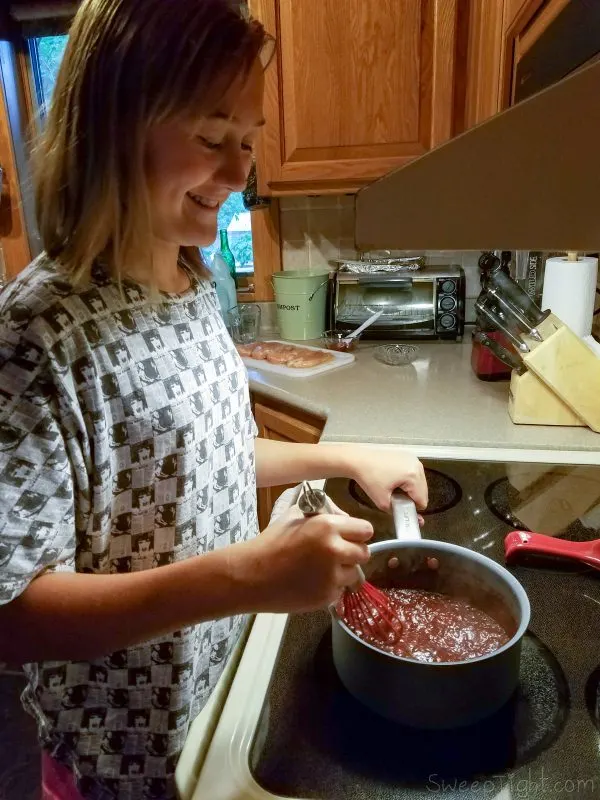 Instructions:
In a sauce pan, heat oil over medium-high heat; add onions and sauté 2 minutes.
Mix in garlic, mustard, chili powder, cayenne pepper, optional cinnamon, and continue cooking for about a minute.
Stir in tomato paste and cook another minute.
Add cranberry sauce, vinegar and brown sugar and bring to a simmer. Whisk continuously until mixture becomes smooth.
Lower heat and simmer 15-20 minutes or until mixture reduces and thickens–adding water if it gets too thick.
Remove from heat. Serve warm or cool to room temperature before placing in a covered container and refrigerating until ready to use.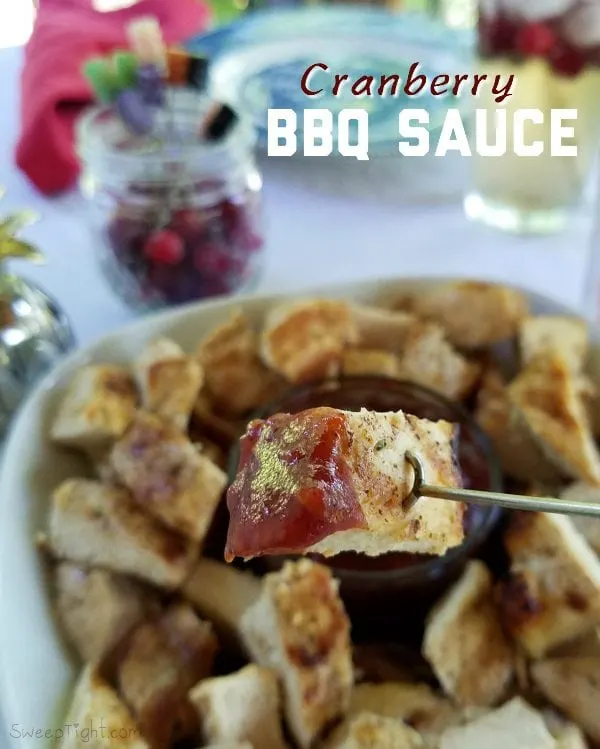 More Recipes with Cranberries
We loved this on grilled chicken and served it as a dipping sauce.
We used cute skewers and cut the chicken into cubes.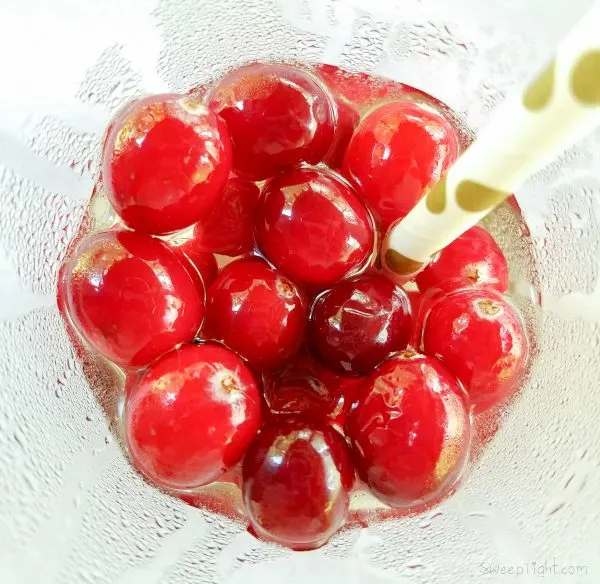 We also put whole frozen cranberries into our drinks to add a light cranberry flavor and a huge pop of color.
Plus, they are a great way to keep your drinks cool.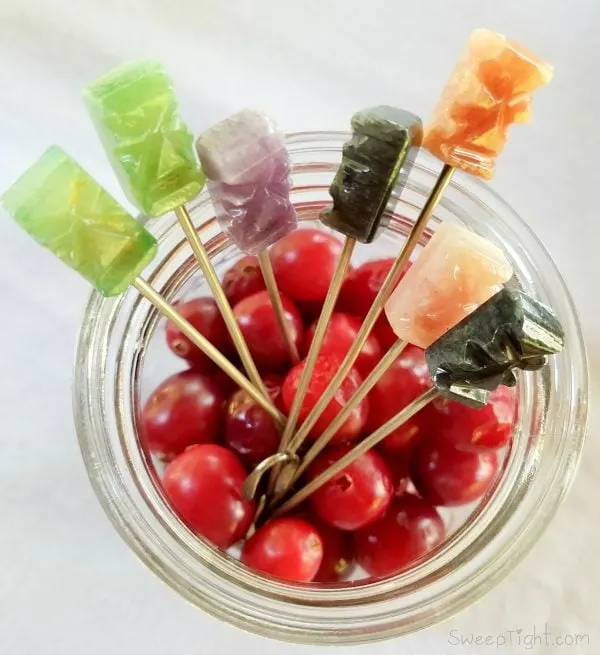 For our next cranberry recipe, I'm thinking of trying something like this cranberry quinoa salad.
Have you ever tried a cranberry BBQ sauce recipe?