Tupperware has a few new products out to make your life easier in the kitchen. I received three items in exchange for my honest review. My favorite has to be the Tupperware Serving Center Set. It's great for so many things, like anything that goes with dip. I made my favorite cake batter fruit dip for the last game day. It's always a hit and a great way to sneak some fruit into the day.
Tupperware Serving Center Set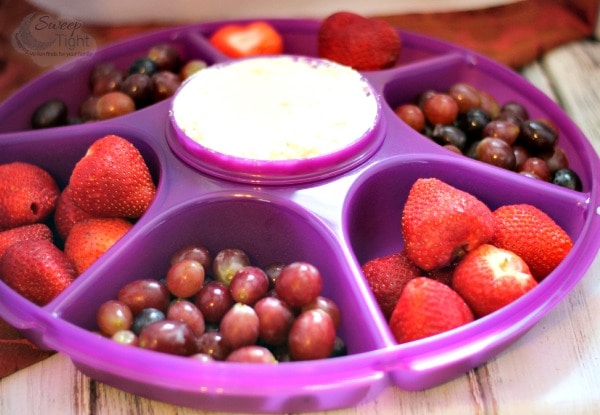 You can use the Serving Center Set for so many ideas. Separate ingredients for taco night or create a sundae bar. Since it keeps everything separated, it's awesome for picky eaters.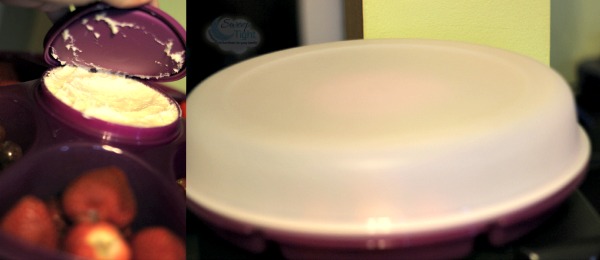 The flat lid allows for stacking and easy transportation. Bringing chips and dip to a friend's house? No problem. There's a lid for the dip and the whole set. It even fit nicely into my refrigerator for leftovers. Lids are also very helpful for outdoor parties. Keeps the bugs out in between snacking.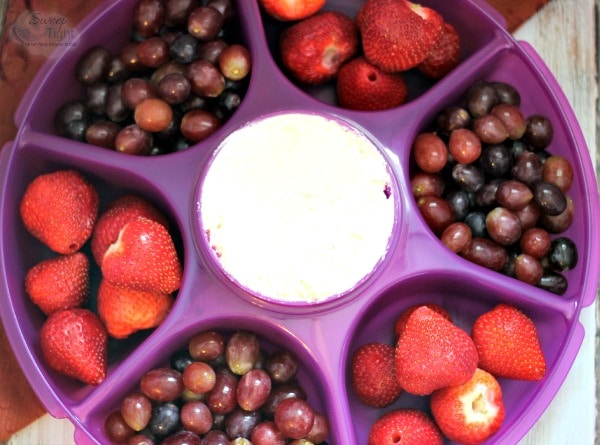 Cake Batter Fruit Dip Recipe
This is not anything original. I have seen many people create this dip recipe, but it's definitely a hit.
It's just 3 ingredients:
1 box cake mix (A lot of people use Funfetti, I only had vanilla in the house)
Mix everything together and dip away. Store in refrigerator.
This sweet dip tastes like cake batter. It's so good with strawberries we just cannot get enough of it. It's the only way I get my hubby to eat a lot of fruit.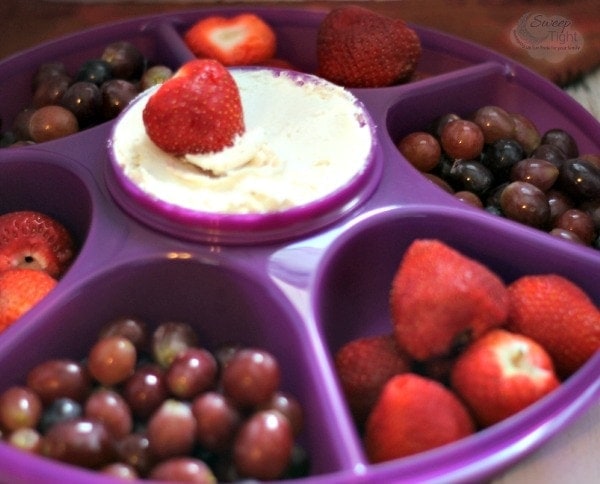 Just a side note: There's holes in my strawberries because I tried the trick of popping the green tops off with a straw. Works like a charm! Just push a straw through the bottom to "pop" the top off. No more cutting and wasting a huge portion of the strawberry!
Another new Tupperware product to save you in the kitchen is the Quick Chef Pro System. It's an easy-to-use food processor that has three sharp blades for chopping, a paddle for mixing and whisking, a funnel with measurements, a small basket for dry herbs and small salads, and even an airtight cover to store your creations.
Mike suddenly likes onions which I despise chopping. I was so thankful to be able to use the Quick Chef Pro System to chop a large onion in no time.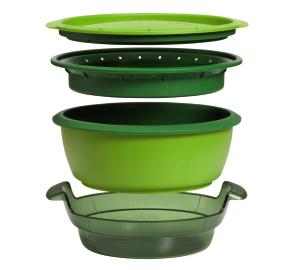 The third Tupperware product will allow you to steam more efficiently using your microwave. The SmartSteamer is designed to block the microwave from cooking the food. The water tray below causes the microwave to boil it and rise to perfectly steam the food. The unique two-tiered system lets you steam one or two foods at once.
All three of these Tupperware products are so helpful in the kitchen. You can purchase them all through tupperware.com or find a local consultant.
Which of these Tupperware items do you think you'd get the most use out of?
Rainbow Crumbs for You
Weekly newsletter with our latest posts and shenanigans.