Food on a stick and other handheld appetizers can be ideal party food. Not only is it easy for your guests to eat, but it also lessens the mess for you. No need to mess with lots of plates and silverware if the food is already on a stick. Just supply some tiny plates and pretty napkins and you are all set.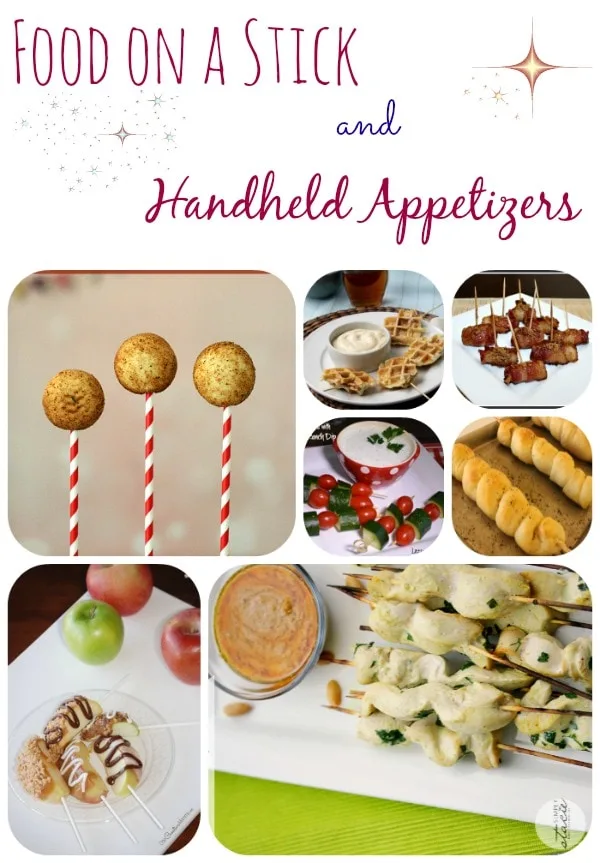 Since the big game day is coming up, I wanted to roundup some great recipes for food on a stick and handheld appetizers. There are so many creative ideas from my fellow bloggers that I cannot wait to throw a party. Plus, isn't food on a decorative stick just automatically more fun to eat? It's not just for kids. Finger food is fun for all ages.
Food on a Stick and Handheld Appetizers Recipe Roundup
Here are some great ideas for you to try the next time you host a gathering:
On a Stick
Italian Style Slow Cooker Meatballs
Chicken Satay with Peanut Sauce
Crunchy Chicken Stuffed Waffles Pops
Caribbean Shrimp Stuffed Waffle Pops
Bacon Wrapped Cheesy Tater Tots
Handheld
Best Jalapeno Poppers Recipe with Cream Cheese
Ricotta, Tomato, and Pistachio Phyllo Cups
I have a whole pinterest board for snacks and appetizers. Feel free to follow it and check it out for even more recipes.
Just click on the links above to find the recipes for each delicious creation.
Do you have a favorite appetizer recipe?
What kind of food on a stick would you like to try first?