Pepper steak. It's delicious. It's hot, hearty, and perfect for winter days. I've seen lots of different ways to prepare it, but today, I'm approaching in a way that anyone can do and that all men will appreciate. Ladies and gentlemen, I present to you pepper steak the man way.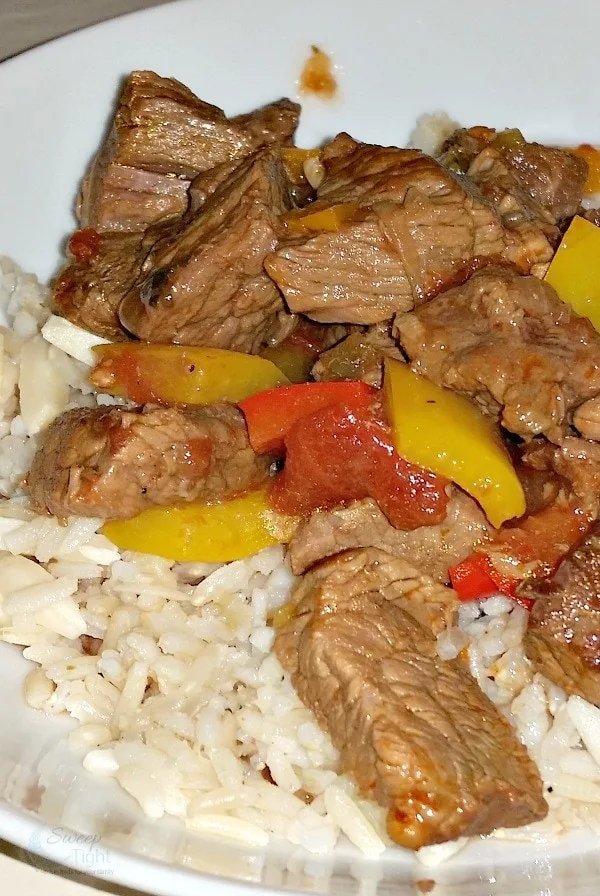 What is the Man Way
Of course, the literal take on this would be "any way a man would do it". That's not so. The man way of approaching things is aimed at maximum payoff with minimal effort. Remember the saying, "work smarter not harder"? I'm pretty sure a man wrote that. I don't know for sure, but I'm just assuming. It really is the man way to approach everything. Read on for the simplest, most delicious, and fastest pepper steak you've ever had.
No Muss No Fuss Pepper Steak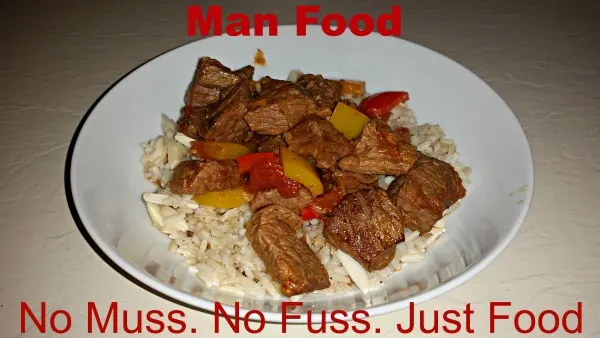 Since this is cooking the man way, let's approach this like any man would – with bullet points.
Ingredients
2 pounds lean beef stew meat
3 bell peppers – color of your choice
3 pearl onions
4 cloves garlic
2 cans stewed tomatoes
salt
pepper
parsley
dill
1 Tbsp butter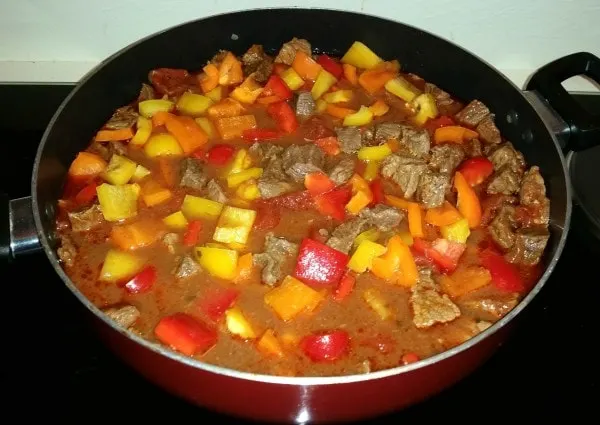 How to make it
Finely dice the onions and garlic. Saute with the butter in a large, deep pan until translucent. I used a 14″ by 3″ pan.
Add beef to the pan with the onion and garlic and brown. The onions and garlic won't burn because the beef will make liquid when it cooks.
DO NOT DRAIN. That's why you need the lean beef. The juice from the beef will be part of the stock.
Add stewed tomatoes and pepper, salt, parsley, and dill to taste.
Simmer for three hours. You want the beef to be tender.
Chop peppers into 1 inch cubes, and then go do man stuff for the rest of the three hours.
After three hours, throw in the pepper. Remove from heat and let sit for 30 minutes. This fully cooks the peppers without making them mushy.
Serve over rice, barley, or noodles.
Boom. Done. One pot pepper steak the man way. This is suitable for dinner and leftovers, and it's pretty enough that if you REALLY feel inspired you can serve it for a special occasion. Me? In keeping with my man cooking philosophy, I threw it in a shallow bowl. That's pretty enough for me. =D