With school, work, and extracurricular activity schedules adding lines to our calendar like a mallet was dropped on the enter key, finding easy recipes, lately, has been paramount. Allow me to introduce the easiest chicken broccoli bake with tortellini you'll ever prepare.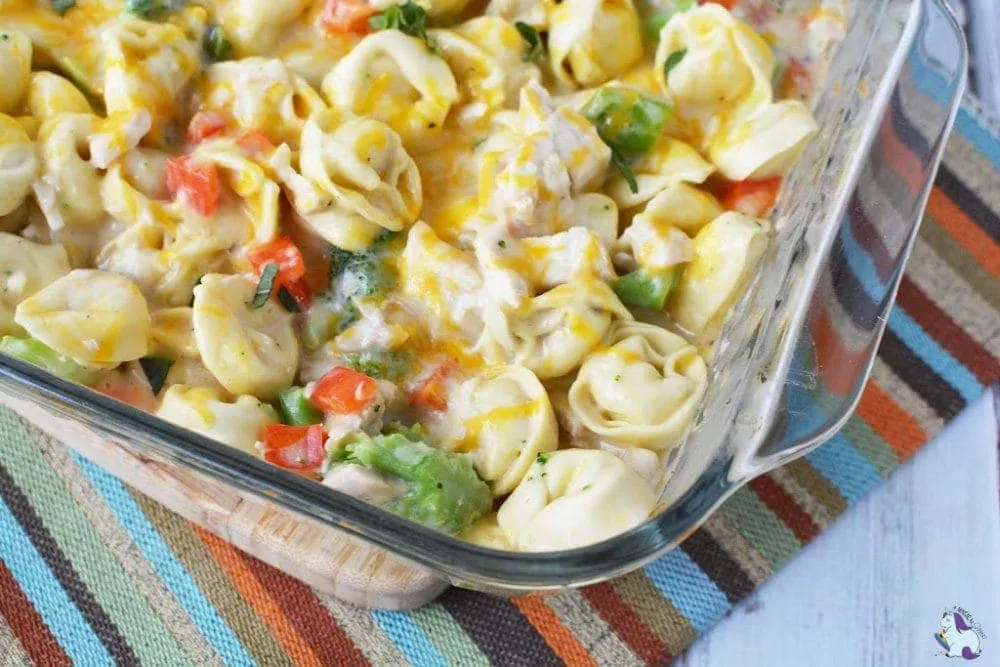 It's suddenly Monday. The weekend was crazy busy and you never had a moment to go grocery shopping, let alone plan meals for the week. Perhaps, more weeks than not are like this scenario–that's certainly been our story lately.
Chicken Broccoli Bake with Tortellini
This recipe is quick to throw together, only takes about 30 minutes in the oven, and tastes sensational. The dish is wonderfully creamy and can be made with any meat. You can even swap the veggies for whatever you have in your freezer or have growing in the backyard garden.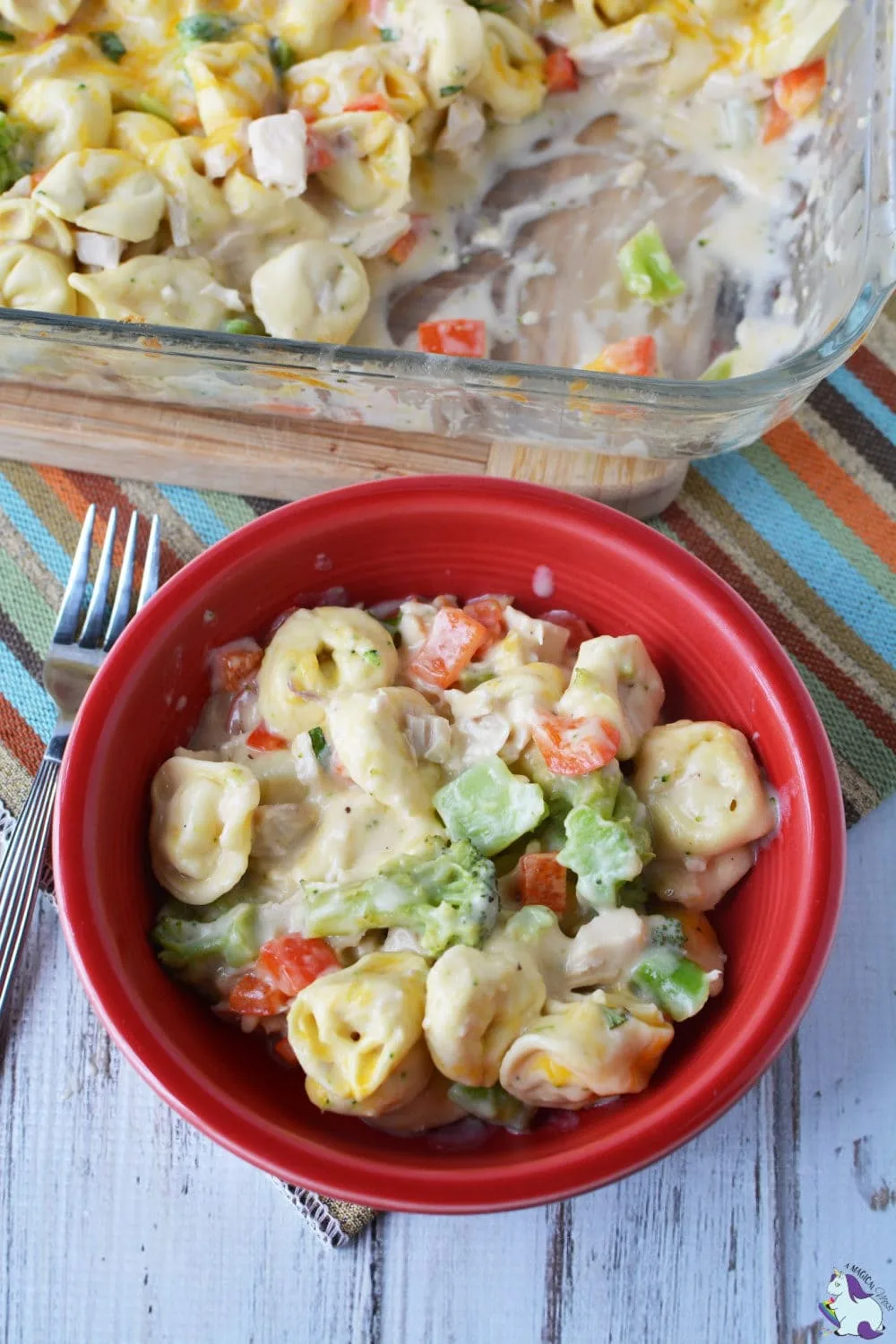 Plus, it creates minimal dishes to clean. Every second saved is valuable when you're juggling multiple schedules.
We use those tallied seconds to squeeze in games, favorite shows, and priceless family time. Sometimes, I'll even take a moment to read a book or slather my face with some exotic treatment.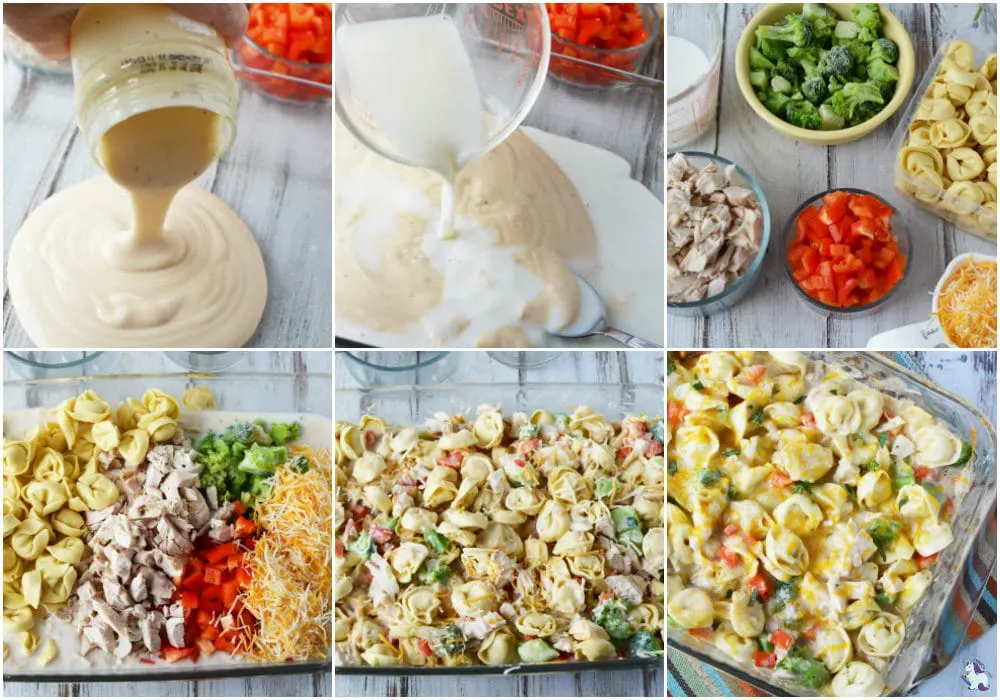 Yield: 8 people
Chicken Broccoli Bake with Tortellini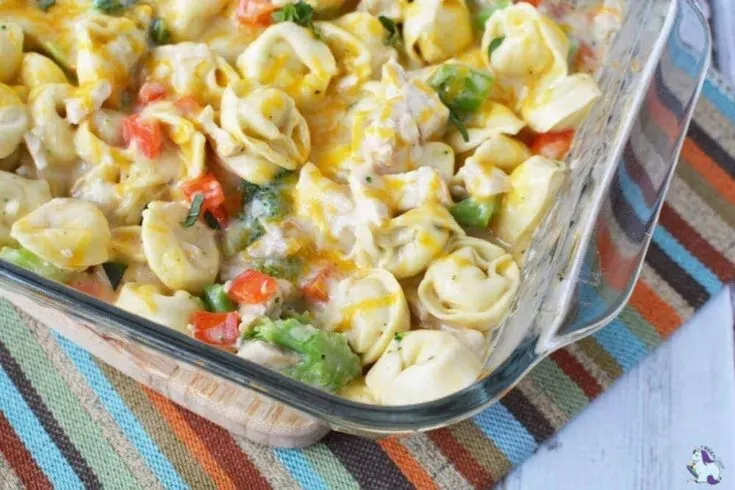 This pasta chicken bake recipe is yummy, easy, and doesn't create a ton of dishes! Try it with any meat!
Ingredients
15 oz Alfredo sauce, 1 jar
1 cup milk
2 cups chicken, cooked, cut into cubes
20 oz tortellini, refrigerated, do not cook
2 cups broccoli, frozen
1 large red pepper, chopped
1 1/2 cups cheese, shredded
2 tsp garlic, minced
1 tsp dried Italian seasoning
1 tbsp fresh basil, optional
Instructions
Preheat oven to 350 and grease a 9x13 baking dish with nonstick cooking spray.
Add Alfredo sauce and milk to baking dish and mix well.
Stir in chicken, tortellini, broccoli, red pepper, 3/4 cup of the cheese, garlic, and Italian seasoning. Mix well.
Cover with foil and bake for 25-30 minutes.
Remove foil and stir well. If the mixture isn't hot enough, cover and return to oven for an additional 5 minutes.
When warmed through, remove cover, sprinkle with remaining cheese and return to oven for 3 minutes or until cheese is melted.
Sprinkle with fresh basil for serving.
Notes
If you've got leftover turkey, ham, or pork, any meats will work!
Nutrition Information:
Yield:
8
Serving Size:
1 serving
Amount Per Serving:
Calories:

664
Total Fat:

41g
Saturated Fat:

23g
Trans Fat:

1g
Unsaturated Fat:

14g
Cholesterol:

155mg
Sodium:

1050mg
Carbohydrates:

43g
Fiber:

3g
Sugar:

3g
Protein:

31g
Nutrition facts are an estimate only.
Leftover Lovers Delight
For my family, this recipe results in enough food for two days of dinner. It reheats perfectly and the kids are always super satisfied. It's also become my go-to recipe to leave for the kids while I'm traveling.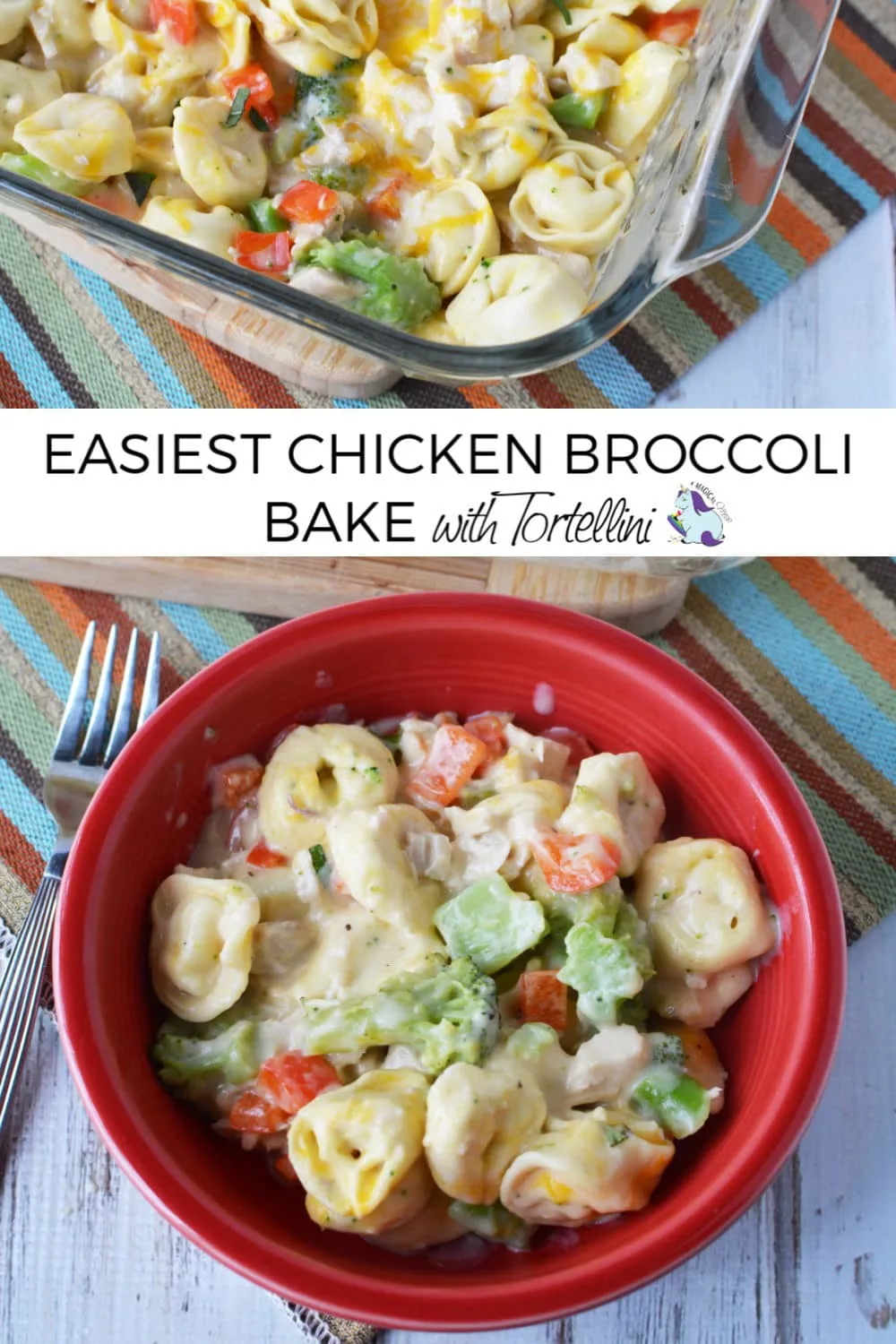 Additionally, I'm on a mission to teach my son, Adam, how to make simple dishes. He'll be leaving for the Navy and on his own sooner than I can fathom. While the Navy will certainly teach him a lot, having easy recipes on deck for when he has to cook for himself or friends is an important life lesson.
Jen is a super picky eater, so she'd leave the red peppers out. However, I advise against this removal. They add such great flavor to the sauce and aren't overpowering. Even my daughter, who has very similar taste preferences to her Aunt Jennie, loves this recipe.
Share this easy chicken broccoli bake with all of your busy friends!
For other easy recipes for leftover turkey or chicken, try our turkey pasta bake with veggies and cheese!