When preparing a turkey or whole chicken, it's rare that we don't also have several sides to go with it.
Having a plate full of meat, veggies, and sides usually means an abundance of leftovers.
This turkey pasta bake is a quick and easy way to utilize those yummy portions that may, otherwise, go uneaten.
The dish is equally as delicious with either turkey or chicken, which makes this a versatile option all year round.
If you're looking for other recipes for leftover turkey, try our Gram's turkey a la king recipe. It's a family favorite.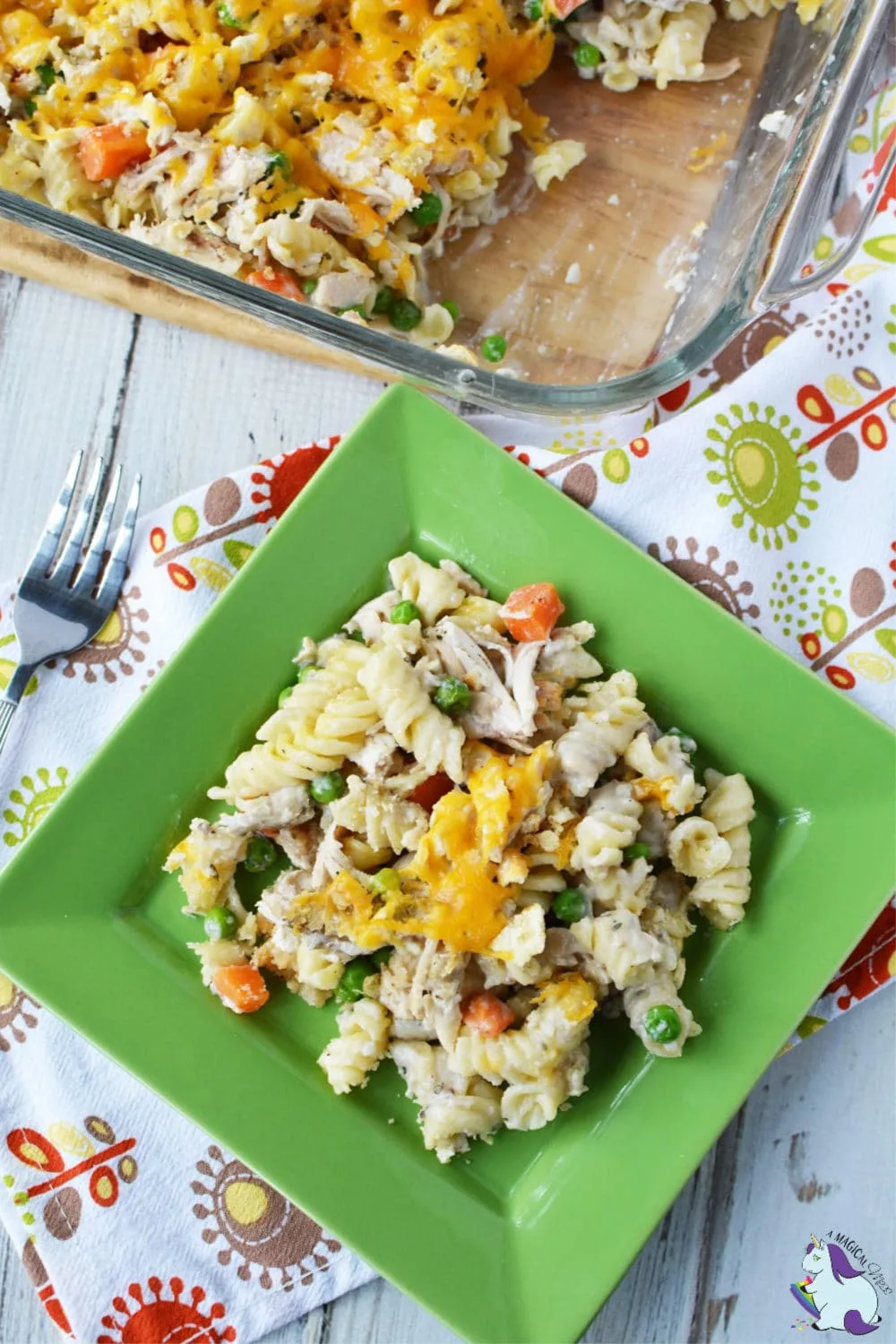 Turkey Pasta Bake
After putting in lots of hard work preparing the perfect roasted turkey or chicken, your next night's dinner should be easy.
The leftover pieces of meat are like the golden nuggets in this treasured recipe.
How many times have have you settled for expensive, poor quality take-out food the night after spending hours preparing a large meal?
With just a couple of cups of shredded turkey, you can whip up a meal for your family in just over half an hour, and you're helping your budget by turning one meal into two!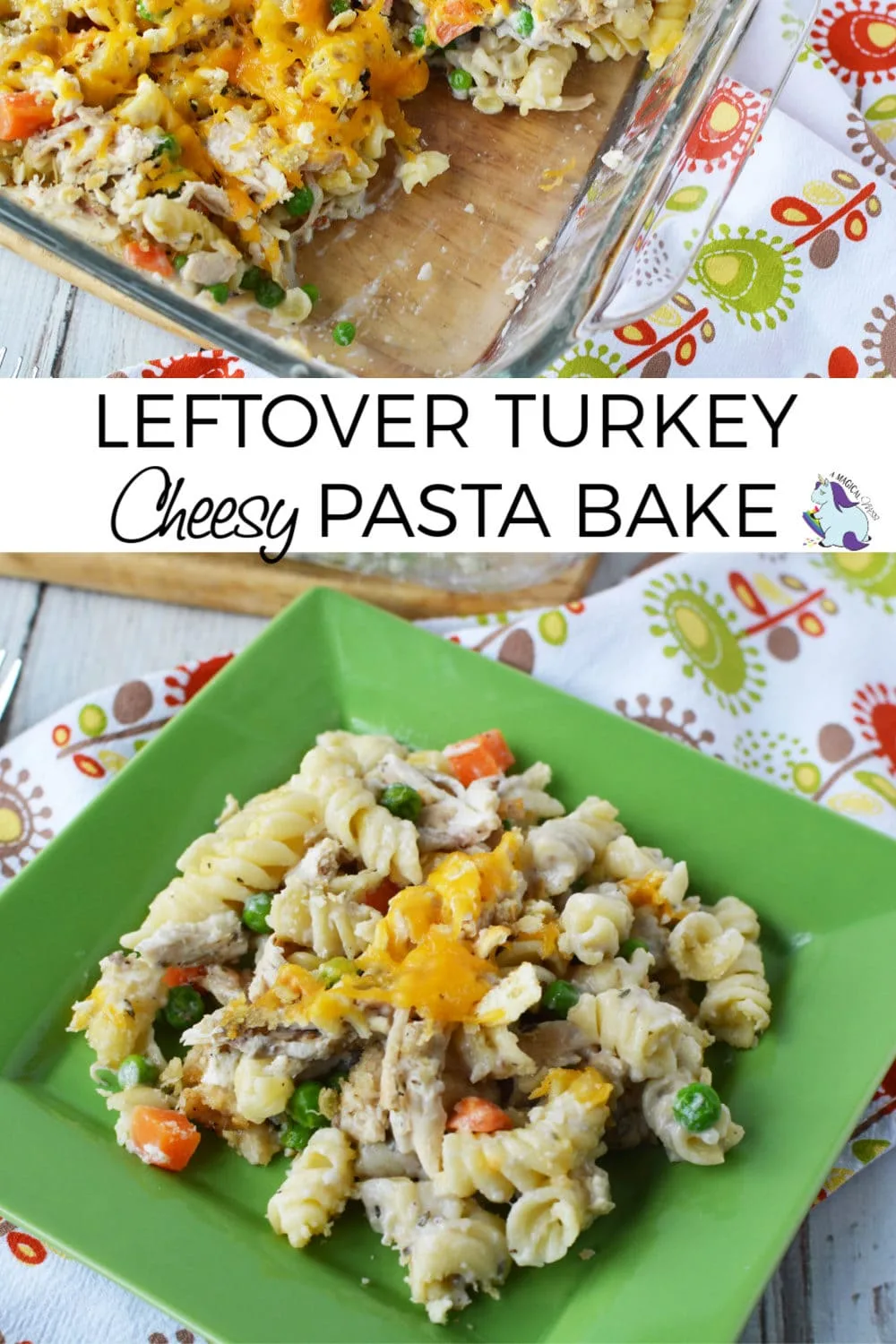 Keeping the rest of the ingredients on hand isn't difficult. Dry pasta is a staple in most kitchens, and we always have veggies in the freezer.
Just make sure you have extra broth, half and half, cheese, and seasonings.
Dessert? Yes, Please!
With only 200 calories per serving, this meal allows plenty of room for dessert, which you, hopefully, also have leftover from the night before.
More pasta recipes: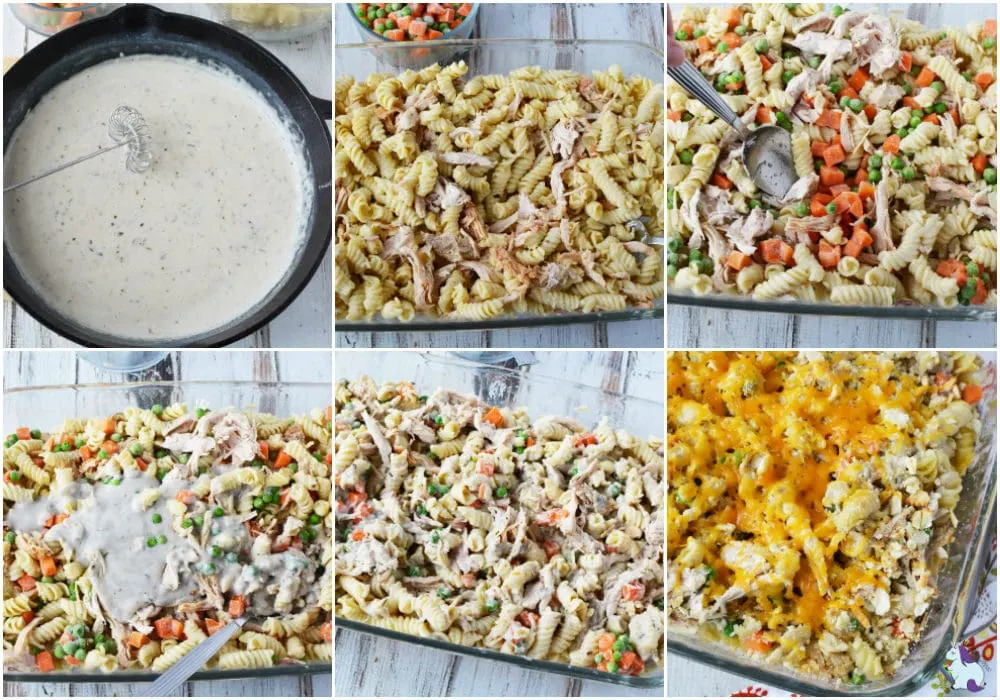 Yield: 8 people
Turkey Pasta Bake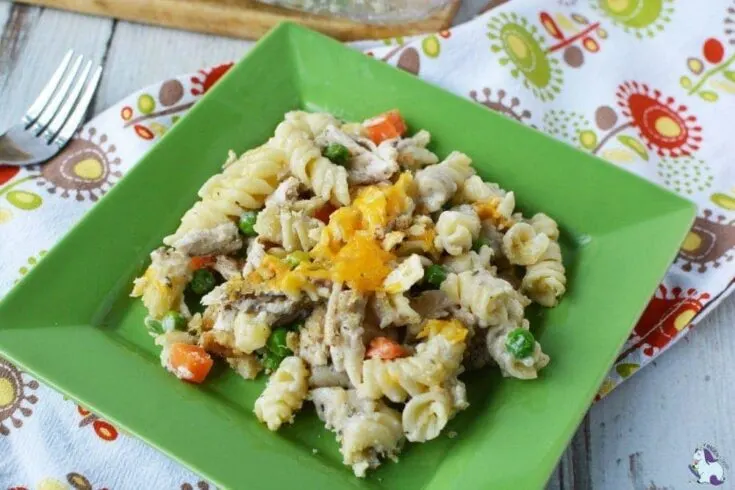 Super yummy and simple recipe to use leftovers from Thanksgiving or you can use chicken, too!
Ingredients
8 oz rotini pasta, cooked, drained
2 cups turkey, cooked, shredded
1 cup frozen peas and carrots, or any other mixed vegetable
1 cup chicken broth
1/2 cup half and half
2 tbsp flour
1/2 tsp garlic powder
1/2 tsp thyme
1/2 tsp oregano
1/2 tsp salt
1/4 tsp black pepper
1/2 cup shredded cheddar cheese
Instructions
Preheat oven to 350 degrees.
Grease a 9x13 baking pan with nonstick cooking spray.
Add pasta, turkey, and vegetables, and mix well. Set aside.
In a large skillet, combine chicken broth, half and half, flour and spices.
Cook on medium-high, stirring frequently, until thick and bubbly.
Heat for 1 minute and remove from heat.
Pour onto pasta and mix well.
Sprinkle the top of the mixture with cheddar cheese.
Cover with foil and heat for 20 minutes.
Remove foil and heat for an additional 5 minutes.
Serve immediately.
Nutrition Information:
Yield:
8
Serving Size:
1 serving
Amount Per Serving:
Calories:

181
Total Fat:

7g
Saturated Fat:

3g
Trans Fat:

0g
Unsaturated Fat:

3g
Cholesterol:

50mg
Sodium:

370mg
Carbohydrates:

15g
Fiber:

2g
Sugar:

2g
Protein:

15g
Nutrition facts are an estimate only.
This recipe is a great base for adding several other ingredient combinations.
Try using chicken and broccoli to replace the turkey, frozen peas and carrots.
Maybe play with different shredded cheese toppings–mozzarella, parmesan, or a blend would create equally appetizing flavor combos.
Want your family to eat more veggies? Serve up these cute stuffed mushrooms that look like unicorns!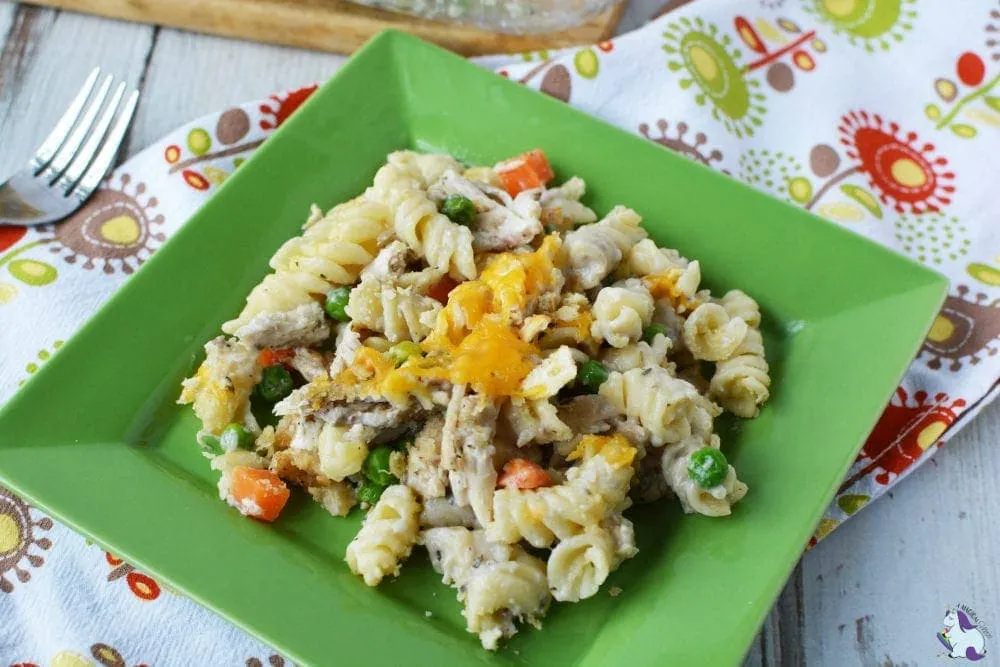 Can you think of other ingredients to swap?