If you're looking for meatless meals, here is a kale pasta recipe to try. Before you run away at the mention of "kale," know that this pasta recipe has good flavor.
You don't have to be the biggest fan of kale to enjoy this dinner. Give it a shot.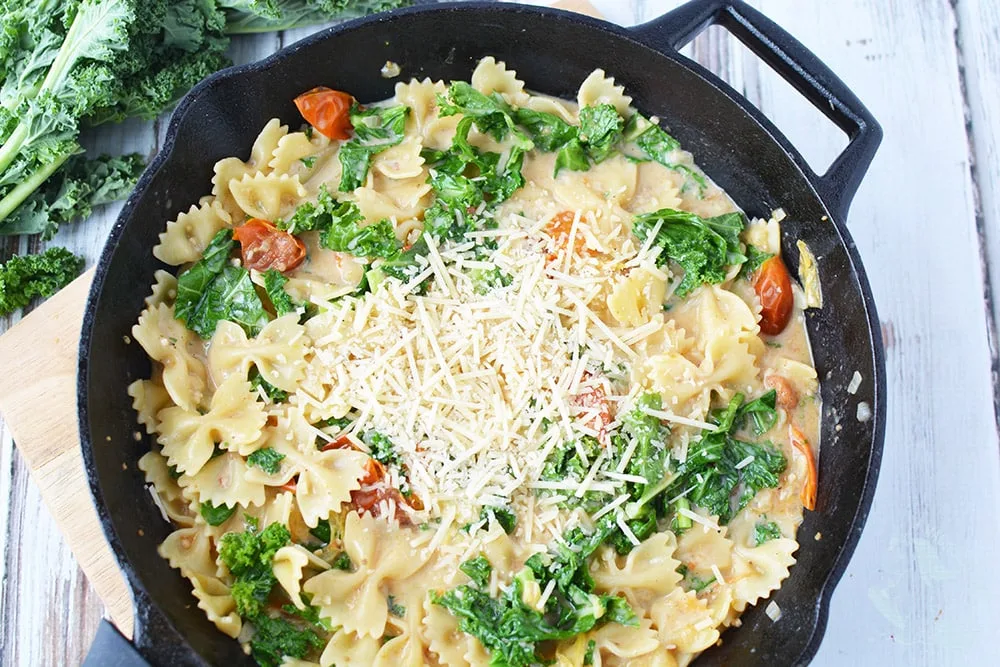 Kale – One of the Superfoods
Sometimes if I don't like something, I can trick myself into tolerating it if I know it's great for me. Kale is one of those foods. I don't hate kale, but it's not something I dream of and try to summon into an empty fridge.
Mind trickery is definitely a big part of adding kale to my diet. Mike is the same way. He'll ask me every time I put a food he doesn't love on his plate — why is this good for me again?
A quick google search will give you all the benefits of kale. The nutrient that motivates me to eat kale is lutein.
We have a lot of eye issues in the family, so we love to load up on any vitamins and minerals that help eye health. The dark, leafy green also packs quite a punch of protein and fiber per serving.
If you're looking for another meatless pasta recipe with a kick, try this Gigi Hadid pasta. Enjoy trying the supermodel's viral recipe for pasta with a spicy vodka sauce!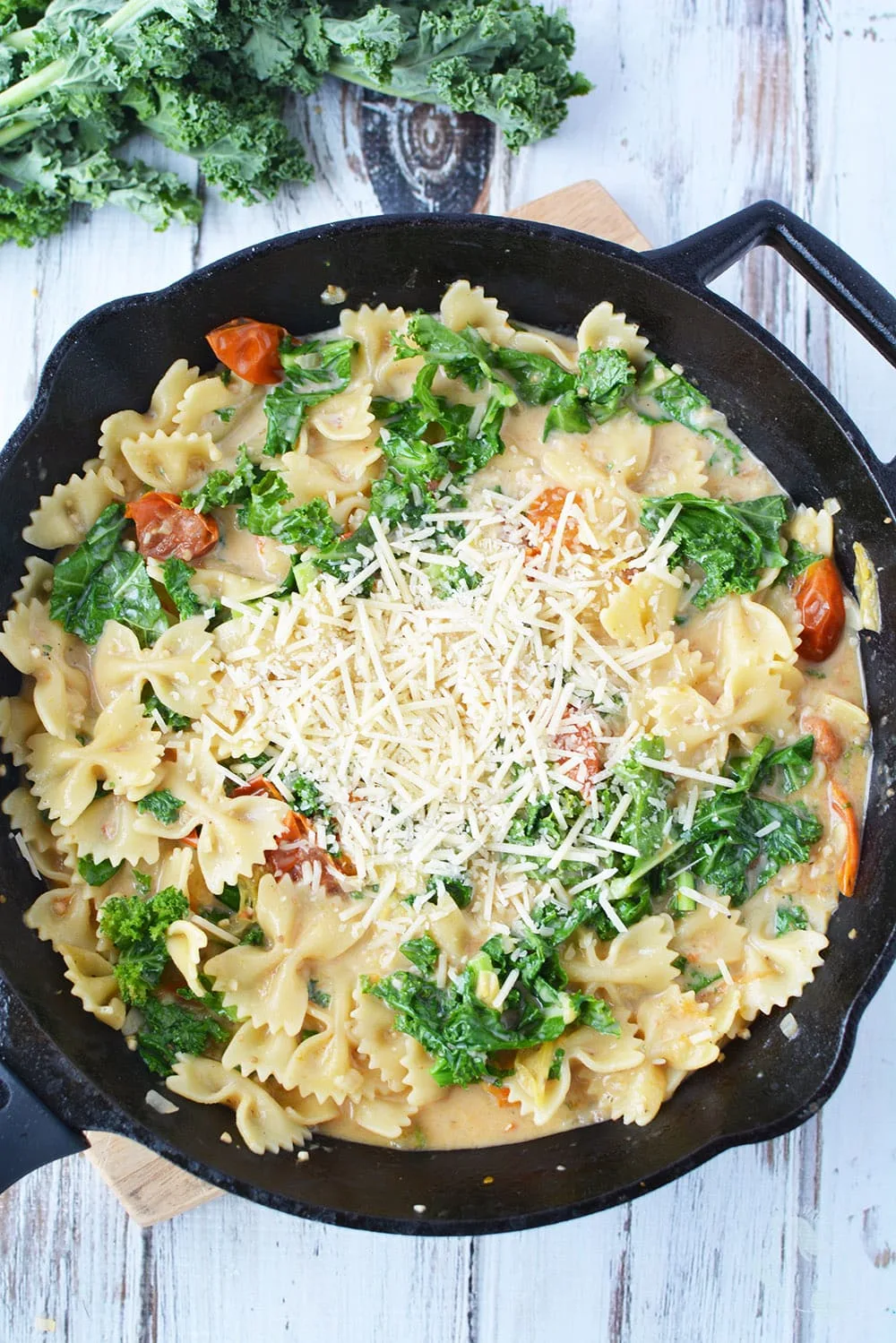 After that reminder, let's smother some kale in a creamy sauce with pasta, shall we? 😉
Add some chicken breast or ground sausage if you don't want this pasta dish meatless.
Skillet Dinner Ideas:
Yield: 4 people
Kale Pasta Recipe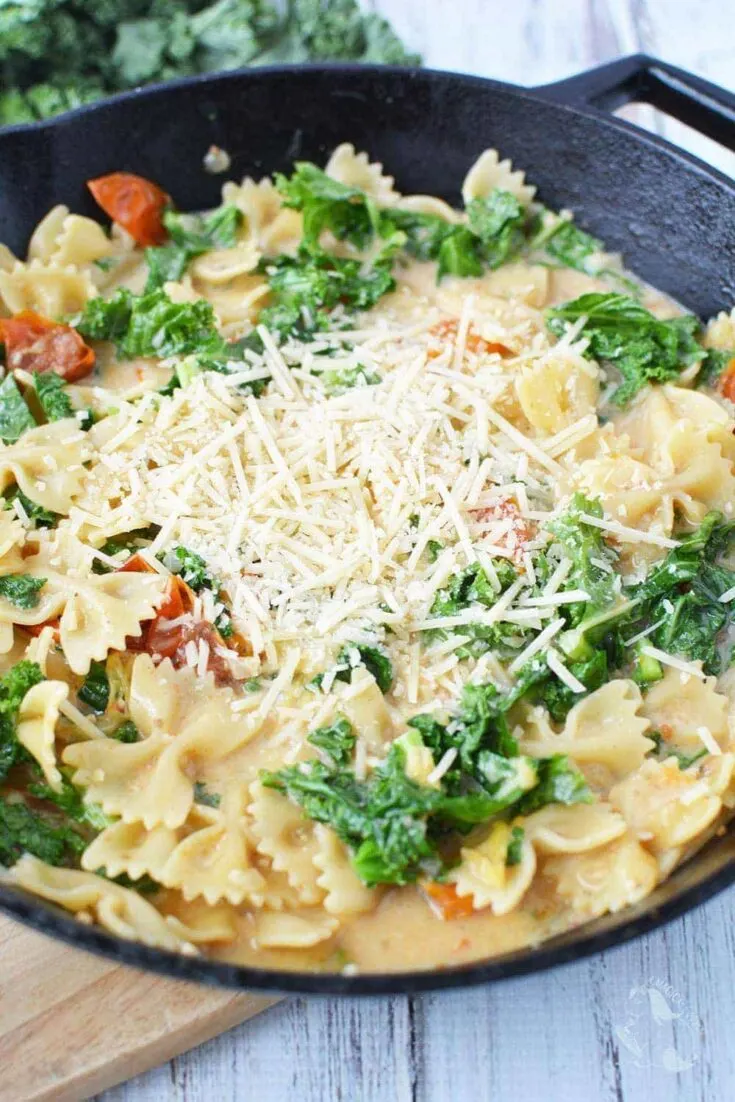 A tasty way to add kale to your diet. Add this kale pasta recipe to your meatless meal ideas.
Ingredients
1 tablespoon oil
1 tablespoon minced garlic
1/2 cup onions, chopped
1 pint grape tomatoes, sliced in half
2 cups chicken broth
8 ounces bowtie pasta
3 cups kale, chopped
1/2 cup half and half
1/4 cup Parmesan cheese, shredded
salt and pepper
Instructions
In a large skillet add oil, garlic, and onions and heat over medium heat until onions are tender.
Add tomatoes, broth, and pasta and heat until pasta is tender, about 8-10 minutes.
Stir in cream and kale and heat another 1-2 minutes or until heated through.
Season with salt and pepper and top with shredded cheese before serving.
Notes
The tomatoes used are called wild wonders gourmet medley tomatoes. They come in a package with all the colors of tomatoes shown.
Recommended Products
As an Amazon Associate and member of other affiliate programs, I earn from qualifying purchases.
Nutrition Information:
Yield:
4
Serving Size:
1/4
Amount Per Serving:
Calories:

242
Total Fat:

9g
Saturated Fat:

3g
Trans Fat:

0g
Unsaturated Fat:

5g
Cholesterol:

17mg
Sodium:

667mg
Carbohydrates:

32g
Fiber:

4g
Sugar:

7g
Protein:

10g
Nutrition facts are an estimate only.
Another delicious pasta recipe to make is the chicken and spinach lasagna recipe. So good!
Need gluten-free and/or vegan? Try Jovial pasta.
Jovial Gluten-Free Pasta
Have you tried Jovial's new gluten-free Mac & Cheese? As someone who's given it a taste and loved it, I can tell you that it's not mushy like some other gluten-free Mac & Cheese and it's bursting with flavor.
With authentic Italian pasta and two delicious varieties to choose from - White Cheddar and Dairy-Free Vegan, you won't have to compromise taste for dietary restrictions.
This Mac & Cheese is glyphosate residue-free and Project Detox Certified, so you can eat your favorite comfort food without worry.
Available in national retail stores starting in May and at Whole Foods in July, head to jovialfoods.com to give it a try and take advantage of the exclusive 15% stock-up discount for purchasing a case of either product (12 boxes).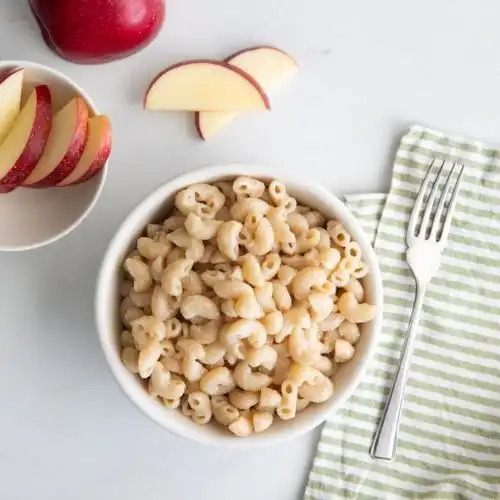 We earn a commission if you make a purchase, at no additional cost to you.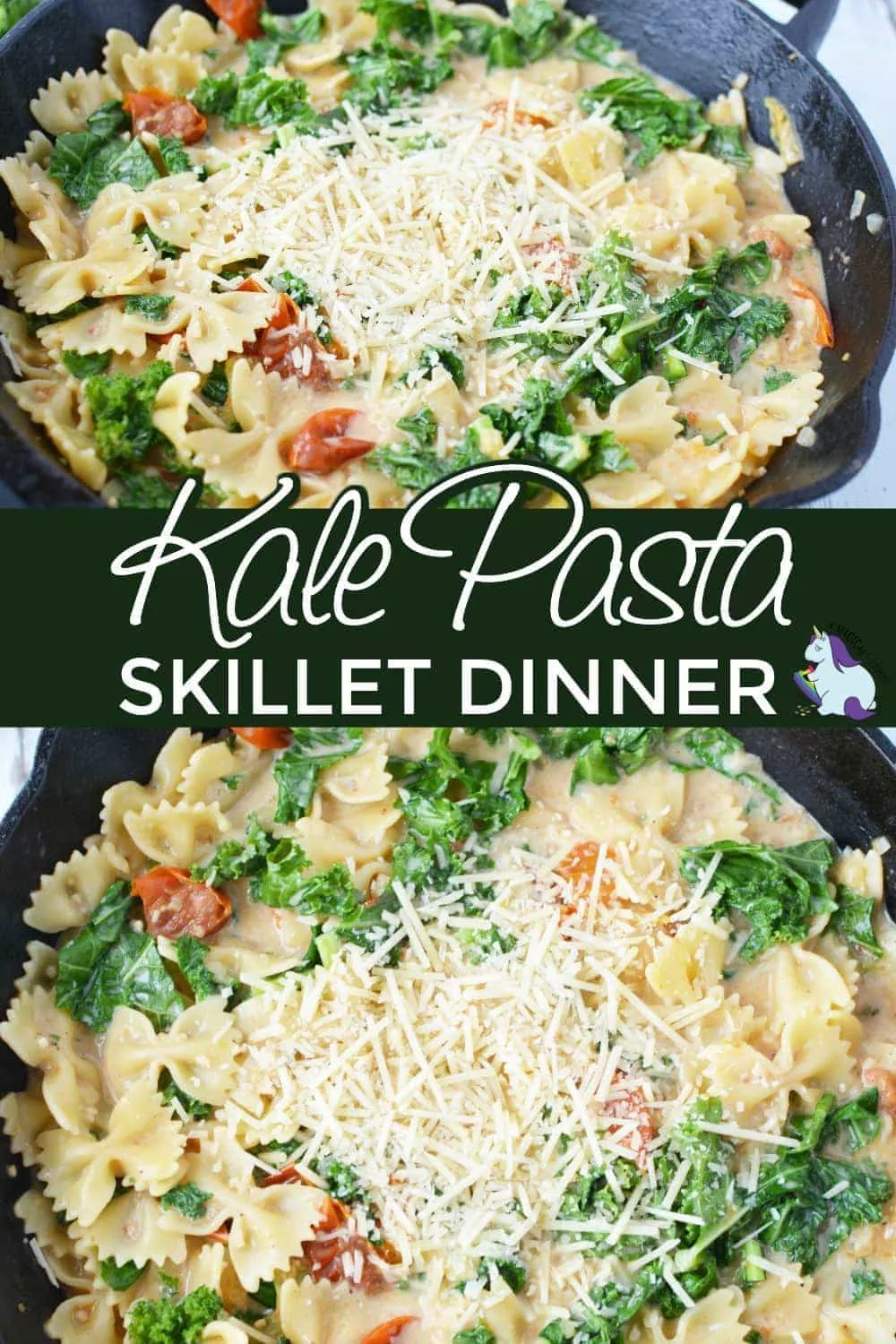 Would your family enjoy this kale pasta recipe?