This Slow Cooker Chicken Parmesan Recipe Is A Great Weeknight Meal. Post contains affiliate links.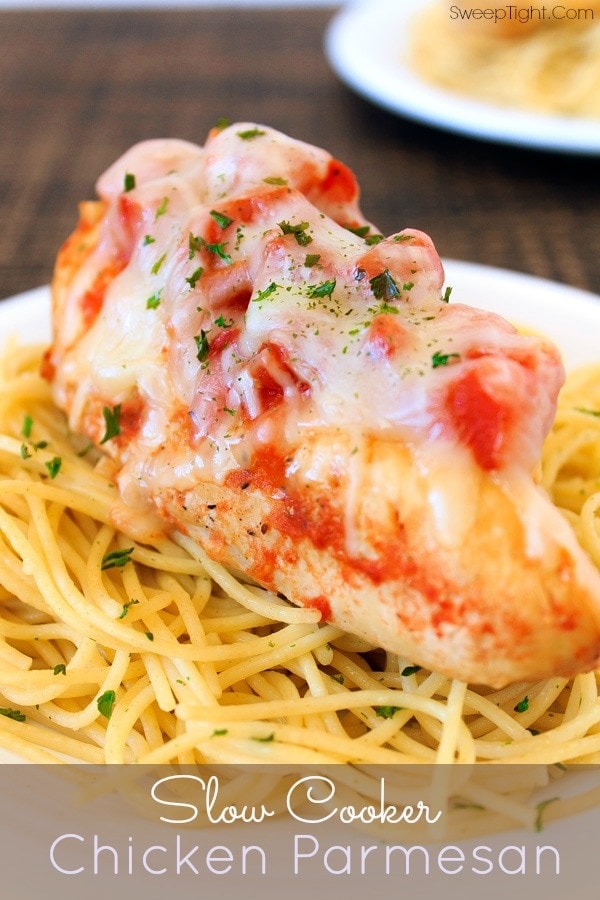 Easy Slow Cooker Chicken Parmesan
The end of Summer is always a little bittersweet, isn't it? On 1 hand it's kind of a bummer. The weather gets yucky, days get shorter, time speeds up. But, on the other… Kids. They Go.Back.To.School! (that noise was me, clapping. Sorry, not sorry) That's where this Slow Cooker Chicken Parmesan Recipe saves the day. With 1 kid having after school activities. Another having Band rehearsals. The youngest needs picked up from scouts. The very last thing I'm going to want to do after playing taxi is start making dinner. But since I started this Chicken Parmesan way earlier in the day, I don't have to. Go me! I'll share!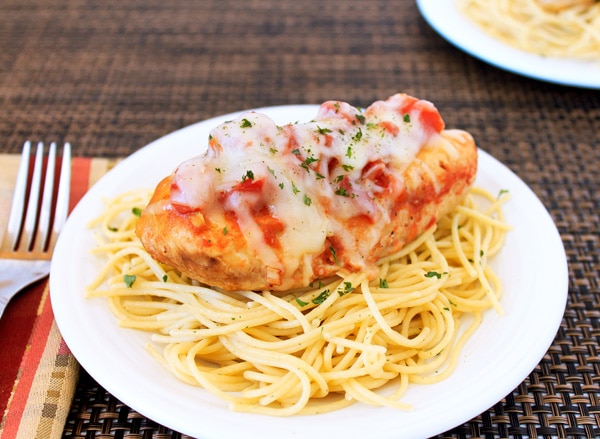 Slow Cooker Chicken Parmesan Recipe
INGREDIENTS:
4 Chicken Breasts (skinless, boneless)
1 Can Diced Tomatoes (I used the kind with Italian Seasoning)
3 Cloves Garlic (crushed)
3 TBS Good Dry Red Wine (if you wouldn't drink it, don't cook with it, blech)
1 Cup Shredded Mozzarella Cheese
1/2 Cup Parmesan Cheese
1 TSP Sugar
Salt & Pepper (to taste)
Directions:
The beauty of this Chicken Parmesan Recipe is it's not only easy. Set it and forget it. But, it's also not breaded. So, it's healthier, and less work! We totally get to skip all that! In your slow cooker, combine all ingredients save for the cheeses. Cover and cook on low for about 6 hours. Check to make sure chicken is cooked completely. *170. Because, raw chicken. Eeww. Add a touch more salt and pepper and all cheese. Cover and cook for another 20 minutes until the cheese is a creamy, melty pot of yum. Serve over lightly butter noodles. Family mealtime my friends! Enjoy!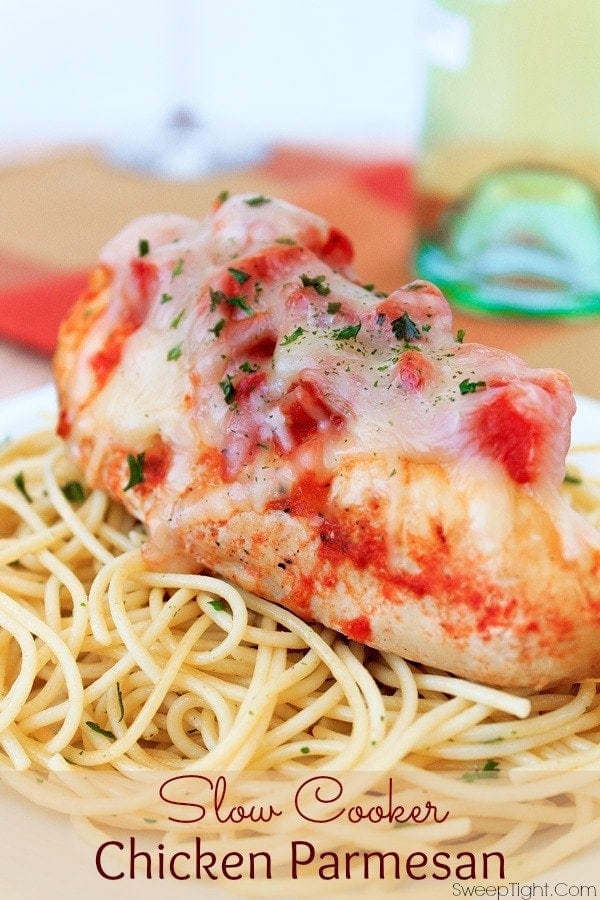 This is one of our 'go-to' easy dinners. We usually have everything and don't even need to shop. The kids love it. And I'm not Crazy Kitchen Mom come dinnertime. That's winning in Vegas!
So, what do ya think? Ready to give this Slow Cooker Recipe a try?
If you want another easy Crock Pot recipe, check out our 3 ingredient pork chops!
Rainbow Crumbs for You
Weekly newsletter with our latest posts and shenanigans.