Pork chops scare me a bit. I am horrified to under-cook pork. I have been trying to use my slow cooker a lot more, so I looked to my friend's handy post with slow cooker recipes with 4 ingredients or less. That's about my speed in the kitchen. From there I stumbled upon a few different quick and easy pork chop recipes for the crock pot. Post contains affiliate links.
Easy Pork Chops in the Slow Cooker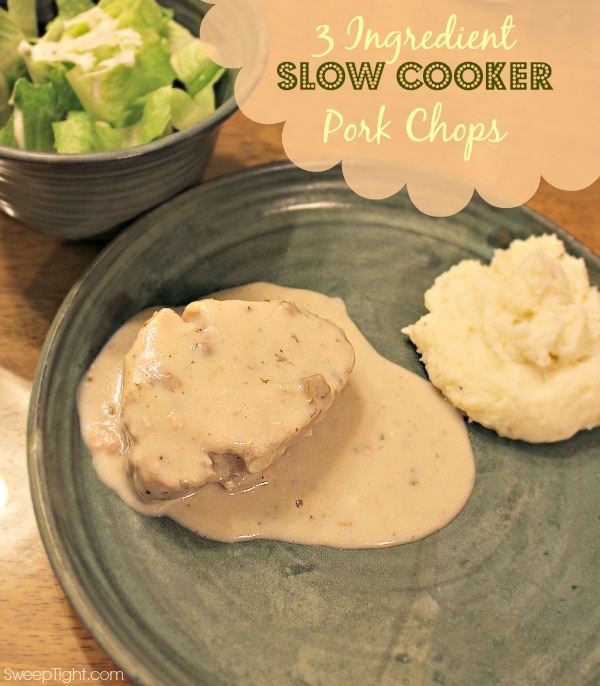 Ultimately, I ended up using this slow cooker creamy ranch pork chops recipe and modifying it just a tad. Instead of using cream of chicken soup I used cream of mushroom. I used water instead of milk, and left out the potatoes. Instead I served them with mashed potatoes and the gravy made an excellent topping for them.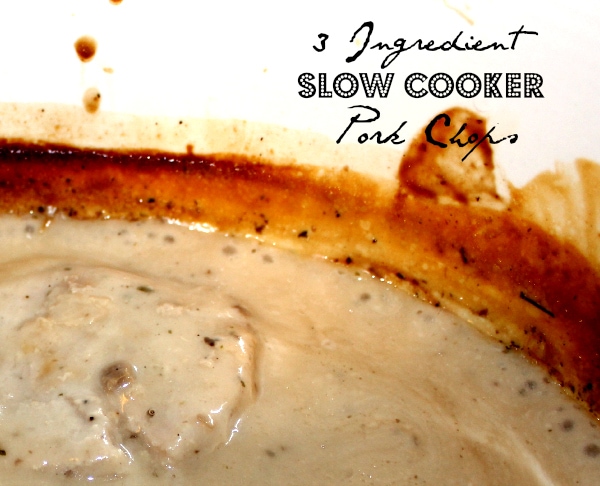 Mike and I both found this to be delicious. I also told a friend about it and she completely raved about the flavor. She had cooked hers a bit longer and found the pork chops to be even more tender. Next time I will increase the cooking time for ours.
Normally my husband will only eat breaded pork chops, so for him to like this was a test. For him to really enjoy a dish that is not deep fried, breaded, or smothered in cheese is a challenge. Quite pleased that he thoroughly enjoyed this.
This soup mixture with the ranch dressing packet makes for such a tasty flavor. I would imagine it could be good with any meat. This might even be my new favorite way to eat pork chops. That's even more exciting cause it's so easy!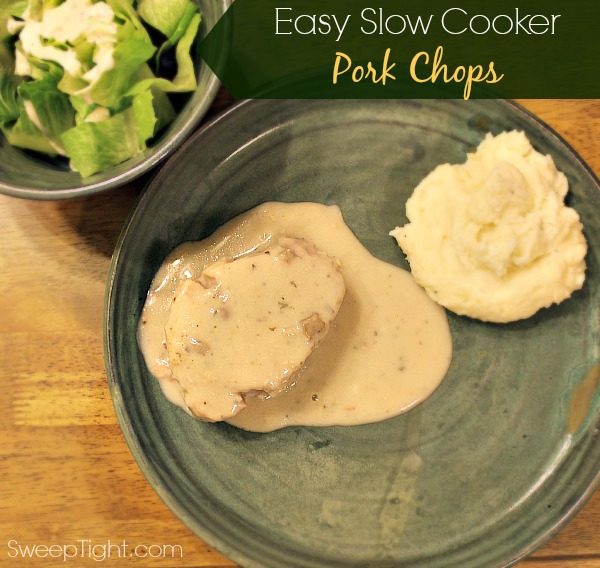 Easy Pork Chops in the Slow Cooker
Ingredients
4-6 pork chops – I used 3 super thick ones
1 package Ranch dressing dry mix
2 cans Cream of Mushroom soup & 1/2 can of water
Instructions
Add all ingredients to your slow cooker and stir.
Cook on low for 5-7 hours. I cooked mine for about 5 and pork chops were still intact. My friend cooked hers for over 7 hours and was able to cut them with a fork.
Do you have a favorite slow cooker recipe? What about a good pork chop recipe?
Rainbow Crumbs for You
Weekly newsletter with our latest posts and shenanigans.