Bean sprouts, and sprouts of all varieties are packed full of wonderful nutrients. But, when you get them at the store, they can be kind of pricey and don't last more than a few days.
I am so excited to tell you, that you can grow them yourself in just a few days and then they last for up to two weeks! I am including affiliate links to the products I use, but all thoughts and opinions are my own.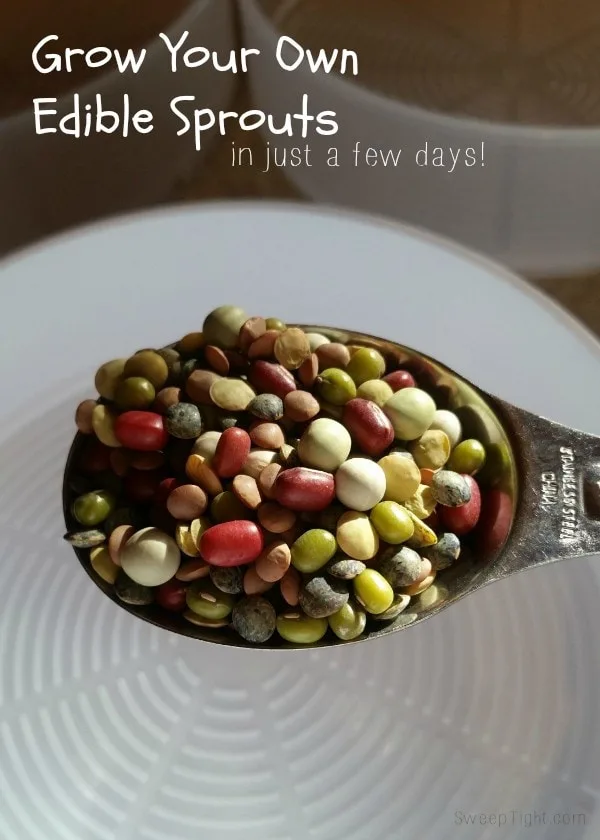 Bean Sprouts, Alfalfa Sprouts, Broccoli…
Using organic seeds, I am growing all sorts of sprouts in just a few days! So far, I've grown:
Alfalfa, broccoli, hard wheat, French lentil, green lentil, adzuki, green pea, red clover, radish, and mung bean sprouts!
They are very low maintenance and only take a few days until they're edible. I use this 4-tray kitchen seed sprouter and have had nothing but success. The kids love watching how fast these grow too.
How To Grow Them
Step 1: Soak about 1 tablespoon (use a little more for larger seeds and a little less for tiny seeds,) of each variety of bean sprouts you want to grow for approximately 4 hours.
Step 2: Rinse the beans in cool running water. Using a fine strainer helps tremendously! Don't skip this step! This is where nasty germs like salmonella would be, so just do it! 😉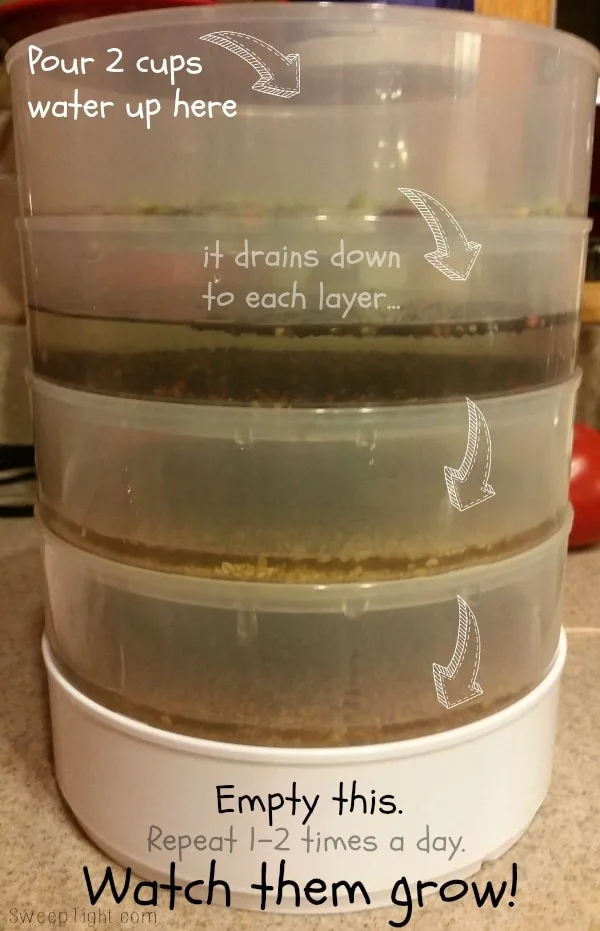 Step 3: Spread the seeds evenly on each of the 4 tiers of your seed sprouter and stack them on top of each other putting the white tray on the bottom.
Step 4: With the white tray in place and EMPTY, pour two cups of water into the top tray and let it trickle down to the trays below.
Step 5: Repeat step 4 a couple times a day (you can get away with doing in just once, but I found doing it 2-3x works best) making sure to empty the white tray first!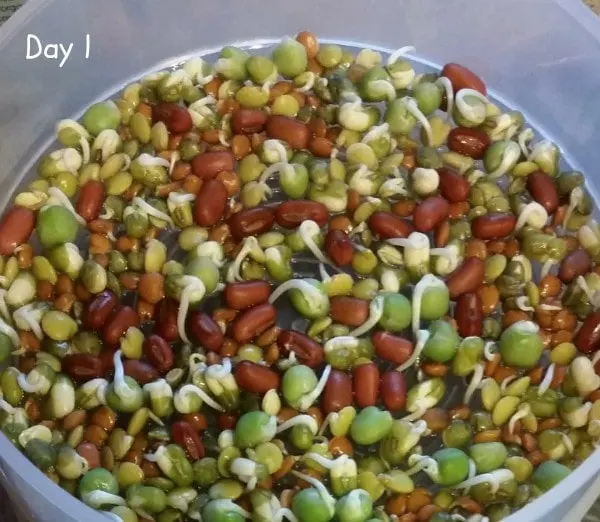 Step 6: Watch them grow and once they've reached a decent size, ENJOY! Rinse and store them in the fridge with a wet paper towel.
*You can get most of the seed casings off when rinsing, but don't worry, if you don't get them all, they're edible.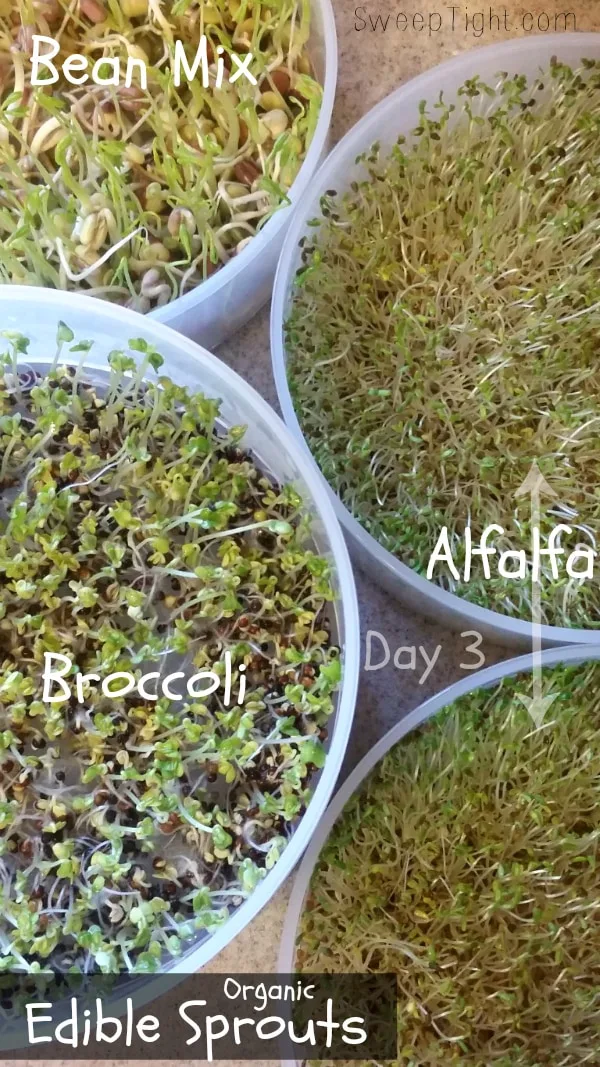 Eat Them!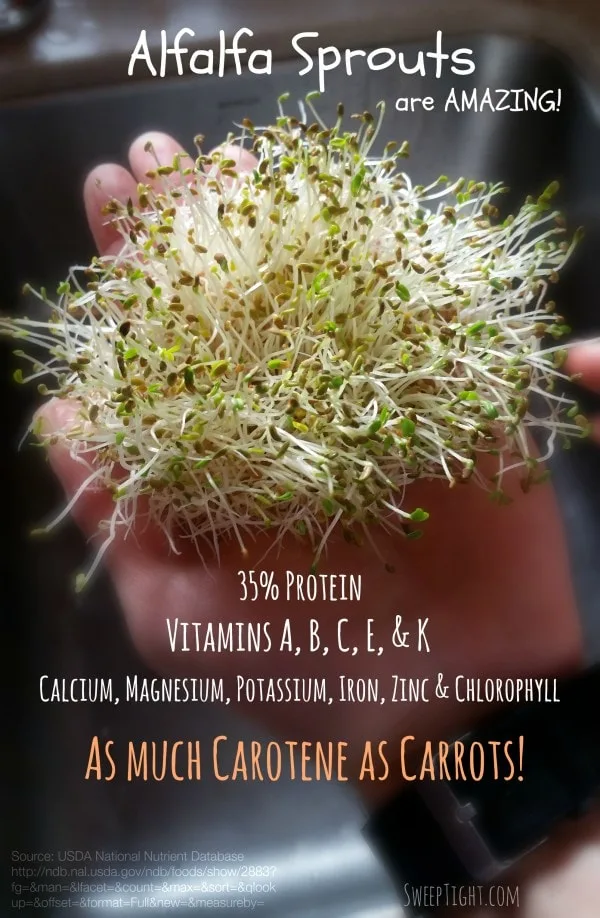 Throw them on your sandwiches, into salads, or just eat 'em straight out of the container! I have been putting them into everything lately and have noticed that I have a lot more energy and just a general feeling of betterness. Even the kids like plucking one little sprout out at a time and popping it into their mouths.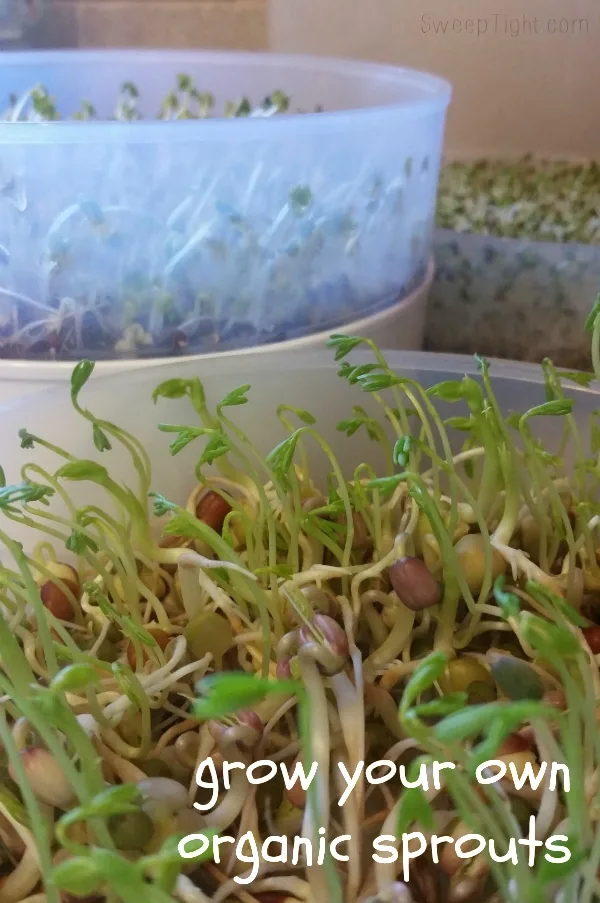 Do you eat or grow your own organic sprouts yet?