Hello all. Last week, I posted a man food recipe, One Pot Pepper Steak. This week I'm going to be talking about Lego Batman 3 Beyond Gotham. Next week, I'll be doing a post on Apple Pie Oatmeal.
If you haven't noticed the trend, I'll just give it to you straight. Blogs need more posts about guy AND geek stuff.
Since I am both a guy and a geek, I feel it's my responsibility to get some more of that action into the blogosphere. So, without further ado. Ladies and gentlemen, I give you:
Read Next: Top 20 Video Games of 2014!
Lego Batman 3 Beyond Gotham is Bat-tastic
First things first. If you have Steam, get this game on Steam. Steam is THE greatest gaming platform I've ever used. Games purchased on Steam are always stored in your library, and it features a cloud save function, so your saves are always backed up and always protected.
Let's not forget achievements. Achievements are little badges you get for doing things like clearing a level, defeating a certain boss, or destroying a certain number of breakables. Now, the second thing I want to touch on is this: If you don't have Steam, get it! You can thank me later. =D
Speaking of achievements, Lego Batman 3 Beyond Gotham has an impressive number of achievements. 70 to be exact. This is great, because with achievements, you never run out of things to do. It's also a blast to see the little pop up at the bottom right corner of the screen when you earn an achievement. On to game play!
Game Play
Lego Batman 3 Beyond Gotham plays exactly like every other Lego game in the line up. It's an action game in which you battle, build, and collect. Although it's totally straight-forward, it's immensely satisfying.
As you progress through each level, you'll battle baddies using the skills of your characters – and there are a bazillion to collect. In addition to thwarting evil, you'll destroy objects in the world, collect studs which are used to purchase characters and power-ups, build objects which allow you to advance to other parts of the level, and you'll work to fill your Hero Meter to 100%.
The hero meter is a yellow bar at the top of your screen that slowly fills as you collect more studs. When you fill it, you'll achieve True Hero status and earn yourself a power brick. Did I mention all the collectibles? There's a ton.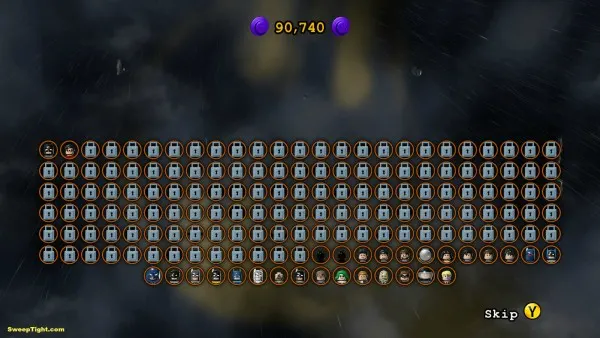 Graphics
Remember the look that the original Lego Star Wars games had? It was nice enough, but the characters and environments were very flat. Not anymore. Both the character models and the levels of Lego Batman 3 Beyond Gotham are the highest quality.
The characters and the scenery have a shiny, plastic look that makes you feel like you're playing in a real Lego world. Even the capes have a woven look that is pretty close to actual fabric. Another cool feature of this game's graphics is that it blurs things that are in the background, which gives a nice depth of field.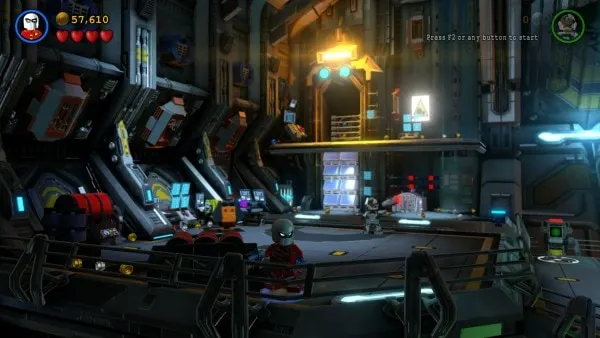 Suits!
I suppose this would technically fall into the game play category, but I gave it its own section, because I think its awesome. Unlike the previous two games, which only had suits for Batman and Robin, Lego Batman 3 Beyond Gotham has other characters who can have suits!
For example, Cyborg has a space suit, a stealth suit, and a giant suit, just to name a few. I especially love the stealth suit. He turns into a front loading washer. =D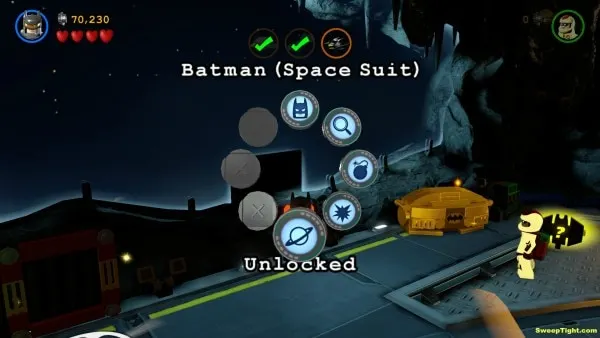 The Baddest Bat in Town
Lego Batman 3 Beyond Gotham is quite possibly the best Lego game to date. The graphics are amazing, the story is awesome, and there are a BAZILLION characters. So in closing: