Two left feet, no rhythm, a disconnect in the neurons between brain and feet–all things I've considered an appropriate diagnosis when it comes to the situation that is me on a dance floor. So, you can imagine my horror when it was announced that we'd be getting a dance lesson from the Dancing with the Stars Troupe members.
I should have been excited, but I knew it was just going to be humiliating. The only thing worse would have been a live broadcast of karaoke. This event was part of an all expenses paid press junket for the world premiere of Guardians of the Galaxy Vol. 2.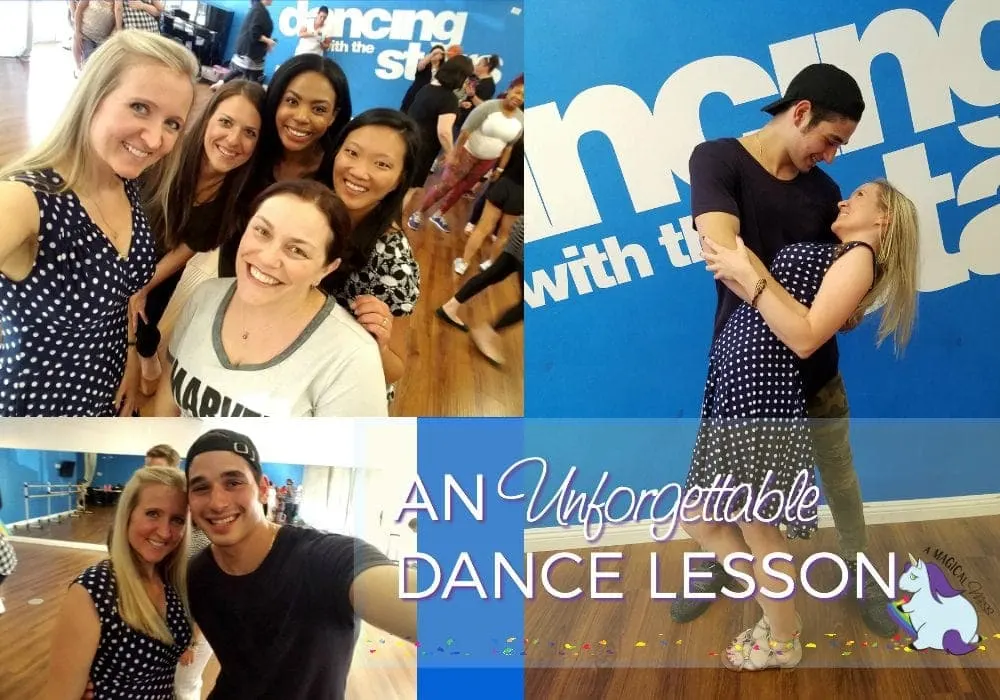 A Dance Lesson at 101 Dance Center
Beautiful wood floors, full wall mirrors, and the Troupe standing there waiting for us. A beautiful sight for anyone not so terrified. The 25 of us filed in and introduced ourselves to the stunning professional dancers.
Without wasting any time, they lined us up, and began a warm-up. They showed us the dance they'd be teaching us and I don't think I was alone in feeling a bit intimidated. We separated into groups and our team leader was the gorgeous Britt Stewart.
Dancing with the Stars Troupe 2017
Britt is a fantastic teacher. She was incredibly patient and broke each step down until we all understood what we were supposed to be doing. We only had about 20 minutes to practice before the teams would be competing. No pressure or anything.
For such a quick challenge, I'd say we didn't do half bad! Check out all the teams performances in the video below.
Arguably, I think Alan Bersten's group won–who can compete with him shirtless?!
Alan is a total ham and so much fun to be around. I asked to take a photo with him and he asked, "What would you like me to do to you?" Pretty sure I blushed harder than ever when I said, "Anything you'd like…"
Alan, you're a doll and successfully made me feel like a cougar for the first time in my life. LOL
I'd like to extend an enormous thank you to the entire Dancing with the Stars Troupe for spending time with us. What I thought was going to be a humiliating, traumatic event, turned out to be my favorite experience of the whole trip.
Watch Dancing with the Stars Mondays 8/7 C on ABC
Don't miss tonight's (4/24) episode:
"Episode 2406" – The eight remaining celebrities will dance to songs from some of the most popular boy bands and girl groups throughout history, and the men and women will also compete against each other in team dances, on "Dancing with the Stars," live, MONDAY, APRIL 24 (8:00-10:01 p.m. EDT), on The ABC Television Network. Backstreet Boys' Nick Carter joins Len Goodman, Bruno Tonioli, Carrie Ann Inaba and Julianne Hough as a guest judge.
/p>
Some of the iconic boy bands and girl groups, whose songs will be danced to, include Simone and Sasha performing a samba to Destiny's Child, Bonner and Sharna dancing a rumba to Backstreet Boys, Nick and Peta jiving to The Beach Boys, Normani and Val dancing a salsa to The Pussycat Dolls, and David and Lindsay performing an Argentine tango to *NSYNC, among others. Also, after being injured, Maks makes his return to the ballroom floor, where he and Heather will perform a rumba to TLC.
To add some spice to the competition, it's Team Dances with men vs. women:
TEAM BOY BAND
Bonner Bolton, Nick Viall, David Ross and Rashad Jennings will dance to a medley of "Dancing Machine" by Jackson 5, "You Got It (The Right Stuff)" by New Kids on the Block and "Best Song Ever" by One Direction.
TEAM GIRL GROUP
Simone Biles, Nancy Kerrigan, Normani Kordei and Heather Morris will dance to a medley of "My Boyfriend's Back" by The Chiffons, "No Scrubs" by TLC and "BO$$" by Fifth Harmony.
Each celebrity will perform a samba, rumba, tango, paso doblé, salsa, Argentine tango or jive. At the end of the night, based on scores and votes from last Monday, one couple will be eliminated.
Each Couple Will Dance to the Following Songs (in alphabetical order):
Simone Biles & Sasha Farber – Samba – "Survivor" by Destiny's Child
Bonner Bolton & Sharna Burgess – Rumba – "I Want It That Way" by Backstreet Boys
Rashad Jennings & Emma Slater – Tango – "Reach Out, I'll Be There" by The Four Tops
Nancy Kerrigan & Artem Chigvintsev – Paso Doblé – "Free Your Mind" by En Vogue
Normani Kordei & Valentin Chmerkovskiy – Salsa – "When I Grow Up" by The Pussycat Dolls
Heather Morris & Maksim Chmerkovskiy – Rumba – "Waterfalls" by TLC
David Ross & Lindsay Arnold – Argentine Tango – "I Want You Back" by *NSYNC
Nick Viall & Peta Murgatroyd – Jive – "Fun, Fun, Fun" by The Beach Boys
Hosted by two-time Emmy-winning host Tom Bergeron and Erin Andrews, "Dancing with the Stars" is the hit series in which celebrities perform choreographed dance routines that are judged by a panel of renowned ballroom experts, including head judge, Len Goodman, dancers/choreographers Bruno Tonioli, Carrie Ann Inaba and Julianne Hough.
For week six, viewers may cast their votes for their favorite couples via phone during and up to 60 minutes after the end of the "Dancing with the Stars" broadcast in each time zone. Online voting at ABC.com at https://dwtsvote.abc.go.com/ and on Facebook at https://bit.ly/2cdE4PL is open for 24 hours, beginning from the start of each episode on the East Coast at 8:00 p.m. EDT/5:00 p.m. PDT and closing at 8:00 p.m. EDT/5:00 p.m. PDT on Tuesday evenings.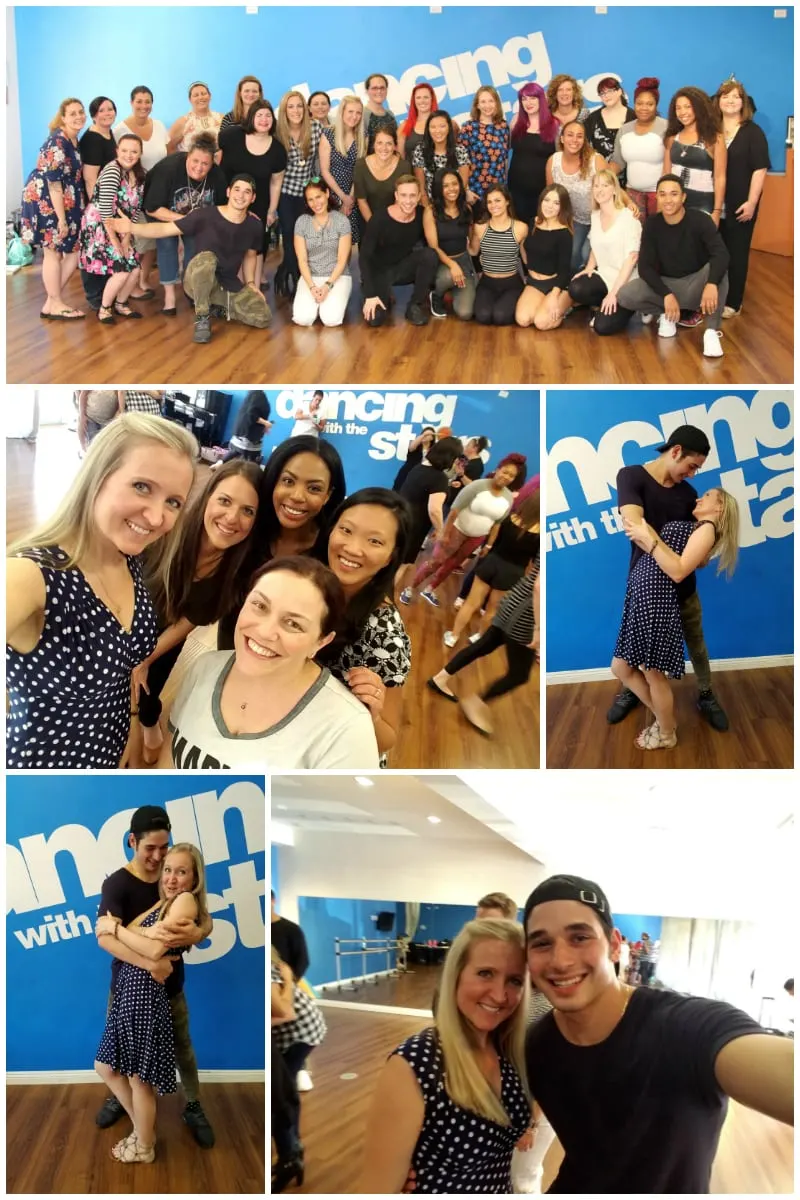 What dance would you like to learn from Dancing with the Stars Troupe members?