The Descendants 2 cast interviews are some of my favorite celebrity interviews of all time. This group of young talent blows me away. It's so easy to forget their ages (almost all under 20) because they speak with such grace, wisdom, and clarity. Disney sure knows how to find real talent, and in movies like Descendants 2, it's overflowing. We only saw clips of the film because they were still shooting, but we could tell, this movie is going to be amazing. This event was part of an all expenses paid press junket. All thoughts and opinions are my own.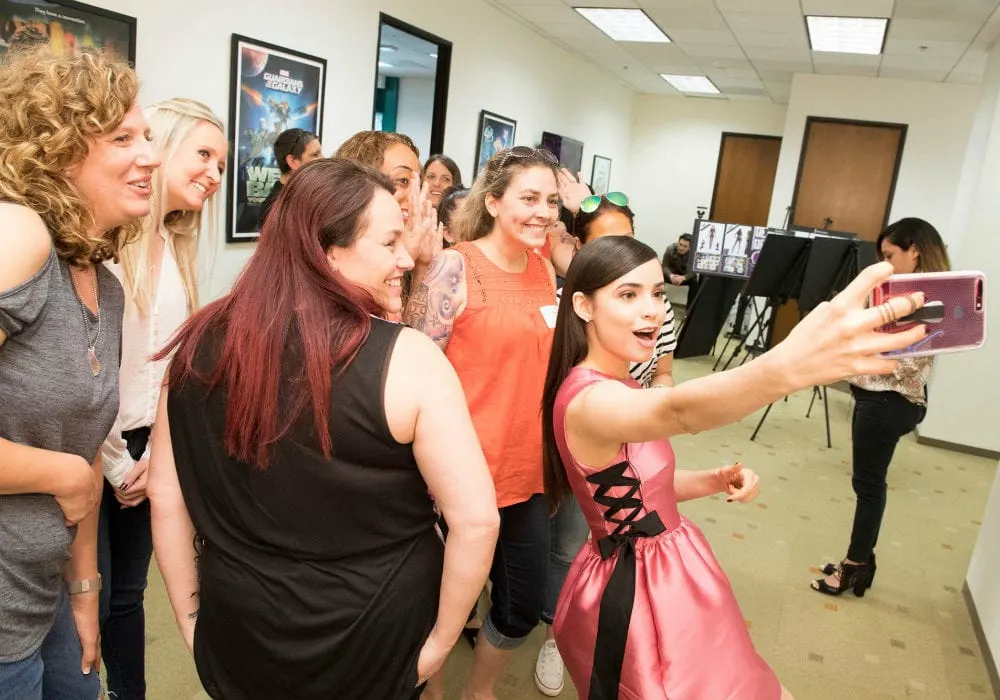 Descendants 2 Cast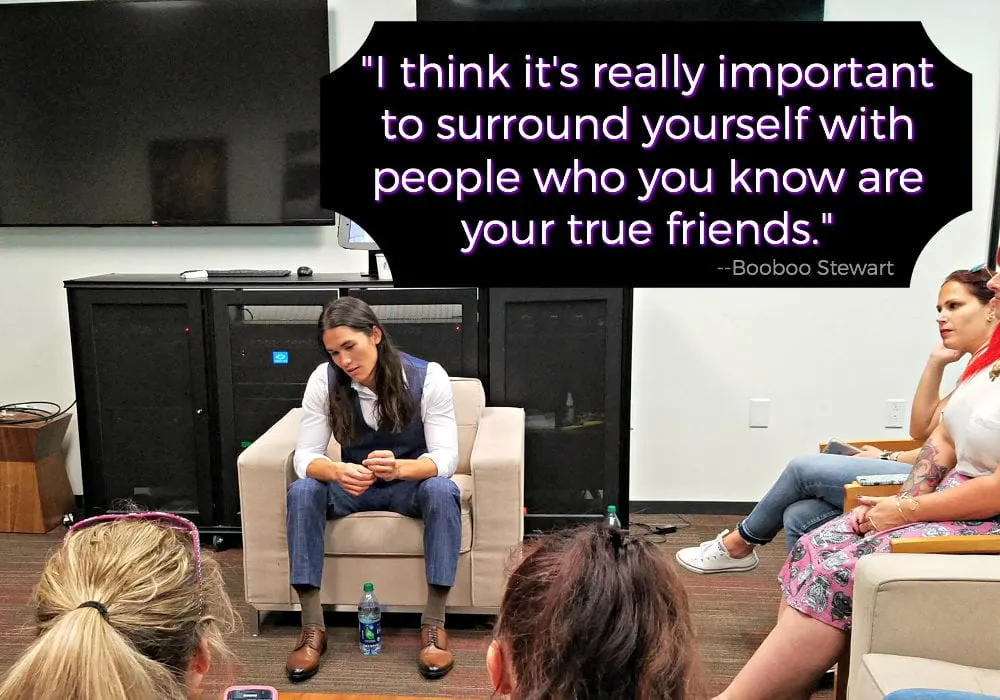 Booboo Stewart
As a male character in a very female-driven film, what would you like young boys to take away from the Descendants world?
Booboo: "I feel like this lesson is touched upon in the first film, but even more so in this film. Young boys are very competitive, and they want to be the best. And Jay, in the first film, is a typical guy. He wants to be the best. Just having an open mind is such a different, rare thing for a young boy to have. So I'd like it to not even be a question that young people should have an open mind. It just should be how it is. Jay's opening the door for the people to follow. I want to make sure young boys come out of it with more of an open mind."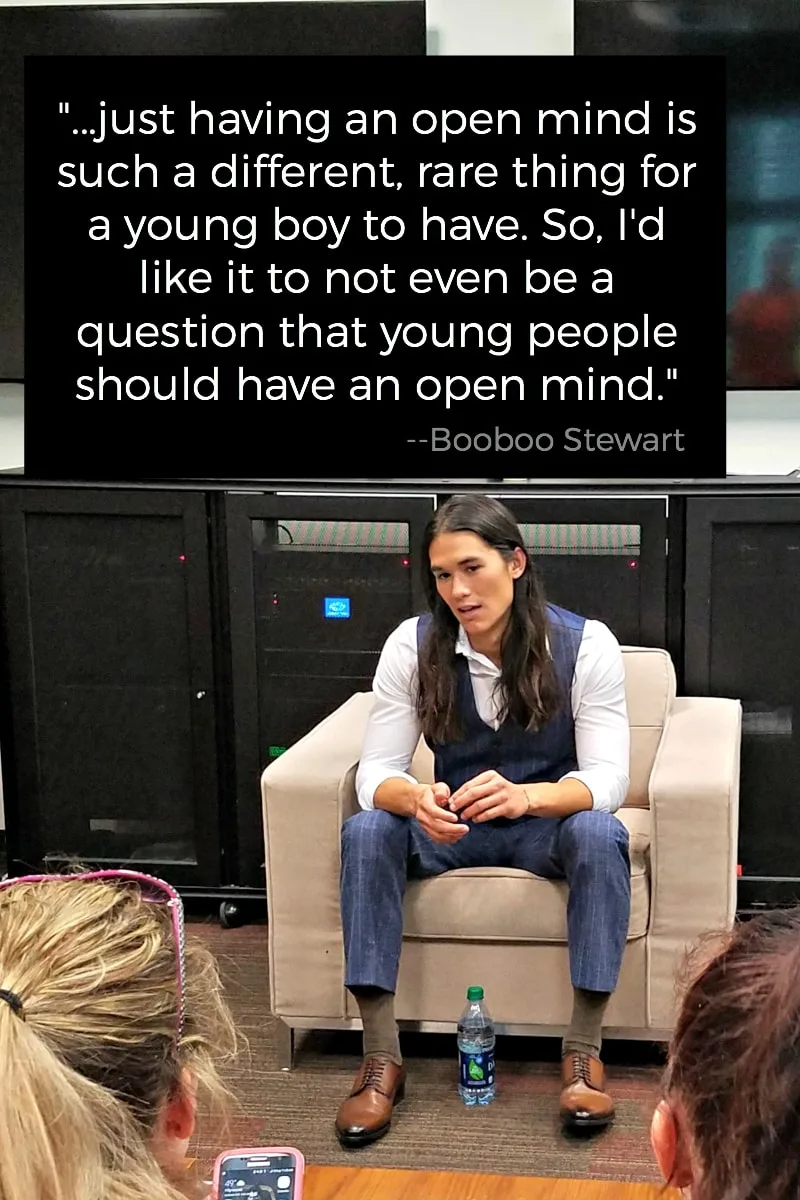 How do you handle all the fame and attention that comes with these type of roles?
Booboo: "I don't know! From past films that I've done, I understand how to handle the attention. I've been around the industry from such a young age that I feel like I know how to handle it. I know who I am, so I try not to let that affect me, and I have friends and family who can tell me when it's gotten to my head just a little bit. They'll say, 'Reality check here!'
I think it's really important to surround yourself with people who you know are your true friends. You can have friends that know you through things that you've done. But we just have to engage and really know who your friends are, who will bring you down to that level where you can be down-to-earth. It's really easy for fame to go to people's heads, and I see it happening. I see people go up and up in popularity and when it's over, when the attention isn't there anymore, that's when you have people fight. They go off the deep end, or you feel like you should be looked at a certain way. People forget about celebrities super fast. As quick as they love, they just as easily forget. So it's very important to know that this is something that will not be around forever and just enjoy the time that it is here. I'm happy that I'm able to be part of it. But I know that I probably won't get to be in "Descendants 10!"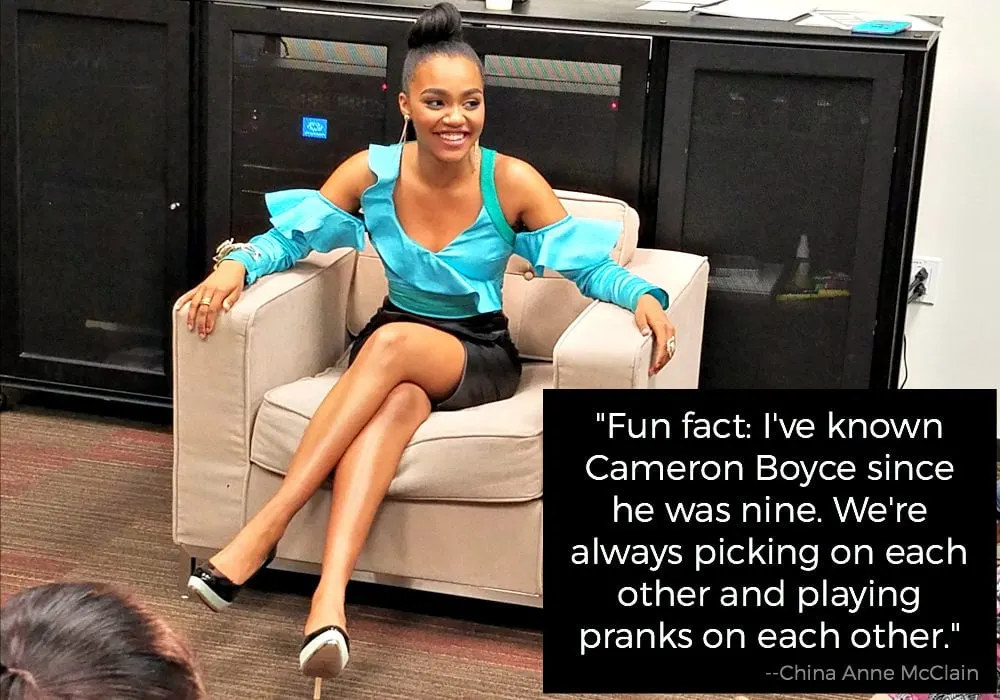 China Anne McClain
What were the dynamics like on set? Any pranks or good stories?
China: "I've known Cameron Boyce, fun fact, since he was nine. We're always picking on each other and playing pranks on each other. He and Booboo Stewart have the coolest relationship ever. They're really close, and a lot of the original cast and the new cast got close so quickly. It was like there was no difference between us. It felt like we'd worked on the first film, too. That's how comfortable they made us feel. So that was really cool."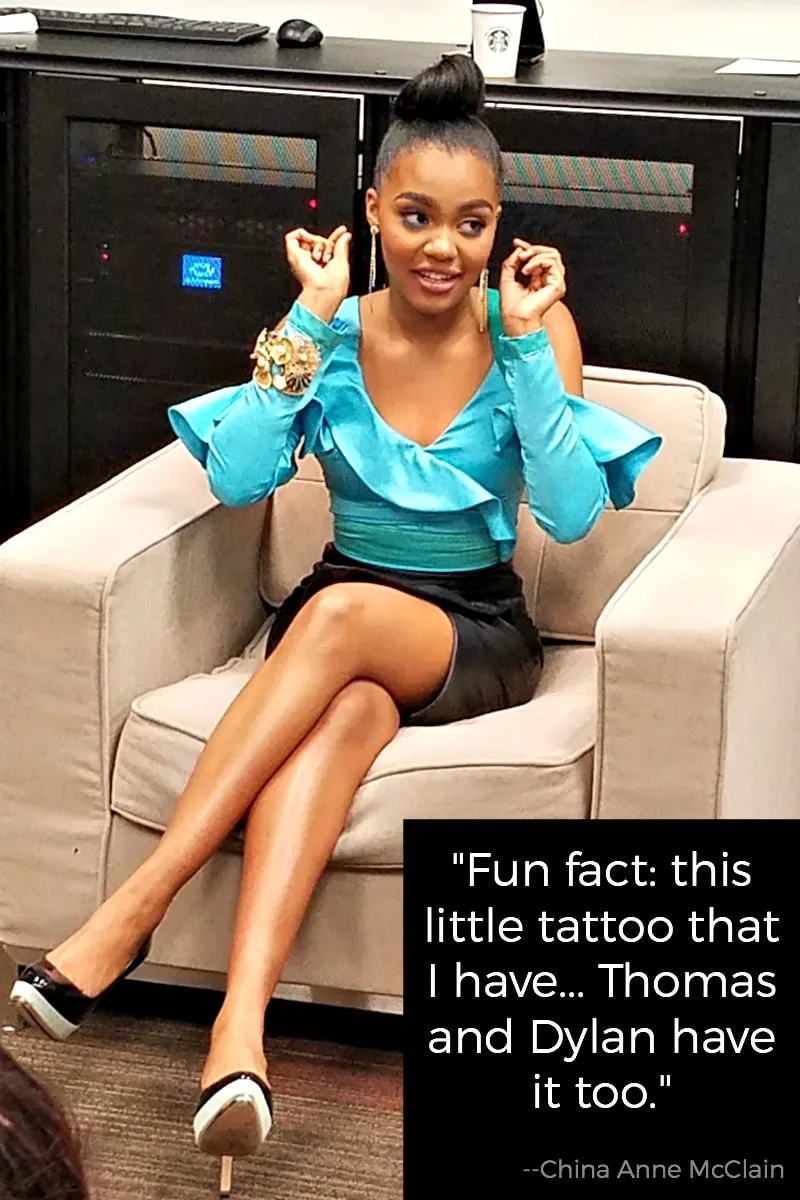 China: "Well, working on "What's My Name" was so much fun. How did you guys like Thomas and Dylan, who played Harry and Gil? Harry is bomb. He's Uma's best friend. Fun fact: this little tattoo that I have right here, he has one back here and Dylan does too. We got really close on set. Hopefully you can see that on screen because that was one of the last things we shot, another fun fact. We had all gotten to know each other and had all become really close by that point. So, we were lucky that we got to shoot "What's My Name" last."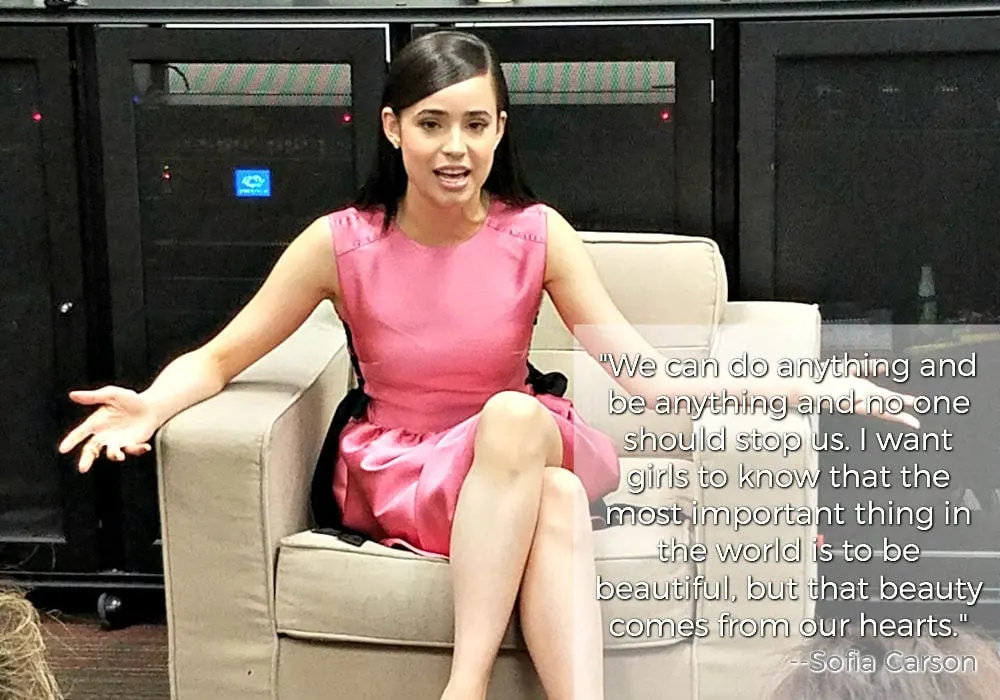 Sofia Carson
Will we see more of Evie's villainous side in Descendants 2?
Sofia: "You'll see a different side of Evie because in the first film, when we met her, Evie was very much her mother's daughter. She was very consumed in what she looked like and she was sadly willing to believe that her reflection in the mirror is what defined her as a person. At the end of the movie, she realized that as girls, our looks do not define us. That doesn't make us more important or beautiful or special. It's who we are in our hearts and to be the fairest of them all is to be fair inside. In the second movie, Evie has really grown into herself. She is strong and independent. She's smart. She's a fashion designer. She has made her dream come true without a prince and she's become a leader. At the same time, her best friend Mal, who is like her sister, is lost and really confused. Their relationship is really beautiful and important and it's a story of girl power, which I love."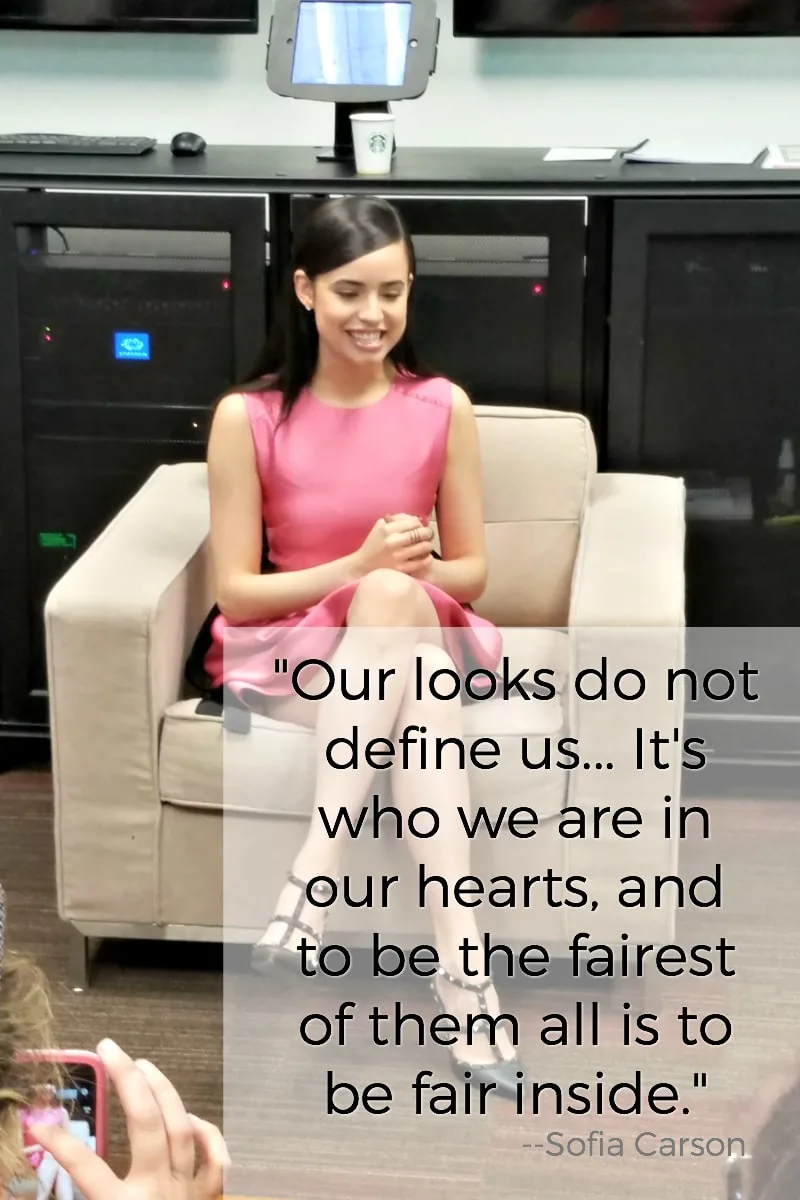 What is the message that you want young women to take from you?
Sofia: "Growing up, I was a typical daughter. I was obsessed with Beyonce, J-Lo, Lizzie McGuire, all these incredible female role models. I grew up with really incredible, strong women as my mother and grandmother, so strong female women were always an inspiration to me. I thought, If I'm ever lucky enough to be able to do what I love, I want to be that inspiration for other little girls in everything that I do, everything that I say, every role that I take on and every song that I release. It's very close to my heart to make sure everything I do has an empowering message for the 16 year-old daughter out there who I know is looking at me and who my actions could impact in some way. I just want them to know Evie's message, which is that as girls, we can do anything and be anything and no one should stop us. I want them to know that the most important thing in the world is to be beautiful, but that beauty comes from our hearts."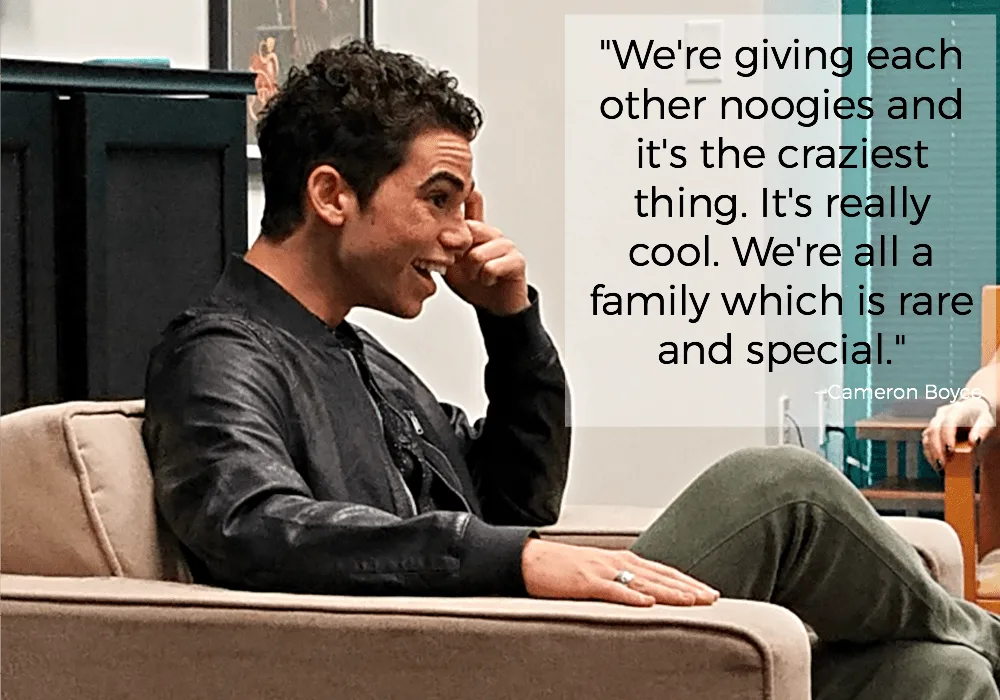 Cameron Boyce
What's it like on set?
Cameron: "You should have seen us. We were doing a photo shoot just now and we couldn't stop having fun. We're giving each other noogies and it's the craziest thing. It's really cool. Every time we see each other it feels like we're back on the set. We're all a family which is rare and special. I think we all are very grateful for that."
What kind of issues is Carlos facing in this film that children can relate to?
Cameron: "There are a lot honestly. There are a lot of different morals in the story in the first movie too. Specifically for Carlos, I think one of the main things that we focus on in this franchise is self-worth and really making sure that you feel like you belong, whether you actually do or not, because everyone belongs but maybe you don't feel that way. Maybe the physical, or whatever it is, is different. Carlos is the youngest and I don't want to say the weirdest, but he is afraid of little dogs and there are some things about him that are different. But he definitely finds himself in the second movie and he goes through regular kid things. He goes through girl troubles. He figures all that stuff out eventually and he reaches out for help, which is important. He's a little bit lost and flustered and confused and has feelings that he has never had before. Instead of keeping it to himself, he'll say, 'Jay, how I do this?' or 'Mal, help me out a little.' I feel like that's important to have a dialogue with people that you care about."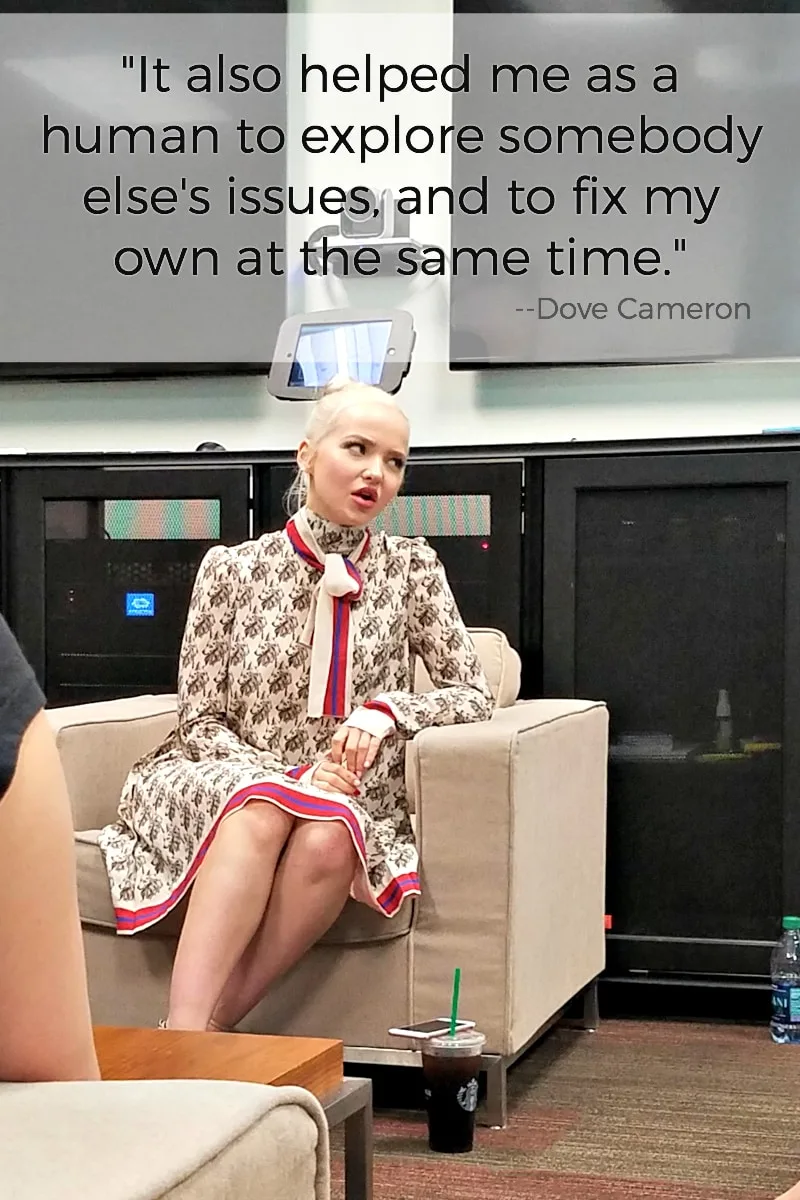 Dove Cameron
What was it like getting back into the role of Mal? What was different from the first movie?
Dove: "Everything that Mal was in the first one, we all are as a team, because a movie is such a collective experience. Kenny, the writers, and myself all threw strict notions of Mal's character out the window because she, as a human does, goes through life changes and experiences. She never had anyone growing up and she couldn't ever really find her footing with the one person that she did have to rely on like her mother, Maleficent. So she learned to rely on herself. In the second movie when we pick back up, she now knows what it feels like to be authentically loved and to have a space held for her to be supported. Just like any other human, you gravitate towards whatever you're used to, and so she has no idea how to deal with that. It's almost impacting her negatively, because she's thinking, 'Oh, I only know how to build up my walls. I don't even know how to function without my walls.' Now she has to start over and find what is her authentic identity for the first time in her life. Throughout the movie she goes through a lot of incarnations of what she thinks Mal is, and doesn't really find herself until the end. That was a weird experience for me as an actress, to feel like I knew the character really well, and then to lose her as she's losing herself, and then to find her as she finds herself."

What would you want kids to walk away with, the number one message after seeing this movie?
Dove: "In terms of the whole movie, there's a beautiful synergy between the fact that the whole cast has been having this yearlong love affair with each other. We're so there for each other in a sibling-like, familial way and it translates to the film. It projects a message of togetherness, of banding together, of supporting people that you love. That sounds like such a simple concept, but when you're absorbing things as a kid, separatism is such a thing. We're encouraged to be our own island. Especially with things like social media, we all have our own brand and image, and that's what's taught. I think that it's so beautiful to rely on and trust people. If you hand someone your whole heart, they're much more delicate with it. So I do believe in trusting the world around you, and I do believe in kids learning to rely on each other and their surroundings and the world in general. It's just a really empowering story. There's not one character that doesn't go through some weird arc where they're much more fully formed and healthy. So the overarching messages would be the importance of help, togetherness, support, and trust."
The Costumes
We were given a fantastic presentation by costume designer, Kara Saun. She's a phenomenal artist and puts incredible thought and detail into every piece. Just looking at her was a beautiful experience! Just wait until you see all the costumes in the film–you'll be mesmerized!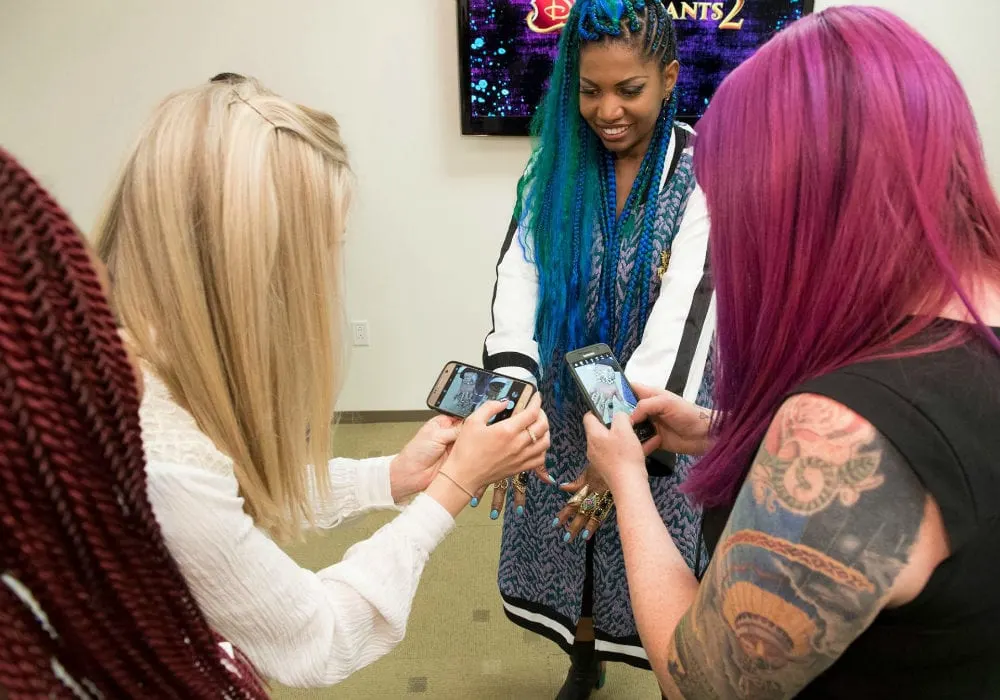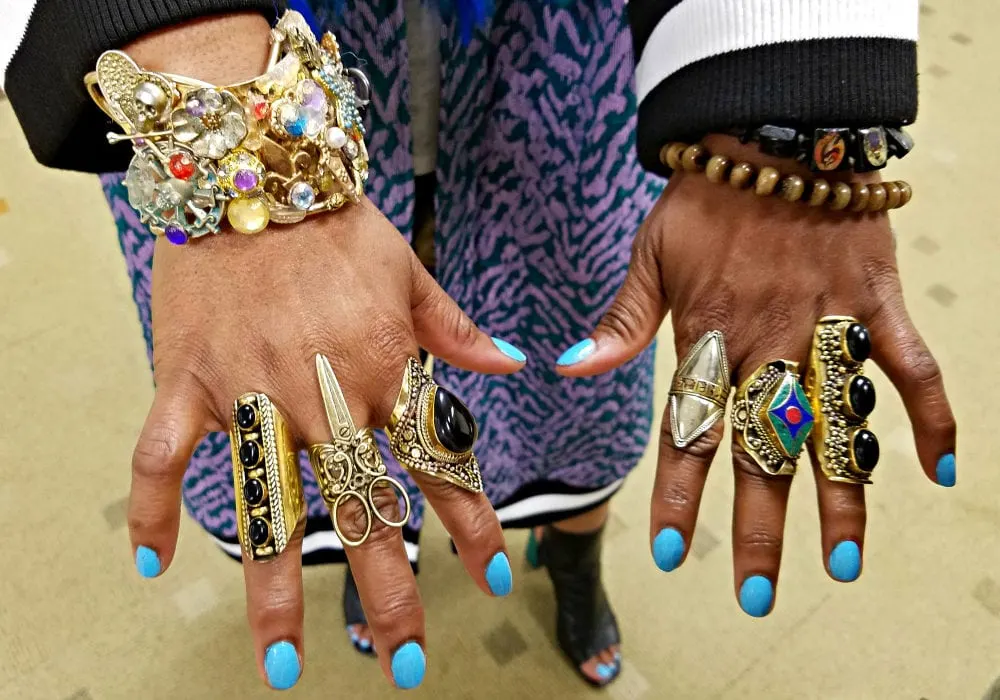 Watch Descendants 2 July 21st!
Descendants 2 will premiere in an unprecedented, far-reaching programming event featuring a simultaneous premiere across five networks within the Disney|ABC Television Group including Disney Channel, ABC, Disney XD, Freeform and Lifetime on FRIDAY, JULY 21 (8:00 p.m. EDT).