There's a new addition to the Outback Steakhouse menu that steak-lovers will find truly drool-worthy. Not that we ever need an excuse to head to Outback, but their new Hand-Carved Roasted Sirloin had us planning an emergency date night. 😉
Outback Steakhouse sponsored this post, but all opinions are my own.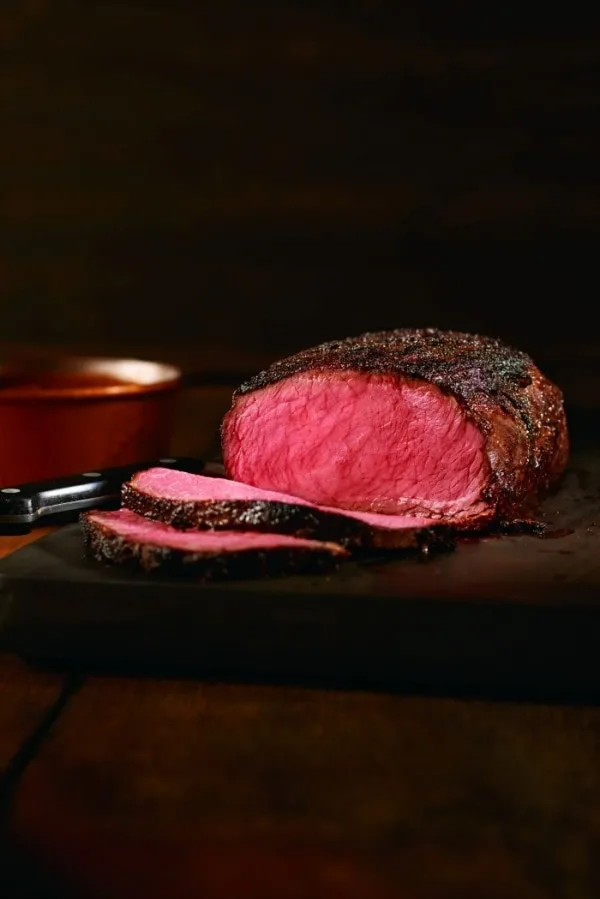 Outback Steakhouse is one of our favorite places to go out to dinner. We don't dine out all that often, and neither of us likes to spend a lot of money on food.
The Outback Steakhouse menu is packed with affordable choices that are just as scrumptious as a fancy steakhouse.
The atmosphere is relaxed, the people are friendly, and every outing we have had at Outback has been extremely pleasant.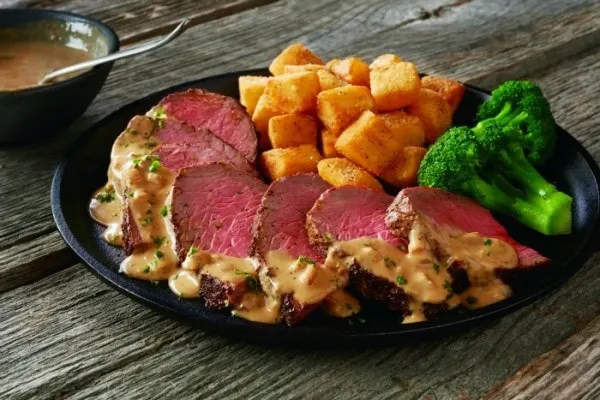 Outback Steakhouse Roasted Sirloin
I fell in love with Outback during my trip to their headquarters. Seeing what goes on behind the scenes put things in perspective.
The amount of work and dedication that goes into creating new menu items is something I never thought about, and it was all so interesting.
The knowledge makes me extra excited about the new Roasted Sirloin on the Outback Steakhouse menu. Starting at just $10.99, the new Roasted Sirloin is paired with bold new sides and savory sauces, including:
Classic Roasted Sirloin: Tenders slices of roasted sirloin topped with a rich Cabernet sauce, served with garlic mashed potatoes and broccoli.

Marsala Roasted Sirloin: Tender slices of roasted sirloin topped with sautéed mushrooms and a savory Marsala sauce. Served with creamy Parmesan rice and broccoli.

Bistro Roasted Sirloin: Tenders slices of roasted sirloin topped with a creamy Dijon bistro sauce. Served with crispy diced potatoes and broccoli.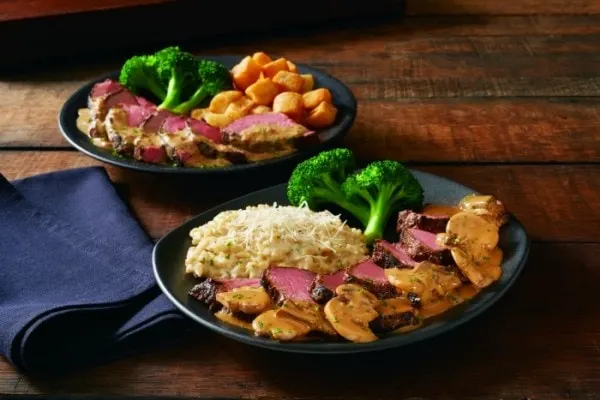 Seriously, how does one choose? Thank goodness the steak dinner is so affordable since I will require frequent trips to try them all.
Oh, and if you want a forkless option, you can enjoy Roasted Sirloin in the all new Steakhouse Quesadillas.
Stuffed with slow-roasted sirloin, Monterey jack cheese, chipotle spread, cilantro, and green onions, the Steakhouse Quesadillas are on my must-try list.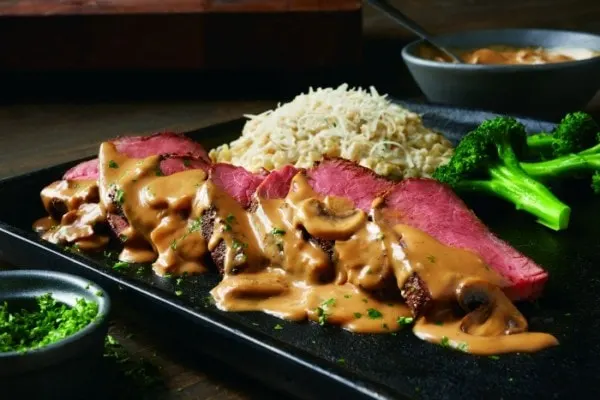 See the full Outback Steakhouse menu and find a location near you on their website. Make sure to follow Outback on Twitter and like their Facebook page so you don't miss a thing!
Which Outback Steakhouse menu item are you most excited to try?