Are you or any of the members of your family hooked on being on their phones or gadgets all the time? We are all guilty of this in my house. Which is why I am thrilled to share MetLife's great idea for Mother's Day. Join the #SocialBlackout movement and unplug your brain from the web and tune in to Mom this Sunday!
Tune In to Mom
I have to admit, I am just as bad as my kids with being on my phone, computer or iPad all the time. In my defense, it is usually for work or school but I should still make it a priority to tune in to the people around me.
This Mother's Day, all of us are putting the gadgets away. We are actually going to LOOK at each other while speaking! As a mom, this will be a wonderful treat and as a daughter this is going to be a great gift for my mom. 🙂 We don't have anything too fancy planned, but it will be very nice to just hang out and spend a little quality time together.
My mom and I live in the same building so it is very easy to take each other for granted. And, because I work from home, I always have my face in the computer screen. I am ashamed to admit that she will come over and talk to me and I won't even know what she's wearing for the day because I never looked up!
The kids aren't as bad as me because I try to stay on them about manners. It is so rude to have your attention aimed at a device instead of the human in your presence. 🙁 One rule that we all abide by is NO PHONES AT THE DINNER TABLE!
#SocialBlackout
This Sunday, May 12th, be sure to join the movement and log off of social media for Mother's Day. I am going to make this my profile picture for the day: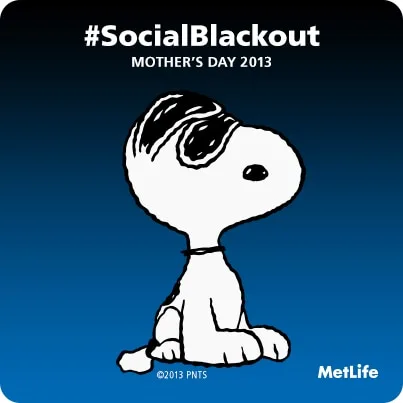 For more information and to join this event, visit the MetLife Facebook page.