This post is sponsored by Mirum, but opinions expressed are my own.
For frequent heartburn sufferers, we know foods don't need to be spicy to cause discomfort. The effects of heartburn and acid reflux can cause dread for a majority of foods and the pills needed to find relief. Anything that has to be swallowed, while passing through the traumatized route to the tummy, can be a miserable experience.
However, finding relief is now easier and more affordable, so enjoying foods like these delicious slow cooker sweet potatoes is possible again–recipe below.
The pain in your chest from heartburn isn't quickly forgotten. Eating, drinking, laying down, and leaning over become excruciating. I've had heartburn so severe, I've felt it in my ears.
When I was in college it was so bad that focusing on professors, taking tests, and leaning over lab tables was nearly impossible–I experienced a sensation that felt like an internal volcano was erupting. Even sipping water left me feeling like I could breathe fire.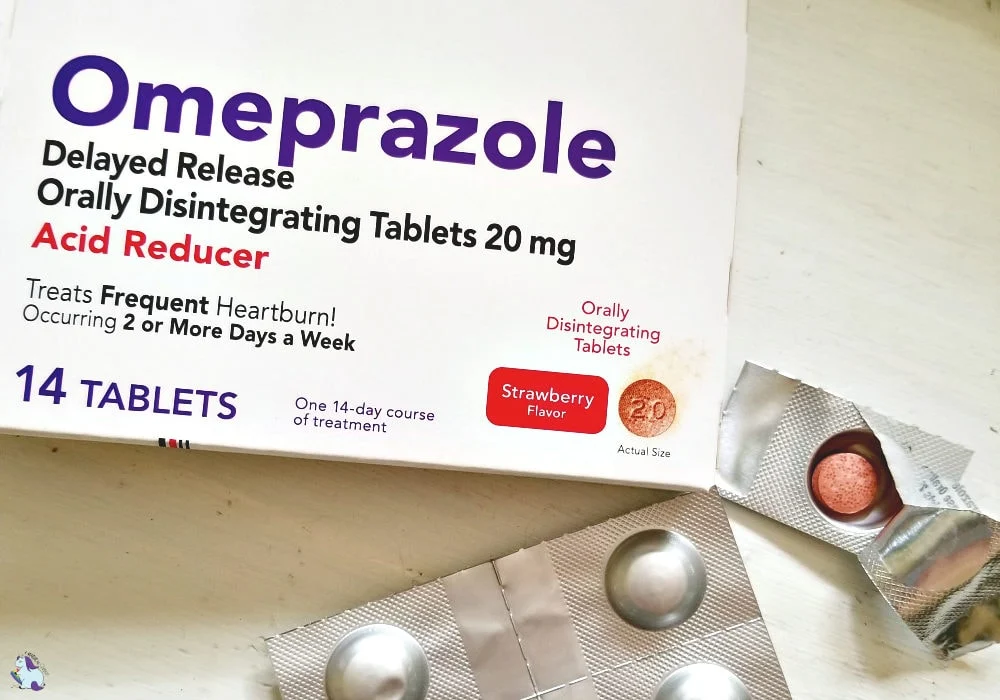 Convenient and Affordable Heartburn Treatment
Equate Omeprazole Orally Disintegrating Tablet (also referred to as ODT) is a quick dissolving tablet which doesn't require water to swallow. It has a pleasant strawberry flavor and comes in 14-day treatment packs, which are easily taken on the go. If you have heartburn two or more days a week, Equate Omeprazole ODT is an affordable option.
Use as directed for 14 days to treat frequent heartburn (occurring 2 or more days a week). It may take 1-4 days for full effect and is not intended for immediate relief. You shouldn't take it for more than 14 days or more often than every four months unless directed by your doctor.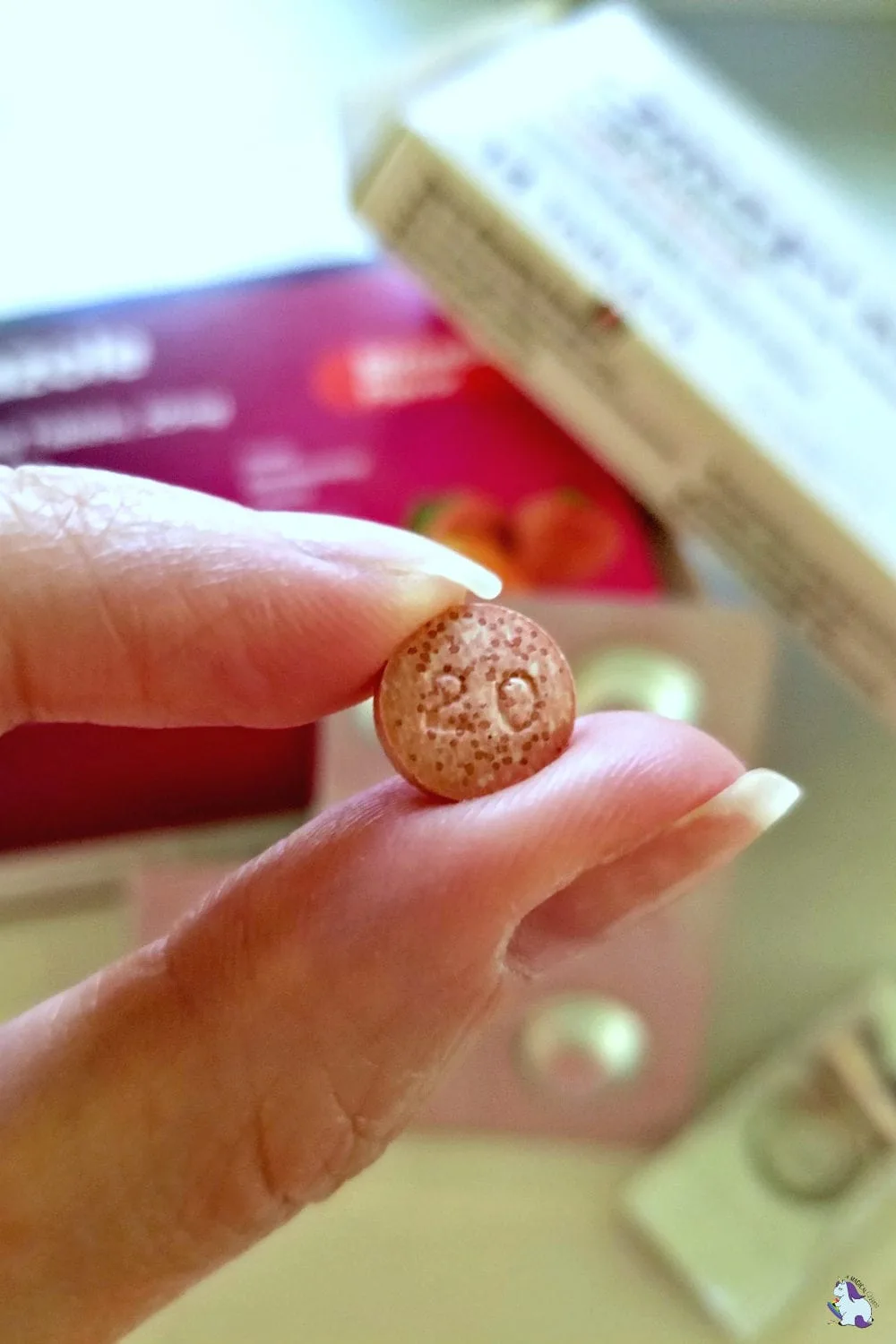 Absent of any unpleasant aftertaste or chalkiness, these tablets are something you can look forward to taking each day. They taste great and aren't painful to swallow because they melt in your mouth. Also, since it's a store brand, this heartburn relief option is more budget-friendly and can be found in your local Walmart pharmacy.
That's enough about the misery of acid reflux, let's get to the yummy things we can thoroughly enjoy once we've gotten it under control.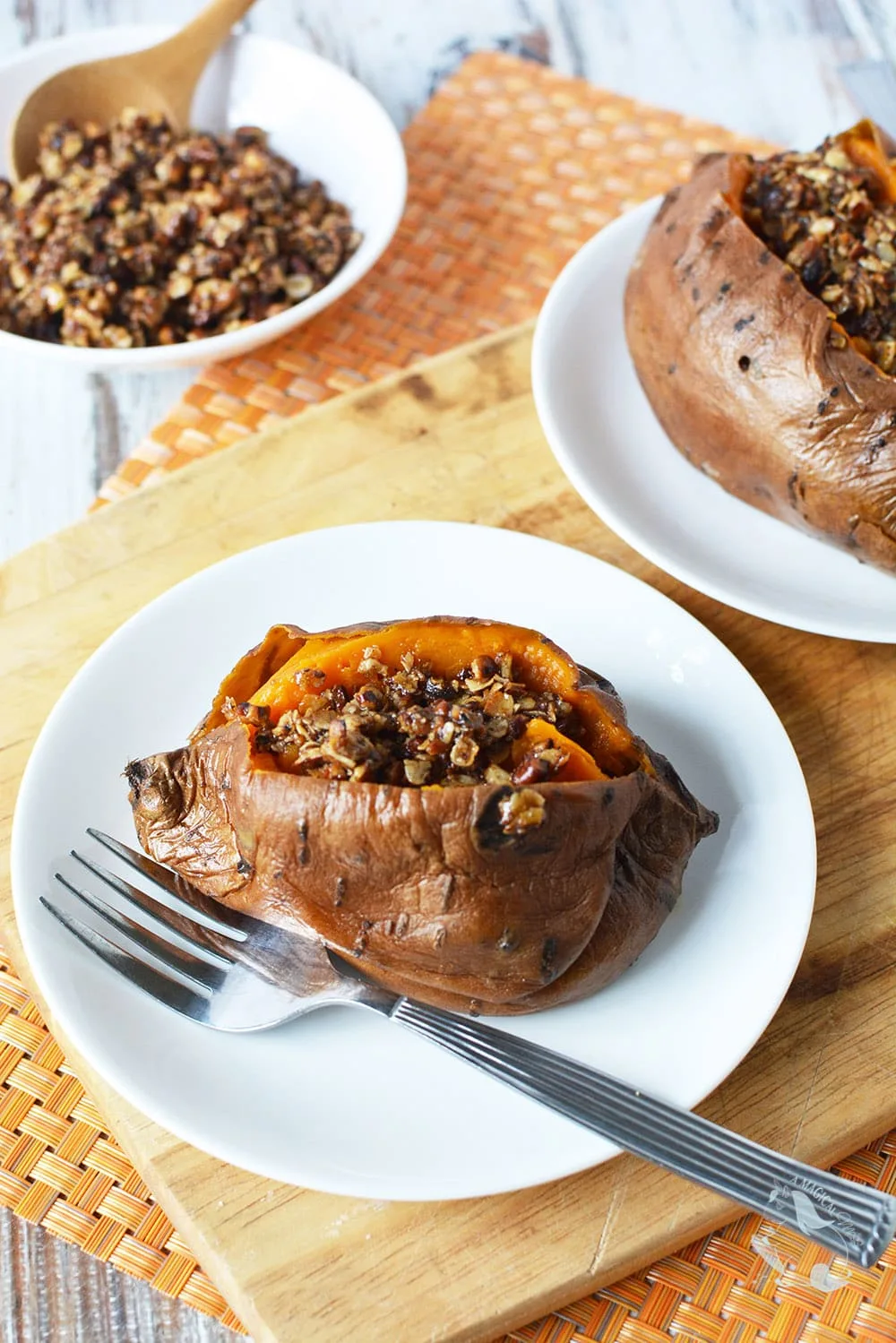 Slow Cooker Sweet Potatoes
If you've never used your slow cooker for potatoes, you are in for a treat. Using your Crockpot to prepare potatoes is easy, delicious, and frees up oven space should you need it.
The sweet and crunchy topping on these slow cooker sweet potatoes provides a nutty flavor perfect for fall. Make a meal out of these sweet potatoes or serve them as a side. While you might not think of sweet potatoes as a heartburn-inducing food, the butter in this recipe can be a worthy foe for such a condition.
Pecan lovers, don't miss this recipe for pecan pie sugar cookies!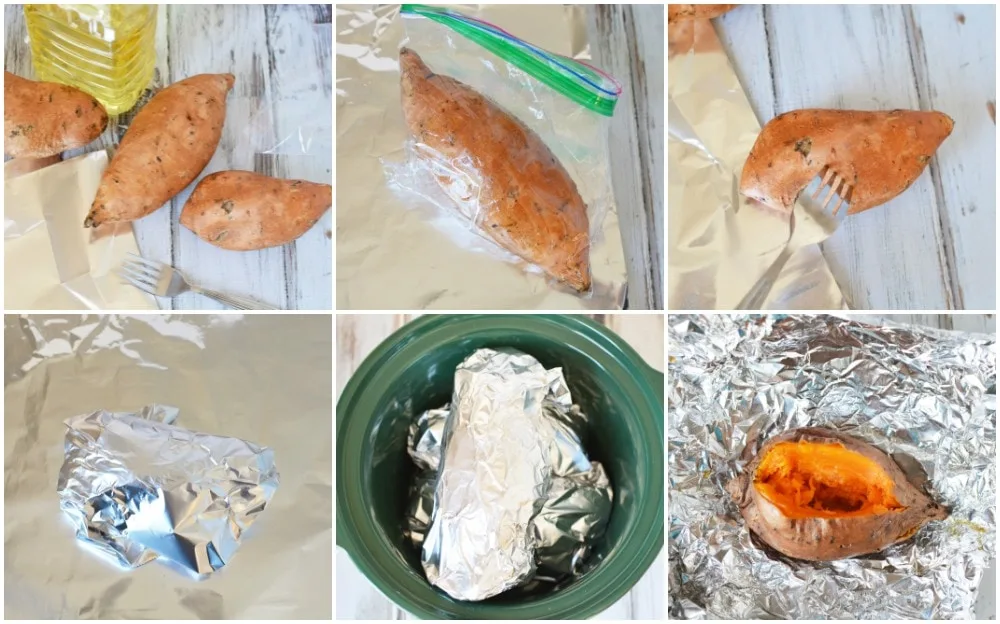 Yield: 4 potatoes
Slow Cooker Sweet Potatoes with Maple Pecan Topping Recipe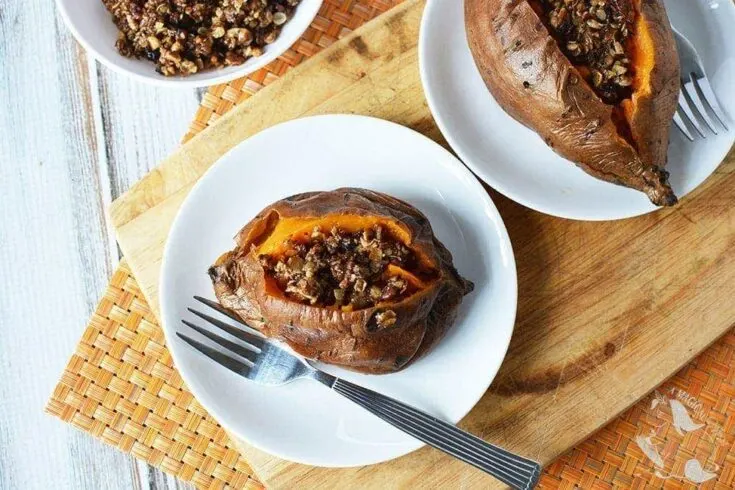 Potatoes in the slow cooker? Absolutely. Top these sweet potatoes with the crunchy pecan topping for a delicious fall meal.
Total Time
8 hours
20 minutes
Ingredients
4 sweet potatoes
2 tablespoons vegetable oil
Maple Pecan Topping
1/4 cup pecans, chopped
1/4 cup oatmeal
2 tablespoons butter
2 tablespoons brown sugar
1/2 teaspoon ground cinnamon
Instructions
Wash and dry sweet potatoes. Poke holes in them with a fork.
Place a small amount of vegetable oil into a resealable bag and place the potato in the bag. Swirl the bag around to coat the potato in oil. Place the potato onto a sheet of aluminum foil and wrap around the potato.
Place the potatoes into a slow cooker and set on low for 8-10 hours or high for 4-6 hours. When cooking is complete, unwrap potatoes and cut a slit in the center and fill with Maple Pecan Topping.
Topping Instructions
Add chopped pecans, oatmeal, and butter to a small pan. Heat on medium, stirring frequently for about 3 minutes or until pecans are toasted, being careful they don't burn.
Reduce heat to low and stir in brown sugar and cinnamon and heat for another 1-2 minutes or until sugar is dissolved.
Spoon onto sweet potatoes and enjoy.
Notes
The topping works well on 4-6 potatoes.
It takes about 5-6 minutes to make the topping.
You can substitute the pecans for walnuts if you choose.
Nutrition Information:
Yield:
4
Serving Size:
1 potato
Amount Per Serving:
Calories:

293
Total Fat:

18g
Saturated Fat:

5g
Trans Fat:

0g
Unsaturated Fat:

12g
Cholesterol:

15mg
Sodium:

89mg
Carbohydrates:

32g
Fiber:

5g
Sugar:

13g
Protein:

3g
Nutrition facts are an estimate only.
More Delicious Side Dish Recipes
Pin the image below to save and share with friends!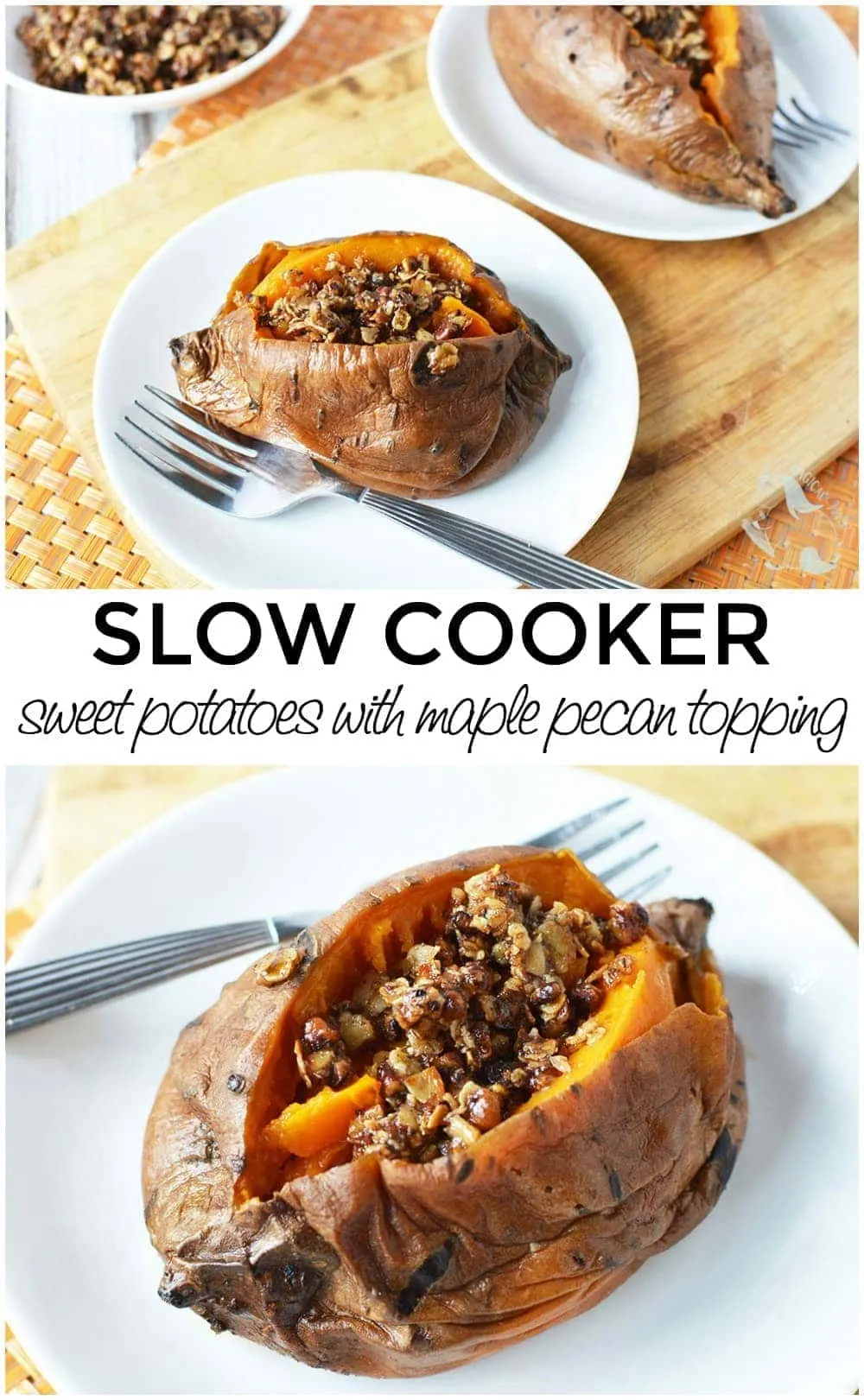 Subscribe to the blog for more recipes.
Let me know if you try these sweet potatoes!