Pea salad is an easy side dish option for summer barbeque parties. This easy peasy recipe was given to me by my mother-in-law. I haven't seen a pea salad at many gatherings, so if you are looking for something unique to serve, give it a try.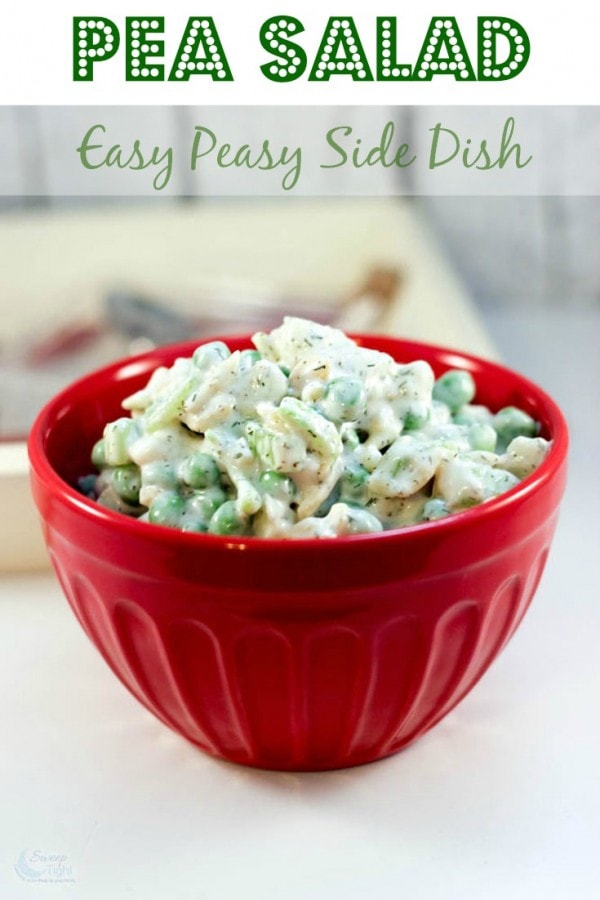 Pea Salad Recipe – Easy BBQ Side Dish
Makes 4 cups. Double or triple for large crowds.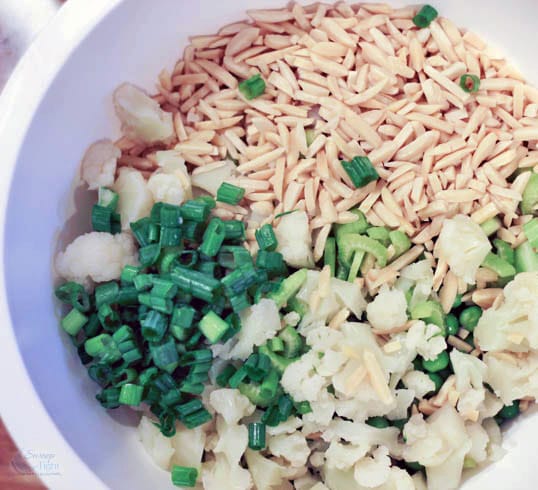 Ingredients
1 16oz package of frozen peas
1 cup chopped celery
1 cup chopped cauliflower
1 cup slivered almonds
1/4 cup sliced green onions
1 cup ranch salad dressing
1/2 cup sour cream
1/4 tsp salt
1/8 tsp pepper
1 tsp dill weed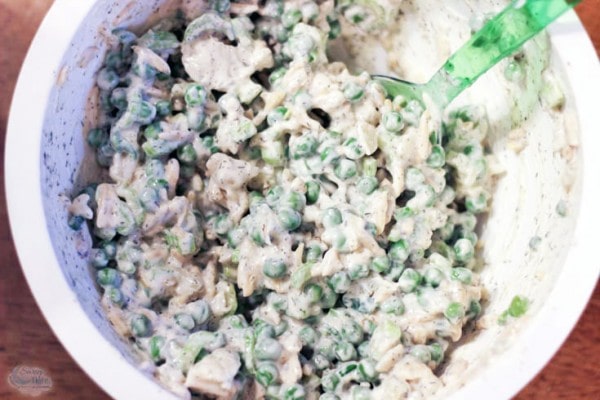 Instructions
Thaw peas and drain well.
Chop celery, cauliflower, and onions.
Add all ingredients to peas and mix.
Cover and refrigerate for 2-3 hours before serving.

Nutrition info: (calculated using SparkRecipes)
Per 1/2 cup serving – Calories: 579.9, Fat: 52 g, Cholesterol: 36.3, Sodium: 941.1, Potassium: 293.5, Total Carbs: 19, Fiber: 4.7 g, Sugar: 6.6 g, Protein: 9.7 g. Feel free to use light salad dressing and light sour cream to lighten it up a little.
I used frozen peas and frozen cauliflower, so I thawed both and drained well. I purchased a bag of slivered almonds, so no need to mess around chopping them. Pea salad is a great alternative when you don't have time to whip up potato salad. With all of the summer barbeque parties, it's nice to have a quick plan for a last minute side dish.
Printable Recipe Card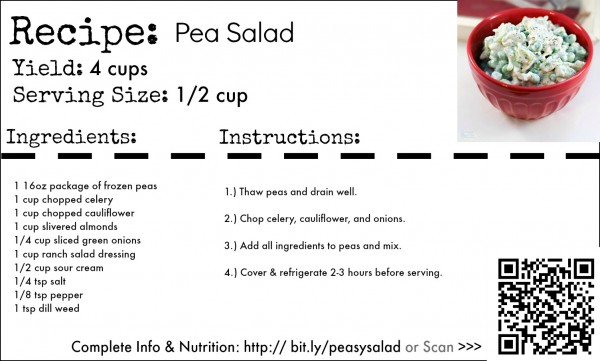 Click to enlarge the image and then print for your recipe box.
It's party season. Graduation parties, weddings, birthdays, Father's Day, 4th of July, and tons of other reasons to celebrate summer. Plenty of opportunities to make a pea salad!