Here is a festive 4th of July cookies recipe that's perfect all summer. Firecracker bites are tasty and fun to eat. The colors of the dough are easy to switch up depending on your occasion. This post contains affiliate links.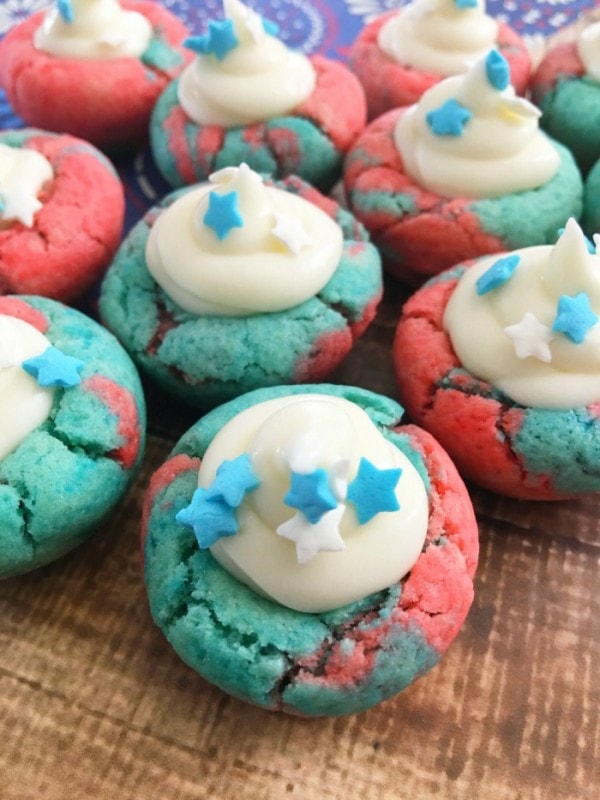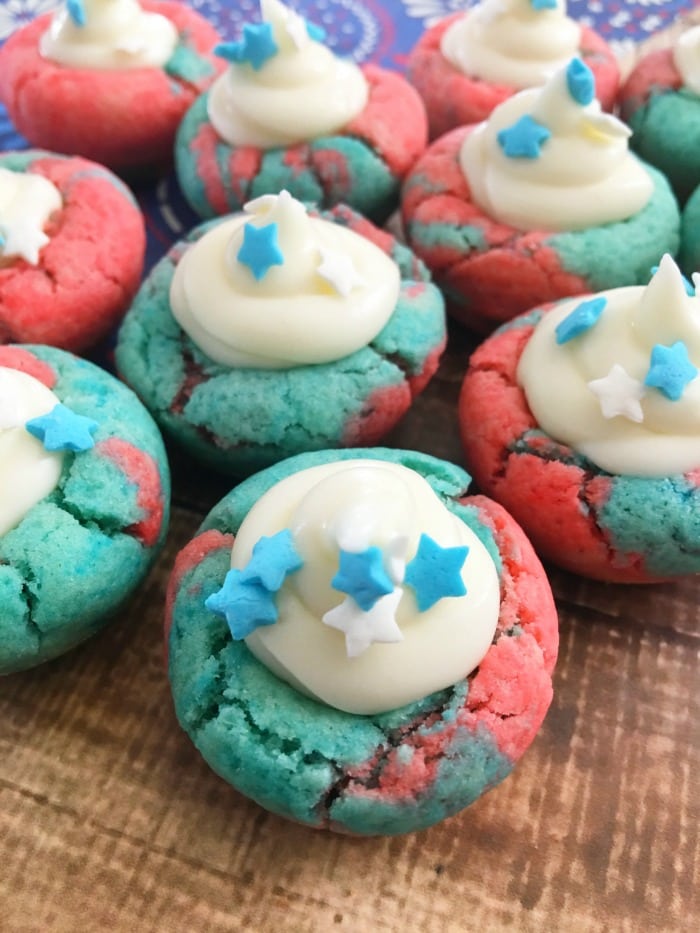 Summer is coming, and that means barbecues, celebrations, and gatherings. Whether you plan on hosting or attending, you should make these Memorial Day or 4th of July cookies. Party food isn't complete without cookies, right?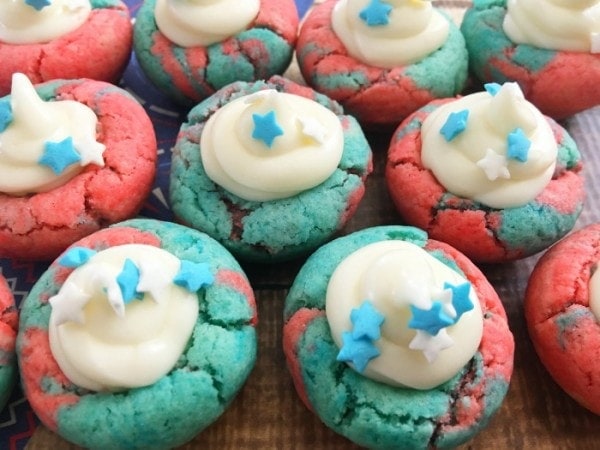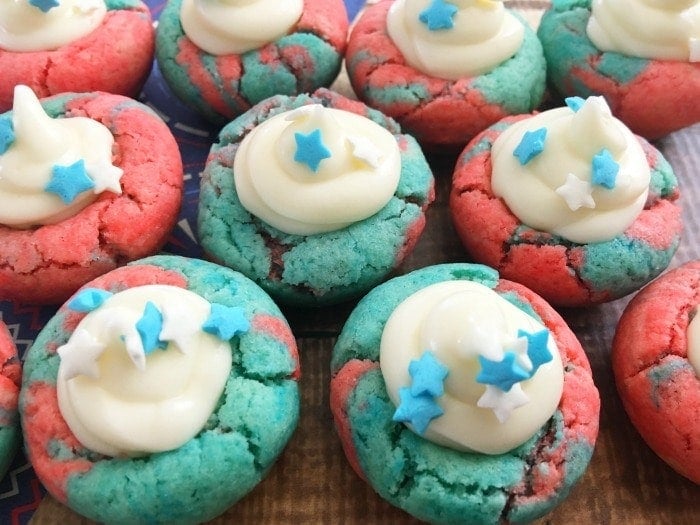 Firecracker Bites – 4th of July Cookies Recipe
Dough Ingredients:
1/2 Cup sugar
5 Tablespoons softened butter
1 Egg
1 Tablespoon vanilla extract
3/4 Teaspoon baking powder
1 1/2 Cups flour
1/4 Teaspoon salt
Frosting Ingredients:
5 Tablespoons softened cream cheese
3 Tablespoons softened butter
1 Teaspoon vanilla
3 Cups powdered sugar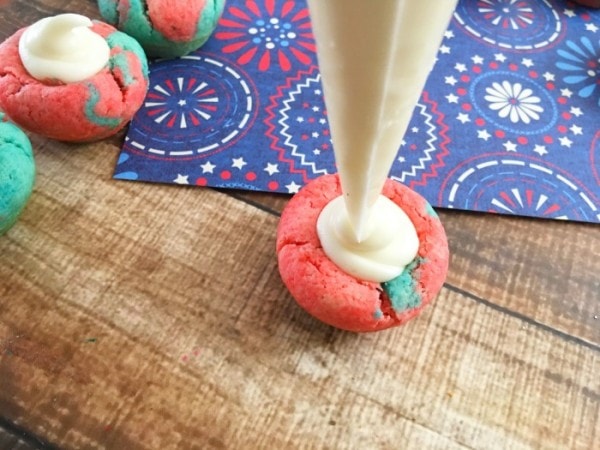 Directions:
Preheat your oven to 350° and grease a mini muffin pan with butter
In a large mixing bowl, beat your sugar and butter with a hand mixer until light and fluffy
Mix in your egg and vanilla
Now mix in your flour, salt, and baking powder
Separate your dough in half, add red food coloring to one, and blue to the other and mix
Mix both colors of dough together and form into small bouncy ball sized balls
Press each dough ball slightly into the bottom of each muffin mold
Bake for 10 minutes
Right when they come out of the oven press the center of the cookie down with your finger and let cool
While your cookies are cooling, mix together your butter, cream cheese, vanilla, and powdered sugar until you have a thick creamy frosting
Scoop the frosting into a large decorating bag and cut the tip off
Frost the center of your cookies with a swirled motion
Top off with just the blue and white star sprinkles and enjoy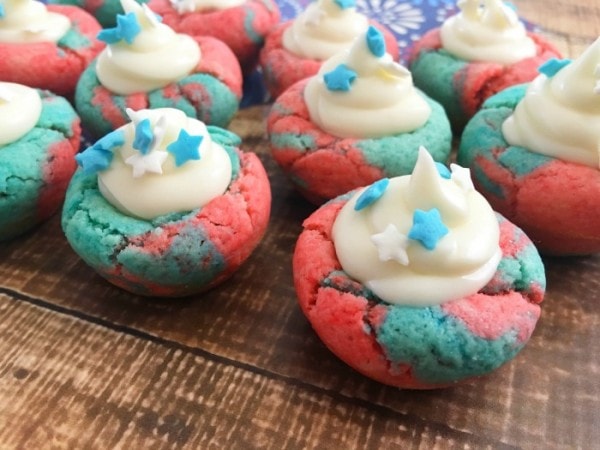 The possibilities are endless with these cookies. Change the colors, the frosting, and the decorations to make them for different holidays. If you're having a graduation party, maybe use the school colors. Wedding shower? Use the theme colors and a fancier frosting swirl. Get creative and use your imagination.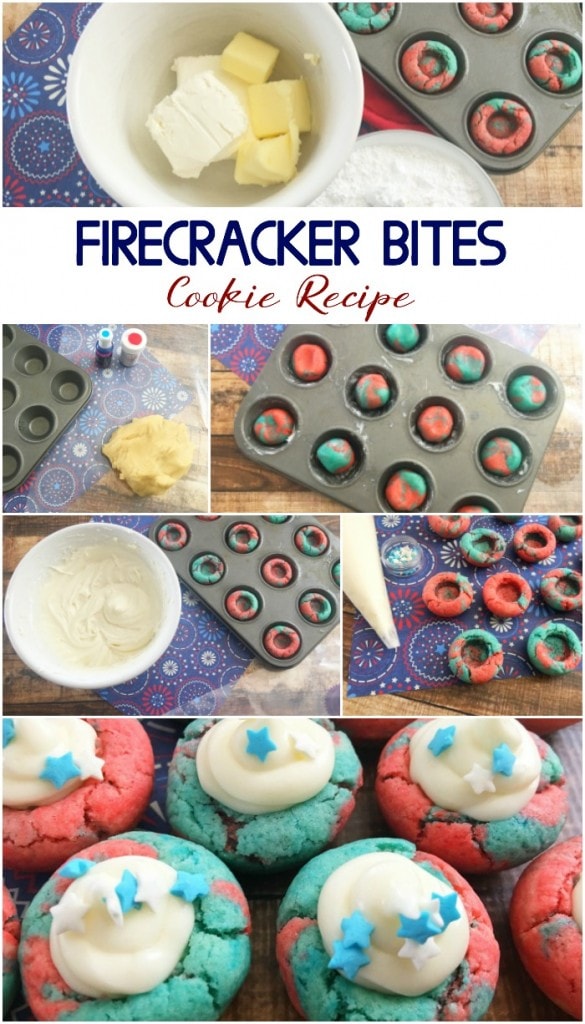 More 4th of July party food recipes:
Do you make 4th of July cookies? Do you think you would like these Firecracker Bites?