Here's a chocolate covered Oreos recipe perfect for summer gatherings. The festive red, white, and blue is ideal for Memorial Day or 4th of July parties, but works for all year, too.
Chocolate covered Oreos are quite easy to make, but pretty enough to impress your guests. Get ready for fireworks in your mouth when you taste these babies.
It's like a chocolate explosion when you combine Oreos with extra sweets. Definitely a drool-worthy dessert to serve or bring to any celebration.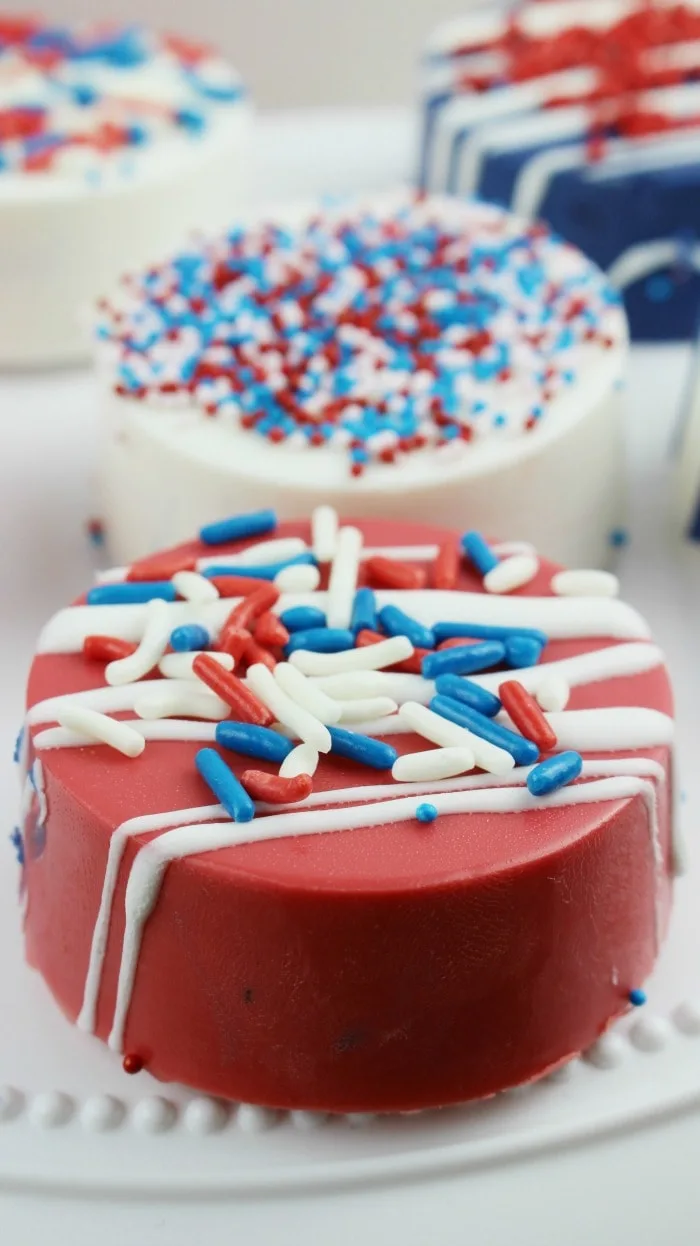 Here is a list of BBQ recipes perfect for all of your summer gatherings.
Red, White, & Blue Chocolate Covered Oreos Recipe
The following recipe will yield 18 double-stuffed Oreos: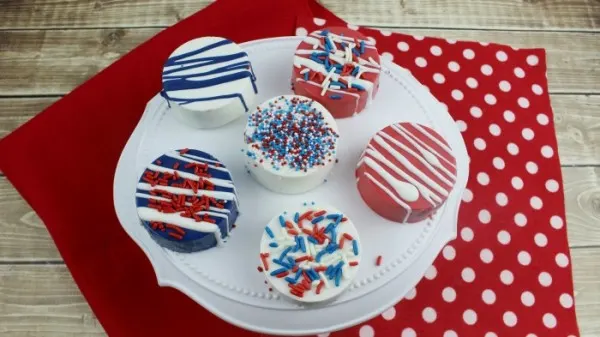 SUPPLIES NEEDED
12 double-stuffed Oreos
3 T solid shortening
1 cup Wilton red chocolate melts
1 cup Wilton white chocolate melts
1 cup Wilton dark blue chocolate melts
Red, white and blue sprinkles, nonpareils and jimmies
3 Oreo cookie molds (6 on each sheet)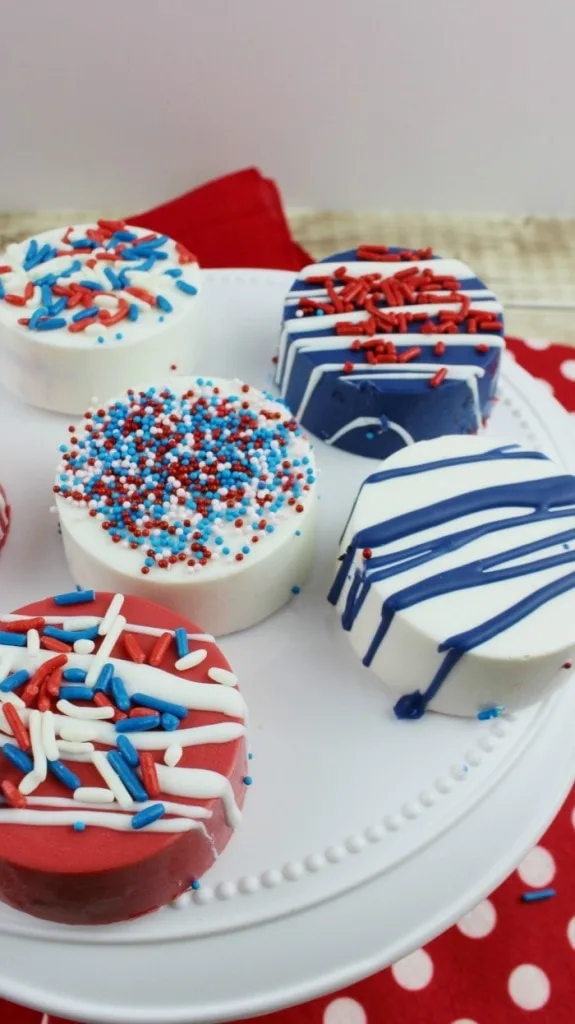 DIRECTIONS
Line a baking sheet with wax paper. Set aside.
In a double boiler pan, melt 1 tablespoon solid shortening.
Add white chocolate melts to the shortening and stir until completely melted.
Pour 2 T of the melted chocolate into each mold to cover the bottom entirely.
Place an Oreo into each mold, on top of the melted chocolate.
Using a Tablespoon, pour additional melted chocolate on top of the Oreo until the mold is full. Set aside remaining melted chocolate for later.
Refrigerate for one hour.
Repeat steps 2-7 using 1 T each solid shortening and the red and blue chocolate melts. (You will have 6 red, 6 white and 6 blue chocolate covered Oreos.)
Remove candy molds from refrigerator after one hour.
Gently press down on the molds to lift the cookies out onto the baking sheet.
Reheat any remaining melted chocolate (most likely it has hardened) in the microwave for 30 seconds. Using a spoon, drizzle the chocolate over the Oreos in a different color. Red over a blue or white Oreo and white over a red or blue Oreo, etc.
Sprinkle each cookie with your choice of sprinkles, nonpareils, and jimmies.
ENJOY!!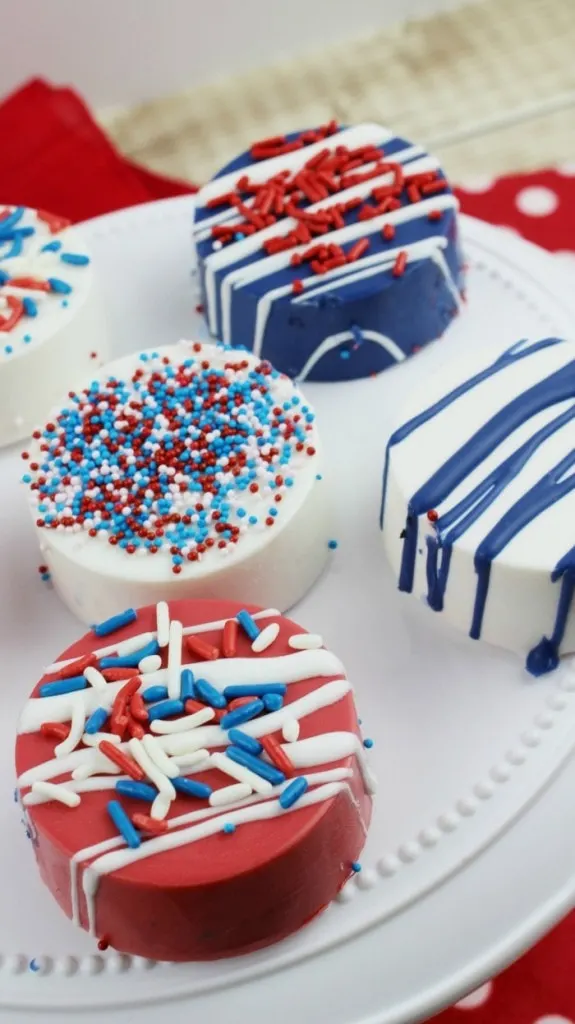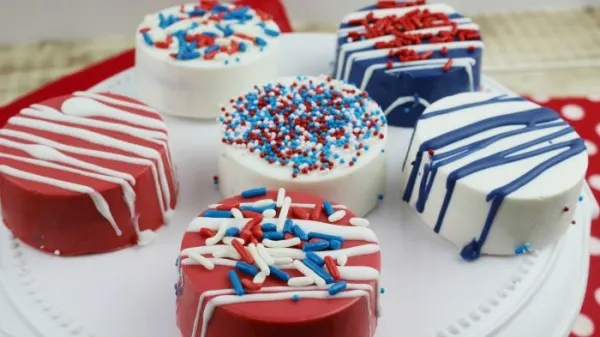 Red, white, and blue colors are super festive for the 4th of July or Memorial Day. It's easy to change the colors for whatever your party theme is.
Experiment and have fun with them. Let the kids decorate them and get creative. This chocolate covered Oreos recipe is good no matter which colors you choose!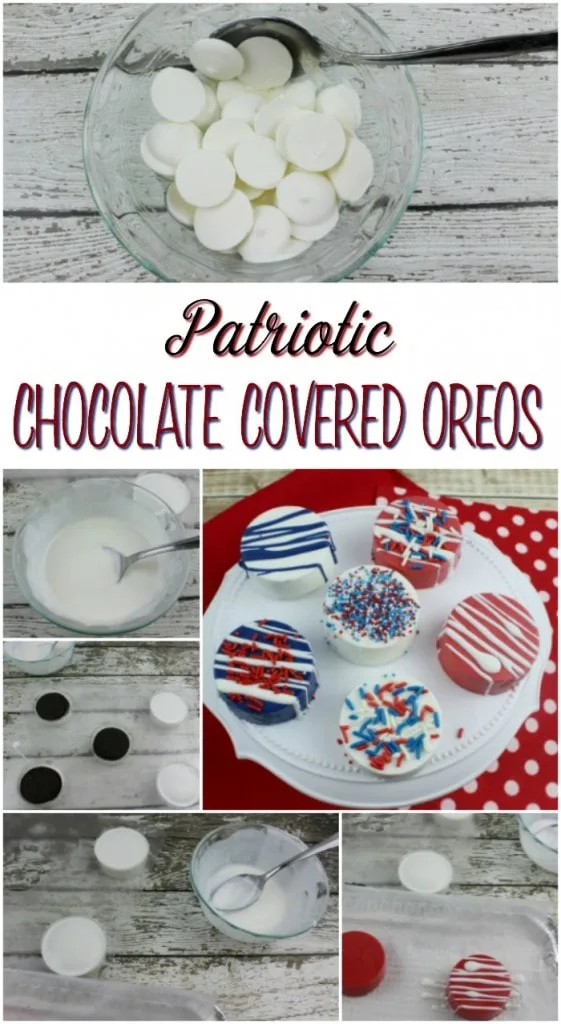 4th of July party food recipes:
Have you tried a chocolate covered Oreos recipe yet?