We had a vision for a Smurfs pretzel candy recipe that didn't go exactly as planned.
I would say it's a perfect example of a magical mess.
What started out looking a bit horrifying, we turned into a pretty cute candy Smurf head.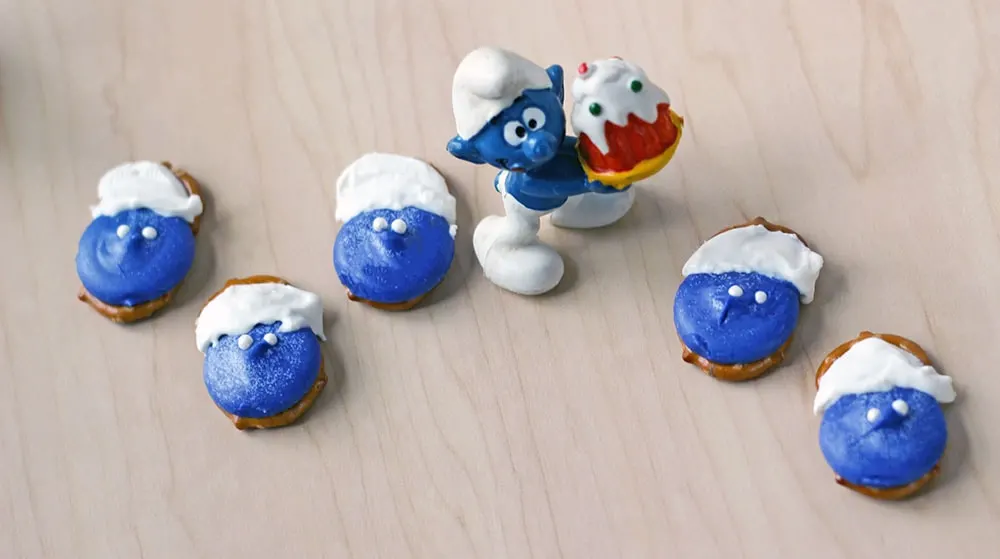 Shelley and I are on a mission to create Smurfs-inspired recipes.
A cute pretzel candy recipe is a simple addition, right?
Well, not so much for us.
The first attempt at dipping pretzels into candy melts resulted in something a little frightening.
It looked a little more like the mask from Scream than a cute Smurf head.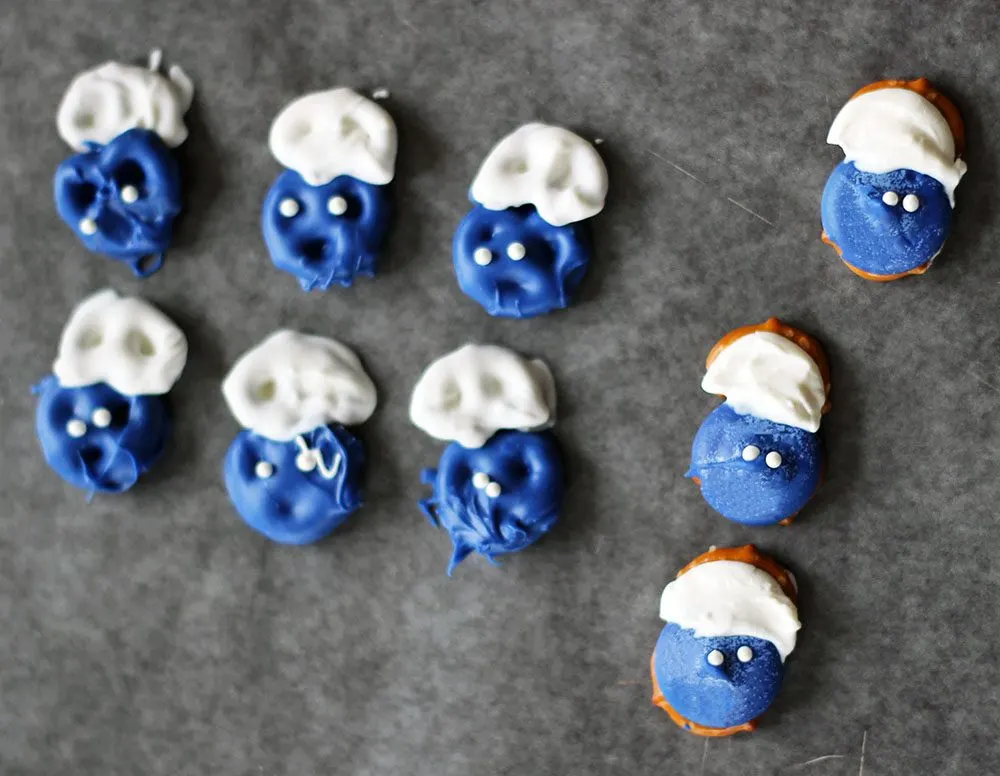 The next attempt matched our vision a little better.
However, the dark blue candy melts get tiny white spots after baking.
The candy melts were brand new, so just keep this in mind that it might happen to you, as well.
It wasn't a deal breaker for us, though.
Our Smurfs have freckles, and it's kind of cute. 😉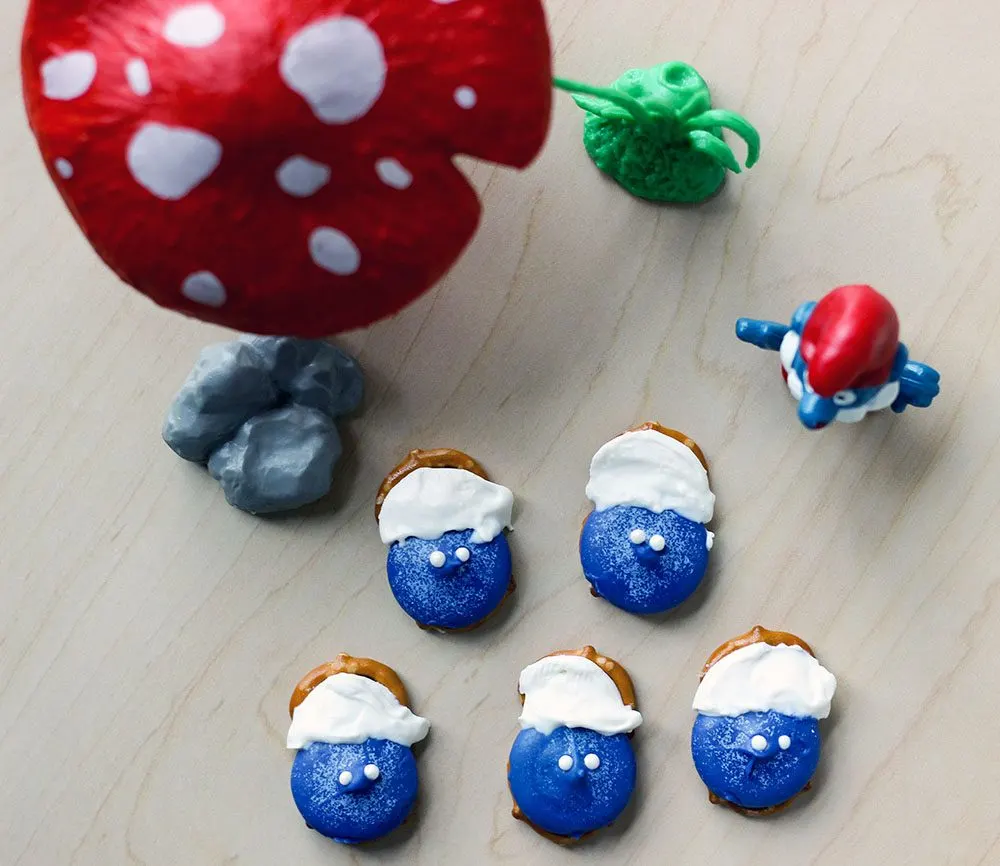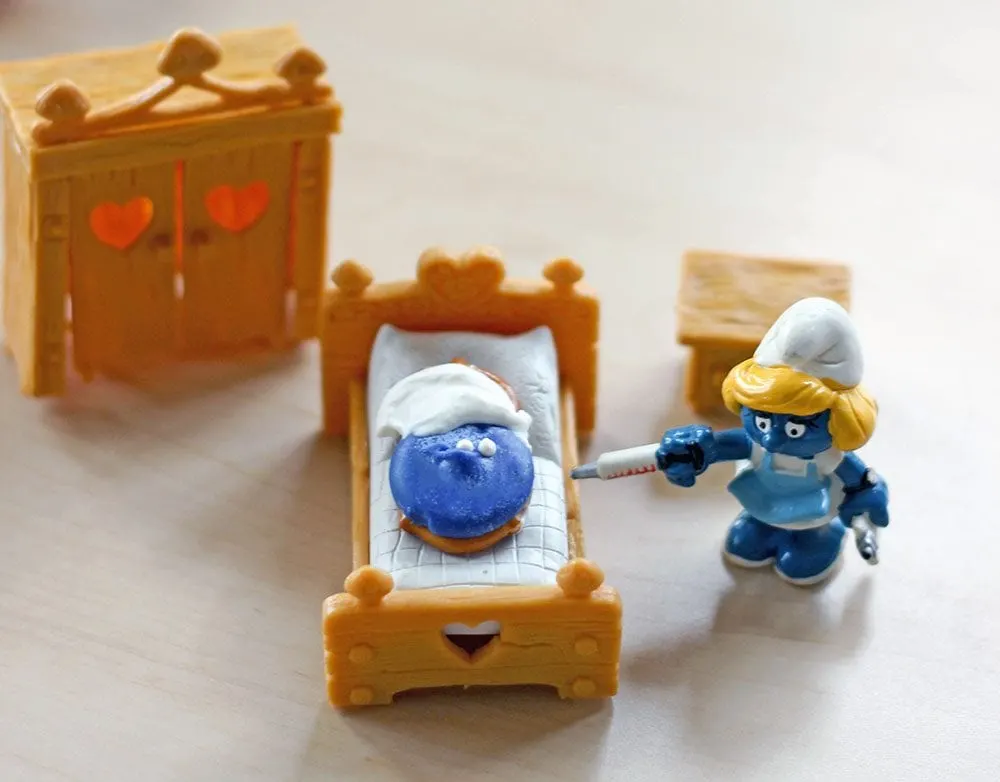 A little nurse attention from Smurfette and they are all better.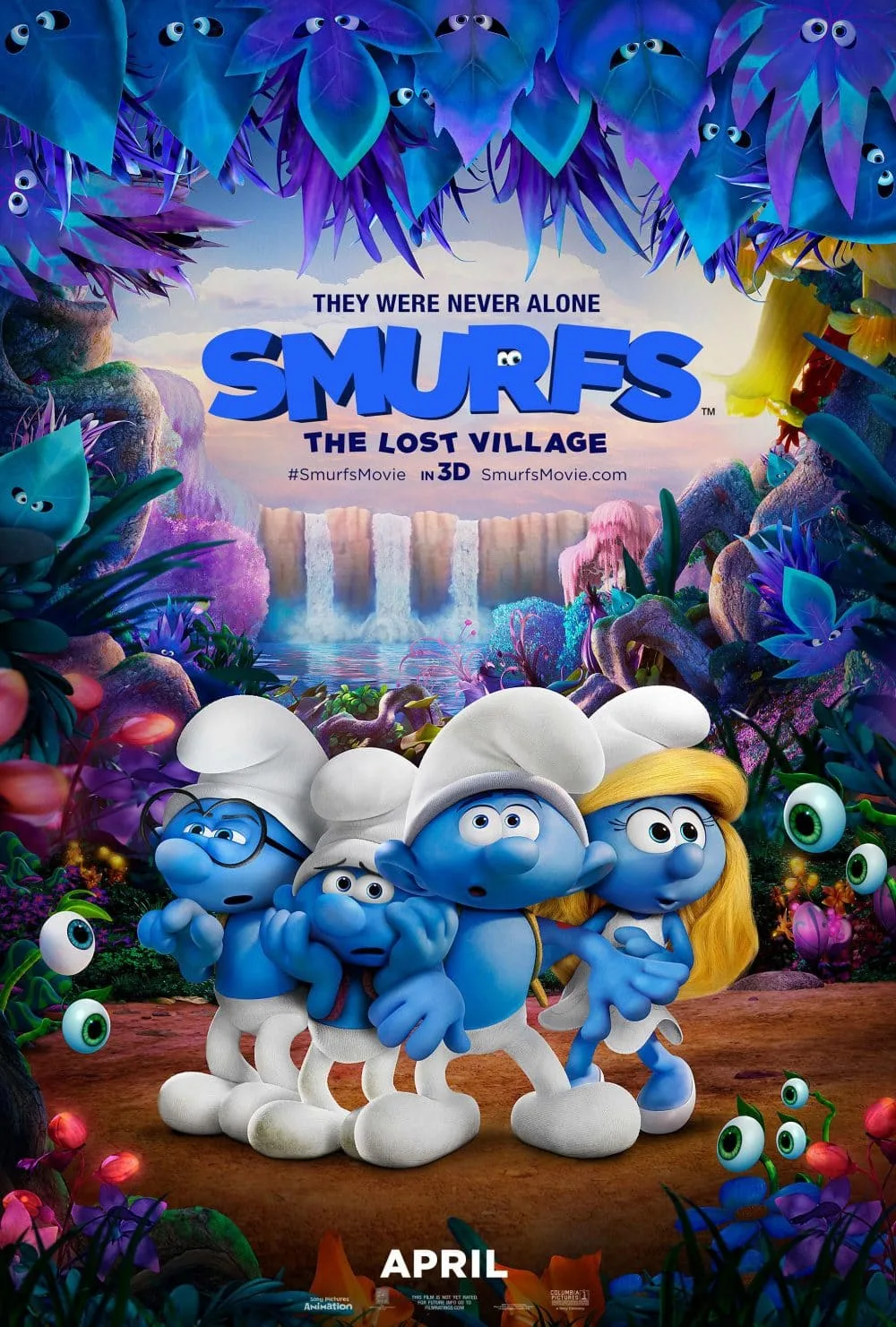 About The New Smurfs Movie
In this fully animated, all-new take on the Smurfs, a mysterious map sets Smurfette and her best friends Brainy, Clumsy and Hefty on an exciting and thrilling race through the Forbidden Forest filled with magical creatures to find a mysterious lost village before the evil wizard Gargamel does. Embarking on a rollercoaster journey full of action and danger, the Smurfs are on a course that leads to the discovery of the biggest secret in Smurf history!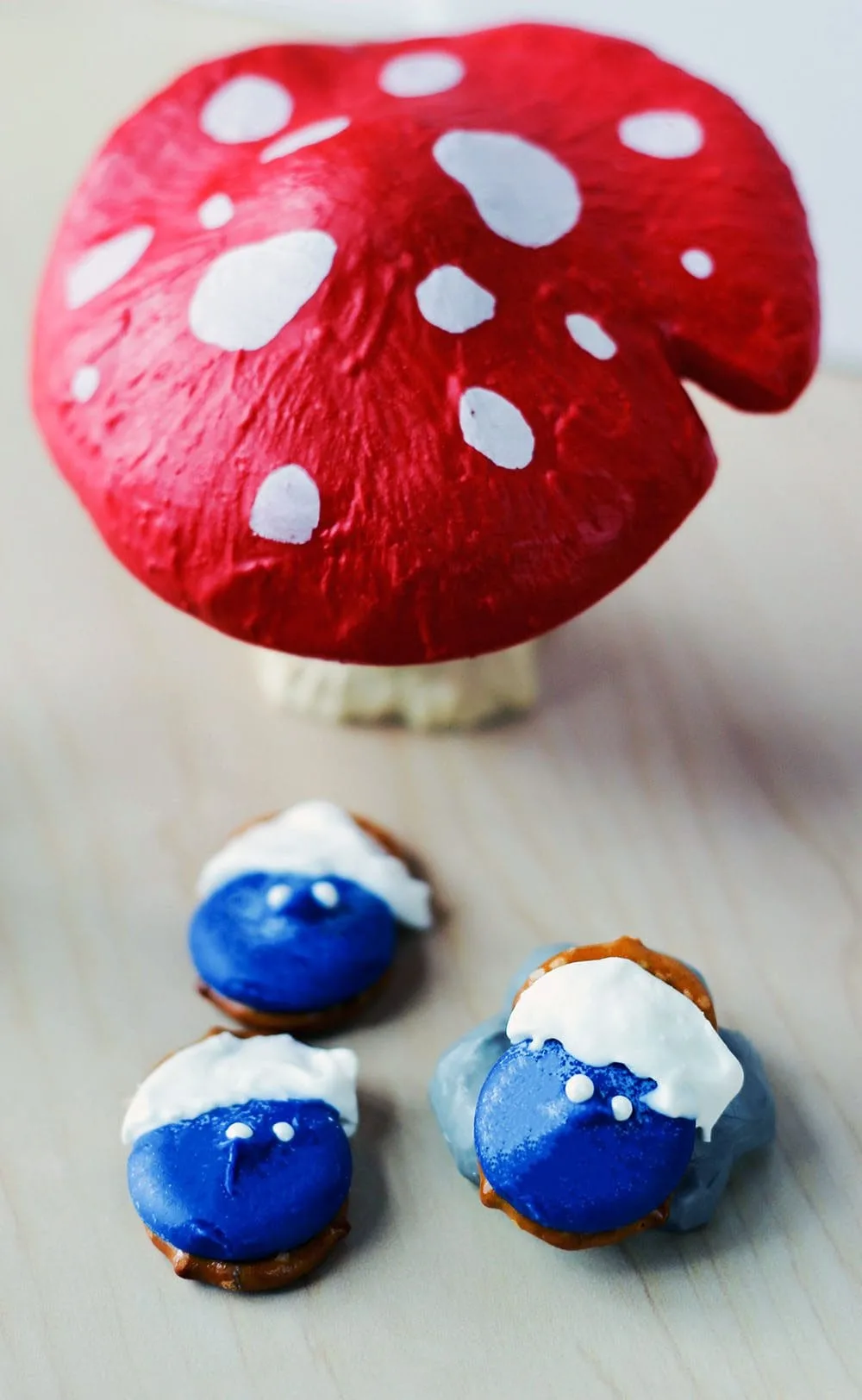 Smurfs The Lost Village is rated PG and opens April 7, 2017.
Be sure to follow on Twitter and Facebook for exciting updates.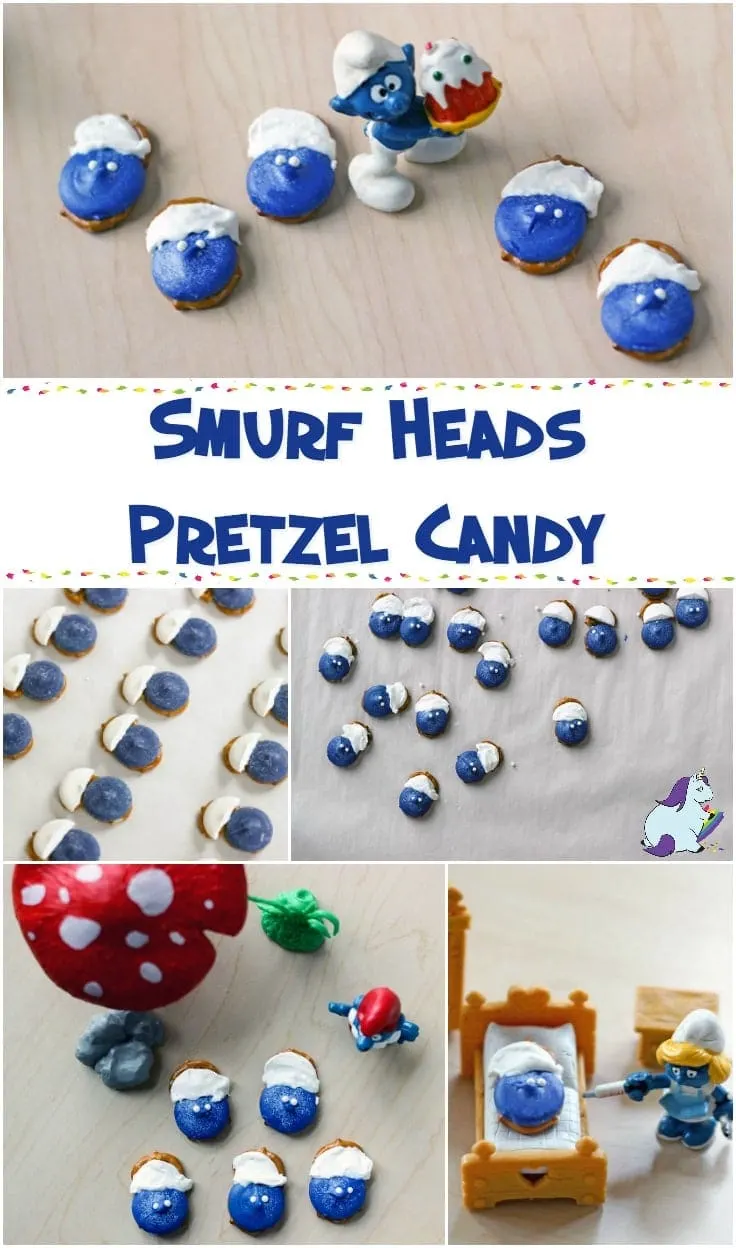 Yield: 24 smurfs
Smurfs Pretzel Candy Recipe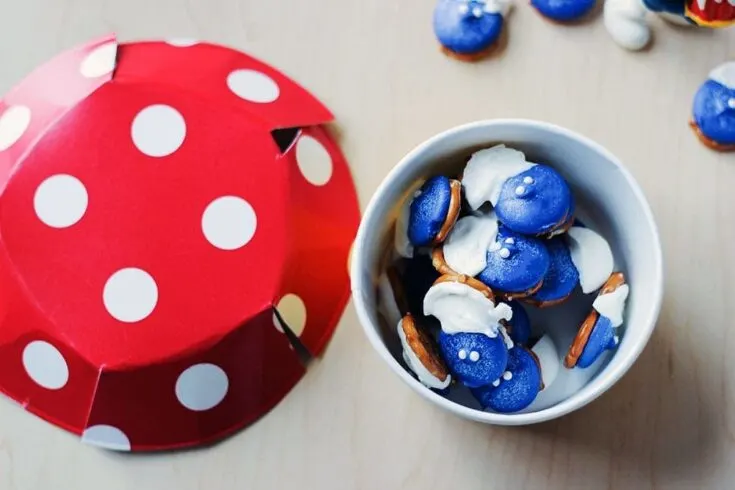 Let's make Smurf candy for the new movie! Smurfs pretzel candy is fun to make.
Ingredients
48 Mini pretzels
12 Bright white candy melts
24 Dark blue candy melts
Edible eyes, we used tiny white candy pearls
Yellow glitter icing, optional for Smurfette
Instructions
Please see complete instructions in the blog post.
Nutrition Information:
Yield:
24
Serving Size:
1 smurf
Amount Per Serving:
Calories:

261
Total Fat:

2g
Saturated Fat:

0g
Trans Fat:

0g
Unsaturated Fat:

1g
Cholesterol:

0mg
Sodium:

710mg
Carbohydrates:

56g
Fiber:

2g
Sugar:

8g
Protein:

6g
Nutrition facts are an estimate only.
Directions:
Arrange 24 mini pretzels on a parchment paper lined baking sheet.
Take 24 mini pretzels and cut ⅓ off to make the hat.
Arrange "hats" on the whole pretzels so that they touch.
Cut 12 bright white candy melts in half.
Place 1 dark blue candy melt on each intact pretzel for the face.

Place ½ of a bright white candy melt on each cut pretzel hat, making sure to overlap the blue a little bit. (You need the candy melts to slightly overlap so that the pretzels stay together.)
Bake in oven for 5 minutes at 350 degrees or until candy begins to melt (this goes quickly so keep an eye on it).

Slide parchment paper off the hot cookie sheet and while the candy melts are still hot, gently press white sprinkles into blue area for eyes and with a toothpick, or butter knife, smear the white candy onto the blue to make sure they harden together–also makes it look more like a Smurf hat.
Let cool.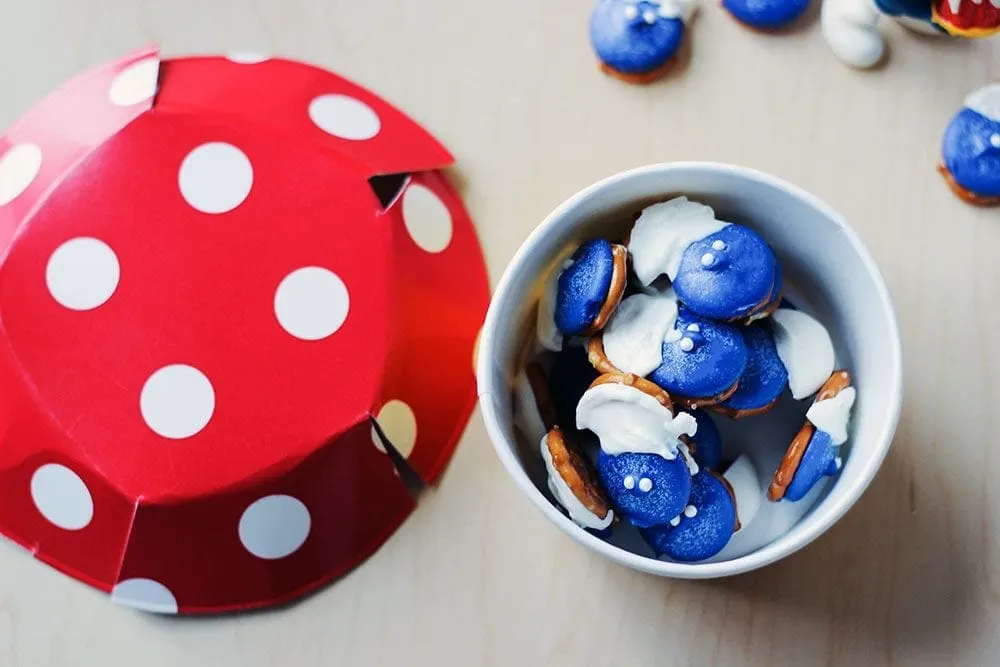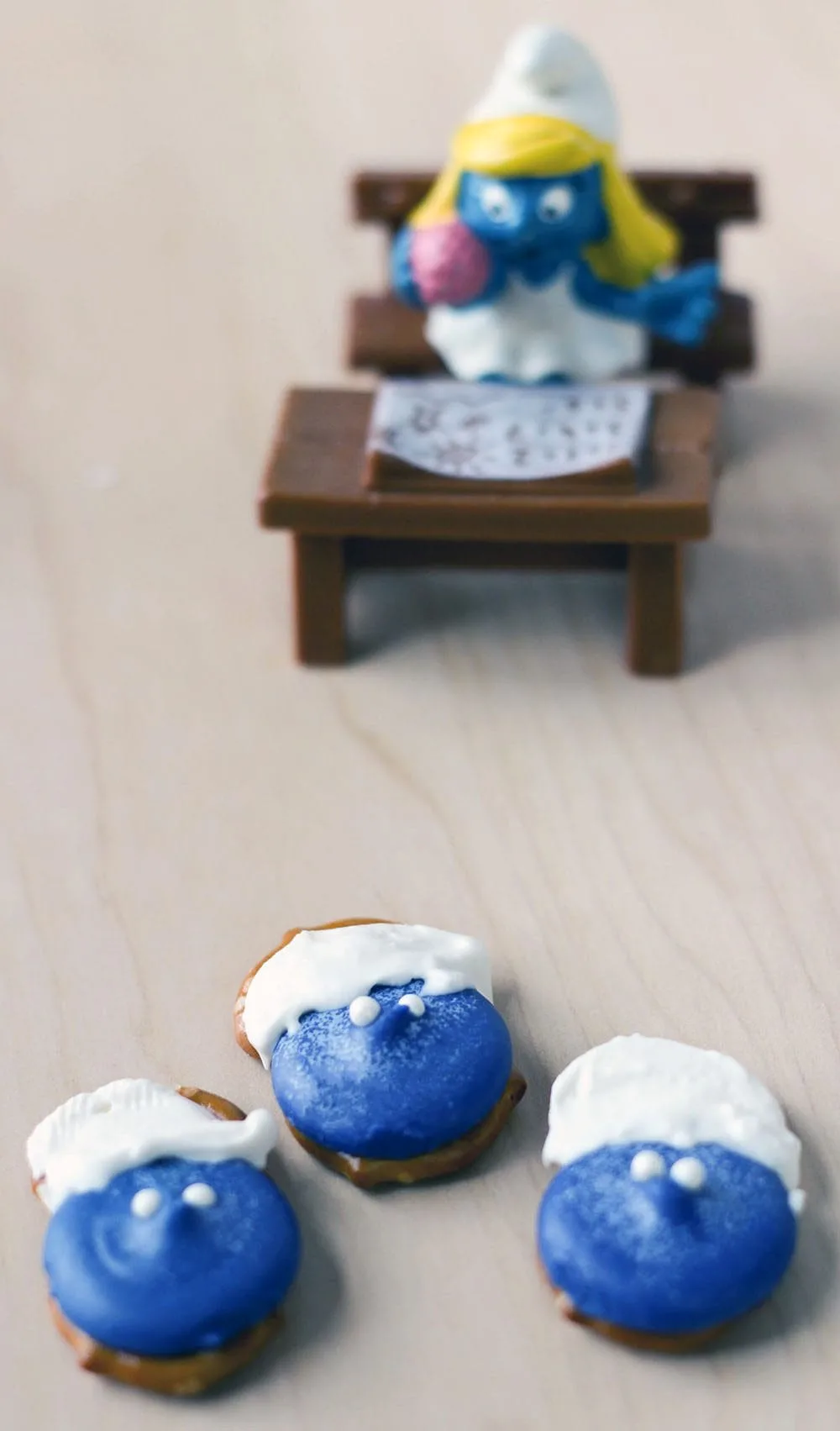 More Smurf-inspired Recipes:
Who's excited about the Smurfs new movie?
Will you make this pretzel candy recipe to celebrate?